Finding Activities to Do with Teens isn't always easy to do, but it's essential. You want to make sure you're spending quality time with them and really making sure you're definitely checking in.
Teens can be tricky, especially teen boys. They can sometimes be a little moody (yes, I said it). They can sometimes be a little quiet. They can sometimes like in their phones (yup, it's true). They can sometimes not want anything to do with their parents (how dare they!).
101 Activities to Do with Teens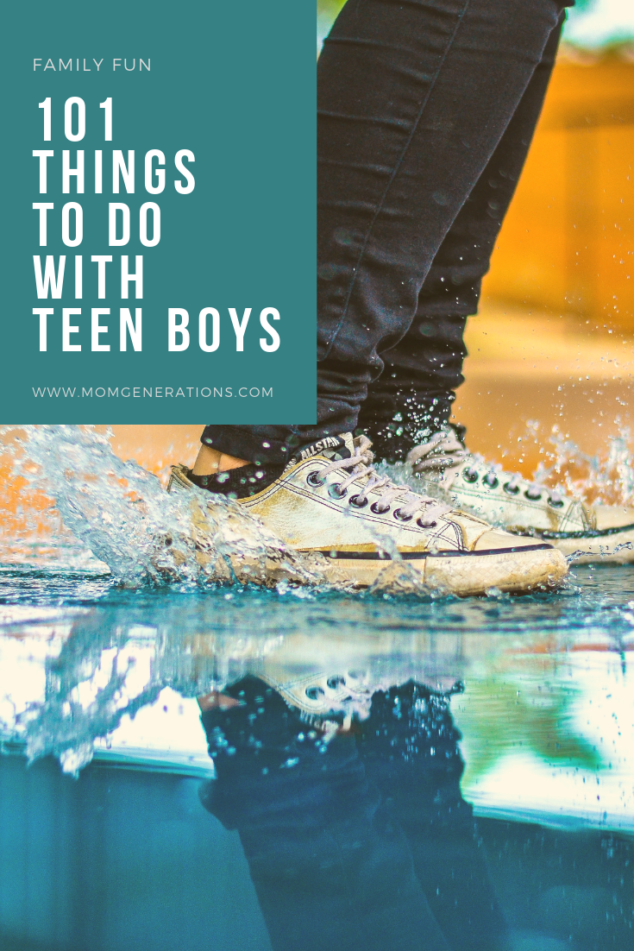 My life revolves around teenage boys right now! It's just the way it is for me. I have 4 sons who are all in the tween/teen stage, it's crazy to me that they're this old… but that's the beauty of time, it doesn't stop! My sons are non-stop.
You will never (ever) catch them just sitting and doing nothing. They're here, there and everywhere. They are always on the go and always (I mean, ALWAYS) asking me if they can go do something! It's funny because since the 4 of them are all about the same age, they always have a built in partner in crime.
But here's the thing. As they're getting older, gone are the days of reading together on the couch at night. Gone are the days of holding hands and walking to the playground. Gone are the days of building forts in the living room and camping out together.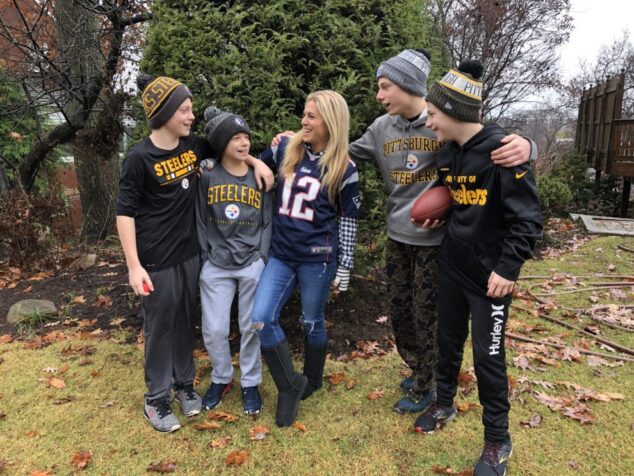 Gone are the days of blowing bubbles and making them belly laugh. Time has a way of doing that, the stage of life changes and it's something that I'm trying to keep up with for myself and them! I'm gong-ho about finding activities to do with teens because I want them to know I'm here, always.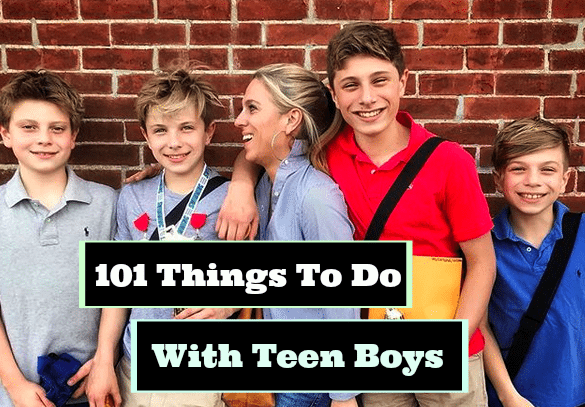 I'm a list girl. I love to make lists of things that I can do and should be doing. I love to make lists of what needs to get done for the day and what needs to get done for the week.
So… I took time this weekend to come up with a major list of 101 Things To Do with Teen Boys!
Teen boys are a different breed than toddler boys! I love doing things with my sons, but I want to make sure they're happy and I'm happy. I want to make sure that we're all having fun – and OK… I'm more zoned in on my sons having fun, but that's just the mom in me!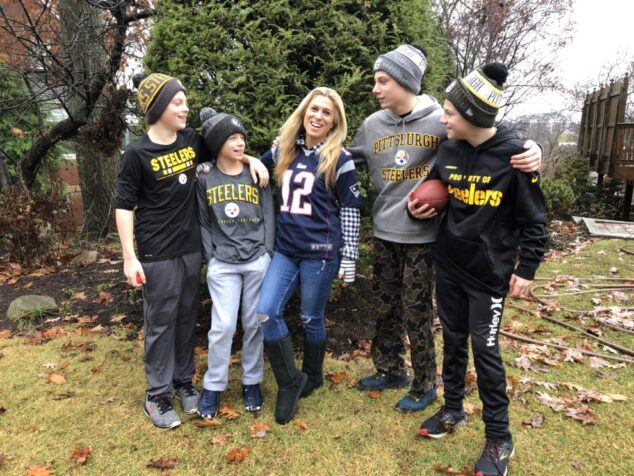 I spent a good amount of time working on this list for myself. It's a list I'm proud of and is filled with (hopefully) some really great activities to do with teens. I want them to know that I'm passionate about finding different and fun things to do with them.
I don't just want them to sit in their rooms playing videos games. That's not going to swing it with me. Now now, not ever. I hope you find something on this list or many things that speak to you!
101 Activities to Do with Teens
Paint Ball Tag
Ropes Challenge
Mini Golf
Run a 5K or 10K or any road race!
Play Fortnite
Pottery Class
Cooking Class
Bike Ride
Roller Blading
Roller Skating at a Rink
Ice Skating
Street Hockey
Rock Climbing
Camping
Hiking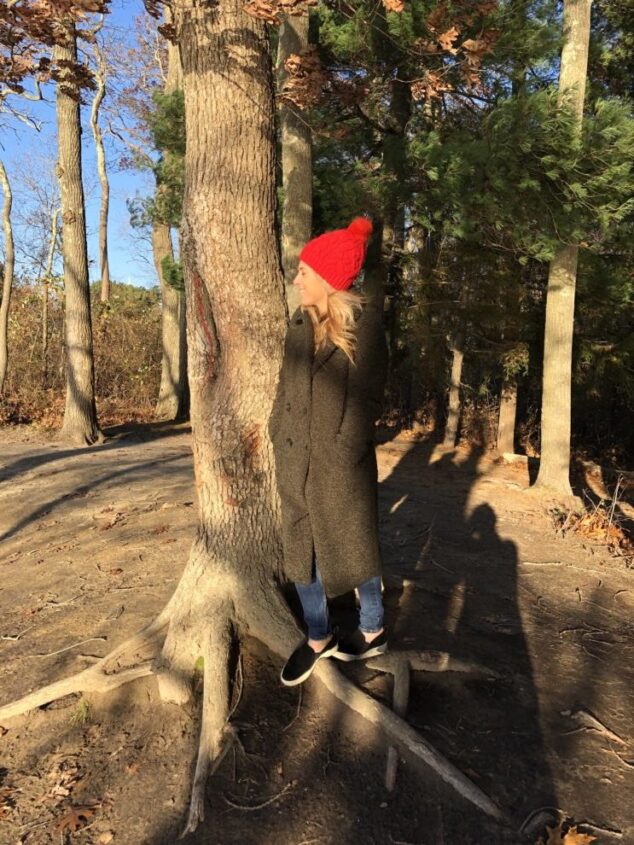 Volunteer Together
Make Dinner Together
Road Trip
Staycation – Explore your State
Join a Book Club Together
Learn a New Language Together
Visit Colleges
Bedroom Makeover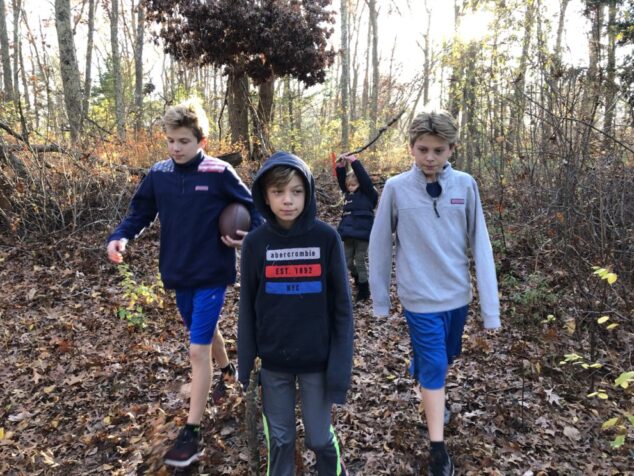 Go to the Movies
Game Night at Home
Plant a Garden
Shopping for new Clothes
Watch Old Family Movies Together
Make a Scrapbook Together
Make a Puzzle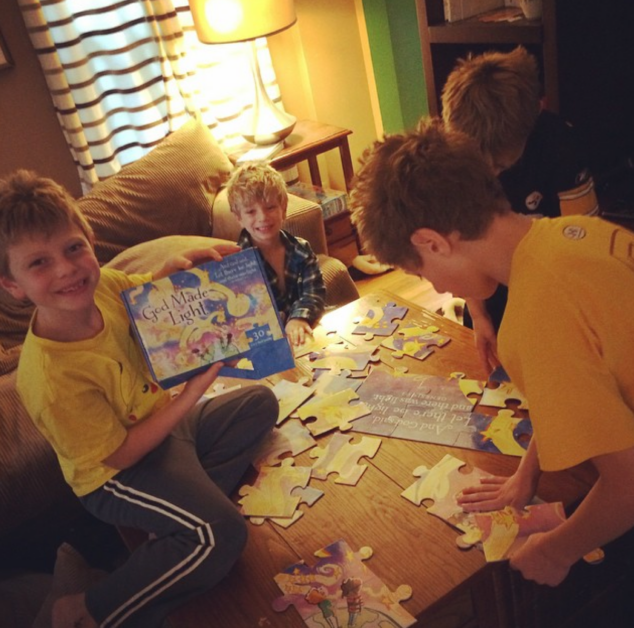 Head out to Breakfast
Head to a local Zoo
Head to a local Theater
Head to a local Museum
Head to a Professional Basketball Game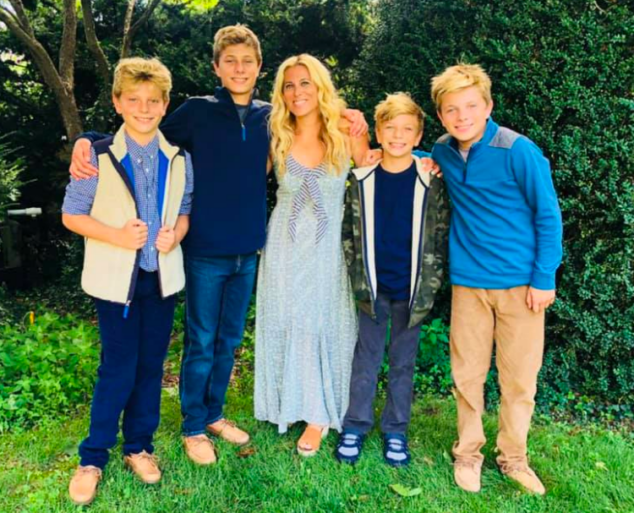 Head to a Professional Baseball Gall
Head to a Professional Football Game
Head to a Professional Hockey Game
Head to a local Pool for swim time
Mountain Climb
Waterpark
Amusement Park
Head to the Beach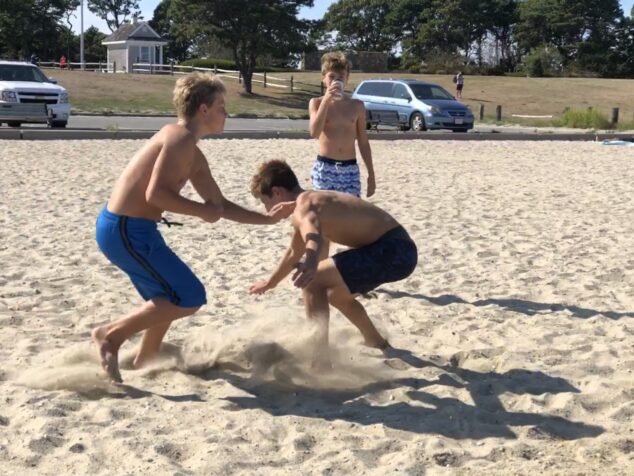 Head to local Yard Sales
Fishing Trip
Kayaking
Horseback Riding
Fly Kites
Make a Time Capsule
Corn Maze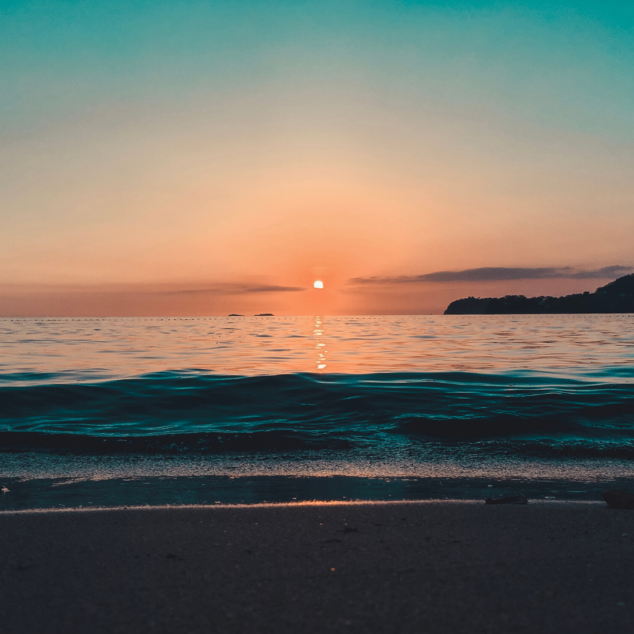 Bake in the Kitchen
Visit a local City
Ninja Warrior Course
Bowling
Fancy Dinner Out
Decorate the House for the Holidays
Paint a Room in your House
Head to an Aquarium
Head to a Planetarium
Apple Picking
Carve Pumpkins
Strawberry Picking
Take Art Classes
Head to a Carnival
Enjoy a Picnic
Yoga
Head to the Gym Together
Make YouTube videos (or start a channel together)
Go Golfing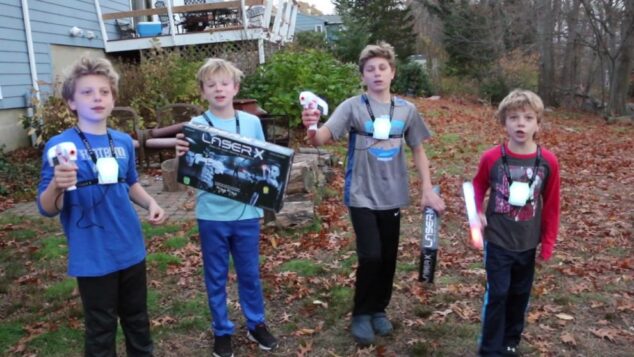 Make Crafts
Trampoline Park
Pajama Day (all day!)
Play Tennis
Movie Marathon on the Weekend
Sledding
Look for Free Festivals in the area
Do Yard work Together (make it fun)
Head to a Lake and Skip Rocks (TALK the while time)
Canoe Rides
Take Sailing Classes
Make Your Own Sundaes at Home
Ski Trip
Stay a local Hotel
Host a Get Together at your House with his Friends (get to know them)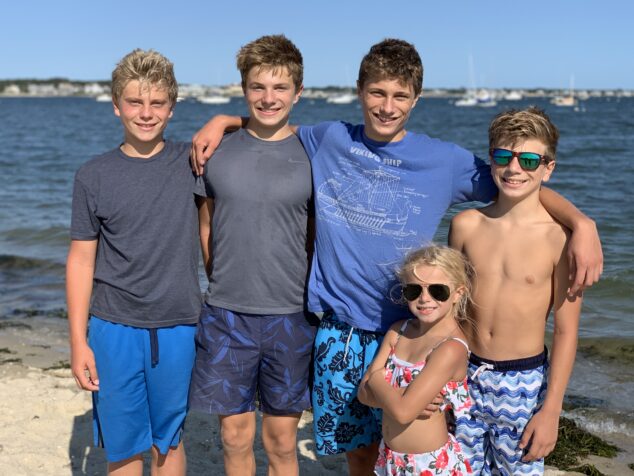 Watch Fireworks
Make Chocolate
Start a Small Business Together
Create a Massive Scavenger Hunt
Take a Train Ride Together
Visit Where you Grew up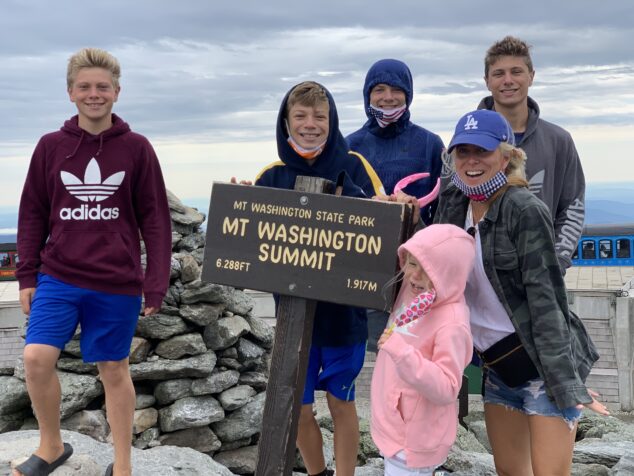 Head to a local Comedy Club (obviously where teens can go!)
Do a Triathalon Together
Create a Video Game Tournament
Head to a Concert
Head to a Professional Soccer Game
Tour a stadium of a Team they Admire
Visit a Destination that they LOVE
Set-up a Mom/Son night with their Friends
Make Your Own Pizza Night
Dance Party (even moms have moves)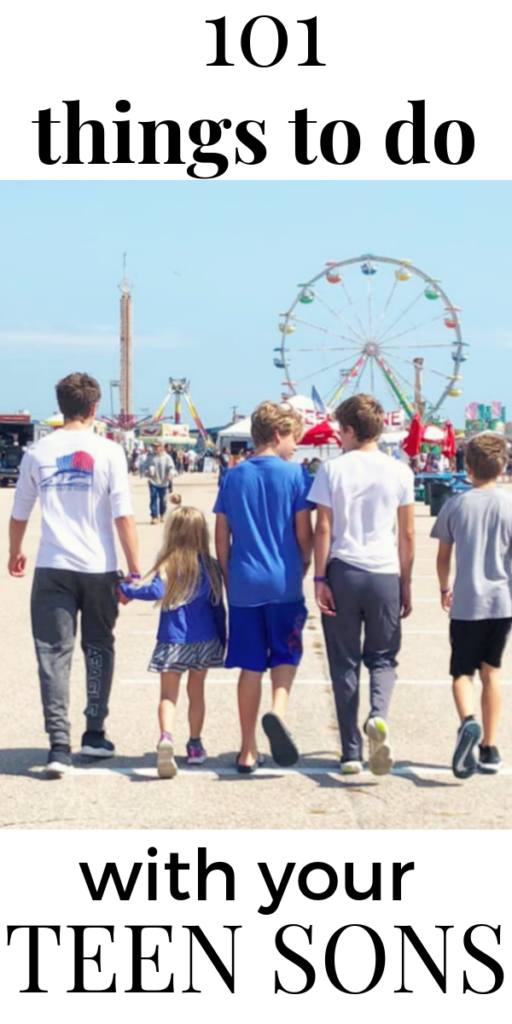 When in doubt – check out Parents.com. They have a great section for teens. It's a wonderful resource for moms and dads looking for some stuff to read up on!
Also! Check out some of my other posts on teens!
What you can do to stay in the KNOW with your teens
How to Spend time with your Teens
One thing I've discovered is to kill the phones as much as you can. Phones are your enemy when you have teens. They are GREAT for staying in touch, but not great for trying to talk. Phones should be put down when they kids are home.