This giveaway is one that I think my husband is going to try and enter! Are you ready for these 4 mouth-water words: Bacon Wrapped Filet Mignons. Yes, I'm giving away (4) 5oz Bacon Wrapped Filet Mignons… and someone out there is going to be the lucky winner! I'm thrilled to be able to give this away! I'm salivating just writing it in here!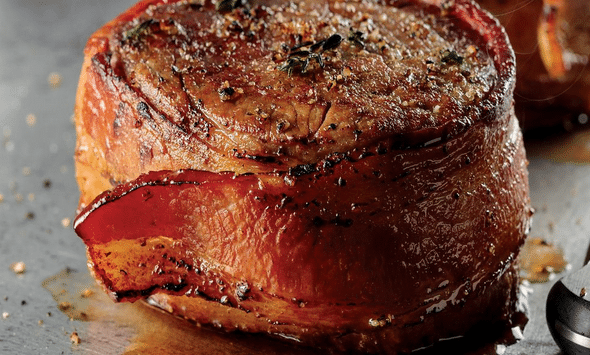 The steakhouse classic… at home! Super-tender perfectly aged Omaha Steaks filet mignon wrapped in strips of smoky, sugar-cured bacon make an irresistible combination. Our master butchers age each filet to maximum tenderness, then pair them with our best bacon strips with small metal skewers (take them out when you cook). The sizzle, the aroma, the flavor… you will LOVE making Omaha Steaks Bacon-Wrapped Filet Mignon and be proud to serve these steaks.
Super-tender, perfectly aged Omaha Steaks filet mignon
Each filet wrapped with a strip of sugar-cured pork bacon
Steakhouse classic look and flavor
Ready to cook, with a skewer holding bacon in place
Grill or cook in a pan for delicious results at home
Let me say this… when I went to Omaha Steaks and got to see the Production Facility, I saw these being MADE. They were out of control amazing looking!! I couldn't get enough!! I'm so excited to be able to give these away!!
Here's Omaha Steaks description… hold tight!
Get Omaha Steaks legendary, world-famous, so-tender-and-so-crispy Bacon-Wrapped Filet Mignon for a truly incredible at-home steak experience. This is the chef's preferred filet mignon preparation, but all work's been done for you. Bacon-wrapped filets are an excellent choice for a date night, a special occasion with the family, or even for just going all-out at your next barbeque. Each filet mignon steak is aged by our master butchers for at least 21 days before cutting, a technique that naturally maximizes the steak's tenderness to a sublime level. Bacon-wrapped filets make an impressive and memorable gift, too.
Next, the steaks are carefully and expertly wrapped in a strip of premium, uncooked sugar-cured bacon, held in place with a special double-pronged skewer. As the steak and bacon cook, the delicious juices from the bacon combine with the steak to create an extra-savory, irresistible flavor as well as the perfect combination of tenderness and crispiness. Bacon-wrapped filets are excellent on the grill or cooked indoors in a pan. Every steak is flash-frozen at Omaha Steaks to perfectly preserve tenderness and quality and individually vacuum-sealed for your convenience.
Can you taste it yet??
OK… so here's the GIVEAWAY!!
(4) 5 oz Back Wrapped Filet Mignons! All YOURS!
How can you enter?
EASY PEASY!