Thrilled to be sharing this giveaway with you today thanks to my partner Zonderkidz!
GIVEAWAY: NURTURING STEPS SERIES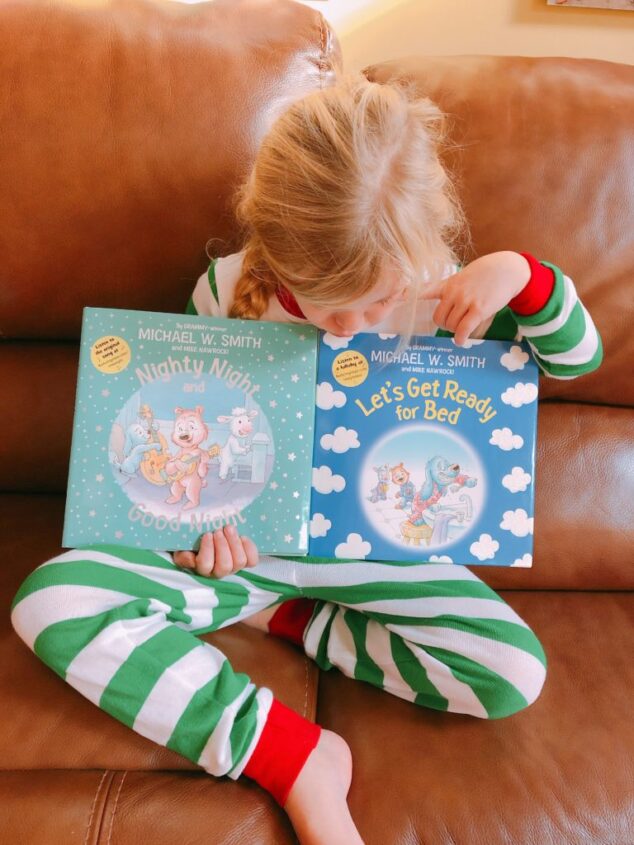 What is the Nurturing Steps Series About?

Multi-Platinum, three-time Grammy® Award winning artist Michael W. Smith launches Nurturing Steps™, a new infant and toddler series with a simple mission to provide parents and grandparents with music and books to enliven a young child's journey with hope and faith through song and storytelling. The first new album, Lullaby, and book, Nighty Night and Good Night, from Nurturing Steps released on May 4th and May 8th, 2018. These projects also mark the first-ever children's album and book by Michael, each crafted in collaboration with renowned VeggieTales co-creator Mike Nawrocki.
NURTURING STEPS SERIES by Michael W. Smith & Mike Nawrocki
Published by Zonderkidz
Book 1: Nighty Night and Good Night – In Stores Now
Book 2: Let's Get Ready for Bed – Releases November 6th, 2018
Recommended for ages 0 – 4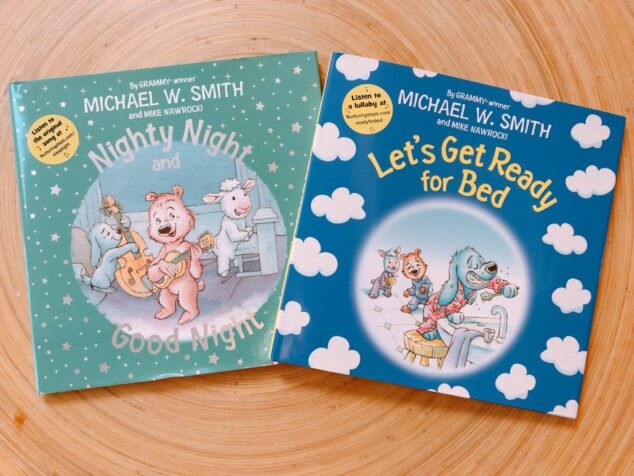 The creators of the Nurturing Books Series are pretty INCREDIBLE, too!
About the Creators
Michael W. Smith is a successful recording artist who has recorded more than 25 albums and had numerous hit radio songs in the Christian and General markets. He's won numerous Grammy and Dove Awards and is the founder of Rocketown, an outreach to teenagers in a 38,000 square-foot facility in downtown Nashville, Tennessee. He is involved in mission work around the world. He has also written several best-selling books, including Old Enough to Know and Friends Are Friends Forever. He and his wife, Debbie, have five children and live in Nashville.
Mike Nawrocki, co-creator of VeggieTales and the voice of the beloved Larry The Cucumber, has been part of the pulse of the Veggie brand since its inception in 1993. Mike has created, written, and directed most of the popular "Silly Songs with Larry" segments, including fan favorites "His Cheeseburger" and "The Hairbrush Song." He has also lent his screenwriting and directing talents to dozens of VeggieTales episodes such as "Madame Blueberry and The League of Incredible Vegetables," as well as both of the properties' theatrical release films, Jonah and The Pirates Who Don't Do Anything. In addition, Mike has authored a number of VeggieTales books and CD projects as well as developing and writing for another of Big Idea's hit animated properties, 3-2-1 Penguins.  Mike is currently focused on developing new children's properties centered around fun characters, engaging storytelling, and wholesome values. Mike makes his home in Franklin, TN with his wife and two children.
GIVEAWAY TIME!!!
Let's Get Ready for Bed!
One (1) winner receives:
Copies of both Nurturing Steps books,
Michael W. Smith's accompanying Lullaby album,
plus sleepy slippers for your little reader!
How can you enter!!??
(2) WAYS!
Who would this book series be for? Answer in the comments!
Comment on any other blog post!
WINNER CHOSEN NOVEMBER 30th!!!!!!!
Visit NurturingSteps.com
Follow Michael W. Smith on Twitter | Facebook | Instagram
Follow Zonderkidz on Twitter | Facebook | Instagram
#NurturingSteps | #LetsGetReadyforBed | #NightyNights