2018 was a good year professionally and personally for me. I really felt HOME this past year because it was the first full year in our new house in our new town (incidentally the same town I grew up in). The only way I can describe the last year here is by saying I feel like we're where we were always supposed to be. Does that make sense? This house and this town, it feels right and it feels good and it feels like HOME. That's all you truly want for your family.
Every New Year's Even I sit down and reflect on the last 12 months. I sit and I think about what happened and what occurred that enhanced my life to the fullest. I look at my personal life and my professional life and truly take stock. It helps direct me for 2019 and really allows me to hone in on what's important and what really brought joy and happiness to my life.
I also believe that with every New Year's Eve it's important to sit down and think about what you learned over the last 365 days. It's not always easy to do, but it's something that can be really helpful and insightful. I've always felt that we're always learning in life… we're always students and we need to always be open to the lessons that life has in store for us. It's something I'm actually teaching my sons right now about life. I want them to always be open to the lessons – even the hard ones, those are actually the ones that will mean the most. But it truly is important to always be open to the universe and give life a try!
I'm sitting down right now to reflect on 2018 and my mind is buzzing with different things that I've learned throughout this year. I've had experiences happen to me that have changed me. I've had people come into my life that I'm grateful for and happy to let in. I've had people I've had to close out of my life because they don't bring me joy or happiness and that was a big thing for me this year. I wanted to edit out the negativity in my life because life is too short for that kind of stuff. One of the best things that I learned this year (which I will list below too!) is that YOU have control over your life, nobody else does. You create life, it's you… nobody else has that power. It's an important thing to remember and breath into your being. It's always been YOU all along, you just need to remember that.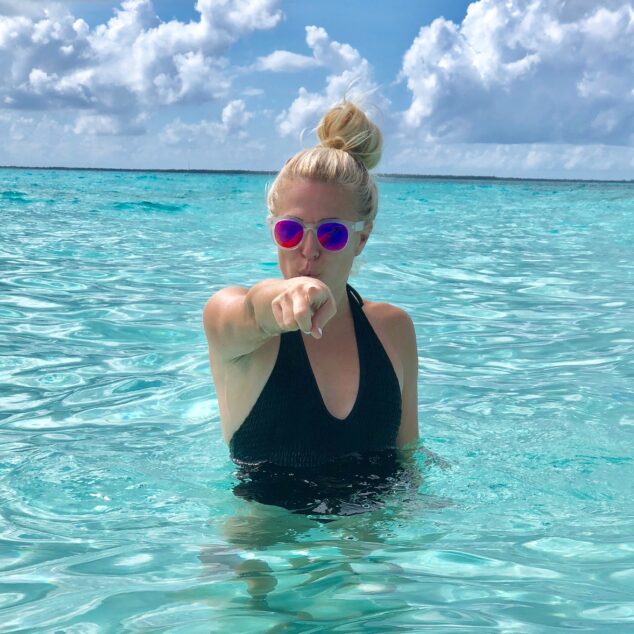 I'm going to share with you 50 Things I Learned in 2018… I didn't cap it at 50, I just wanted to brain dump and when I looked up, I was right about at 50 so I kept going until I hit 50. There is no order to these, I just listed as they came to me. This is what I learned, this is what rang true to me this year. This is what was truly important to me this year in walking away from 2018 and walking into 2019. I want to walk into 2019 with open arms, ready to rock and roll and get going!
I learned that praying and wishing for good health should always top your list
I learned that believing in yourself is the most important thing of all
I learned that you're never too old to make new friends
I learned that you're never too old to walk away from people not enhancing your life
I learned that sometimes you need to just go on a wing and a prayer
I learned that vulnerability is a good thing
I learned that letting go to situations you can't control can be hard, but freeing
I learned that I can forgive but I can't forget
I learned that date nights with my husband are a definite must
I learned that my daughter is truly becoming my little best friend
I learned that going after Permission to Hustle and creating our Retreat was good for the body, mind and soul
I learned that there are amazing, brilliant, generous and loyal friends out there in my world of blogging
I learned that I can give myself a day off
I learned that there's no time like the present
I learned that my kids each have their own paths to follow and part of my job is letting them go after those paths and dreams
I learned that I love being on TV
I learned that I love reading romance books over business books
I learned that working out for me is the best way to burn off stress
I learned that childhood friends are really the best kind of friends out there to reconnect with
I learned that one of the things I value most in friendships is how laughing together
I learned that my sons are growing up way too fast and I kinda hate it and I kinda love this new stage
I learned that I do miss carrying around a diaper bag
I learned that I it doesn't matter where we go as a family, it's just the importance of being together
I learned that Fortnite has totally and utterly taken over my kids' lives
I learned that swimming isn't really the biggest love for my sons and that's OK
I learned that giving time to someone is better than any possible gift
I learned who I can really depend on this year
I learned that you can always go after new and exciting dreams
I learned that butterflies and nerves when it comes to work are actually positive adrenaline
I learned that at 40 years old I need to take care of me
I learned the valuable lesson that you create life
I learned the true power of visualization
I learned the important lesson that less is more
I learned that I love working one on one with Vera… something we didn't do a ton in 2018
I learned that sometimes you need to make hard decisions and just go with it
I learned that I can't do it all
I learned that there's no such thing as balance
I learned that I missed just sitting down and writing for writing's sake
I learned that I love to bake
I leanred that I'm the one that truly holds the keys to my future
I learned that I can make time for what I want to make time for
I learned that when you put your mind to something, amazing things can happen
I learned that I can't be around people who complain all the time
I learned that people are very mighty behind a laptop or keyboard and they aren't so in person
I learned that I want to give back more
I learned that I want to help more and more women go after their dreams
I learned that I love to work with my husband
I learned that I need to keep making time for my parents
I learned that one on one time with the kids is like liquid gold for them
I learned that it's pretty amazing to think that everything in my life up till this very moment happened for a particular reason. And I have to have faith in the universe and God