Let's talk Winter Style for the Ladies It's beginning to feel a lot like winter here in New England! The temps are dropping fast and furiously and the warm coats and accessories have officially been taken down from the attic and put out. As much as I love the summer months with the warm sun, there's something magical about this time of year. I love the renewal of the season and the cold crisp air to breath in! I've traded in all of my tees and tanks for sweaters. I've traded in all my sandals and flip flops for boots. And I've traded in all my summer accessories for hats, scarves and gloves! Yes – it's time and I need to make sure I'm covered from head to toe as the cold months really creep on in and get my winter style on!
Winter Style for the Ladies
I recently headed to BJ's Wholesale Club in Seekonk, MA to stock up on some winter essentials for myself! Oddly enough – I always seem to have my kids and husband covered (pun intended!) – but I'm always looking for hats or scarves or boots for myself! This year I wanted to get myself covered ahead of time (Christmas miracle!) and I was thrilled beyond thrilled with the fashion-forward winter style selections at BJ's!
What I Need for Winter Style:
Heading into BJ's, I knew I needed 3 things: 1) Hat/Scarf (that would be JUST mine) 2) Warm Boots (not snow boots, but warm boots to hang out in) 3) Sweaters (I'm a jeans and sweater girl, so I wanted to grab a few more "every day' type styles). I'm telling you – I'm always pleasantly surprised by the variety of products and the stylish and trendy selections at BJ's on the fashion and apparel front. I've been a BJ's member for years, but I would always quickly bypass the clothing and accessories and go straight to the food and household items. I'm so happy that I've become a BJ's fashion fan this year because (I'm telling you!) the clothing and accessories are incredible and at amazing prices, too!
I immediately went to hats and scarves first for winter style! If you follow me Instagram – and watch my stories – I'm always in a pom pom hat! Here's the funny thing though – they're all my daughter's! Seriously! They're all Victoria's and she always finds it silly when I wear them out and about. I knew I needed to get my own for the season and find one that my sons wouldn't take either! I've always said, "When your head is warm, your whole body is warm!" BJ's had BEARPAW hats and scarves and socks! I'm a huge Bearpaw fan, so I was so happy to see that they sold winter accessories at BJ's! I bought myself a 3-pack (hat, scarf and socks) for $24.99! And they also offer just hats and scarves, too! They are the cutest, too! I need to make sure I mark "AUDREY/MOMMY" on the tag so nobody tries to steal it from me!
Winter Style Looks: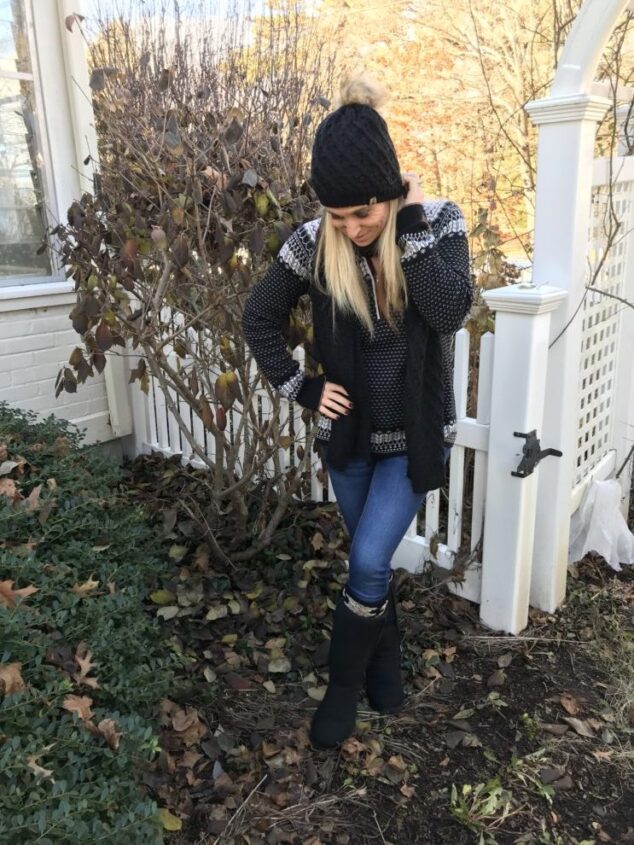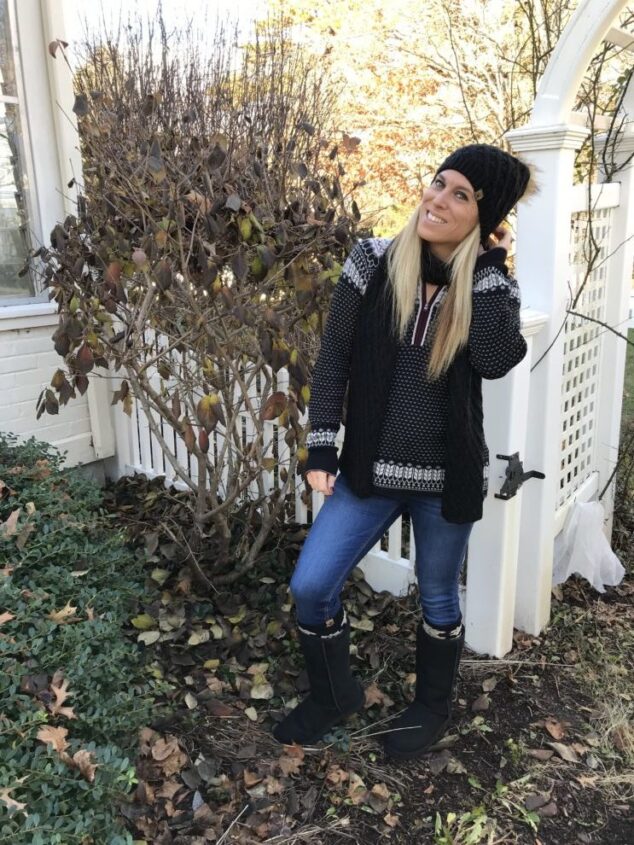 Next for Winter Style:
Next up? Boots. I knew BJ's sold boots for men and women and kids, but I had know idea that they sold one of the most well-known name brand sherpa-lined winter boots! Did you know they sold some of the hottest name brands? Honestly – this was the biggest score of the year for me! I've been wanting a pair of these winter oots since September, but I just hadn't wanted to order them online because I wasn't sure if I would be a size 6.5 or 7 – I completely dragged my feet (literally!). When I saw that they had them at BJ's I screamed a little… and then tried them on (size 7 fit like a glove!)… and then BOUGHT THEM ASAP!! I knew that BJ's had brand name items, but I didn't know about how great they were and the incredible value!! I was so excited to finally have the pair I wanted and gift myself a little early Christmas gift!! Not to mention – my feet sink right into the sherpa lining and I'm in love with them already!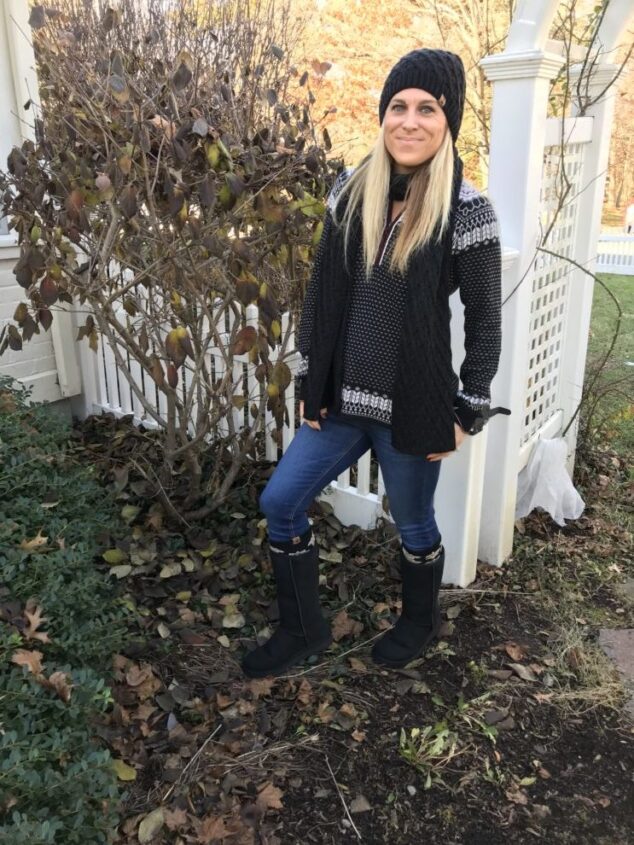 Winter Style Sweaters
And then I just needed some additional sweaters!! I knew that my Eddie Bauer sweater I bought before while reminded me of a ski weekend in NH was a perfect fit… so when I saw that it came in other colors, I snatched them right on up!! I just love the feel and the softness of it! And I love that it's the kind of sweater I can wear throughout the winter months ahead! When you find a sweater you love – my thoughts? You buy it in every color/pattern possible! My husband just can't be let in on that secret!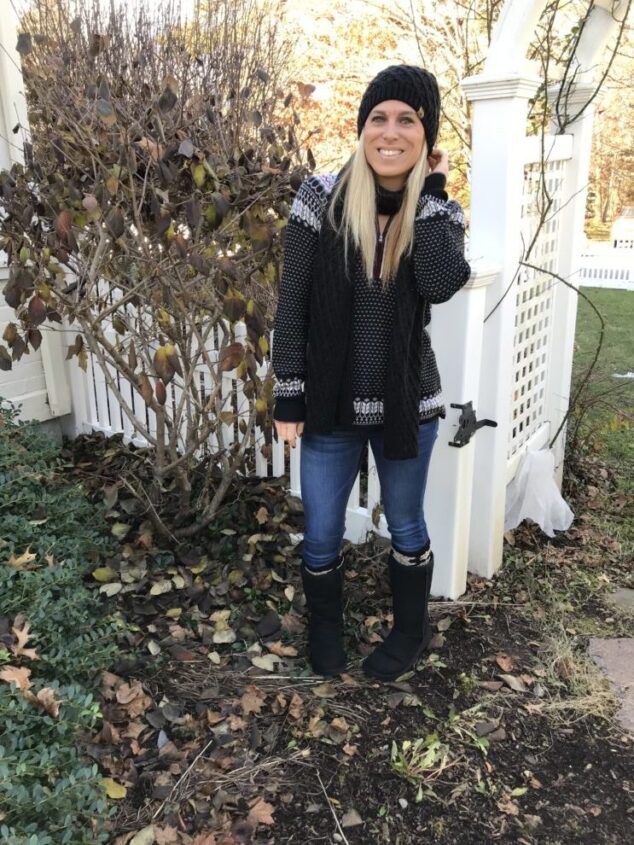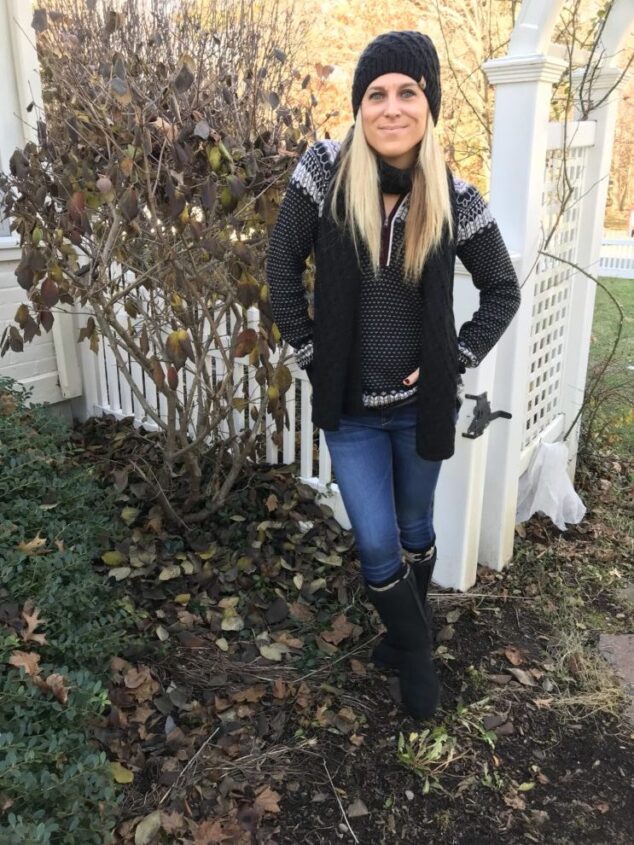 If you're not already a BJ's Wholesale Club member, become one today!
What can you expect as a member?
BJ's unbeatable value and assortment on products in-club and online give their members everything they need for their families.
BJ's offers the best prices and convenient shopping options, including in-club shopping, BJs.com, same-day delivery and buy online, pick up in Club, helping members save time and stress.
When it comes to entertaining, BJ's offers easy-to-prepare menus and table settings for your family
BJ's is committed to providing the best quality, value and assortment through their Berkley Jensen and Wellsley Farms brands. Wellsley Farms and Berkley Jensen products are made with the highest quality ingredients and materials and offered to BJ's Members at an incredible value, allowing families to live generously.
BJ's also offers the easiest way to save additional money with their already prices, but in addition to that their special no-clip Add-to-Card coupons which is now available on mobile, too.
You'll thank me – believe me!! I'm there every single week and I love it because it saves me time and money! I'm able to buy everything on my list in one stop shopping!! Not to mention – you can find some fabulous fashion items for yourself, too! 🙂
*Disclosure – This is a sponsored post with BJ's. All opinions are 100% my own.