Do you need a little fitness fashion to be extra motivated? I'm all about taking care of myself this year – body, mind and soul. Every New Year I make this promise to myself, but this year – this year is different. I turned 40 years old this year and for the first time in my life I'm looking at myself and thinking longevity. I want to be fit and healthy for myself and my children. I want them to see me as someone who cares about her body and fuels it with the right kinds of foods and fitness workouts.
We decided this year for our family to invest in some workout gear in our house, too. So truly – this year is all about health and wellness. It's not just about doing it for a couple of weeks and then going back here and there, it's a true lifestyle change and commitment that I've made to myself and my family. It's not about having the best figure at the beach, for me… it's about feeling the best I can be inside and out.
Fitness Fashion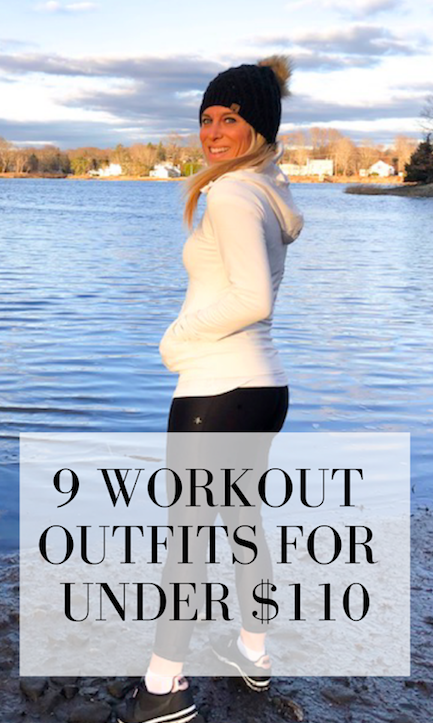 To kick off this health and wellness New Year GOAL for myself (and my family!), I wanted to treat myself to some new workout clothes, get into some fitness fashion. I'm not kidding – I haven't bought myself new workout clothes since BEFORE I had Victoria! I haven't invested in any pieces because I haven't consistently been working out. I really didn't find the need to add anything new into my fitness fashion because I wasn't even using it! Thankfully – it's time! I have a few requirements when it comes to Fitness Fashion:
The clothing has to fit like a glove. I love to run and bike, so whatever I'm wearing needs to fit me perfectly. Nothing can be too small or too tight or too big.
Style. Style is a BIGGIE for me! Working out is great to do, but I don't LOVE it. I don't wake up excited to head to the treadmill, so my clothing that I wear – I need it to excite me! So fashionable and stylish items are a must!
Price needs to be right. I can't pay $150 for a pair of workout pants. I just can't pay that and I can't justify it.
I hit the Fitness Fashion mega load at my BJ's Wholesale Club this past weekend and I'm incredibly excited to share what I got with you! I'm not kidding – I think I sold pieces while I was at BJ's to other women because I was so excited about the styles and the prices! BJ's had workout pants, workout tops and workout hoodies – varieties of them! I couldn't believe the selections that were available! I knew I wanted to get at least a couple pairs of workout pants and a couple of tops… but I wasn't prepared for the AMAZING selections and the ways that I could easily mix and match different pieces for different looks. I'm a total fashionista at heart, so I literally had looks laid out on the floor at BJ's as I was trying to decide what to buy! I swear – if my husband was there with me, he would've video'd the entire thing! It was so funny… but it definitely attracted attention and helped! I scored 6 difference pieces, giving me 9 different looks for UNDER $110!! Actually for $105 to be exact!! I was thrilled with the selections and the varieties and patterns!!
BJ's carries the Spalding brand and the workout pants are INCREDIBLE! Spalding – True to the Game – has Essential Leggings that are offered in printed patterns with mesh inserts and moisture wicking! I scored 2 pairs – one with stars and one with stripes. SHAPE has a line at BJ's which is amazing, too! I was excited to see that BJ's has SHAPE because they're known for fitness and working out. The SHAPE clothing has a great fit, made with DryFuze and Comfort and Breathability. These 2 brands have everything you're looking for when it comes to Fitness Fashion.
Here's how I have put these brands into action! Since I'm all about the body, mind and soul with health and wellness I wanted to showcase how I'm using my fitness clothing that I got from BJ's. I really am making it a goal of mine this year to take walks by the beach and breath in the air. A brisk walk at the beach can get your heart pumping! I'm bringing in yoga and meditation this year, I even created a space in my living room. And (of course!) my power walking and runs!! This is everything I'm doing this year for myself and I hope to inspire other moms and dads to do the same!!
Here's me on my run wearing Spalding workout pants, along with my purple SHAPE hoodie! Keeping me cozy and warm!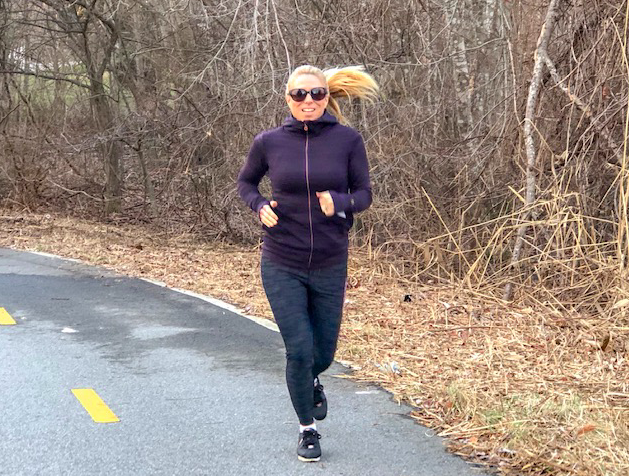 Here I am taking some time for myself in my living room in my purple Spalding pants and my SHAPE black hoodie! Feeling at peace right here!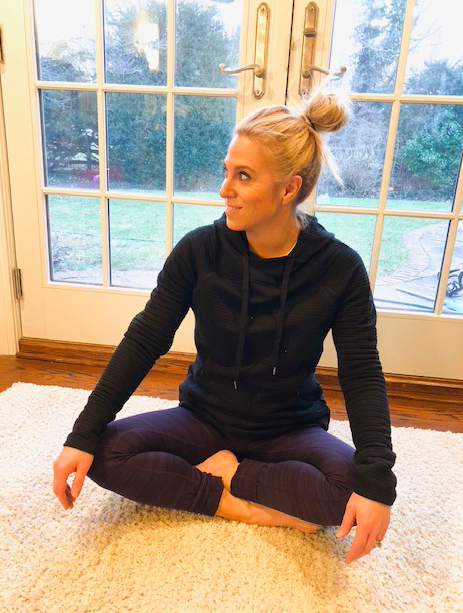 Here I am at the beach right after a brisk walk! I'm wearing my SHAPE hoodie in a cream color, which I love!! And I'm wearing my Spalding workout pants with cute stars all over them!! Makes me smile!! I'm also wearing my Bearpaws winter hat I got at BJ's, too!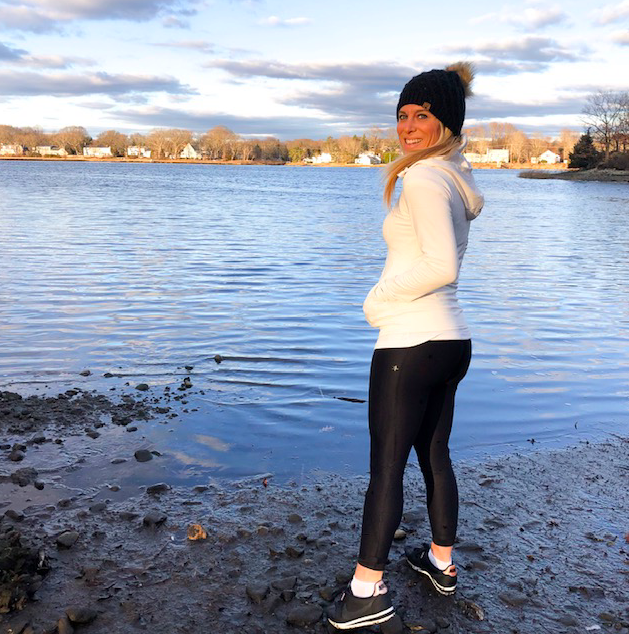 I'm telling you – I love BJ's so much!! Who knew that had such amazing fitness fashion?? I even had a friend tell me the other day that she JUST joined BJ's after the holidays because she needed to finally see the place I rave about so much. She loves it!! I mean… there were brand name hoodies for men yesterday for $39.99!! You can't find prices like that anywhere!! I just love it and really encourage you to check one out locally if you are able to do it or visit BJs.com!! You'll be so glad you became a member because there are so many advantages!!
What can you expect as a member?
BJ's unbeatable value and assortment on products in-club and online give their members everything they need for their families. Truly a one-stop destination.
BJ's offers the best prices and convenient shopping options, including in-club shopping, BJs.com, same-day delivery and buy online, pick up in Club, helping members save time and stress.
When it comes to entertaining, BJ's offers easy-to-prepare menus and table settings for your family!
BJ's is committed to providing the best quality, value and assortment through their Berkley Jensen and Wellsley Farms brands. Wellsley Farms and Berkley Jensen products are made with the highest quality ingredients and materials and offered to BJ's Members at an incredible value, allowing families to live generously.
BJ's also offers the easiest way to save additional money with their already low prices, but in addition to that their special no-clip Add-to-Card coupons which are now available on mobile, too!
And then take those legs to Planet Fitness for a workout! See why I love it there.
Love for you to check out BJ's Wholesale Club!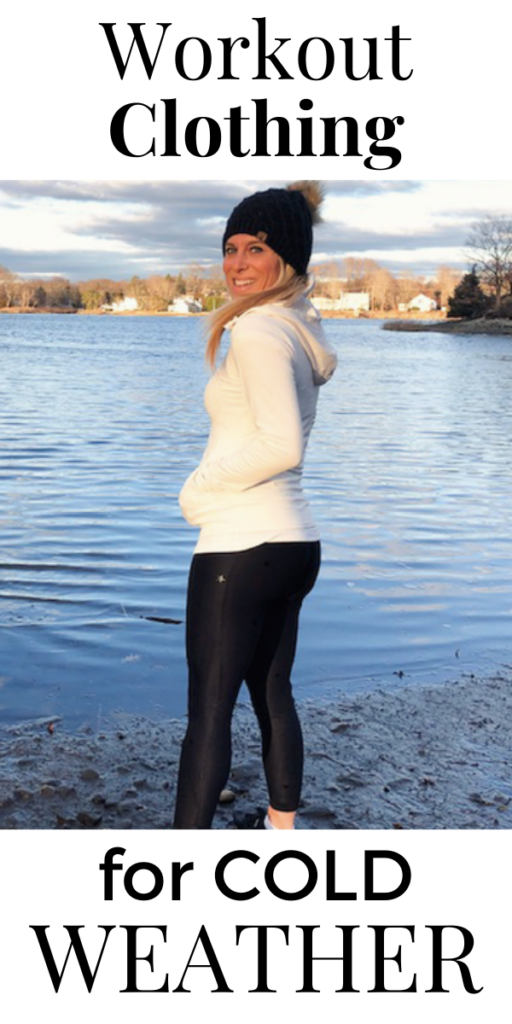 Disclosure: This is a sponsored BJ's post. All opinions are 100% my own.