I was called "F-ing Stupid" – The profanity came in the form of a question, "Are you f-ing stupid?" 44 years ago. Addressed to me. By my employer. Using the full f-word. This incident has stayed with me for 44 years and will stay with me for the rest of my life. Lessons Learned in Life aren't lost. Actually – lessons learned in life really stick with you. They stay with you forever and ever and ever.
Lessons Learned in Life
I'll begin this long-ago incident, though, with last week. My 10-year old grandson, Henry, had stayed home from school with a bad headache and as his headache diminished, I offered to take him out for lunch. As 10-year old boys are when feeling better, he was hungry.
His Mama said, "Sure, if Henry's up to it."
A half hour or so later, Henry and I were ordering our lunches at Newport Creamery. He was still a bit pale and a bit less hungry than usual, but our waitress was very kind with a couple of requests/changes regarding his *Kids' Meal Special.
When our waitress left our table, *Henry said, "Grandma, you are always friendly to waitresses."
"I am," I answered, "because it's an honorable and tough job."
He looked at me kinda quizzically. "How is it tough?" he asked.
I answered something like this… "I worked my way through college doing office work, cashiering,  waitressing and some piece work," I said, "but I REALLY discovered waitressing after college. I know how hard it can be to deal with the public, to get everything right with busy chefs and cooks and bartenders, with managers, and with all the people behind the scenes. AND I relied on tips. So if a customer is friendly, it can make that day better."
"Like what?" Henry asked. "And what's piece-work?"
"Well," I answered…
Lessons Learned in Life
And I told him the waitress part of the story. (We didn't have time to get around to piece-work, a topic for another lunch.)

It was Autumn 1974. I had graduated from Rhode Island College that previous Spring with a BA in Education with an English Major, but there was an abundance of teachers and no jobs. I got a job doing piece-work at a small jewelry company, working a few afternoon hours per week, pretty much making my own hours for a few extra dollars.
I was also researching schools at which to apply for study of Reading and earn a Master's Degree in Education. Nights, I was waitressing. I waitressed at a family, burger-style restaurant where patrons tossed peanut shells on the floor and where waitresses were often the target of flying peanut shells and whom also swept up the peanut shells after each shift into big piles and dust-panned them into trash barrels. I didn't mind it. It was busy, loud, time passed quickly and tips were fairly good. And, I had become friendly with one of the bartenders, an older and experienced bartender who tutored me in garnishes – cherries, lemons, cocktail onions, celery stalks, lime twist, wedge or slice, and even some spices, etc. This skill made all the difference in getting drinks out swiftly and, of course, garnered better tips. I also learned at that restaurant that men who left unusually large tips might just ask for a date (none of which I accepted).
Henry grimaced at the description of me getting hit with peanut shells and the date requests. Ewww.
Lessons Learned in Life – for Grandkids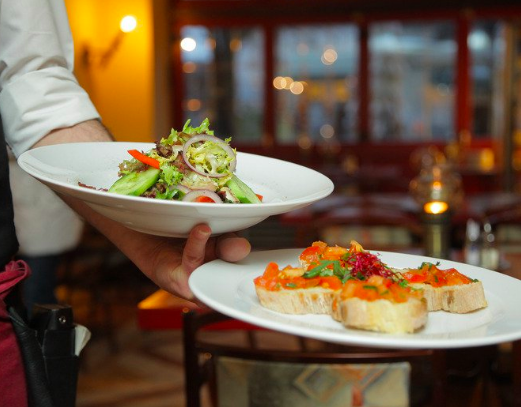 But back to my story of the profanity and lesson.
When I decided to take a Spring 1975 semester graduate level course in Reading Education at Rhode Island College that required some field work of interviews with educators, administrators, etc., and lots of research and writing, I applied for a primarily evening cocktail waitress shift, with a conference luncheon here and there, at a local, high-end hotel/conference facility. I got the job. The one caveat is that the "uniform" was a red corset-type thing with white ruffled panties and a very low neckline. Ouch. AND no comfy, padded waitress shoes; but rather black heels — low heels, but heels just the same.
Henry, I'm sure, was shuddering in his seat as I explained THAT uniform. A longer and more dramatic ewwwww.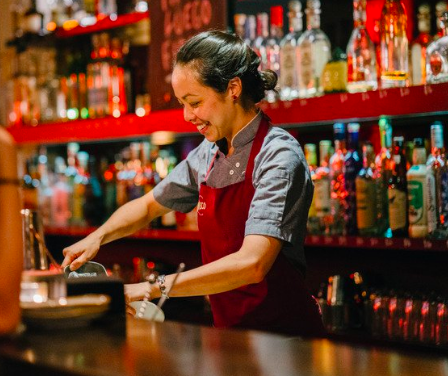 But at the same time in my life, as I told Henry, I was thoroughly invested in the graduate-level course I was taking; setting up interviews, researching programs around the State of Rhode Island in different subject areas, but always seeming to come back to Reading as the key to unlock every possibility for kids. For our course thesis, we were given areas of study from which to choose, and I was immediately drawn to one: Desegregation in the City of Providence. I wanted to know the timeline, the shifts in schools, the minutes of the meetings, the politicians' thoughts, the students' and parents' and teachers' and administrators' thoughts. The volcanic shift. How did this impact an entire city? Statistics? Test scores? A million questions. One of my interviews at the RI State Department of Education lead me to a state-run vocational-technical school in Rhode Island via that interview that I had set up by combing the yellow pages of a phone book in a telephone cubicle at Rhode Island College.
Lessons Learned in Life
BUT, back to waitressing. As a cocktail waitress, I found that customers, primarily businessmen, were polite until they had too much to drink, but management and bartenders at that establishment were omnipresent and caring. Tips were grand. It would be a group of women at a conference one afternoon that would take me by surprise. It was a Teachers'/Administrators' Conference, and although I knew I could not connect with some of these education big-wigs in that setting, I paid close attention to topics, schools represented, and any hints of personnel needs.
Of course, for this afternoon function, waitresses donned black skirts, white shirts and sensible shoes. But to this one group of five female administrators, I was just a lowly waitress. So lowly, in fact, that their table left me a combined tip of 6 cents. 6 CENTS. One nickel and one penny. I suppose the penny was to seal the deal that the lowly tip was purposeful, like lowly li'l ol' me didn't deserve even a dime. It took everything I had in my mind, spirit and body to not chase these women outside and yell, "Hey, is this how you treat kids and students, too?" and throw that 6 cents at them.
I didn't. But I will never forget this incident. Ever. As a waitress. As a woman. As a human being. Lessons Learned in Life – they stick with you to the core. Always.

I explained to Henry that this encounter with educated women made me even more cognizant of treating waitresses/waiters with the respect they deserve for working, working hard and working well. Amen.
Ironically, it would be conferences such as this one that would change the course of my life. Because management thought I did such a good job serving at conferences, they requested that my work schedule change from evening cocktails to luncheons/conferences. I knew that this would reduce tips and tie up too much time for my graduate course work, so I declined and interviewed and got hired on-the-spot at a primarily dinner restaurant with an extensive menu. When I asked about training, the owner told me that his wife would train me. Right then and there.
The training consisted of the owner's wife handing me an apron and a menu and telling me that she, as maitre'd, would receive 15% of my tips and that she was keenly aware of tipping percentages at her restaurant (i.e., waitress beware).
I would be starting that night.
What you Take from Lessons Learned in Life
What? I hadn't given my notice to the cocktail waitress job. I hadn't even seen the menu. I didn't know the kitchen or anything about anything.
But I put on my apron. Black, around the neck and tied at waist. I pursed the menu, but "the wife" was chattering about specials and no switches in veggies and potatoes and a bunch of other stuff that I cannot, and do not want to, remember. But I do remember customers, most elderly, coming into the lobby. The "wife" seating them. Me being told to wait on them. I did. After a few drink and meal orders, I realized that the waitstaff had lots of responsibilities – go to the kitchen, place the orders with the cook (maitre'd's husband and owner of establishment), put correct salad dressings and veggies on each order, serve the orders, garnish the mixed drinks (thank goodness for this skill), bus the tables, set the tables. There were two waitress there with me, but they were very busy and had no time for me. I can still see them carrying monstrous trays of food to her tables. No one smiled.
I tried. I really did. But with one older couple, I brought peas rather than green beans and the wife was irritated. She wanted GREEN BEANS, not PEAS. OK. I raced to the kitchen and told the chef, THE OWNER OF THE RESTAURANT, THE WIFE'S (who was getting 15% of my tips) HUSBAND that I needed to exchange a vegetable.
He looked at me from behind the cooking area and yelled, "ARE YOU F-ING STUPID?" (using the full f-word).
*(Henry was stunned. He looked up from his mac 'n cheese special order. "No, he didn't," he said. "Did he?")
I can feel to this moment the both silence and thunder of that question in my brain.
All I had was one word for this man confronting me with this insidious question. "No."
I untied the black apron, pulled it over my head, left the kitchen and the restaurant and waitressing and went back to piece-work at that little jewelry company with the clarity to honor every person of every profession.
Lessons Learned in Life – You Remember Details
On April 5, 1975 (I will always remember this date), I would be sitting in the office of that State of Rhode Island Department of Education employee taking pages and pages of notes during own interview. He would give me resources at my disposal and a contact at a school where he thought I may enjoy volunteering.
I did it all. The contact. The school. The volunteering. The research paper. The course. The A+ grade.
I met the principal of that school, a gruff, retired Naval officer, but a man who loved kids and thought each one deserved a trade and solid academics and honor and respect. He thought young teachers like me should volunteer to help these kids. Each morning, I began my day tutoring at that school, primarily helping students with reading skills. Each afternoon, was piece-work. That summer of 1975, that same principal offered me a paid position as a summer school teacher in a program for disadvantaged kids.
I met a math teacher that summer who would become my husband, the father of our children and grandfather to our 12, going on 13 grandkids.
I would be accepted to Boston University and earn my Master's Degree in Reading.
I would teach English and Reading at that school for 30 years.
Lessons Learned in Life – No, I am not f-ing stupid.
But I'll always give waitressing, the ups and the downs, some credit for my success.
Waitressing is very much like teaching. You have multiple people, multiple personalities, multiple needs, multiple everything coming at you at the same moment, and then multiply those moments by minutes, hours, days, weeks, years.
No moment is the same. No student is the same. No class is the same.
No moment is the same. No customer is the same. No table is the same.
But for each and all professions, and of these honorable professions – Teacher, Waitress/Waiter – a student/customer smile and a friendly demeanor means so very much. For me, this goes way, way, way back.
Poor Henry. He didn't know what he was in for when Grandma invited him for lunch.

Next installment of "Lunch with Grandma": Piece-work!
Share with me Lessons Learned in Life  – that you've learned… even the hard way.
Here's an article my daughter write regarding the 1st week of Middle School.