How to Wear a Blanket Scarf is one of the most common SCARF questions I get when it comes to mom fashion! I'm a HUGE scarf lover, especially when it comes to blanket scarves. They are cozy and soft and fun and big and oversized and gorgeous. They are the perfect winter and summer accessory for fashion lovers! And guess what? They're also the perfect winter and summer accessory for non-fashion lovers, too. This is what I love about BLANKET SCARVES – they are fashion created equal for everyone! It doesn't matter your size or shape or height, you can rock a scarf regardless! Ways to wear a blanket scarf vary, but it does come down to knowing how to do it and what to wear them with for the fashion win! How to Wear a Blanket Scarf is something you will perfect and use ALL. THE. TIME.
How to wear a blanket scarf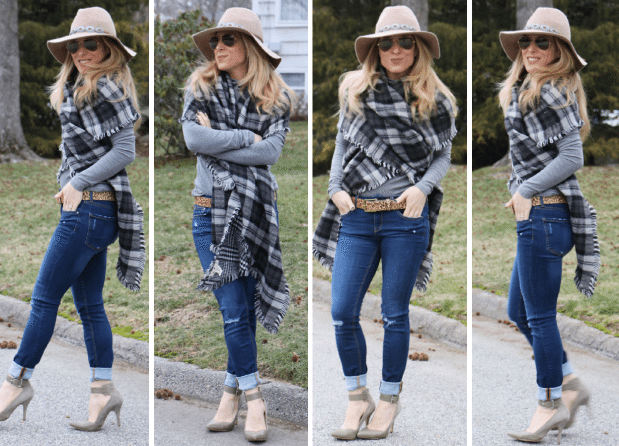 I'm all about cute outfits for moms. I'm a mom of 5, so I really love to feel my best and look my best when I'm out and about. I'm at the bus stop. I'm at the coffee shop (who am I kidding – I'm at Dunkin'). I'm at the YMCA (5 days a week for the kids!). I'm just always around town with my kids and when I'm not – I'm at home or I'm at a work meeting. The great thing about blanket scarves is that you can wear them all the time – dressed up and even dressed down! They are just that much of a versatile staple item to have in your closet. Period.
How to Wear a Blanket Scarf on the GO?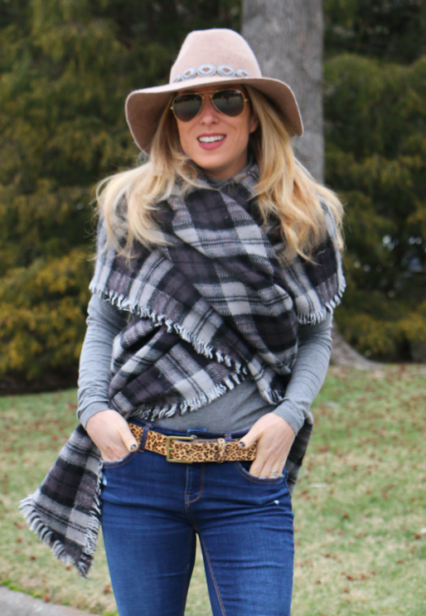 Girl! It is ALL ABOUT the look. I love to wrap my chunky around my neck. I love to just let it sit right on my shoulders and become my outer layer, I mean – no jacket if it's even a little warm out – how fabulous is that? As you can see, I don't tie my blanket scarf. I simply just wrap it around my shoulders and go! It's simple. It's quick. It's easy. It's doable. And I love that I can actually wear a very plain top underneath and not have to worry about it. I just have on a gray turtleneck here. Cute outfits are the way to go for moms! You feel your best! And the best part? You look your best, too! I fully believe in happiness comes in many different forms – but when we look good, we feel good and happy!
Ways to Wear a Blanket Scarf
OK – So I've shared the easiest way on the planet above (wrap and go!), again – see below! Anyone can rock this one, you don't have to be a over the top fashionista! You can do this even if you're in elementary school – which my 5 year old actually rocks! Talk about cute outfits for twinning!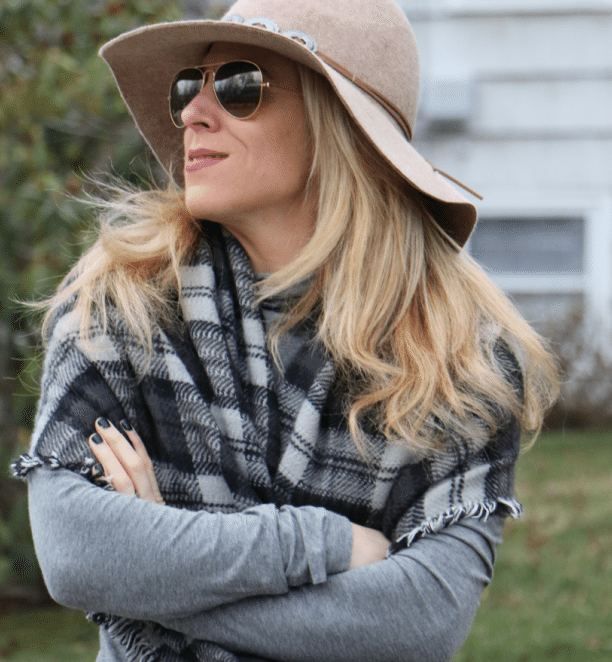 Another fabulous way to rock a blanket scarf is to tie it around your neck in a chunky layer! How does this look on you? Simply adorable.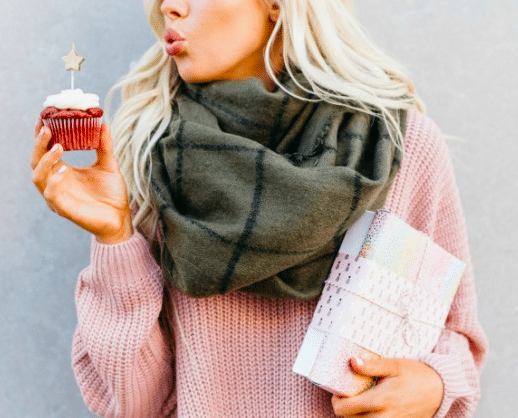 See – cute outfits like this are fantastic because you can literally rock a scarf inside and out! You can look cool and collective while rocking out anywhere! I'm obsessed with this look because it's just that – COOL AS CAN BE! I love different ways to wear a blanket scarf because you CAN have fun with them, you don't have to be wearing it ONE way!
Here's additional ways to answer the fashion question HOW TO WEAR A BLANKET SCARF!!
You can add the corner on front and let it hand, so it's a chic triangle look! I have to say, this is such a gorgeous way to rock one!! I'm all about looking fabulous as I hit the town! This scarf is from Cetns of Style (one of my go-tos for all of my blanket scarves!).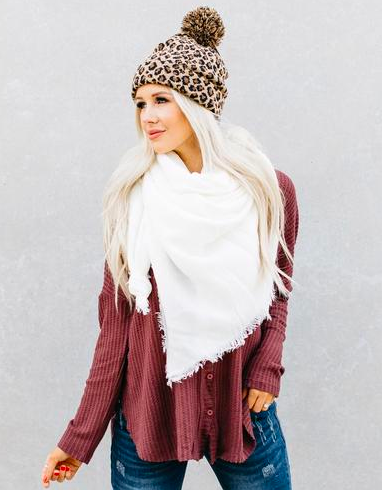 Are you ready for these easy ways to wear a blanket scarf?
Drape it girl! I'm not joking, just drape and literally go! This is pretty easy, too! Right? I mean – you can't go wrong with a drape and go!! I love this so much!!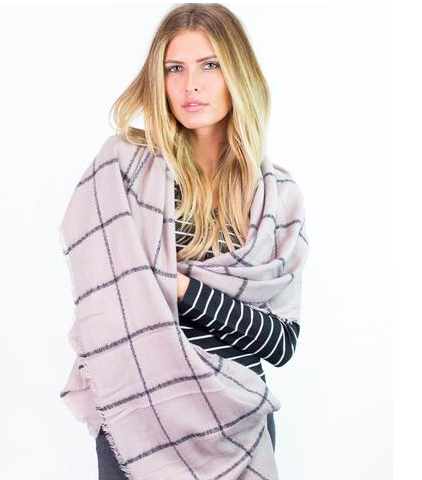 And then are you ready for the best kept secret of all? This one is a style I haven't done in awhile, but it's definitely different and it's chic as can be!! Do a loose tie in the back and let is hang in front like a loose top! I'm not kidding, I learned this fashion trick while I was living in NYC and I fell in love with it! I used to love seeing the girls rock basic pieces in different and unique ways. I was always dazzled by the true versatility of fashion when I lived in NYC!! They just really know how to knock it out of the park when it comes to fashion and style and beauty! And yes – they can think of clever ways to wear a blanket scarf, too! I love this style!!
How to wear a blanket scarf with kids?
Easy. For this additional bonus look on ways to wear a blanket scarf? Are you ready for this one? Wrap your kiddos inside a blanket scarf with you! My little angel girl loves to snuggle and hug mommy, so this is an easy way to rock it!! Look it how happy Victoria is here!! OMG! I love this so much!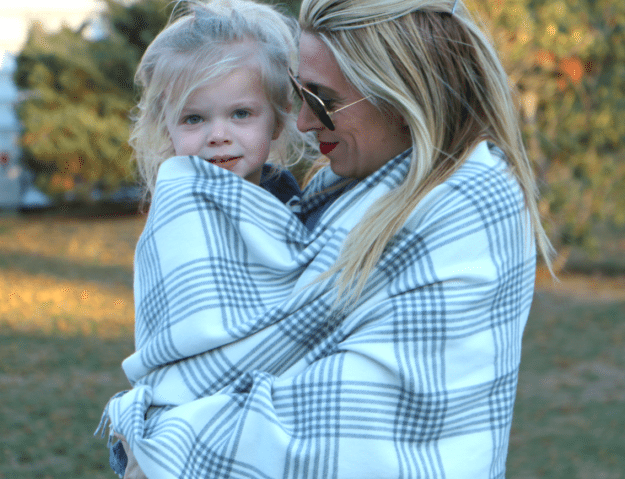 I've written about how to wear and tie scarves forever on my site! Blanket scarves really do contribute to making cute outfits for moms and I love that these can be added in easily! I hope I helped you see How to wear a blanket scarf and that yes – there are different ways to wear a blanket scarf! You don't need to wear the same kind of style all the time! Mix it up and have some fashion fun! You only live once, so go for it on the fashion side of things!! Really dig in and do what you can to rock it!!
In the meantime, here are some additional ways on how to wear a scarf:
Pin away ladies! (PLEASE!)