Valentine's Day Heart Puzzle Craft for Kids is absolutely ADORABLE! Valentine's Day is the perfect time to make crafts with your kids. Whether they're making something at school, daycare, a friend's house or at home – Valentine's Day crafts are simply precious. My daughter loves to make things, when she knows it's craft time she gets so excited! I love coming up with some great crafts for her to do for Valentine's Day because we can keep them and they're also perfect to give as gifts, too. I have a fantastic one for you today that you're going to love to do with your little ones!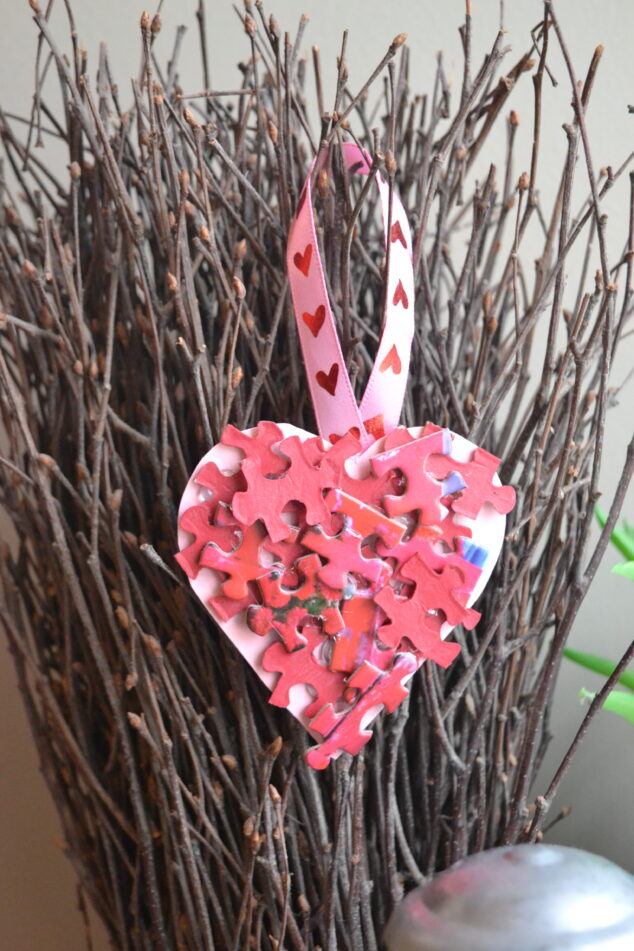 Valentine's Day Heart Puzzle Craft for Kids
I promise these are super easy to make and also super fun! Your kids are going to love this and want to make over and over again! Not to mention – you can save these and reuse over and over and over again – year after year. You can hang these inside your house and on the trees out front (just be careful and mindful of rain!).
Supplies for Valentine's Day Craft: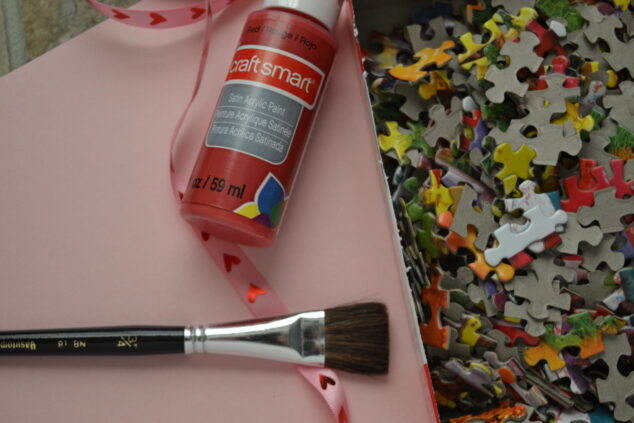 Puzzle from the dollar store (or you can use an old one that you have at home, too!)
Red or pink paint
Thick card stock
Ribbon or string.
Scissors
Glue
Glitter (if you dare)
*As you can tell – you probably have most of these items at home. This is what I love about doing craft projects that are easy.  I don't have to be outside hunting down different items.  I can easily look at a list and know that I have everything at home – right at my fingertips!
How to Make our Valentine's Day Puzzle Craft:
Cut out a heart out of the cardstock, approximately 3" width at the largest point.
Pull out some puzzle pieces that are already different hues of pink or red. Then take out others and flip them upside down to paint.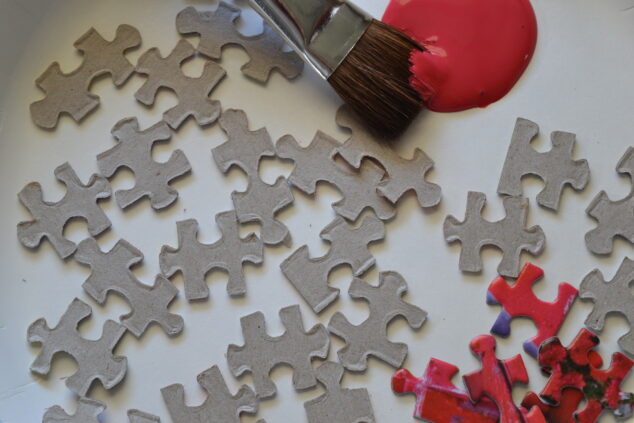 Spread out puzzle pieces on newspaper and paint them your favorite valentine colors. Dust them with a little glitter before they dry if you wish.

After the puzzle pieces are dry, start to glue them onto the cardstock hearts. Don't be afraid to overlap them.

Glue on ribbon or string so you can hang it up.

Add a special Valentine message on the back.
And then you see the final result, which are just awesome!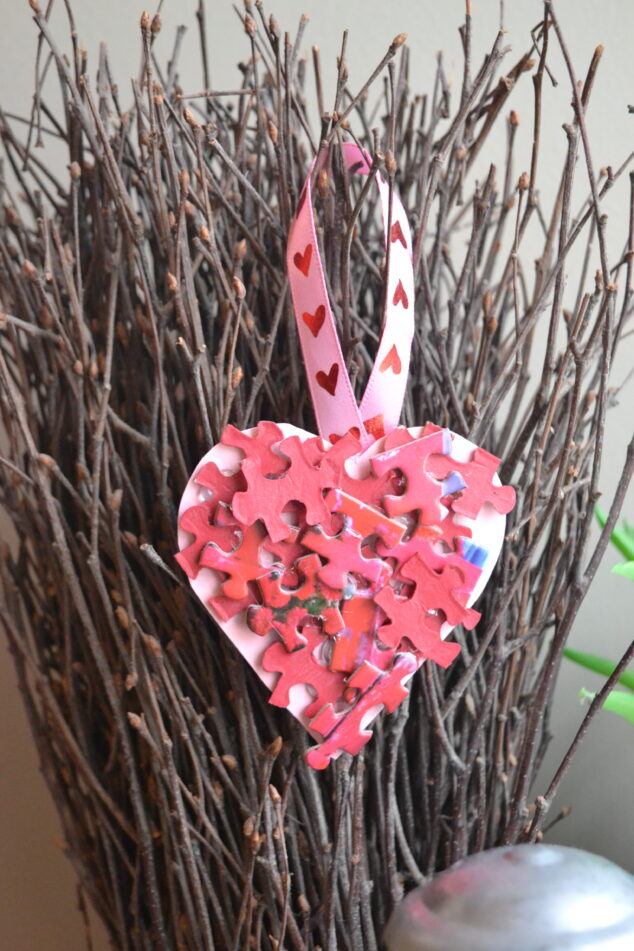 This is what I love about this craft, too – it's unique. It's different. It's special. It's something you will look at and smile because you know precious little hands created it. You want to be excited and love being part of the journey of these adorable crafts. I hope when you make it it's as fun for you as it is for your child, too! I simply think it's a beautiful thing to take the time to create with your child, regardless of what the CREATION is! It's just good ole FUN!
I've done a couple other Valentine's Day crafts on my site for kids, too! Here are a few links that I know are so much fun for kids to create on their own!
Super Duper Ridiculously Easy Valentine's Day Crafts for Kids (and non-DIY Moms)
Valentine' Chocolate Bark Recipe for your Family
How to Make Valentine's Day Special for your Whole Family
Pin this Image for Others, too!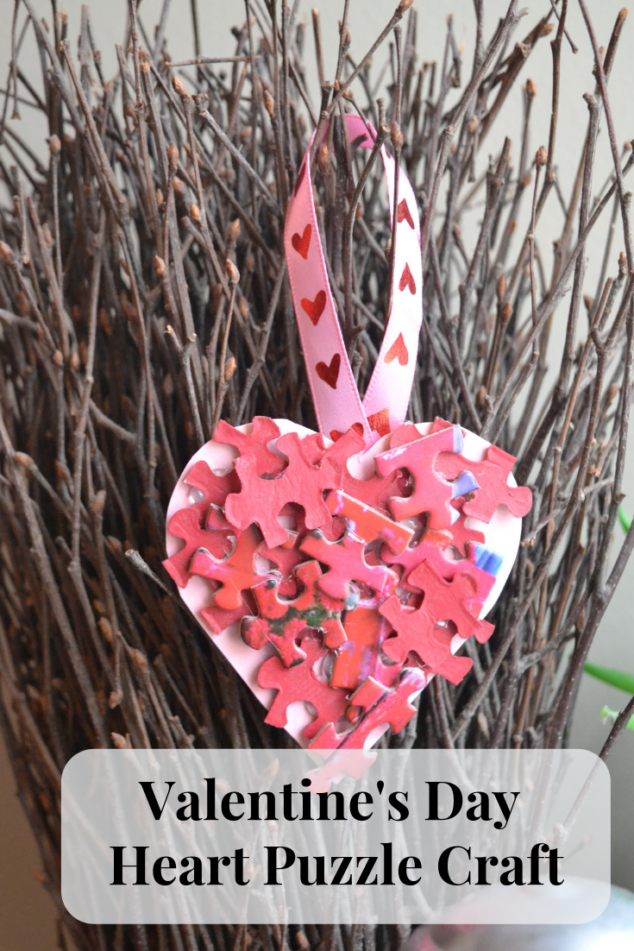 *Sheri McShane is a contributor for MomGenerations.com! Sheri has the blog: When the Kids Go to Bed.
ABOUT SHERI MCSHANE: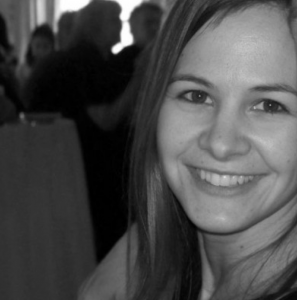 Hello All. My name is Sheri. I am a working mother of 3 pretty darn fabulous little boys. I'm trying very hard to handle the stresses of working, being a mother, being a wife, keeping house, and finding the time to just laugh and enjoy life. A few things you should know about me: I'm an iced-coffee addict, I love to organize, and I love my wine. I am also a master at fort-building and being the belly-eating monster. Fitness and healthy eating habits are important to me so you may hear a little about that too. Here you will read about my daily musings and of course my venting, wine glass in hand. Hope you find something you can relate to. Cheers. If you're a crafty kind of person, come visit me over at The Crafty Collaborative. Here you will find a group of us ladies reviewing and test driving all the fabulous recipes and DIYs we find on Pinterest. We'll let you know if they're worth diving into.