How to Wear a Plaid Shirt is not a science. Plaid is one of the most basic patterns to have in your closet and my fashion rule of thumb? Everyone should have a plaid shirt! I love a basic plaid shirt because you can easily dress it up and dress it down. I've been doing this for years and on the days when I wake up and declare to my husband, "I don't have anything to wear!" (and he always laughs and points to my closet) … my plaid shirt is always my good old standby because it just works. So How to Wear a Plaid Shirt? Let me help you out on this one because I love coming up with different styles and looks to make it work! I've been wearing my classic red plaid shirt over 100 times this season and these are my top 3 ways to wear it right now. My kids can attest that I have been wearing it THIS much because I love it THIS much (I promise, I do wash it!).
How to Wear a Plaid Shirt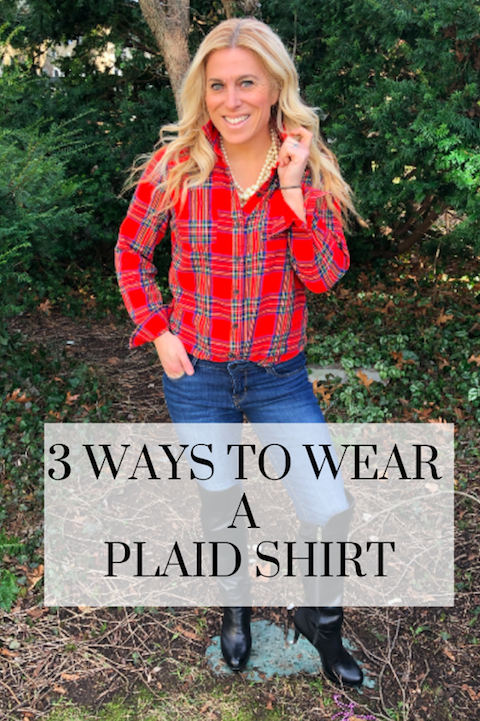 How to Wear a Plaid Shirt is something I adore!! I'm all about sharing this year a series called "Work, Weekend, Play!" I want to show how you can take ONE item and make it work for work, the weekend and for some play time, too! Since I just turned 40 years old and fully aware that I am not 20 something and rocking negative 0 jeans on Instagram, I want to show how you can be a seasoned mom (I'm putting it lightly) and still look your best, feel your best and dress your best! Age is just a number – I believe that to the core, but when it comes to fashion… you need to know what works for you. I love sharing items that every women can rock in a variety of different ways!! Today is all about the PLAID! Here are the 3 different ways!
How to Wear a Plaid Shirt – Play Time!
Let's start off with the easiest way of all – with JEANS! You can't go wrong with jeans and a plaid shirt. You simply can't. go. wrong. This is such an easy outfit to toss together and can be worn just about anywhere! Bus stop? Yes. Grocery store? Yes. Meeting at work? Yes. It just depends how you style the shoes with it! I opted for black high leather boots with my look to dress it up a bit! I love the look of skinny jeans with high boots. Now I'm 5 feet, so I always have to watch just how high I go with the boots, but I can usually make it work! I also added a chunky necklace for some extra UMPH!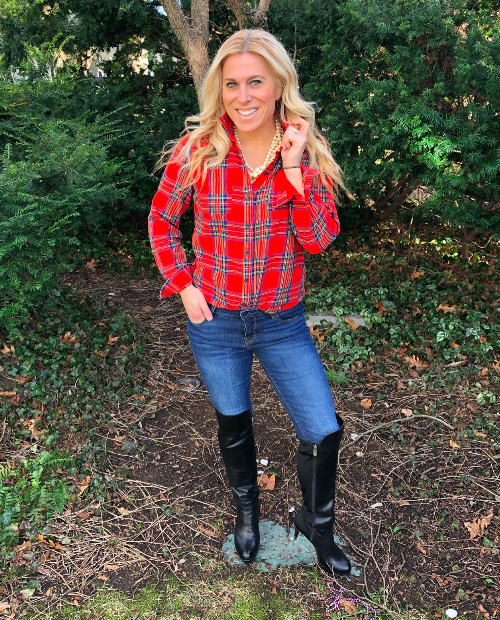 What I love about this look, too is that it's classic. There's not much thought to it… it's literally 3 extra pieces – jeans, boots and necklace and it looks great! I also feel good in it, which is important, too! I would wear this out to dinner with my husband or off to a girl's night! It just works!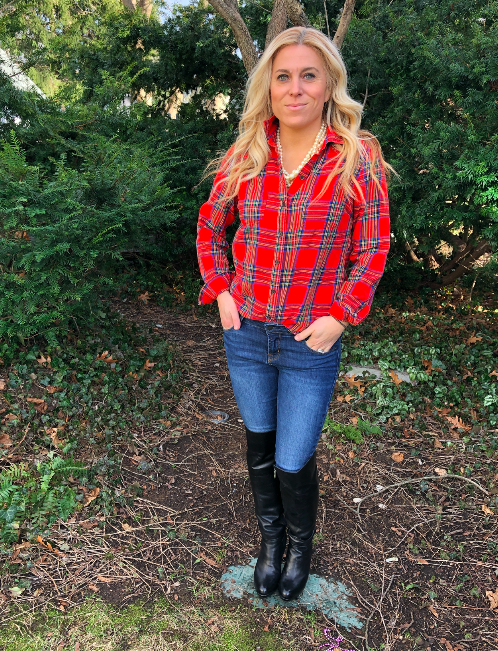 How to Wear a Plaid Shirt – Work!
OK – let's talk skirts and dressing a plaid shirt up for work! I'm all about making sure everyone has a blank pencil skirt in their closet and also a pair of black heels. You don't need to spend a fortune on these items, you just need to make sure you have them! You can really get them anywhere! I've been obsessed with leather this season, so I'm all about a black leather skirt! I wanted to pair with a skirt and heels to really show how you can take this shirt from play to work – just like that! Check it out!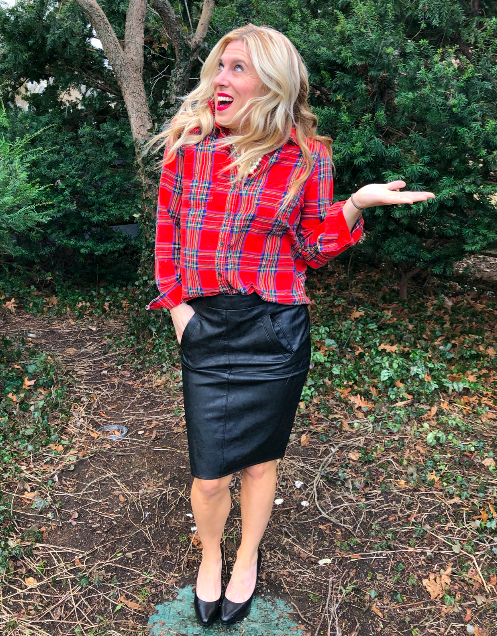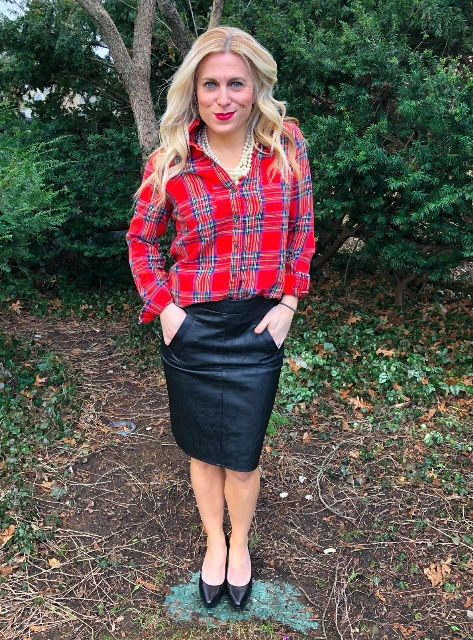 I'm feeling confident and ready to slay a work meeting in this style! I just love a black skirt because anything and everything works with it! It's just a fabulous way to get use out of a piece of clothing! It's so fabulous! And I love how I can take my basic plaid shirt and make it work for well, WORK!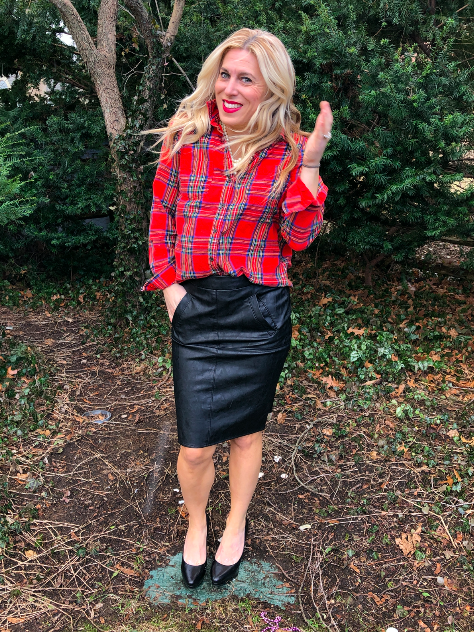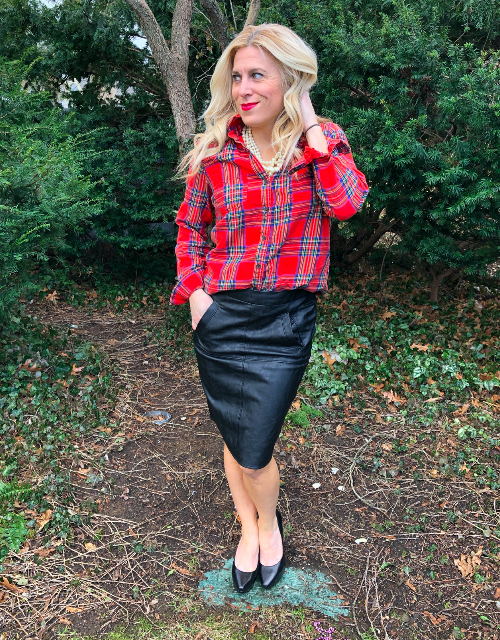 How to Wear a Plaid Shirt – Weekend!
And we're ready for our last way to style a plaid shirt – this is for the weekend, total dress down look for you! I love to just be comfy and cozy on the weekends. I spend all week working and making sure I look my best, but on the weekends… I want to just be chill. I don't want to be in heels. I don't want to be in boots. I want to be in sneakers and yoga pants and comfy clothes! We're always on the go with the kids and this is the best way to dress for weekends with the family!  So here's how I styled my plaid shirt for the weekend!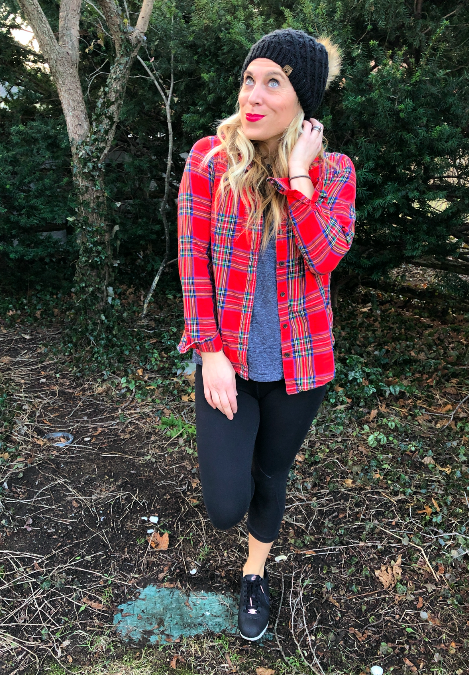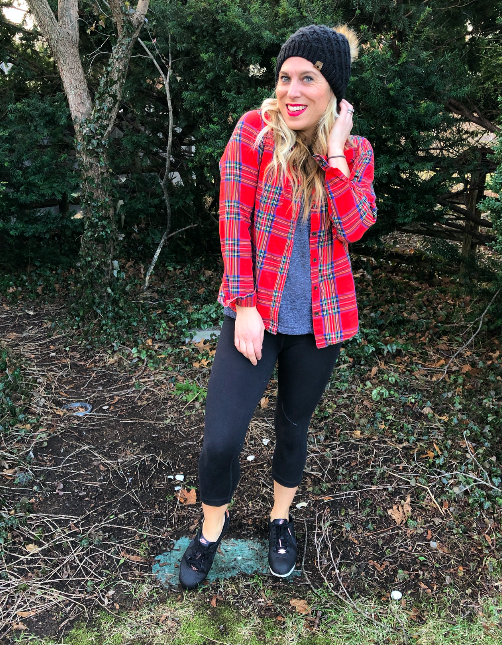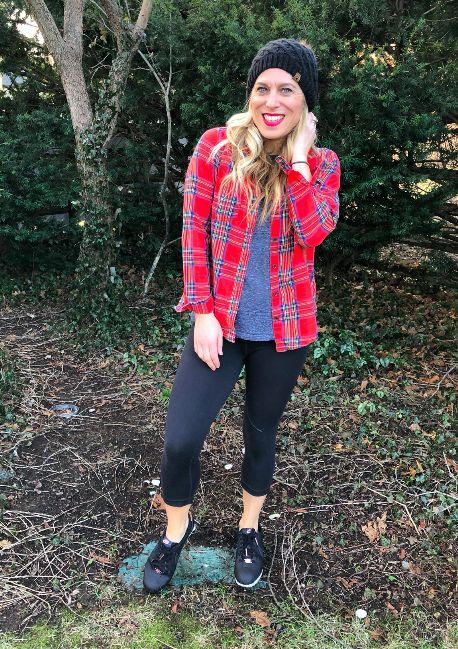 I just took my black yoga pants and instead of buttoning my plaid shirt up, I unbuttoned it and wore it over a basic gray tank! I also grabbed my new Nike sneakers and just wore as is with the look! This has been an easy go to look for the weekends because there's literally no thought to it, but it still looks good and it's comfy as can be! I love how I can just bounce around for the weekend like this with the kids and my husband! I just love showcasing how to wear a plaid shirt!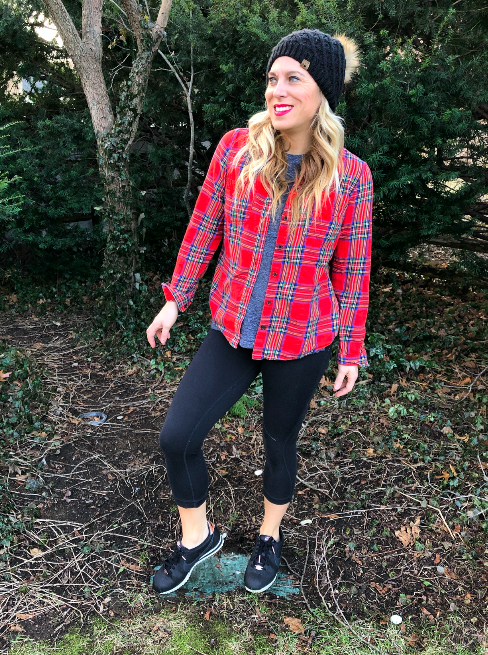 I'm all about wearing items a variety of different ways. I fully believe in getting the most out of your clothing. When you buy something you want to wear it, you don't just want it sitting in your closet or in a drawer! Get it out and use it! Think of different ways to wear it! Challenge yourself and try and see how you can wear it to different things – work, weekend and play! I'm all about making items fit into this little check box! I love when I can do it! As moms (ahem and 40 year old ones!) we don't have to compromise style whenever or wherever we're going, we just need to know what works best for us and our body.
I buy all my plaid shirts everywhere, but some faves – GAP, J.Crew and American Eagle.
Some additional plaid options for you:

I'll be sharing more throughout the year!!
For some additional fashion mom posts, head here!