I'm someone who truly believes in the power of reading, especially for our kids. I grew up the daughter of 2 teachers, so (as you can imagine) reading was a big deal in our house. You'd find me all summer long curled up with a book on our couch. I would read over 15 books each summer! Now as a mom myself I'm constantly looking for great books for my kids and wonderful resources to help me out along the way.
I met Tom Kiernan a couple of years ago when he released his book, The Mad Dash – Bite My Dust: Noah Text – Just Syllables . Tom is an author and creator of The Mad Dash, his vision is to promote, support, and participate in healing activities everywhere. As a certified yoga instructor, marathon runner, husband and father of two boys, Tom is passionate about the healing arts, "Our story is about friendship and healing. The Mad Dash takes our readers on a journey to find a cure to one of the world's most elusive ailments—cancer. But more importantly, it's about the approach and attitude when facing this challenge…to 'Live like Bones'.
My older 2 sons (William and Alex) devoured The Mad Dash – Bite My Dust and it made me so happy to see! This book is a story about friendship and healing. Lumpy and Bones are the best of friends about to enter the 8th grade. Together they embark on a wild journey in search of answers to one of the world's most unsolved problems. You will be sure to laugh and begin to understand, from Lumpy's perspective, what it's like to "Live like Bones".
My son Ben is reading this one right now and it's wonderful because he's not a lover of reading. He's a kid who doesn't read quite as fast as his brothers, so when he does read and finds himself in a really good book – it's really exciting for me. What I love about this book in particular is that Tom's company, The Mad Dash Company has presented The Mad Dash series in Noah Text. Noah Text is highly effective for new readers, struggling readers, and those with dyslexia. Noah Text simulates easier language systems by highlighting critical word patterns. This gives readers the independence to learn unknown words on their own while at the same time enhancing fluency and ease of reading. This is all done while leaving words intact. Noah Text (Syllables + Long Vowels) provides maximum benefit by highlighting syllable breaks and accentuating long vowels, similar to an acute accent mark which is used in many languages.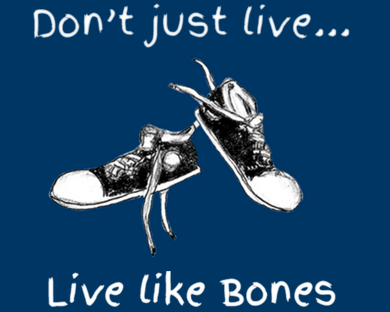 Tom just launched his website LumpyBones.com as a portal where you can purchase his books, learn about what Tom has going on around Rhode Island, find activities for students and teachers and be inspired. I've spent some time on the site and it's super user friendly. I asked Tom if I could interview him and get his advice and reflection on a few things. He was kind enough to accept and I couldn't be happier to share!
1. What made you want to become an author?

I've been an aspiring writer my entire life. It just took me 50 years to get my act together.

2. How do you find inspiration for your writing?

I've always been a kid at heart. Being inspired to write books for kids is fun for me…I really love it. 

3. What does it feel like when someone reads your books and loves them?

When somebody reads your story and it truly inspires them, it's an amazing feeling…especially when it's kids who were reluctant to read in the first place. 


4. How do you feel you standout as an author?

I think the voices of my characters are one of the main reasons why kids love The Mad Dash. I'm a kid at heart so writing "middle-grade" voices comes naturally to me. Just ask my wife. 


5. Tell me about the Portal that you have created.

I've created a unique experience at lumpybones.com  You can buy both of my books and read them directly from our portal on your phone, tablet, laptop…anywhere, anytime. This fall we'll be rolling out The Mad Dash to schools and classrooms together with an interactive curriculum powered by a partnership with an amazing company called Insert Learning. There will be nothing else like it anywhere! 

6. What was your fave book as a kid?

Charlie and the Chocolate Factory. I hope people route for Bones just like I did for Charlie!

7. What advice would you give a parent looking to instill the love of reading in their kids?

Read to them and read with them. I can't think of better time spent with your child than opening your imagination together. 

A HUGE thank you to Tom Kiernan! I strongly suggest you head over to LumpyBones.com and check it out! If you have kids entering middle school, you've gotta grab his books! Your kids will really identify with them and fall in love with the characters.