With 7 people in our family, we're always trying to come up with easy dinner recipes. We're also a very busy and active family, so dinnertime isn't always the easiest time of day for us. William is rushing off to swim practice. Alex is coming home from baseball practice. Ben and Henry are coming home from swim team. And Victoria? Depending on the which night it is, she's either off or coming back from somewhere. It's just how our family has always operated! So when it comes to finding options for dinner? We're ALL about easy and convenient.
Blue Apron Enchiladas Recipe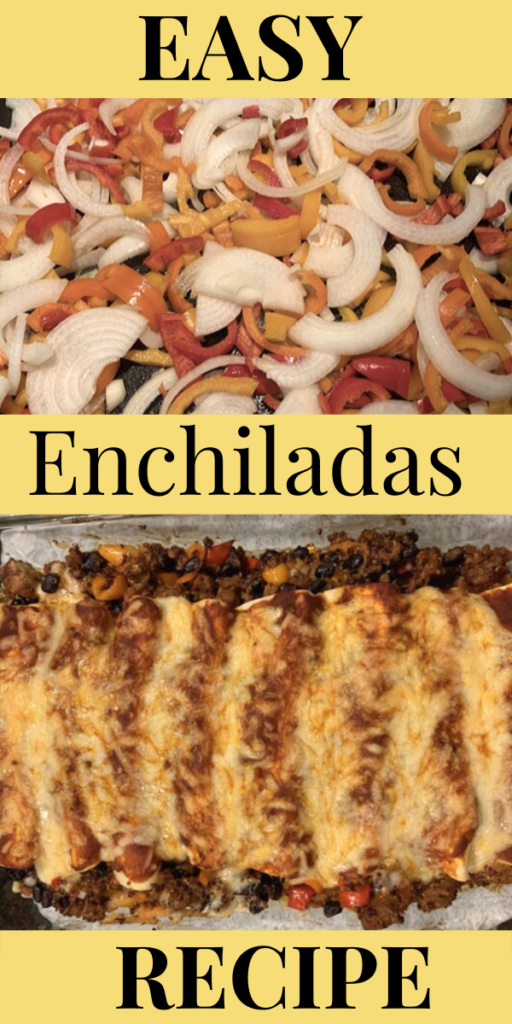 We has the opportunity to try out Blue Apron for the first time last week. We've never used this service before, but I've known about it for a long time now. What really attracted me to Blue Apron was that an entire recipe with all of its ingredients is delivered right to your front door! But that's not all for me, I went over to their website and saw their vision:
Our food system—the way in which food is grown and distributed—is complicated, and making good choices for your family can be difficult. We are changing that: By partnering with farmers to raise the highest-quality ingredients, by creating a distribution system that delivers ingredients at a better value and by investing in the things that matter most—our environment and our communities. This will be a decades-long effort, but with each Blue Apron home chef, together we can build a better food system.
This made me smile. Blue Apron cares about their food and what they're delivering to people all over the country. As a mom who is very in-tuned with what I'm feeding my children, this was something I appreciated about Blue Apron. They want families out there to have the highest quality ingredients and they want to help keep building a better food system. A huge props from me to them!
Blue Apron delivers original, step-by-step recipes and fresh ingredients to customers nationwide. Our menus change every week, so with each delivery you learn to cook inventive new dishes with seasonal ingredients. By letting us source these hard-to-find ingredients for you, you'll get food that is fresher and cheaper than you can get at your local supermarket, and there's no waste because we only send you what you need for each recipe.
We named our company "Blue Apron" because chefs around the world wear blue aprons when they're learning to cook, and it has become a symbol of lifelong learning in cooking. We believe you're never done learning in the kitchen, so we design our menus to ensure you're always learning new cooking techniques, trying new cuisines, and using unique ingredients.
Blue Apron is a weekly subscription service with no commitment – you can skip a week or cancel at any time with a week's notice. We can't wait to cook with you!
So if you're not familiar with Blue Apron, let me share with you how it works:
You are able to a plan that works for you and also choose from an ever-changing mix of meat, fish, Beyond Meat®, and vegetarian recipes along with repeating customer favorites.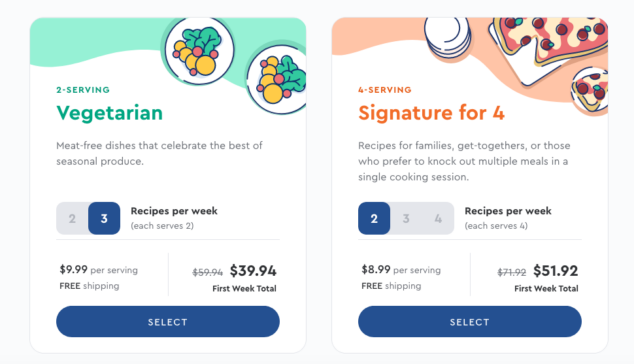 We chose Beyond Meat® and had the opportunity to make the most INSANELY AMAZING Enchiladas! The beauty of Blue Apron is that every single item is in the box that you need. There isn't any guessing work. There isn't any need for shopping. You literally open the box and GO! All you need to do is follow the recipe! Now… that's my kinda of cooking and dinner!
Our recipe was: Beyond Beef™️ & Quinoa Enchiladas with Black Beans & Monterey Jack Cheese
Crowd-pleasing enchiladas get a boost of rich, savory flavor from a filling made from plant-based ground Beyond Beef™ cooked with onions, peppers, and a touch of maple syrup and hot sauce for deliciously sweet heat. To temper the bold flavors, we're topping it all with a cooling dollop of lime sour cream.
The best part? All of these ingredients were right in the box!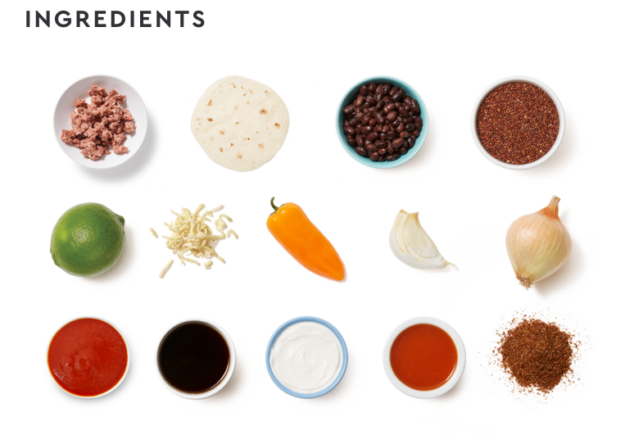 You can read the FULL RECIPE here, but I thought it would be fun to bring you through some of the steps… peppers and onions, popped right in the pan to saute!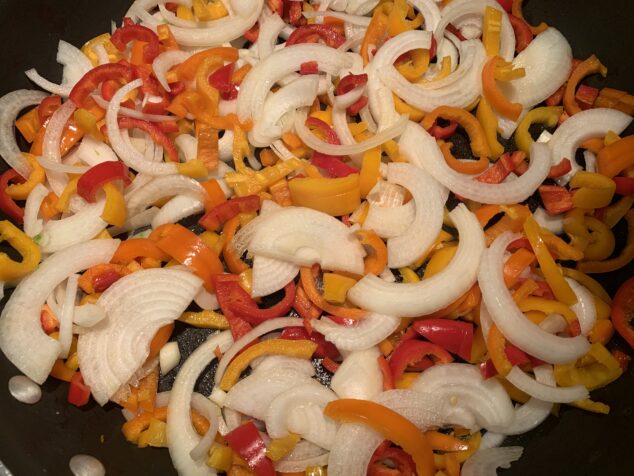 Then we got to add the Beyond Meat®, quinoa and black beans, let me tell you… the smells from the kitchen were divine!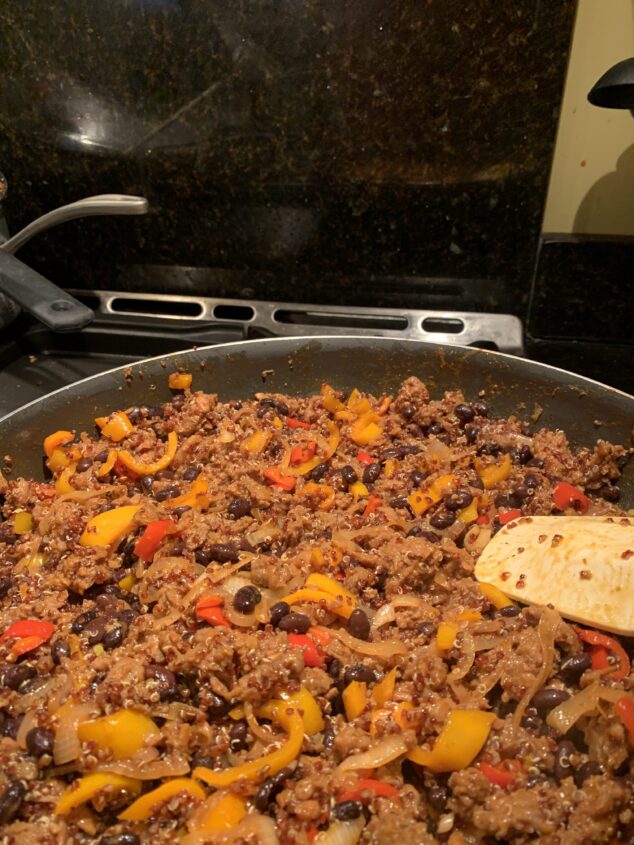 Then we took all the ingredients and wrapped them right into the tortilla shells! Talk about easy and fun! We got the kids involved with this step. And then – as you can see – CHEESE galore right on top!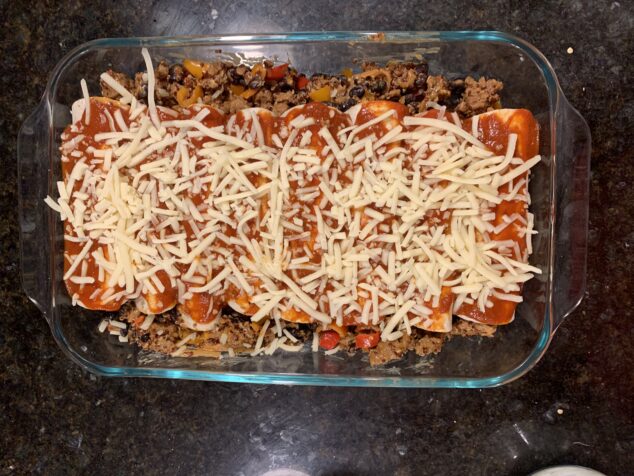 Here's a fun close up of the dish before we popped it into the oven!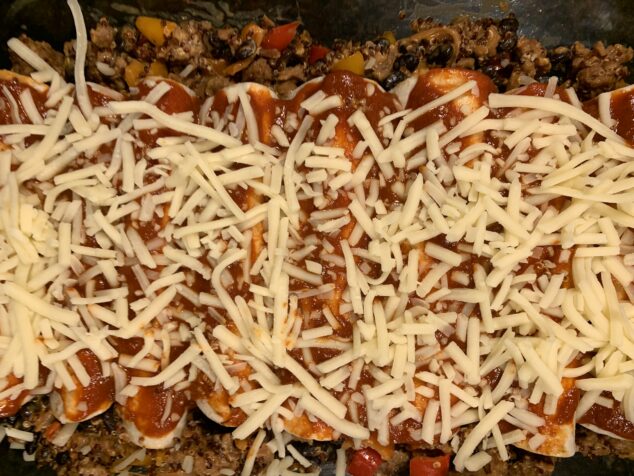 Bake the enchiladas 8 to 10 minutes, or until lightly browned and the cheese is melted. Remove from the oven and let stand at least 2 minutes before serving. Serve the enchiladas topped with the lime sour cream. Enjoy!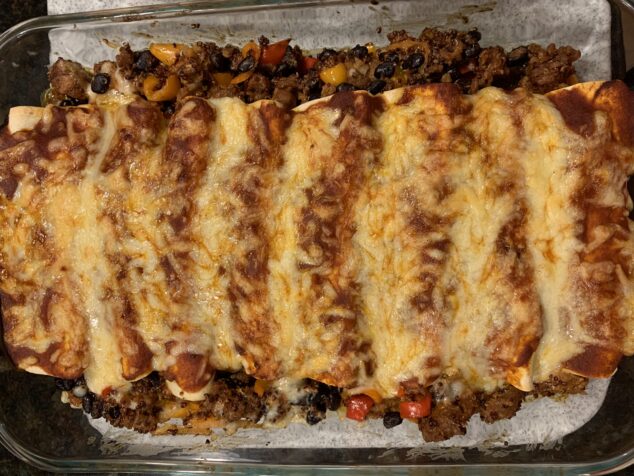 I'm all about easy and convenient dinners! Check out some of my other easy meals!