If you're looking for a super cute trend to bring into your fall wardrobe, I've got one for you – the tie front blouse. It's an elegant and fun trend that really pulls together a classic look with a chic twist. As a woman with 5 kids, I want to somewhat look my age. I can't wear cropped tops out and about! I love this trend because it's just perfect enough to be on trend and sweet enough to be age appropriate for anyone over 18!
Tie Front Blouse for Fall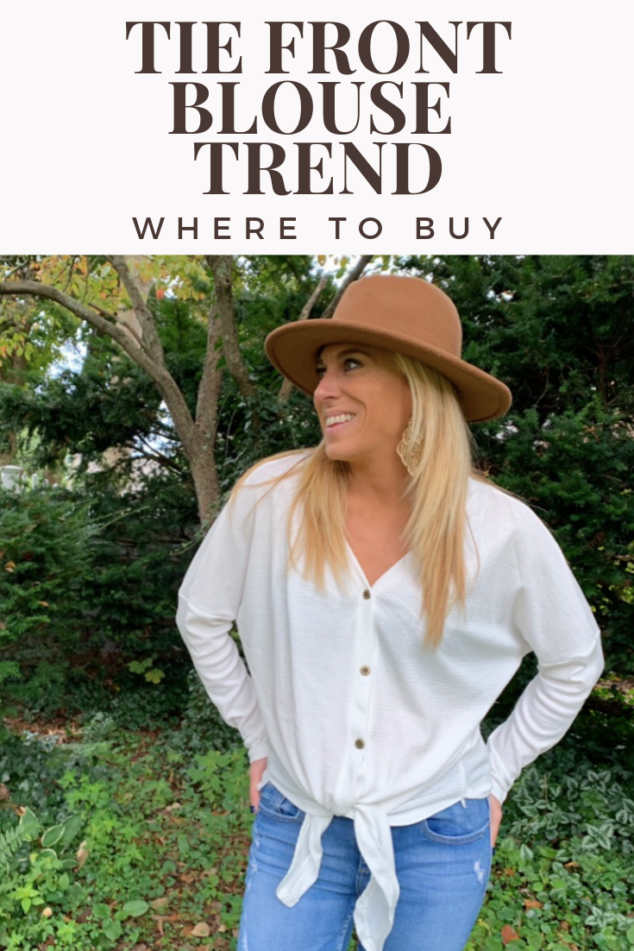 I wasn't sure what this was going to look like on me. I'm someone who loves fashion, but (honestly) needs to make sure something is going to work for me. I'm not a lover of my stomach region after 5 kids, so I *kinda* thought this trend would put more of a spotlight on a region I try my best to disguise. Shockingly this tie front blouse works as the perfect was to flatter the region I try to hide! Talk about a fashion WIN!
I'm also someone who sees a fall trend like this and doesn't want to invest a ton of money. These are the questions I start asking myself – will this be "in" next season? Will I wear this again? Will I wear this out and about? What will my kids think of this trend? I have teenagers now, so I want to make sure I'm looking good for them, too! I don't want them to be embarrassed of me! I want them to see what I'm wearing and say, "Yes! You look good!"
Free People is one of my fave brands! It's always been a brand I'm obsessed with. I love their relaxed, boho styles. The second I saw a few tie front blouses on the Free People site, I knew I needed to try it out. I just truly didn't want to spend over $80 to make this trend work. I went over to Amazon to see if I could find a top that works for me and I scored with this white tie front blouse and truly loved it from the second I saw it. Here's the thing with Amazon – it's either a hit or a miss. But for $19.99, I was willing to give it a try and see what I thought!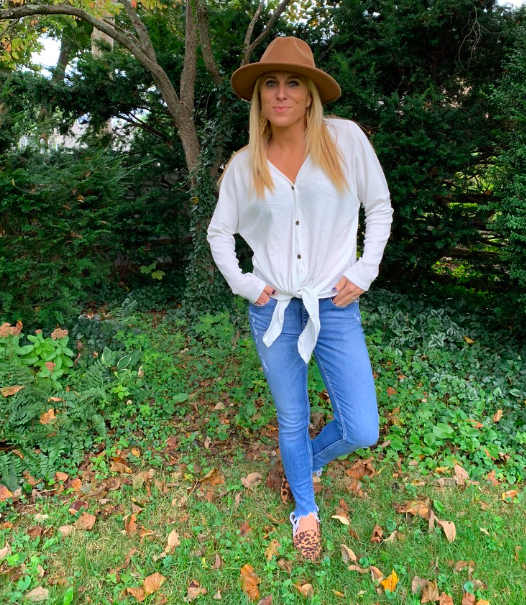 It arrived. I loved it. It's super cute. It's super fun. It's classic. It's trendy. It's beyond reasonable on the price front. It's also a top that you can pull off at age and with any body type. I like trends that are created equal for women. I don't like trends that are only for women who are a size 0 or for women who are 22 years old. I love that this one really does work for any age!
This IWOLLENCE Womens Waffle Knit Tunic Blouse Tie Knot Henley Top truly was everything I wanted for the fall!

4 Button closure




Material: Polyester+Spandex. Breathable Crochet Fabric, Very Soft and Comfortable tops. *Note: the WHITE color is a little bit see through, it is recommended to use Nude color or Light color underwear.

Size:US SIZE,Small=(US 4-6), Medium=(US 8-10), Large=(US 12-14), X-Large=(US 16-18), XX-Large=US 20

Features: Waffle knitted blouse with button down design, Sexy V Neck,Long sleeve tunic tops, Curved hemline, Tie Front Blouse Hem design, Loose fit Bat Wing Plain Shirts

It's a super Breathable and Soft Blouse.Loose, Lightweight, Tie knot front vintage loose fit blouse classic sweatshirt.

Occasion: Perfect for your daily wear, outdoor activity, dates and parties… any occasion is perfect in Spring, Summer and Fall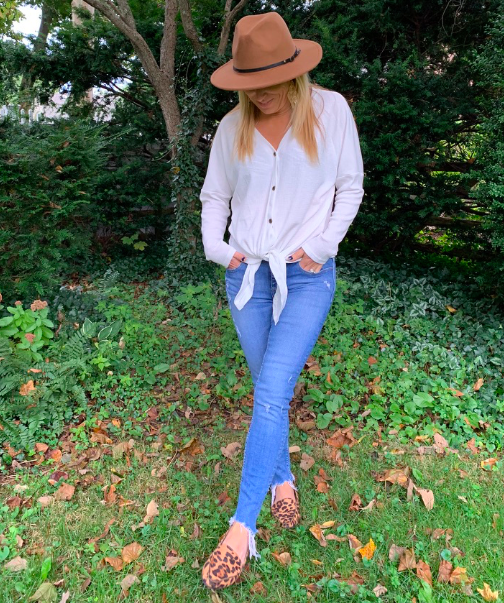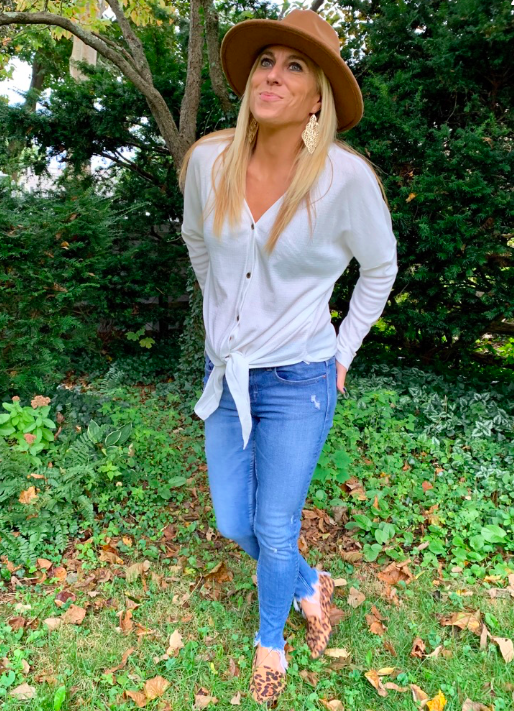 I paired with my new favorite fall hat, jeans, leopard flats and chandelier earrings. Here's my full look here, love to be able to share with you and show off what I'm loving right now.
Super quick to toss this look together, but it's also a trendy one to keep on hand for the fall. I love outfits that I can pop on in a minute. I've talked about this before here on the blog. I love go-to looks, or "uniforms" that I know I feel good in. Check out my Fall Outfits for Moms – How to Get Ready in Less than a Minute! It's my mom fashion secret, it has been for years!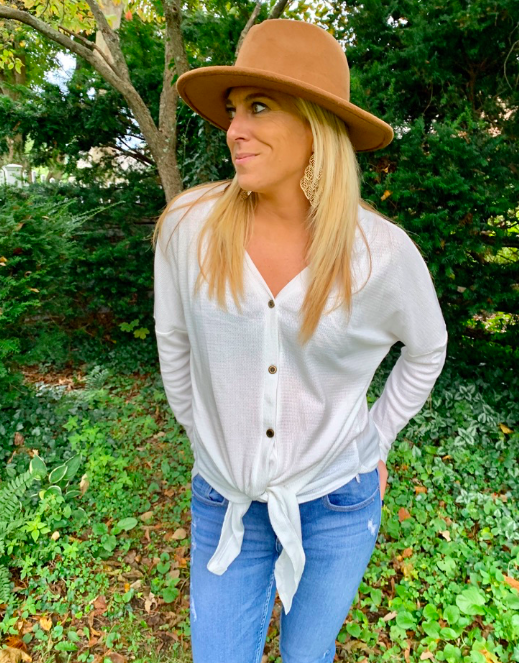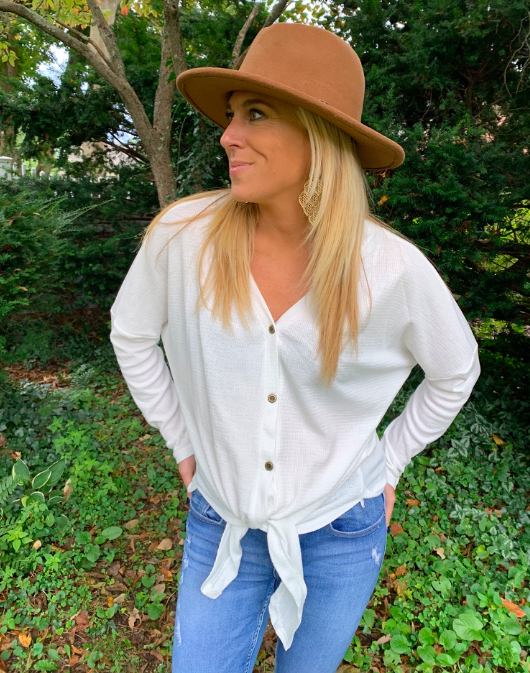 My advice with this tie front blouse? Make sure you find a color that works for you. It comes in 25 colors. You read that correctly. 25 colors. There's one or two or three that will fit your style. I also think this trend just works with just about anything. Pair this with jeans. Pair this with joggers. Pair this with workout pants. Pair this with skirts. You can really get lots of use out of this blouse and you will love it for that very reason!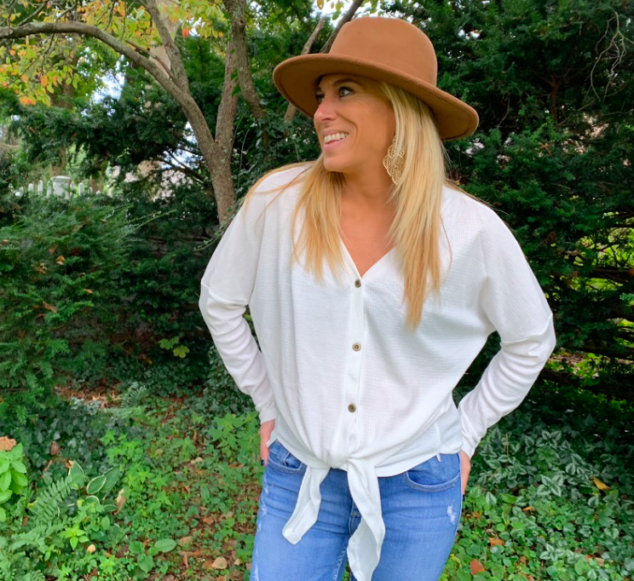 Again – for $19.99 you can't go wrong with this top! It's just such a great addition to your fall wardrobe! Buy it here.
I also have a Fashion Over 40 group that I would LOVE for you to join! I share trends and styles every single day in there, along with the best sales online for fashion. I fully believe that you can and should be able to look your best without breaking the bank. You want to feel confident and beautiful and you CAN! I hope my info helps! We have a ton of fashion fun in there!
Head on over to join here.
*Affiliate links in post.