What to Wear with Black Jeans – They are a fashion staple that SHOULD be in your closet. There, I said it. I'm all about sharing the ways to style items. I've been doing this for the last 10 years on my blog – go ahead, click something fashion-y in my search bar and see… I can't believe how much fashion content I have here, I love it! I spent all morning looking back at old posts and it's just very obvious that I love fashion and have a passion for sharing ways to style and ways to wear certain pieces and looks.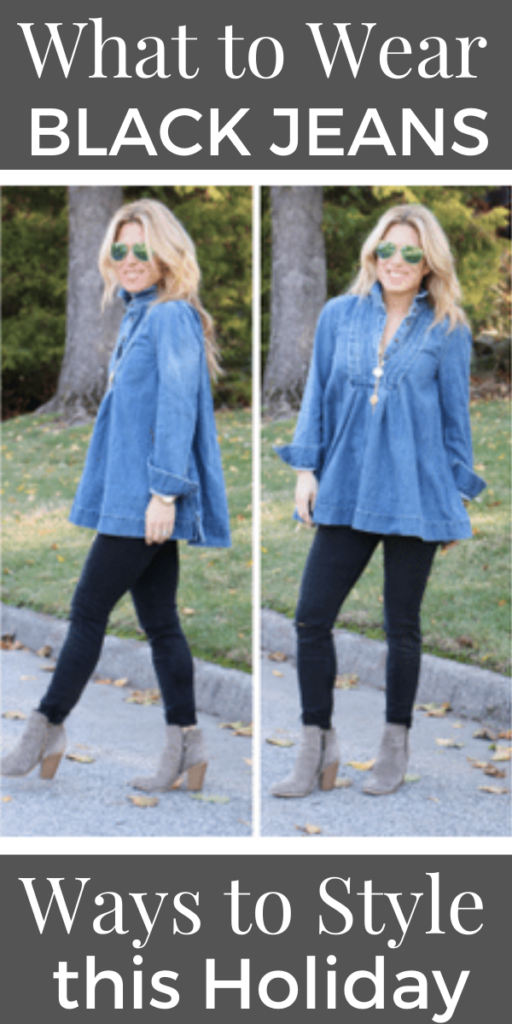 Today is all about BLACK JEANS. What to Wear with Black Jeans. Now I shared with you last week that ONCE a week I will be doing my Work, Weekend, Wear series. How you can wear 1 item to work, over the weekend and for a little playtime, too! I feel like we all have so many awesome pieces in our closet, but we just don't utilize them enough. Well… the time is NOW!
What to Wear with Black Jeans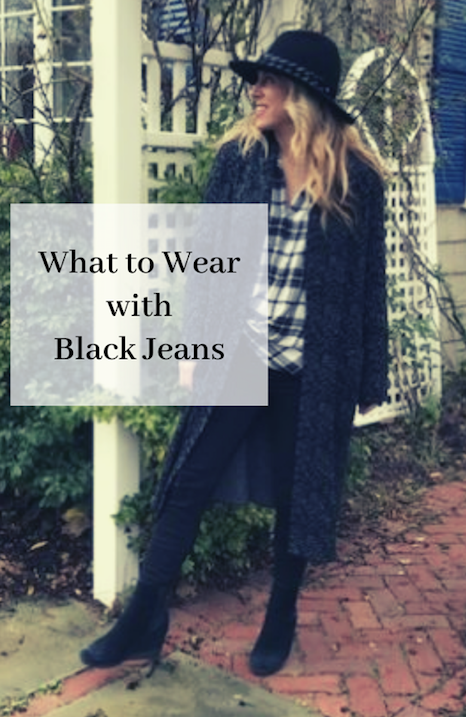 1st Look: What to Wear with Black Jeans
OK – first up – WHAT TO WEAR TO WORK. I'm someone who is always on the fence about jeans because it really depends on where you work. Obviously I can wear jeans to work, but not everyone can. My advice is always to go with black jeans because they can pass off as trousers. They're classic. They're sleek. They're professional (as long as no rips!). Here's an idea that I have for a professional look. I wanted to show a look sans blazer because that's always the easiest way to go. Grab a blouse that you could easily wear with them and some fabulous booties. I am obsessed with this Free People Denim Top and I wear it a million different ways, but this is a great business work style. I could wear this to work and feel comfortable and professional and even chic at the same time!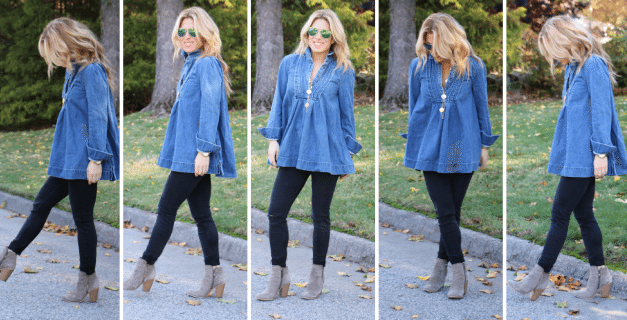 2nd Look: What to Wear with Black Jeans
I'm going to cheat and give you 2 here! Shhh… I'm all about Black Jeans when you're chilling and hanging out for the weekend! I love being able to come up with some super cozy looks for swim meets, basketball games, weekend hangouts and playdates! I love just having some great looks on reserve to toss on and go! I wanted to show how EASY it is!! I'm literally just tossing on sweaters and hats and scarves and going! There's nothing crazy hard about these looks – these are items I've had in my closet for years!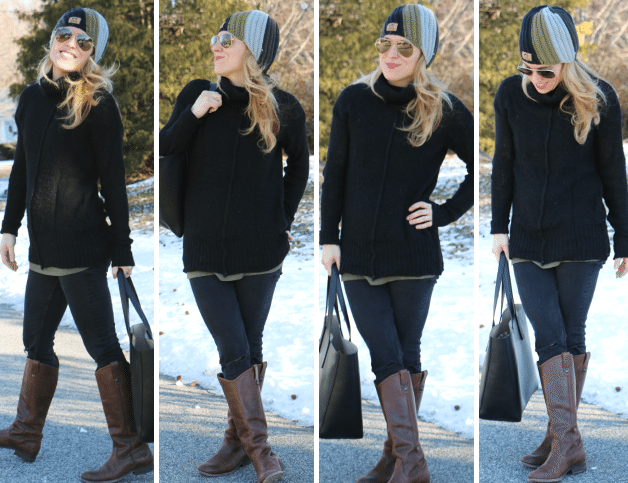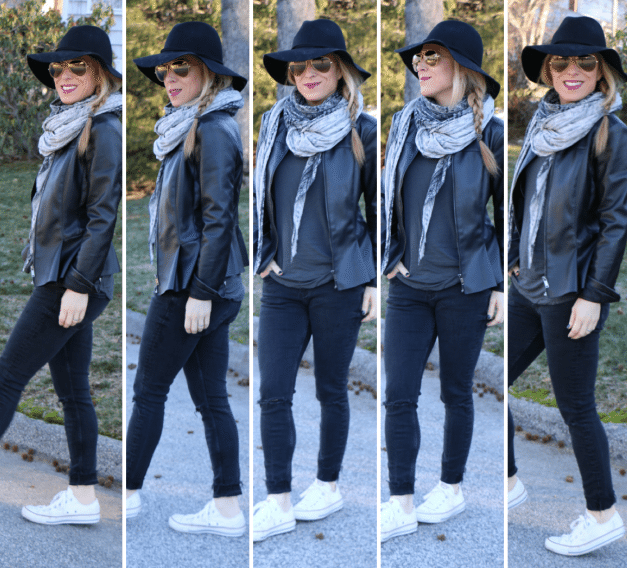 You can do a lot of styling with a great hat! Remember that!! And people don't expect a hat all the time, which is why I love wearing them!
3rd Look – What to Wear with Black Jeans
OK – it's PLAYTIME! I love going out with my friends and my husband to grab food or drinks or coffee. It's all about being out and laughing and enjoying good company… but I do like to look nice! I'm a plaid girl at heart, too – so anyway I can bring some plaid into my looks – I do! If you know me in "real" life – you know I'm totally thing way! LOL! Here is a great way to style black jeans with some relaxed plaid, but still make it look chic and fashionable for a night out!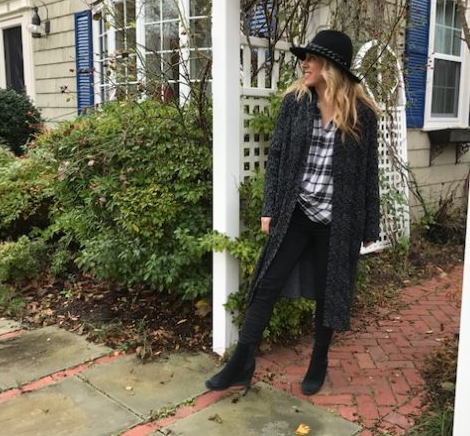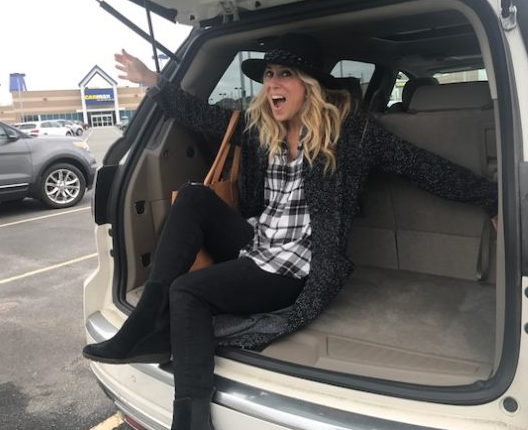 SWEAT COAT For the win here, too!!!!
Make sure you check out my other post for Work, Weekend, Wear – HOW TO STYLE PLAID
And people always ask me – WHERE DO YOU FIND GREAT CLOTHES?
I never pay full price – ever! My fave go-to's: Lands' End, TJMaxx, Marshalls, J.Crew Factory, BJ's Wholesale Club, American Eagle and ZARA!