I'm all about showing off some fashionable fall outfits and cute fall clothes for the new season ahead! It's October and it's OFFICIAL! It's the fall and it's fabulous!
Cute Fall Clothes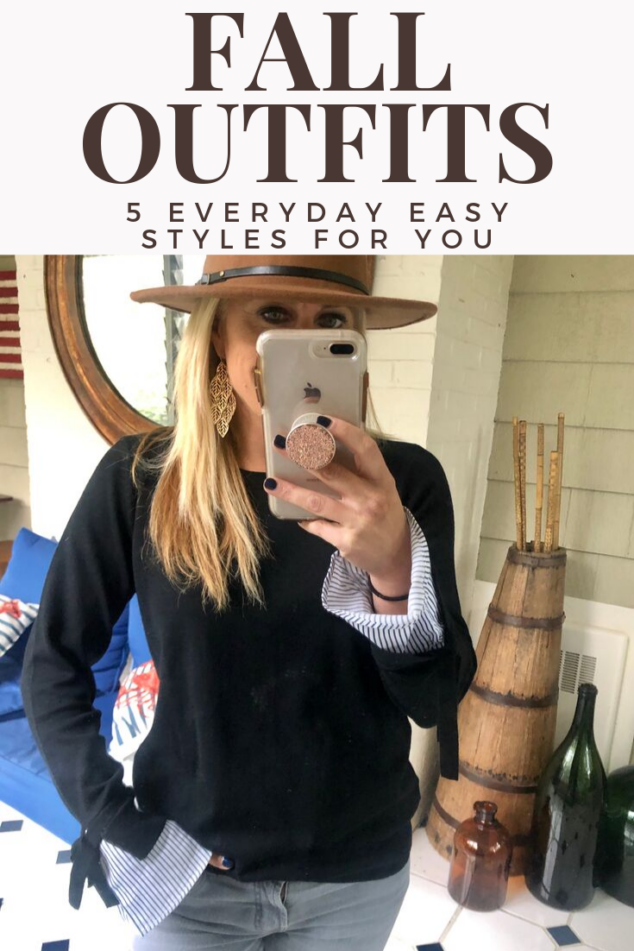 This is easily my most favorite time of the year. Living in New England I really get a great taste of fall here because everything is so beautiful around me. The leaves are changing. The weather is getting a little cooler (which means great things for my hair!). And it's fall festival and pumpkin patch season! It's time for cute fall clothes.
Let's get right into the fashion because there's no need to waste anytime! You ladies know that I'm all about sharing everyday, easy style. I'm 41 years old, I'm not about anything complicated on the fashion front at this time in my life. I'm also someone that loves to look my best, but also doesn't want to break the bank. It's not necessary to do that, not in this day and age with so many fashion choices around us.
I'm going to run through 5 cute fall clothes that are easy to put together, chic enough to make you feel fabulous and well priced. You've got the fall outfits fashion trifecta here! It's win-win-win across the board.
Here is a favorite of mine when it comes to Cute Fall Clothes. I recently just got into the wool fedora world. I'm obsessed with a good hat topping off any outfit. It's so much fun to have a little fashion fun with hats. It's an unexpected add on that just really works well. I love this look because it's casual and easy everyday style. I love that I could go just about anywhere with this outfit on and feel appropriate… soccer game, PTO meeting, work meet-up, grocery shopping, drinks with friends, date with my husband. It just works well.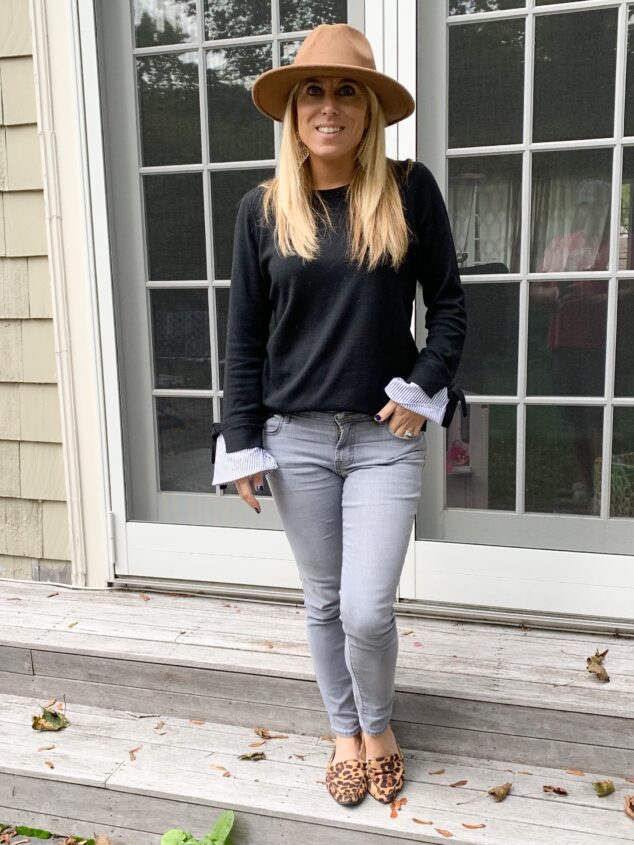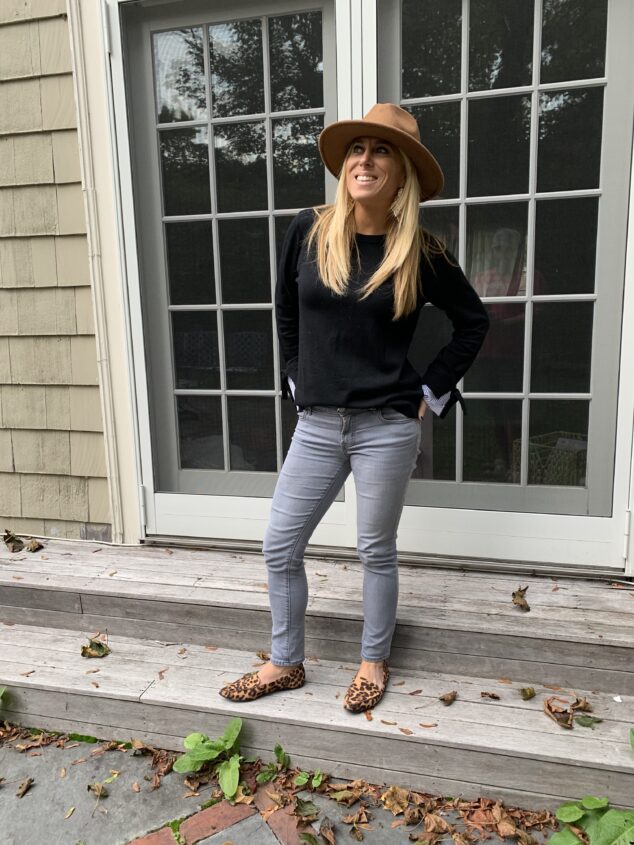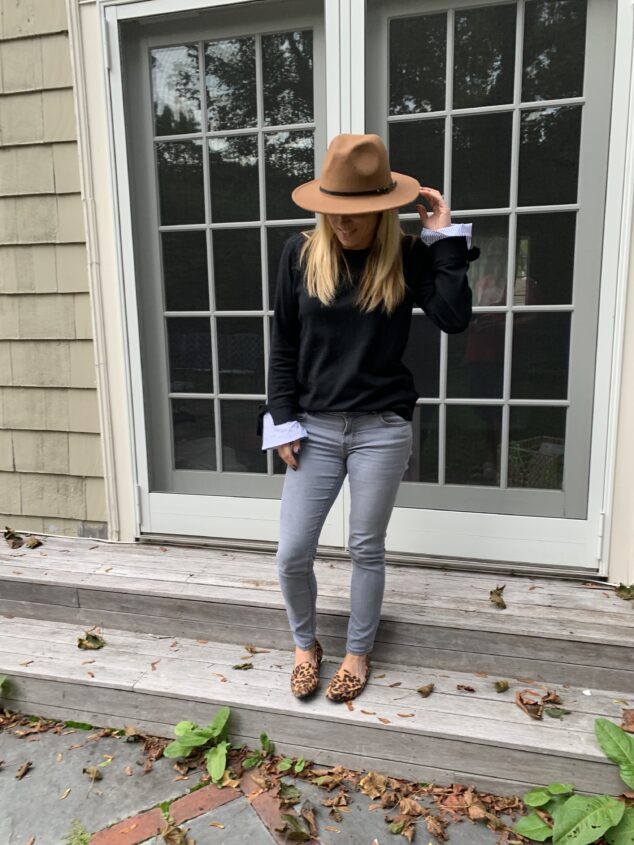 If you're interested in any of these pieces that I have on, look at the fashion widget below and just click right on it! It makes it easy for you to shop and you can go right to the place you want. I'll do this for all of my fall outfits below!
My next fave look when it comes to my cute fall clothes and outfits is all about comfort! Especially on the weekends in the fall, we're ALWAYS on the go. ALWAYS. It's a great way to be, but it's also important to make sure you're wearing items that are comfortable. Finding that comfortable chic look isn't always easy.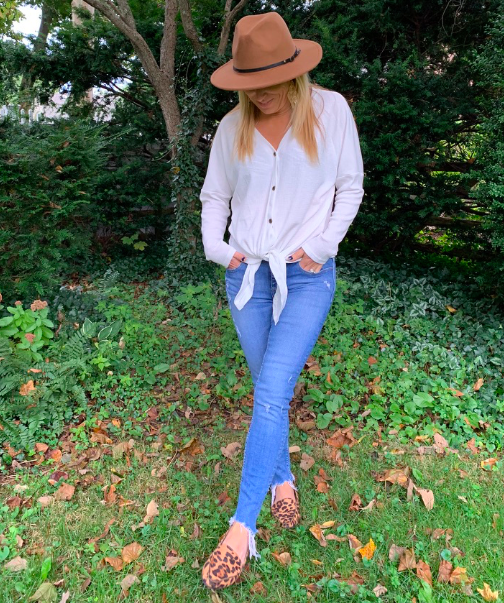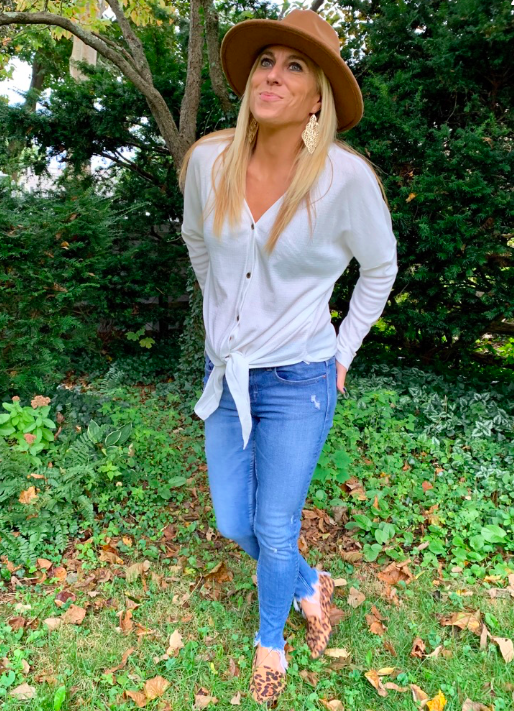 As you can tell, I love this look! I'm all about a tie front blouse for fall this season. I just write a big post about it, so head over and check it out here. I love the chicness to a tie front blouse, but also that it's just a really easy style to toss on and go!
Another easy look to bring on when it comes to fall outfits is a dress with a fall jacket! I love dresses and every single chance I get to wear one, I do! I'm all about making sure I feel my best in them and I think it's fantastic to have a few that you just love love love!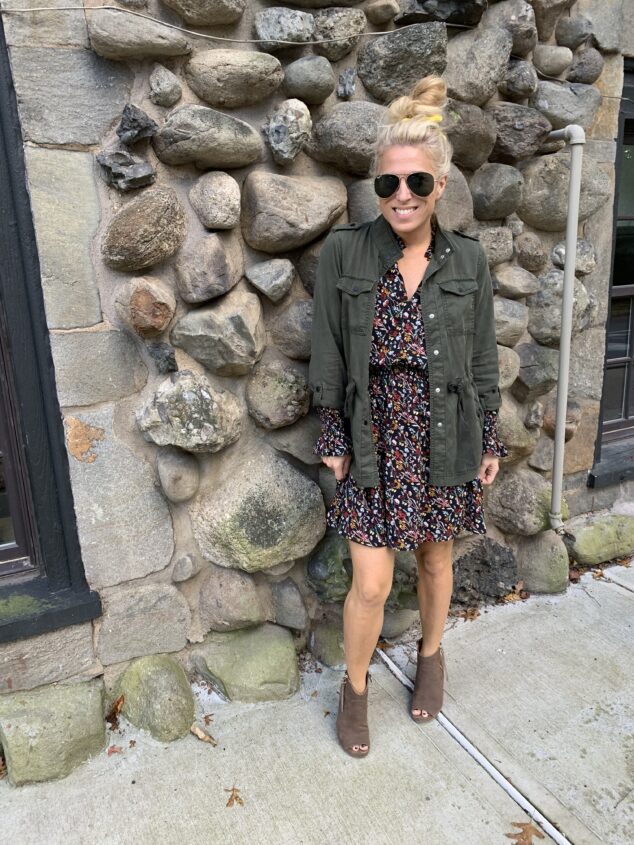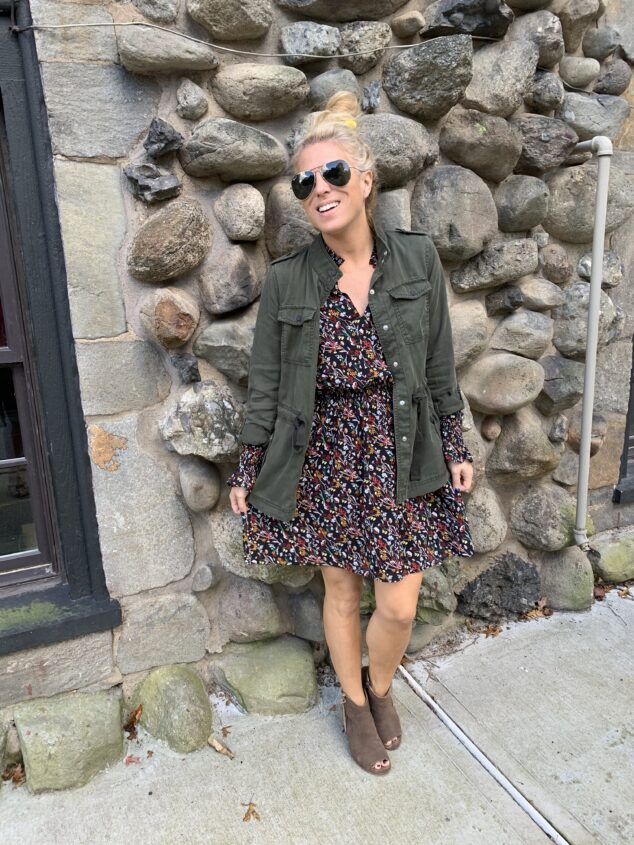 How cute is this look? This is also a great look when it comes to transitional outfits from summer to fall. You want to make sure you have items that will work with the weather change. After all – it could be 60 degrees in the morning, but by the time the afternoon rolls around it could be in the high 70's! Welcome to RI!
I'm all about thinking that a little black dress is perfect year round! As a matter of fact, everyone should have a little black dress (LBD) in their closet. It's one of the essential items that I think it just super important to make sure you have and you wear. You can dress up a LBD in seconds! When it comes to fall outfits, it's a simple way to look fab in a minute!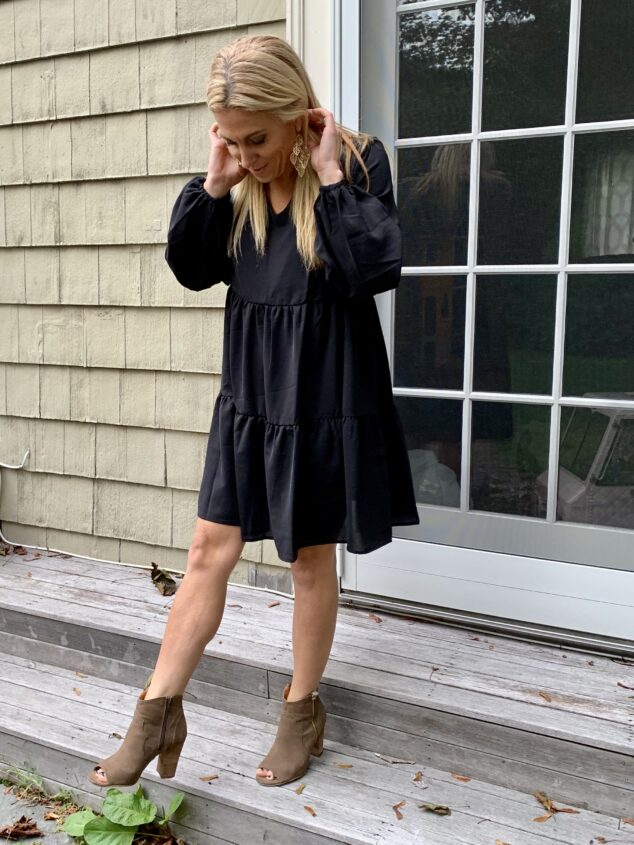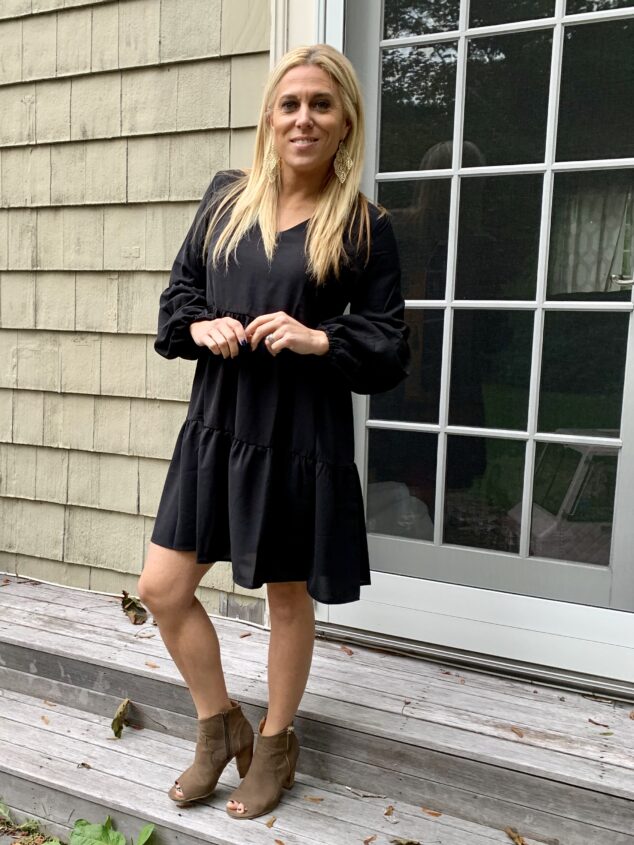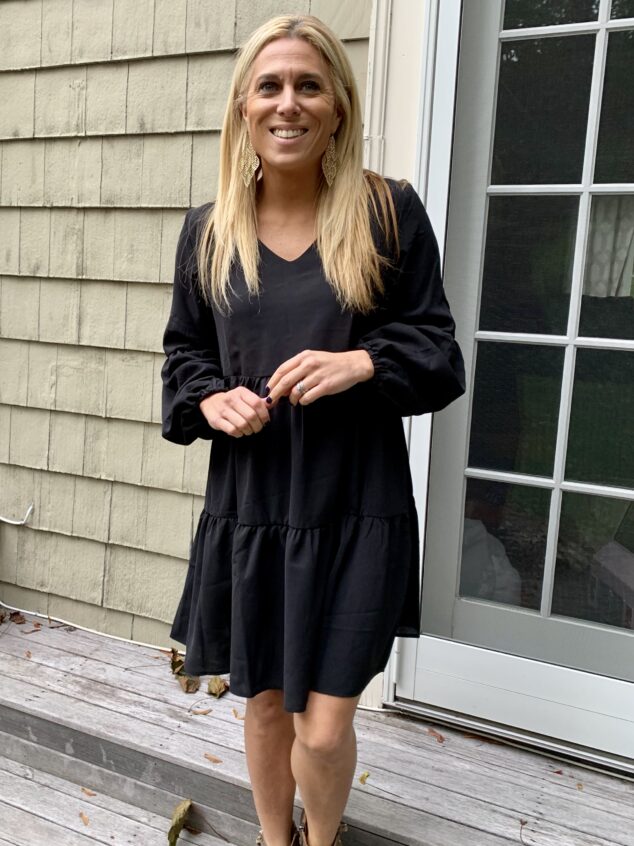 I'm head over heels for this little black dress and it's only $24.99! Can you believe that price? It's crazy to me. It works with just about any kind of shoe, too for the fall. Make sure you buy this one if you're looking for you, it's an easy toss on and go!
And now for one of my last fall outfits to show you ladies for the day! I'm all about leopard this season, you know that well. I think it's such a cute trend and it's so classic and I don't think it's going away anytime soon. I actually just heard one of my fave fashion gurus (June Ambrose) say that it's a true staple print, just like plaid. That made me happy! Grab your leopard print and wear it this fall!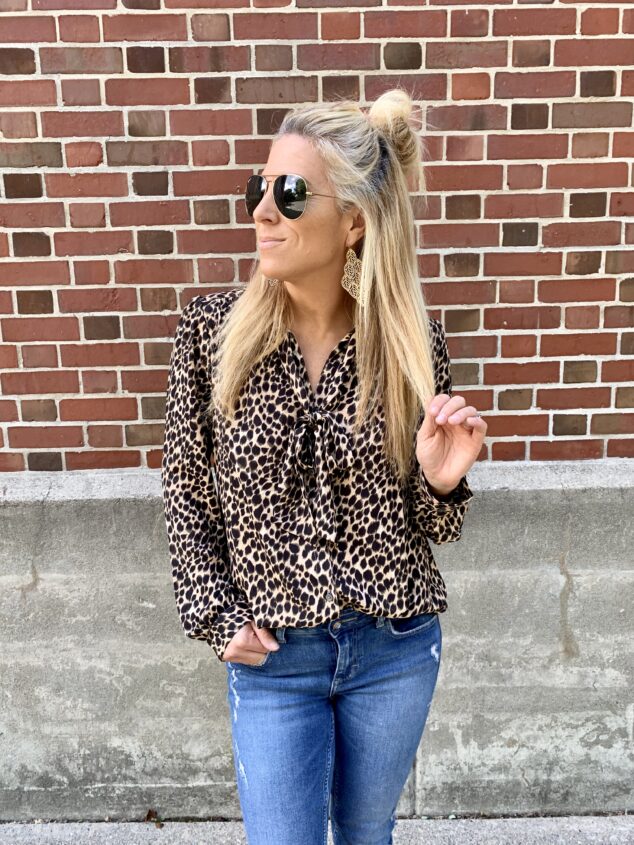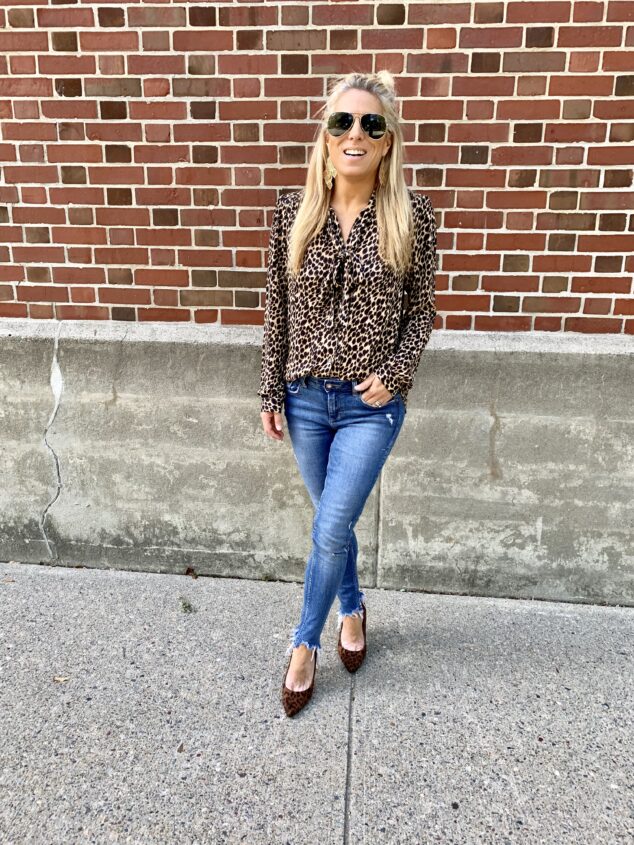 Yeah, I'm kinda obsessed with leopard this season. It's just such a great go to trend and it's one that I really really feel is just superb for anytime of day! I actually wrote a post about 6 leopard items you need this fall for the blog! Make sure you check it out! I recap everything that you need in one simple post!
Super simple, right? These 5 looks are cute fall clothes and fashionable and easy as can be for you to pull off! I'm all about making sure you feel fabulous and these looks are a simple way to do it!
I will say this, people are always asking me for my favorite shopping destinations when it comes to finding key fashion pieces. Amazon, J.Crew, LOFT and Nordstrom Rack are places I love to search online.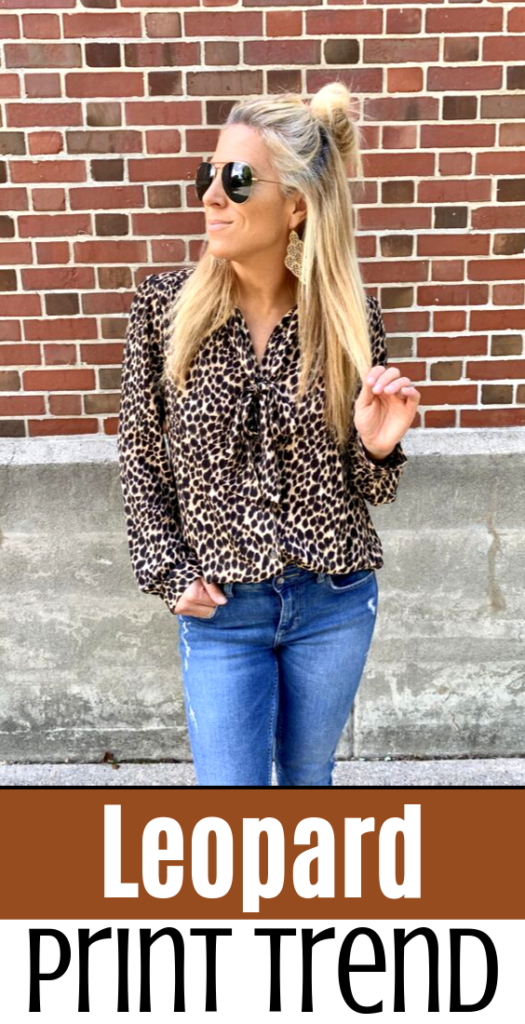 Love for you to follow me on my Facebook Page – Fashion Over 40 where I share daily deals and trends for women. It's such a passion of mine to share the best of the best and I love being able to share that with YOU!