It's about that time of year right now – transitioning the wardrobe! Here in Rhode Island we really have to transition because we go from 90's to 70's/60's pretty quickly. I'm all about finding the best transitional outfits from summer to fall because there are a few days in September, October and November that do actually feel like summer. Crazy, right? It's important to make sure you have some key outfits and pieces to get you through the fashion transition time.
Transitional Outfits from Summer to Fall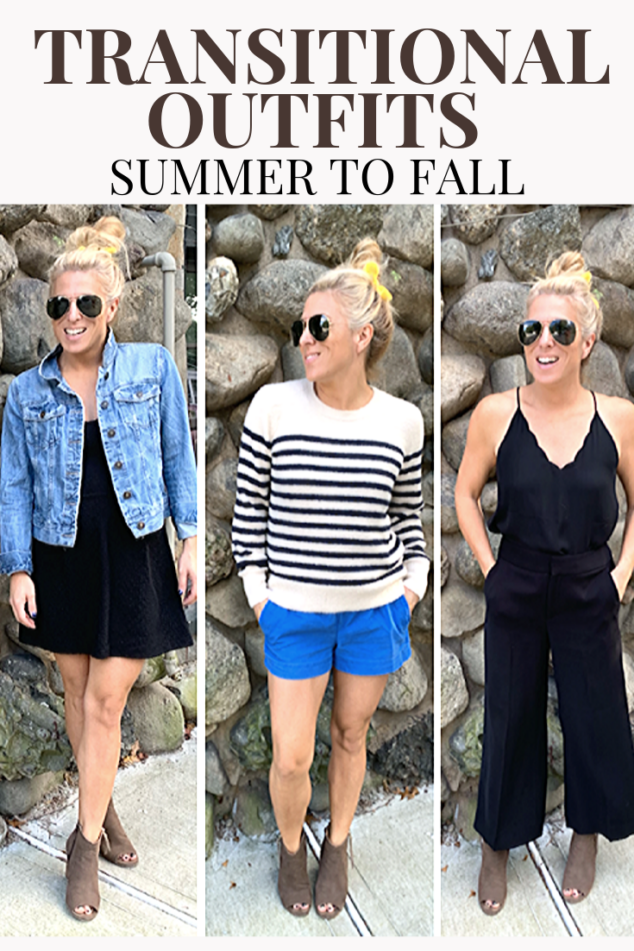 I wanted to share with you 5 looks and styles that you can create when finding transitional outfits from summer to fall. It's all about making sure you have key pieces that you can keep using and keep recycling in different ways. Just because it's the fall it doesn't mean you have to say good-bye to some of your fave summer looks. You can keep wearing them with your fall pieces.
Believe me – I get it, it's not super cold yet, but it's also not summer hot. You're in that in-between time that can be tough to dress for. In New England we joke that you leave in the morning with a full sweater and boots on and by the afternoon you want shorts and flip flops. You just want to make sure you have some transitional outfits from summer to fall that will work for you and your wardrobe.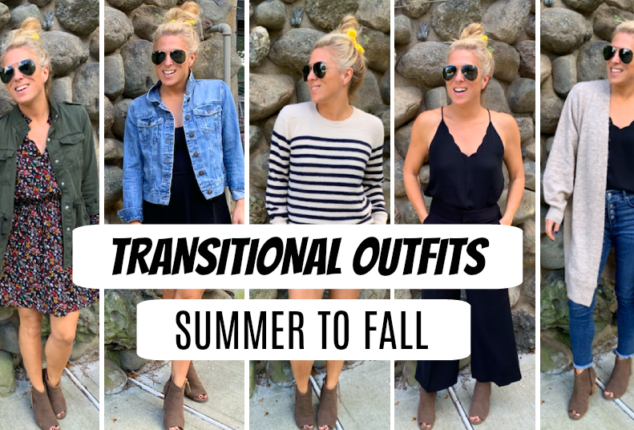 Here are 5 transitional outfits from summer to fall that you can copy OR use as fashion inspiration! I will also include below where you can buy these items, too!
Look #1: I'm all about strappy tanks throughout the summer. I love them. I pair them with just about everything – skirts, jean shorts, linen shorts, lightweight jeans. You name it, I pair them with it. I hate saying good-bye to them in the fall, so I just keep reusing them, but with my trouser pants for work events. These pants are a little on the thicker side, you couldn't wear these in the summer… but they are perfect for fall.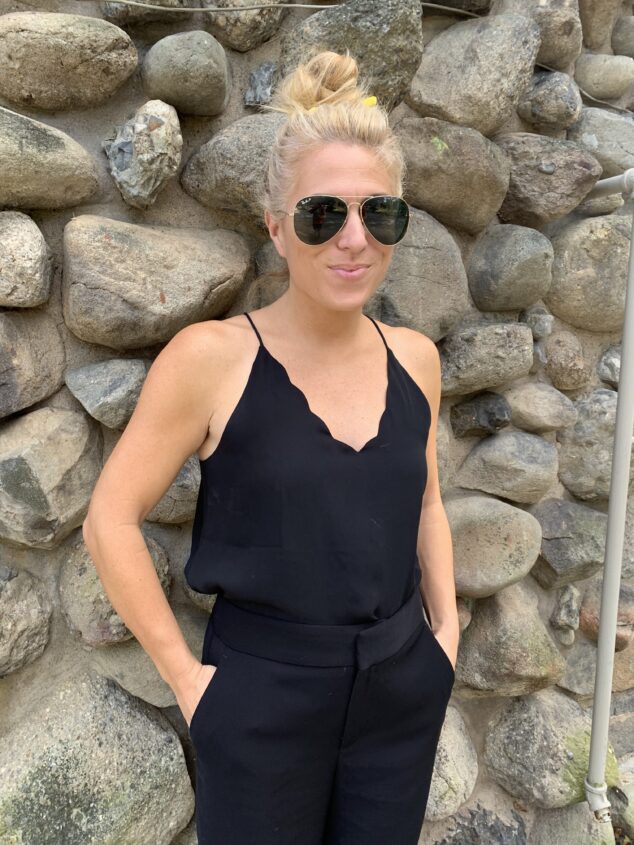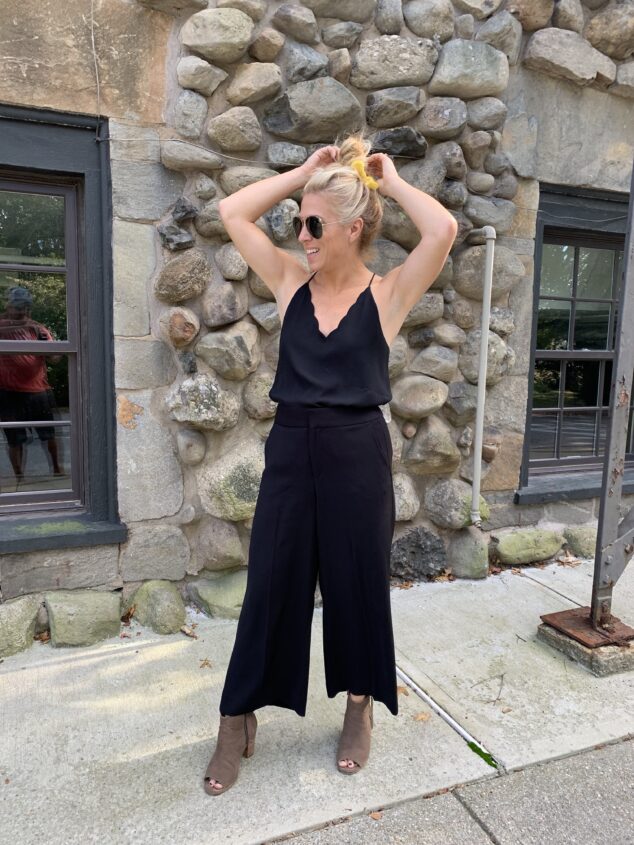 I love how easy it is to take this summer tank and make it work for fall! I even took my suede booties that are open-toed and wore them with it, too. Such a classic and easy look for a Transitional Outfits from Summer to Fall!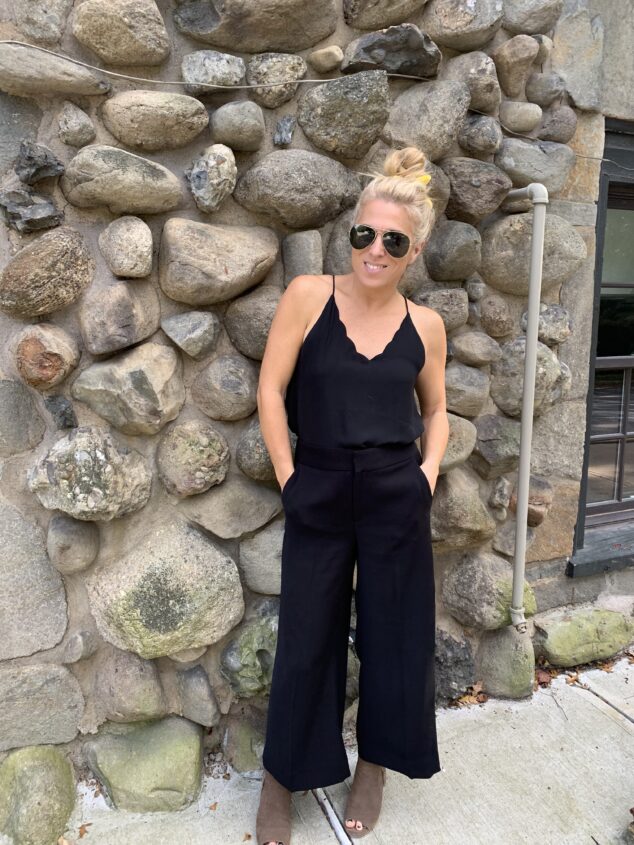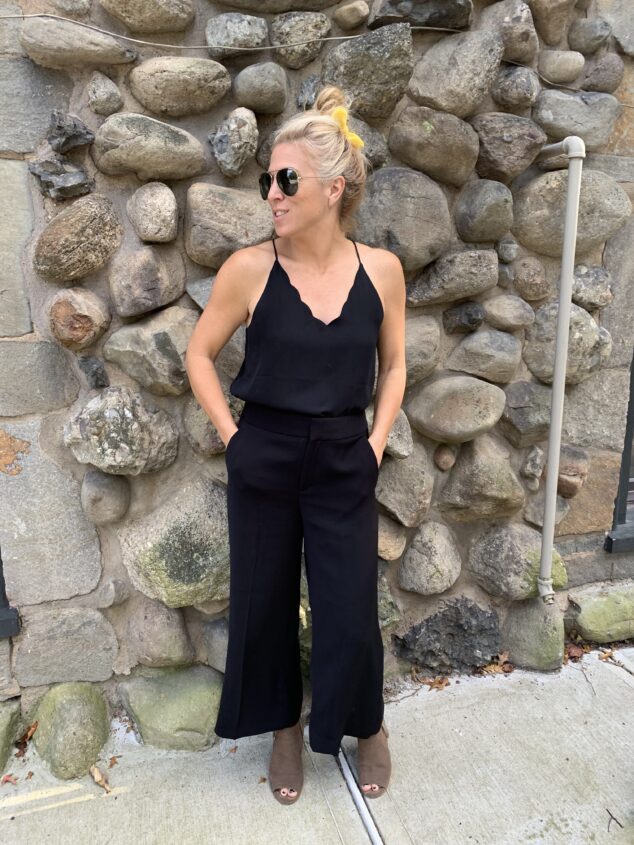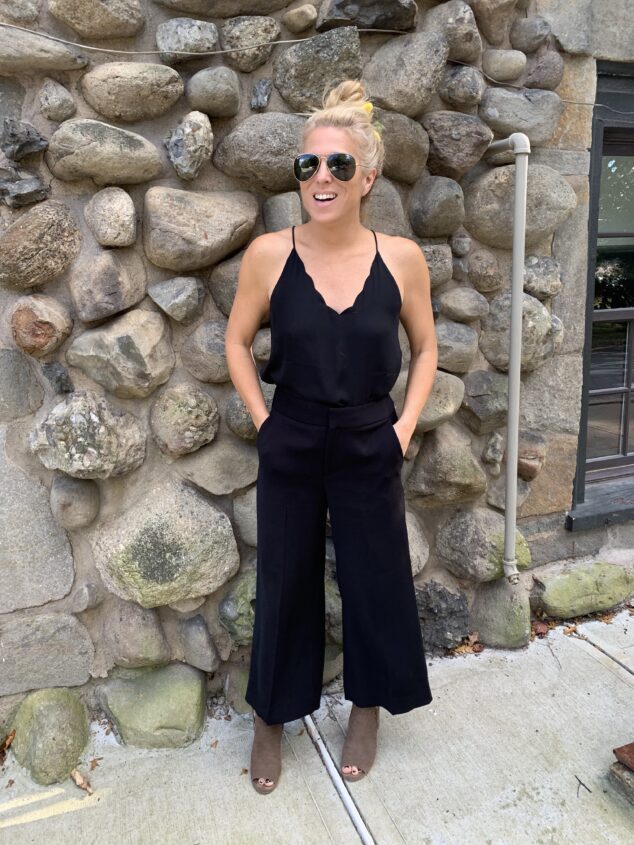 Look #2: I'm all about this black tank, so I want to show how you can wear it with jeans and a gorgeous cardigan sweater. I'm a big believer in wearing items over and over again. You don't need a new sweater for everything. Find items you know you will and can wear a variety of different ways. I love this oversized cardigan to toss over my tank and jeans! Easy as can be and chic at the same time! Such a great way to create transitional outfits from summer to fall.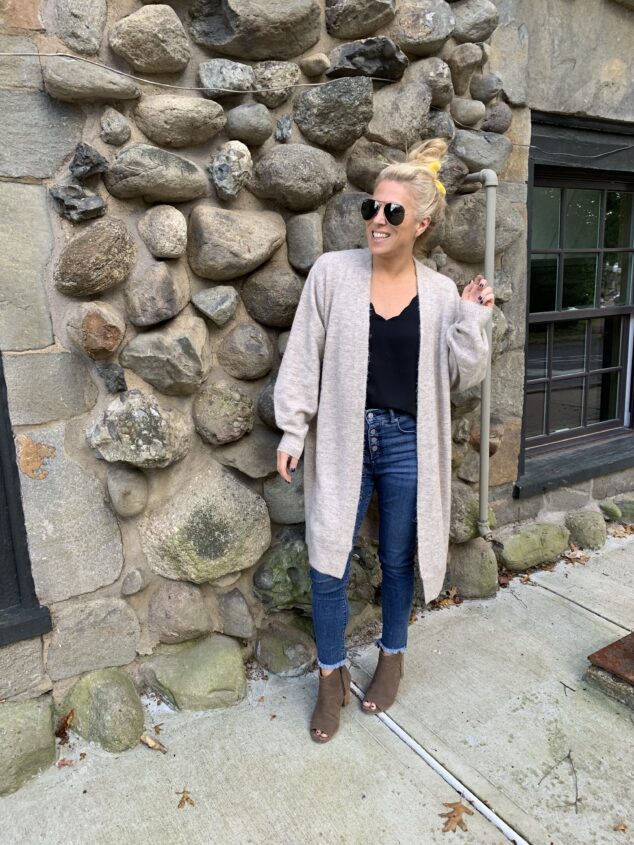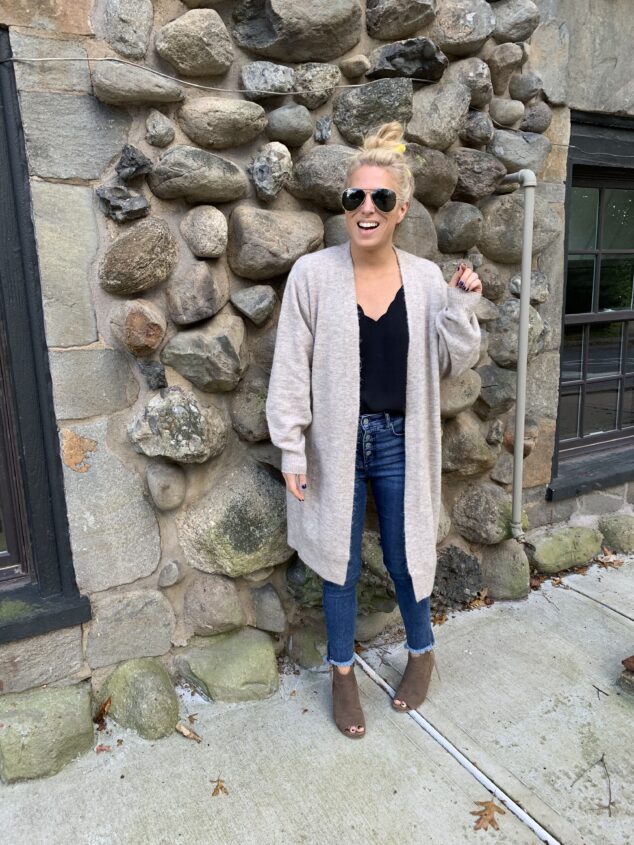 Loving this cardigan sweater because it's super oversized!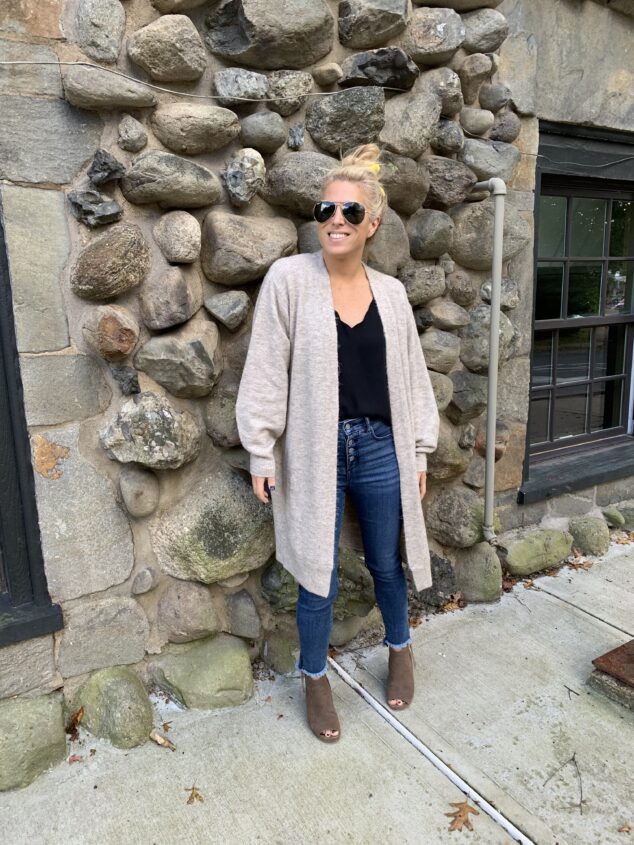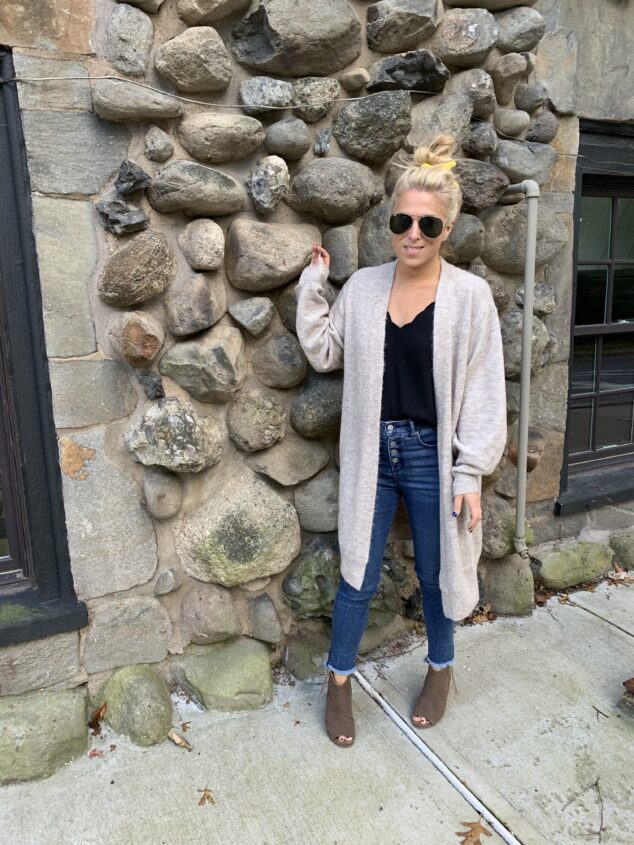 Look #3: OK – I'm all about shorts and a sweater! I personally love this look because it's a fave of mine and it's easy to do. I love shorts in the summer. I wear them ALL THE TIME. I hate giving them up in the fall because of the weather, so I love being able to wear my fave shorts – but with some cozy sweaters. I love this look and I think it's so classic and timeless.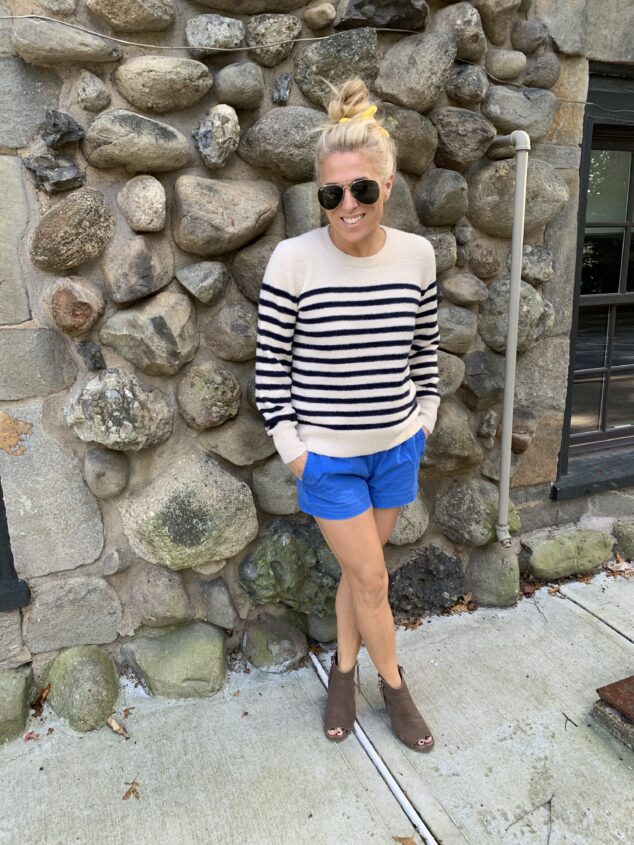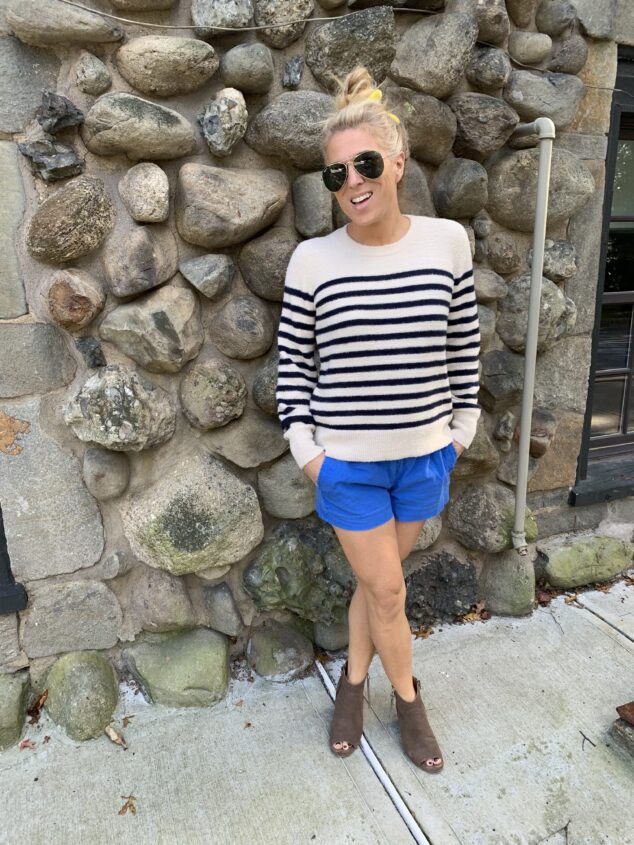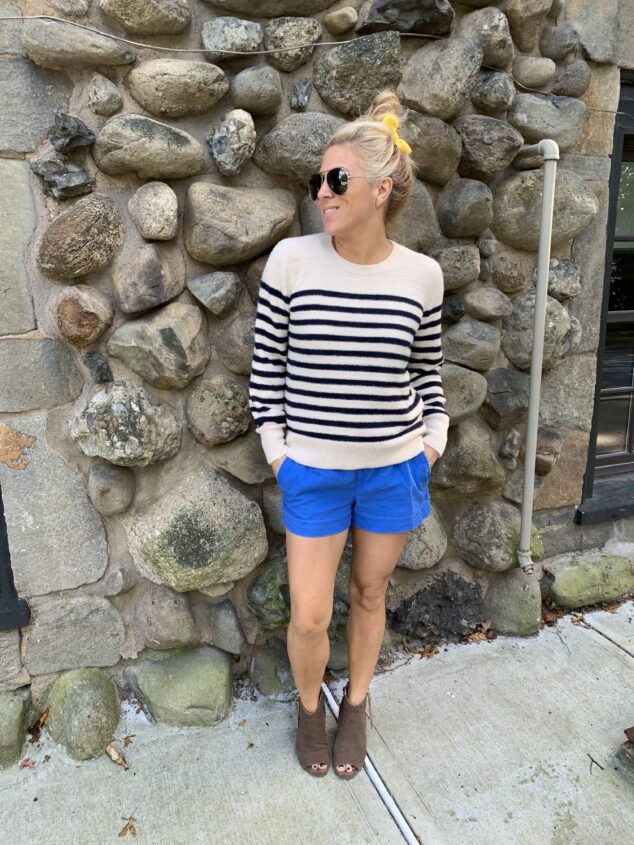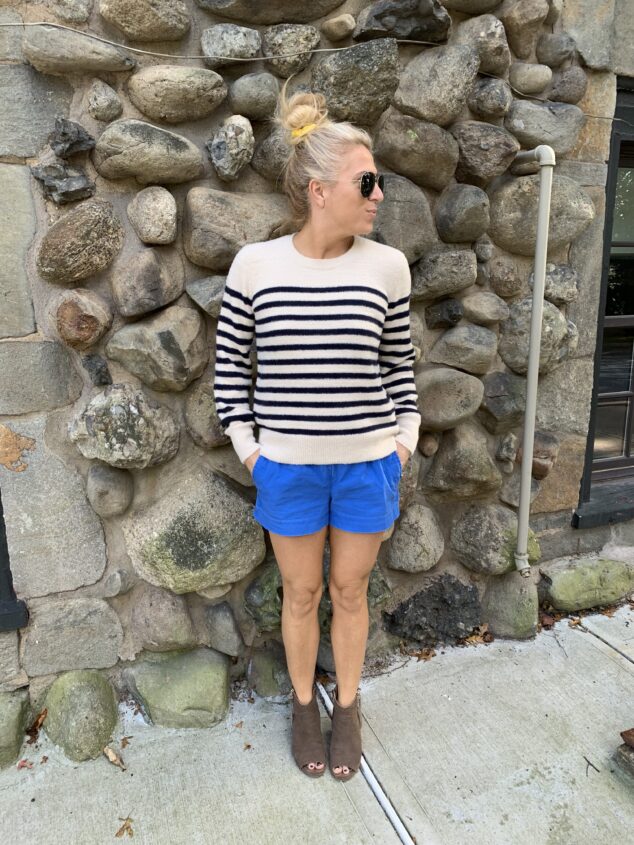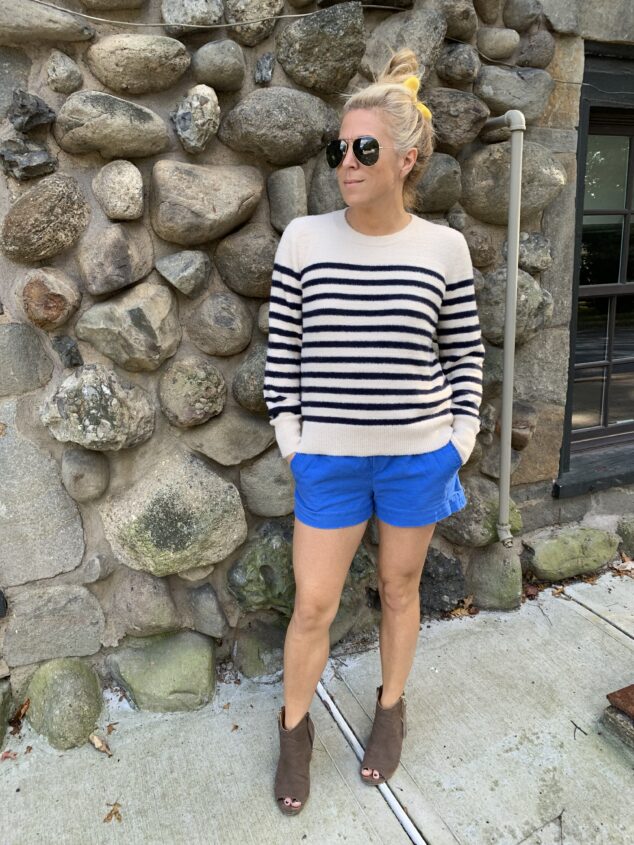 Look #4: Next look! Let's grab those gorgeous summer dresses and wear them this fall! Who says they need to be out away? Oh, NO!! No no no! Take them out and wear them with some awesome lightweight fall jackets. I'm in love with this LOFT Drawstring Utility Jacket. I'm telling you – it's a GREAT add-on for any summer dress that you want to keep on wearing!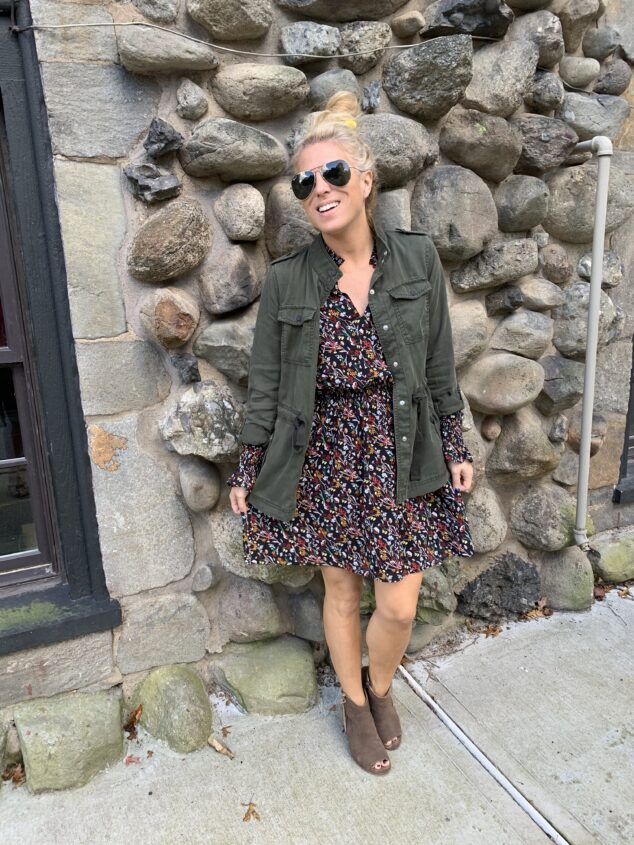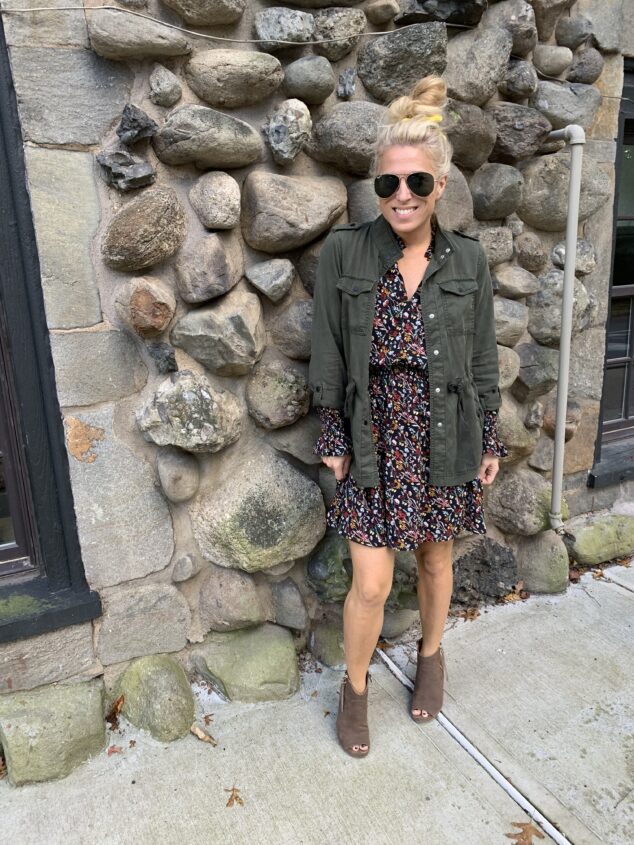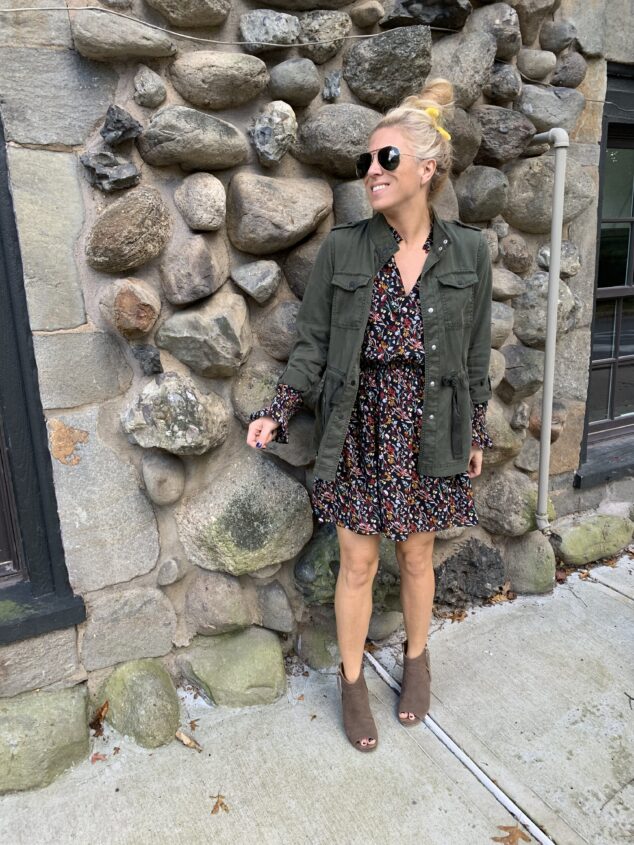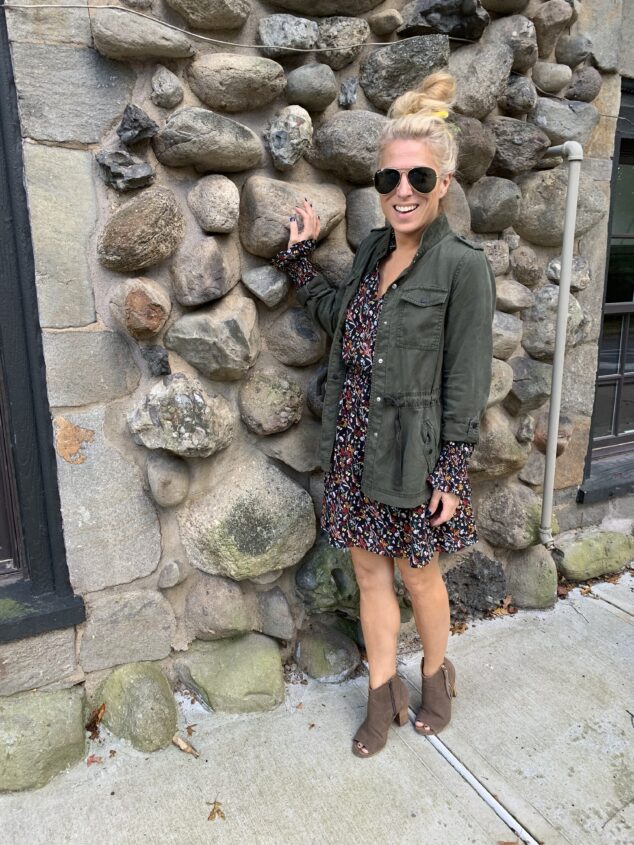 Look #5: Never underestimate the power of a denim jacket. Oh, ladies. This is a must have. This is a staple. This is something everyone should have in their closet. I love to wear my denim jacket over everything, but if you have a great little black dress this is a great thing to pair with it! Don't put away those summer dresses! Wear them!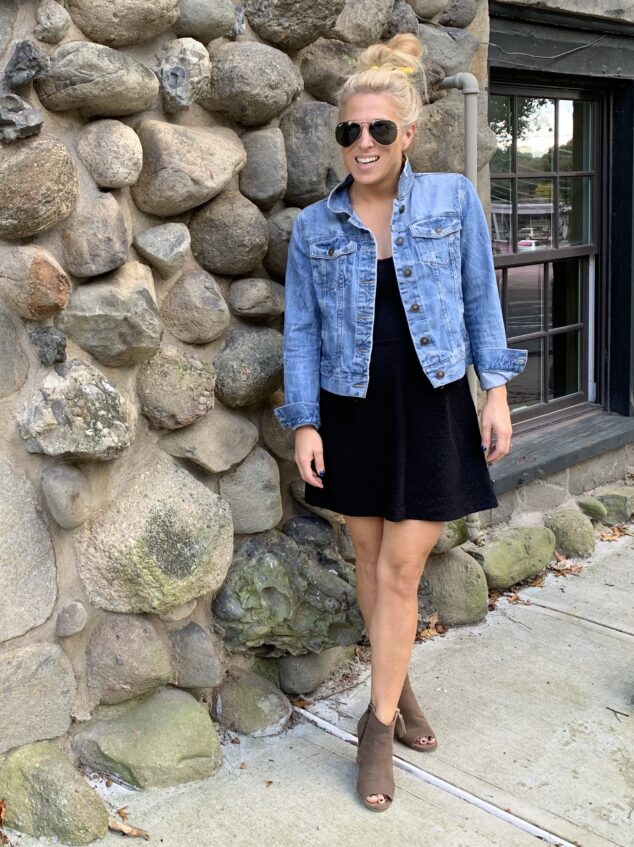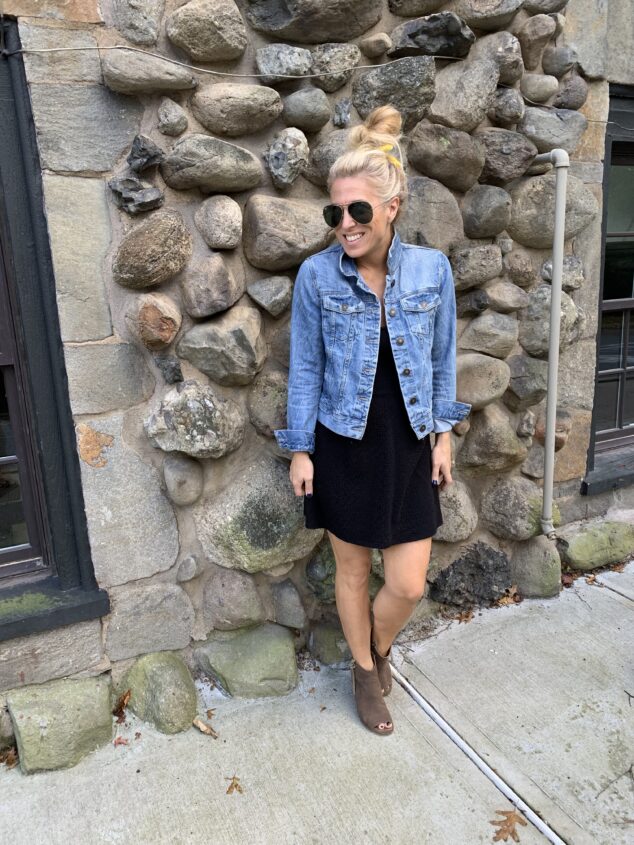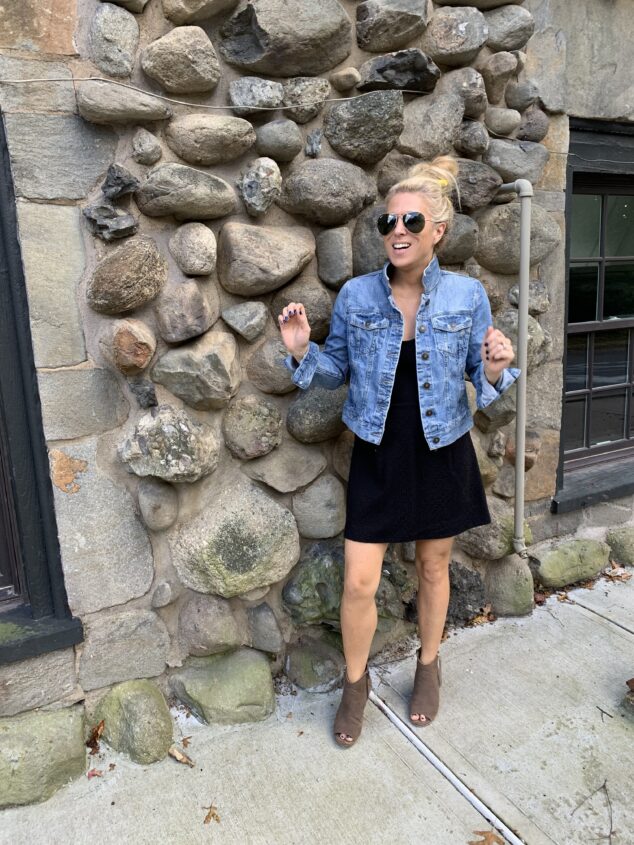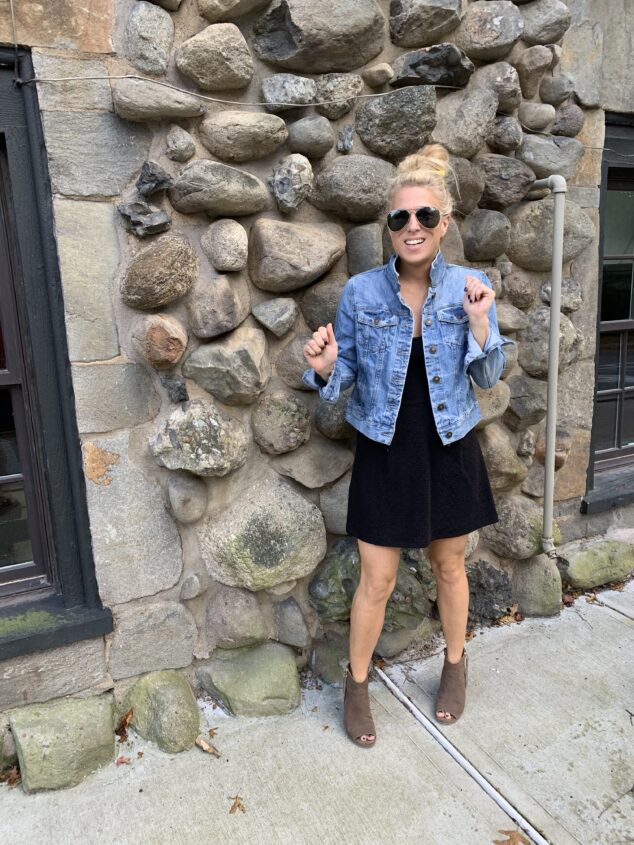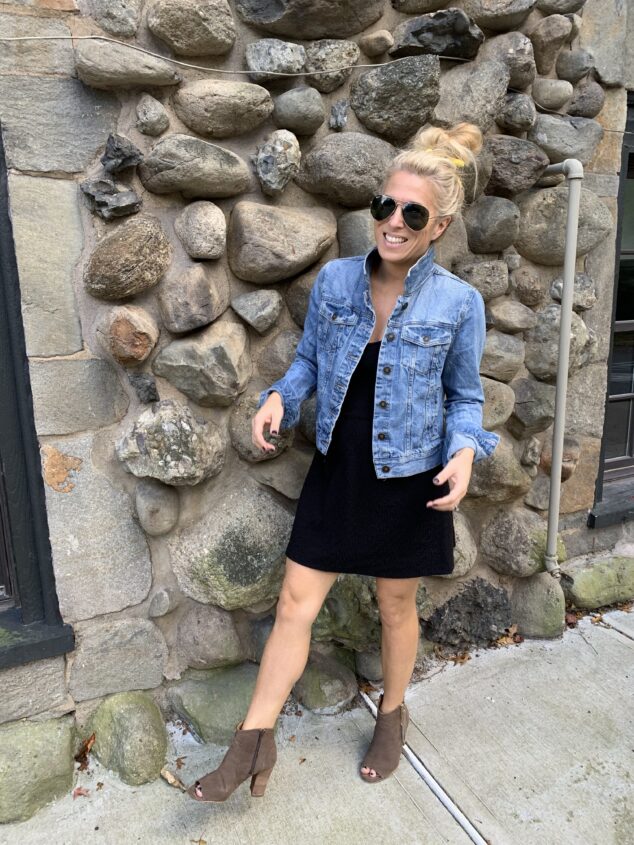 Loving these transitional outfits from summer to fall and hope that these help you out! I also created a video to walk you through this entire process, too. I love being able to have some fashion fun and my husband loves to join on in, too. I will say this – fashion is fun and I want you to make sure you enjoy it!! Love for you to be able to tell me what you think and how you would wear some transitional outfits from summer to fall, too!
I also have a Fashion Over 40 group that I would LOVE for you to join! I share trends and styles every single day in there, along with the best sales online for fashion. I fully believe that you can and should be able to look your best without breaking the bank. You want to feel confident and beautiful and you CAN! I hope my info helps! We have a ton of fashion fun in there!
Head on over to join here.
Also check out my YouTube page and love for you to join me over there, too!