*This post was created as part of a paid partnership with SiriusXM. All opinions are my own*
When I went "off" to college, I ended up going to Brown University, which was 15 minutes from my home. I'll never forget meeting people my freshman year and realizing that kids had come from all over the world. My own roommate was from Texas, which seemed so far away from little Rhode Island. I'll never forget all of my friends receiving college care packages once a month from home. They would look forward to these packages and get so excited when they were alerted from the post office at school that they had one.
College Care Packages
Since I lived so close to home, I never received any from my parents. They would always say to me, "We love to come see you to drop stuff off, we don't want to mail it!" As much as it would've been fun to get care packages, I understood where my parents were coming from and it meant more to them that they got to see me… but still, I always wanted that yellow piece of paper from the post office at school letting me know college care packages arrived!
My niece just went off to college for the first time this year! My niece is also my goddaughter and we've been as thick as thieves her entire life. She's a freshman at Wheaton this year and even though it's a little over an hour away, it feels like she's straight across the country. It seems strange not seeing her whenever I want to, so sending her college care packages is something that I love to do because I want her to know that I'm thinking about her.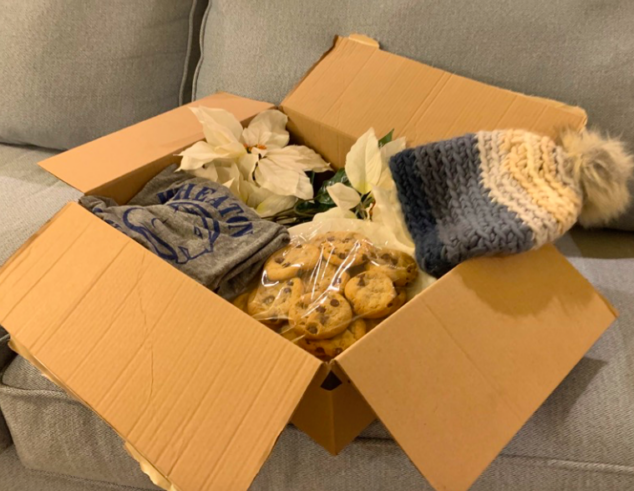 When it comes to assembling and putting together the best care packages for college students, you have to have a plan in place. I've realized that you don't just want to toss "anything" in a box and send it off. You want it to be fun, meaningful, useful and special. I've sent (2) college care packages to my niece so far this year (one in September, one in October) With each one, I put a lot of thought into what would go inside, I want to make sure it's something that makes her smile.
My mode of thinking:
I wanted to send something special from home.
I wanted to send something meaningful
(And) I wanted to send something FUN!
Since school is in full swing for my niece right now, I wanted to make sure the care package I'm putting together for her would help her through some of her 1st exams. She swims at Wheaton, so she's in the middle of intense practices and also heavy studies. I know she needs something that will help her stay focused and give her a smile.
Here's Taylor's November Care Package:
Something Useful
My niece is all about her studies and I love that about her. She works very hard, so I wanted to send her a gift that I know she would not only find useful during her studies, but also just during college life in general. I'm getting my niece a subscription to SiriusXM's Student Plan, which I know she will love.
Why, SiriusXM? It's pretty simple. SiriusXM offers a world of high-quality channels that are sure to entertain, teach and help my niece focus. SiriusXM is where moments happen and she'll be able to find them on SiriusXM, 24/7. She can listen in her dorm while she's studying or listen while she's hanging out right on her laptop or on the SiriusXM app on her phone.
SiriusXM has an incredible Student Plan for mobile devices, computers and smart devices. With the SiriusXM Student Plan she can enjoy ad-free music, including additional Xtra channels for only $4/month.
Talk about the most useful gift of all for her!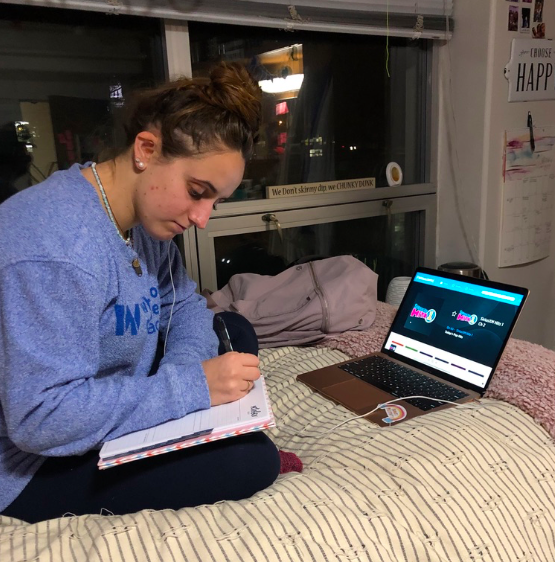 Something Special from Home
When it came to something special from home, I made her some homemade cookies. She's on a meal plan this year, but she misses home cooked meals. She loves chocolate chip cookies, so I thought it would be nice to make her an extra-large batch that she could enjoy and share with her new friends. There's nothing like opening up a container of chocolate chip cookies, especially ones that are from home.
Something Meaningful
She just started swim meets, so I know she loves wearing her Wheaton pride loud and proud at school and on the pool deck. I went online and bought her a new Wheaton tee shirt because I know it's something she wouldn't splurge on for herself right now. I know it will mean a lot to her to get her something from Wheaton. She spent all of her money this summer buying her family and friends fun Wheaton merchandise, so it will be a nice surprise in her college care package to see a tee.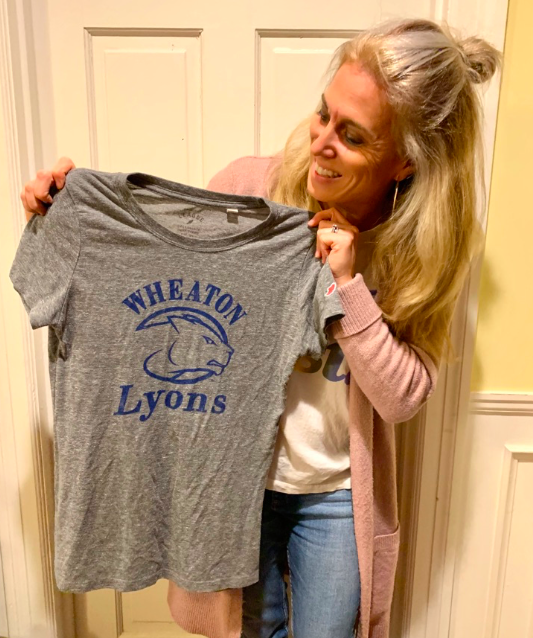 Something FUN
She's a lover of the Christmas holiday and I know she's excited to decorate her dorm room with her roommate. I thought it would be fun to send some Christmas decorations for her dorm. I thought some lights that she can string up around her room and some extra festive cheer would bring a smile to her face! Decorating for Christmas at home always bring so much JOY to her, so I know she will love this extra special fun surprise.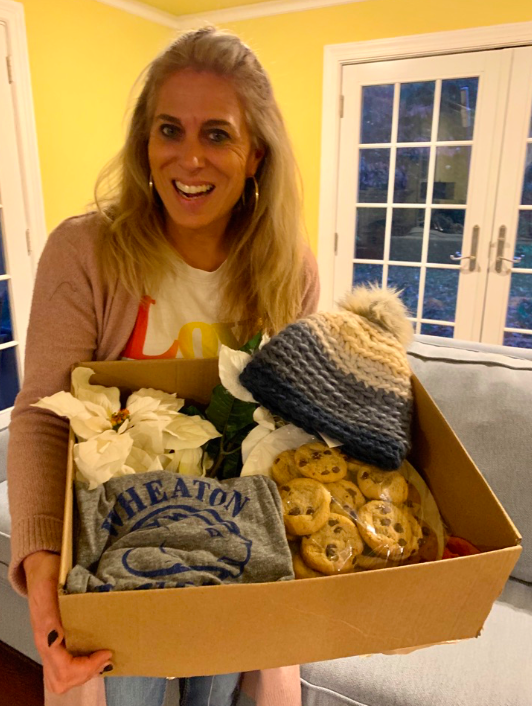 I have to say, I love putting together college care packages. They're really a treat to do and I love being able to send something caring to my niece. I just think about her going to the post office and getting so excited when she finds out there's a care package for her! It brings as much joy to me as it does for her! Hope these ideas spark some ideas for college care packages for you. To send to your college student!