There are items that I fall in love with each season and then there are items I fall in love with and wonder how I've lived this long with them. It sounds a little fashion dramatic, but it's true! I'm all about a plaid wrap right now. I love them and I just want to incorporate them into every single outfit I can at the moment! A plaid wrap is a definite must have for the winter season – regardless of where you live in the world!
Plaid Wrap – How to Style 4 Ways
When it comes to finding key pieces for each particular season, I've always said that in the winter you need to bring in the plaid. It doesn't matter if it's through a shoe, scarf, handbag, sweater, blouse, pant or bow – plaid just exudes the holiday spirit and it's a print you really can't wear that seamlessly in the spring and summer seasons. Even if you're an LA girl, plaid works. It's not just for the New England girls (like me).
I found a plaid wrap this past weekend at LOFT that I am just head over heels in love with, it's LOFT's Plaid Fringe Wrap. As you know, I'm kinda obsessed with LOFT! I just wrote about LOFT Dresses for the holiday, too! But this wrap? It's in a word – SPECTACULAR. I love everything about it and really know that it's an item I will wear over and over and over this winter season. I'm all about telling my friends to buy a few wraps for the season because they are fashion items that just work for any woman. What do I mean by this? Wraps are fashion equalizers.
You don't need to be a certain size.
You don't need to be a certain age.
You don't need to be a certain body type.
That's right – any woman can rock a wrap. It's just the way is it and I love that about them. My big thing is finding a wrap that works perfectly with your style. I'm in love with the look of this fringe plaid wrap, so I grabbed it ASAP!!! LOVE it so much!!! In smart plaid, this flowy and drapey wrap adds an easy, breezy kind of modern chic to any outfit. Short dolman sleeves.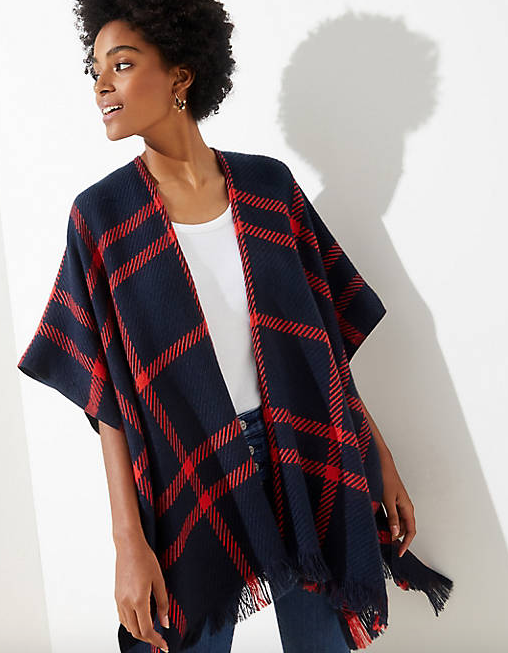 The second I tried it on in the store, I knew I was hooked! It was just the perfect combo of winter and holiday for me. I also started thinking about how I could wear it. I love being able to find items that I can wear a variety of different ways and a wrap / scarf is the perfect item to "play" with on the fashion front. I immediately thought about dressing it up a bit with a thick leather belt that I have at home.
Here's my serious look…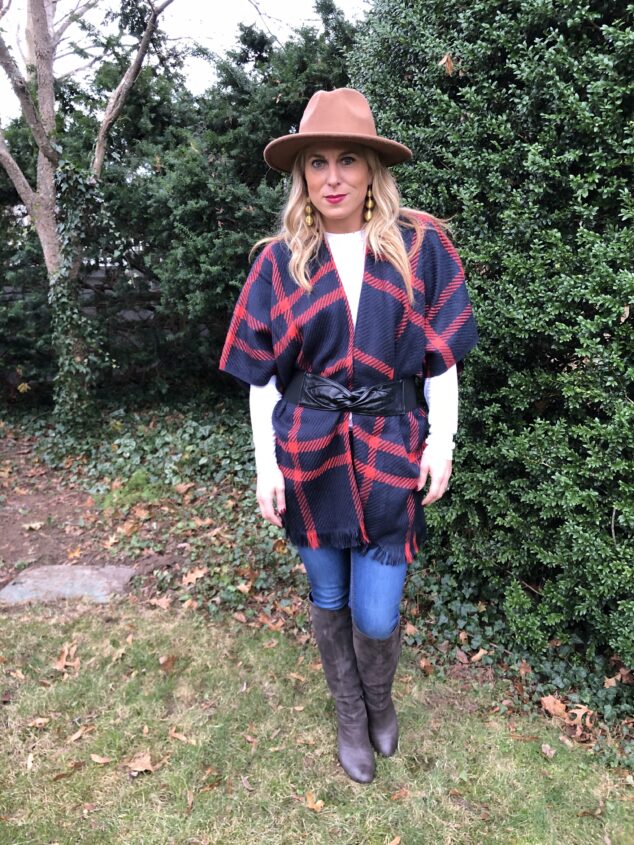 And then realizing that I'm just not that cool! LOL… my husband started laughing at me trying to be all serious in front of the camera.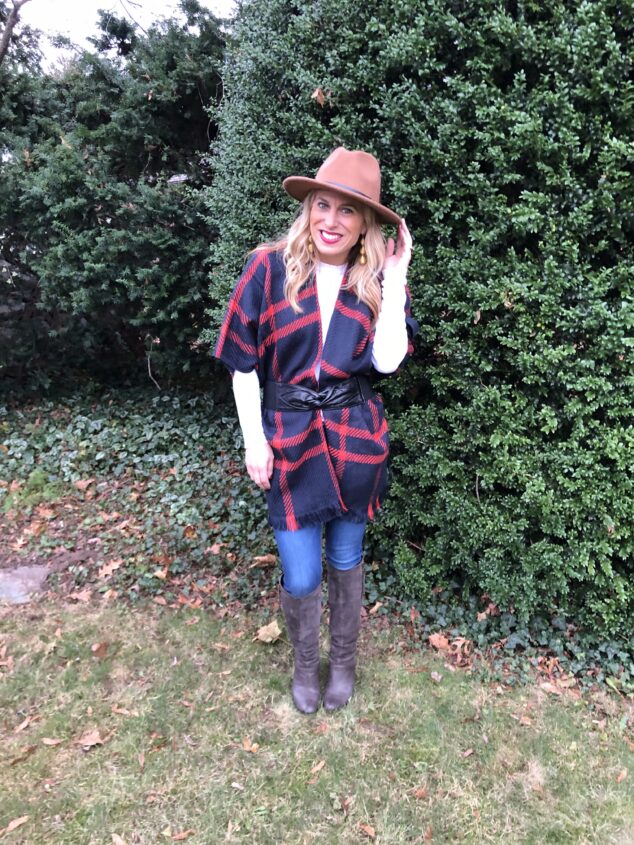 The colors are what sold me on this wrap! I just thought that they were so classic and beautiful and gorgeous. I love reds and navys in the winter, they're such big classic, festive colors!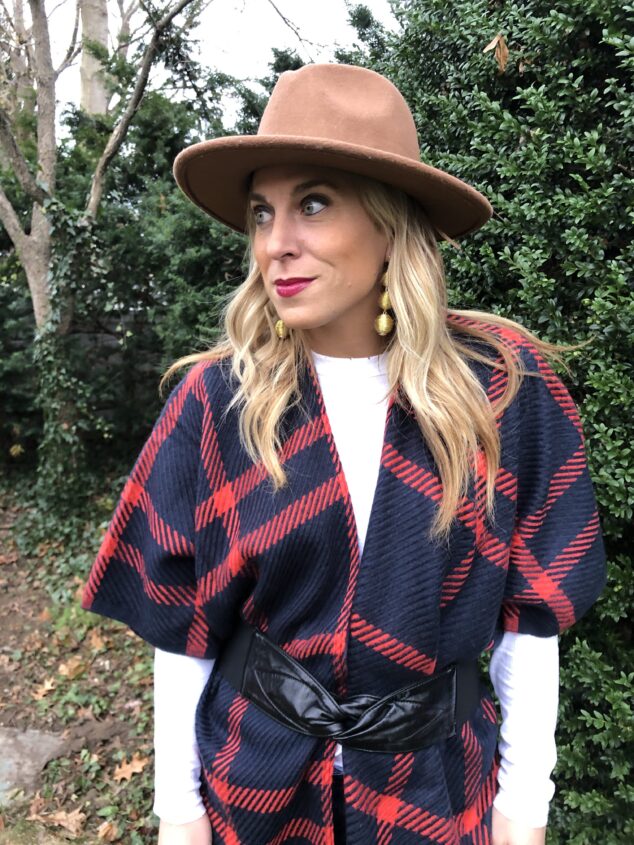 I wanted the plaid wrap to be the centerpiece of this outfit, but I knew I could have some fun with accessories. I grabbed my wool fedora, which I love and will wear as much as I can this winter! My kids think I look like Indiana Jones, but I don't care – I kinda love that they say that about it! Makes me want to wear it more! And I grabbed some fun earrings! I found these at J.Crew Factory last year and just fell in love with them. I think I paid $8 for them!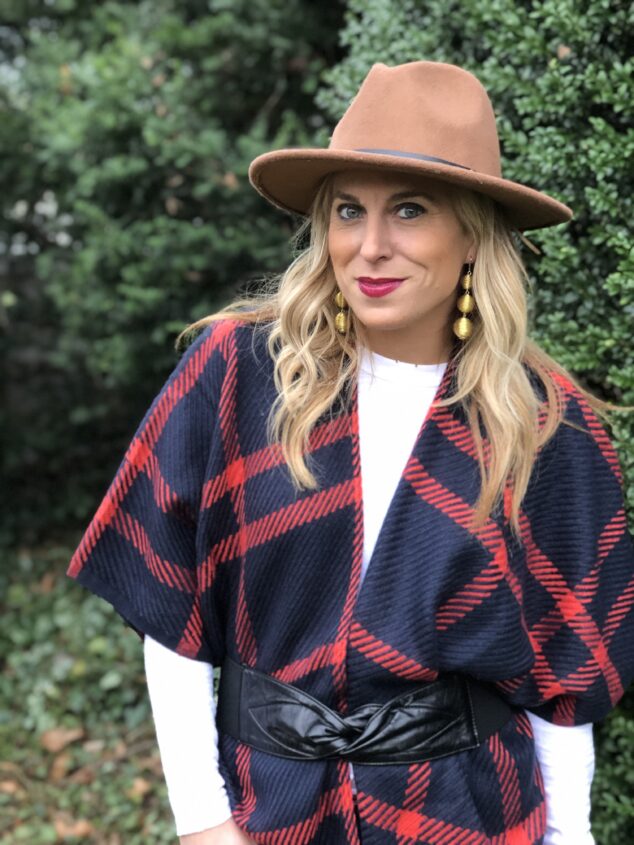 Now for the fun part! I wanted to show how you can easily wear this 4 different ways. Whenever I tell women this, they always tell me – "I don't know how to do that… " – here's what I wanted to show you – YES, you can do it! It's super easy once you see someone do it. These 4 ways are ways you can get extra wear out of your plaid wrap, too! You don't want to just wear it one way, where's the fun in that?
I wanted to show:
1. How to wear it as a wrap with a belt.
2. How to wear it as a cape.
3. How to wear it as it's intended.
4. How to wear as a scarf.
Let me know which way is your favorite to style it! I personally love all the ways, but the belt wrap is probably my fave! It's fun to do and the best part? People will think it looks super chic and stylish! It's a fashion win win, easy and cute!
Please don't forget to join my Daily Dose of Style FACEBOOK GROUP!
And for all of my mama friends! I also have a Fashion Over 40 group that I would LOVE for you to join! I share trends and styles every single day in there, along with the best sales online for fashion. I fully believe that you can and should be able to look your best without breaking the bank. You want to feel confident and beautiful and you CAN! I hope my info helps! We have a ton of fashion fun in there! And you don't need to be 40 years old!!!!!!!

HEAD ON OVER AND JOIN US HERE!!!
Make sure you keep sending me what kinds of fashion and styles you'd like to see me share! It makes it so much more fun to create content when I know people are looking for certain things. I've been getting lots of requests for winter holiday dresses and jackets!