I've been on the hunt for the best red tartan skirt for your money. I'm all about wearing dresses and skirts during the holiday season. Since the winter is all about the plaid for me, I was on a major hunt! I wanted to find something that I just fell in love with on the fashion front that was plaid. Period.
Red Tartan Skirt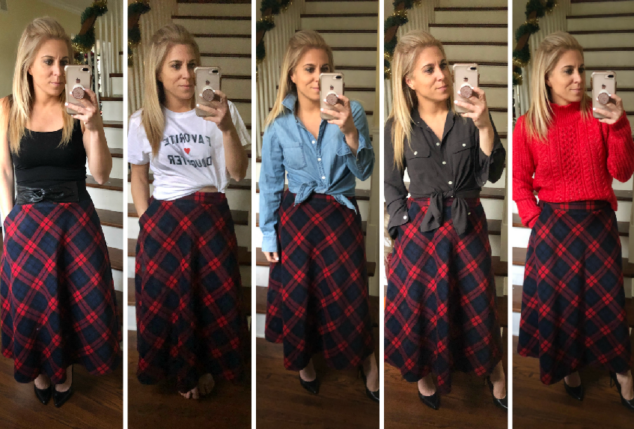 Who loves a good skirt? I'm telling you, I feel like skirts are one item I don't wear enough. I'm a stickler for finding items that work for the winter and finding out what to wear to a company Christmas party!! I love making sure I look good and put together for work and holiday parties, so I'm pulling out the skirts for the weeks ahead! You can get use out of "winter" skirts through the end of February. I'm telling you – I found the BEST one for your money $32.99… and sharing 5 ways to style it today on the blog!
Let's talk the skirt first… I have to say, it's the best deal out there on the red tartan skirt front.
Maxi Skirt A-line Plaid Winter Warm Flare Long Skirt – red plaid skirt for the holiday win! Let me say – the quality is AMAZING! It's truly warm and cozy and completely lined. I always get worried ordering never knowing if something it going to be as good as people say it is, this one definitely is! If you're on the hunt for a red plaid skirt. Check this one out!
Here are the features:

Fabric: Wool blended, suitable for fall/winter.

Pull On closure

Tartan maxi skirt, warm fabric.

A-line wool long skirt, color: green, red.

Classic plaid maxi long skirt, suitable for spring/fall/winter.

Elastic high waist, side zipper, soft wool pleated skirt with pocket.

IDEALSANXUN women's fall/winter wool high waist A-line plaid tartan maxi long skirt.
Style #1: Black Tank and Tartan Skirt – I love this look because it's so clean and polished. It really is a wonderful look for the holidays. I added a big thick belt to break it up and some gorgeous heels!
Style #2: Graphic Tee and Tartan Skirt – Take out your graphic tees and wear them with your skirts! I love the look of this – it's chic and trendy. It's sweet and perfect for a fun holiday party!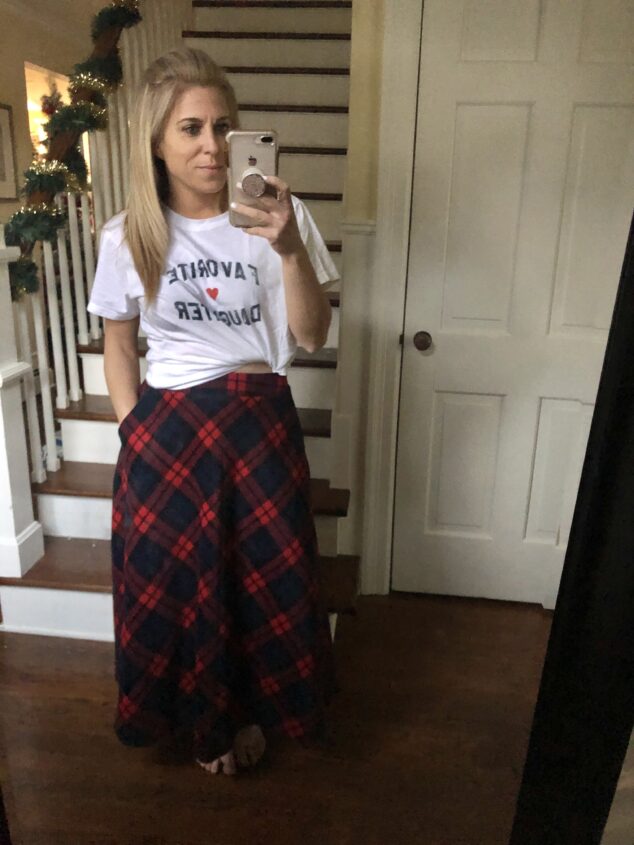 Style #3: Black Blouse and Tartan Skirt: I feel like this is a perfect work outfit. I wore this for a news segment today and loved it so much. I just tied the front to make it more chic and fun! I think it's professionally chic.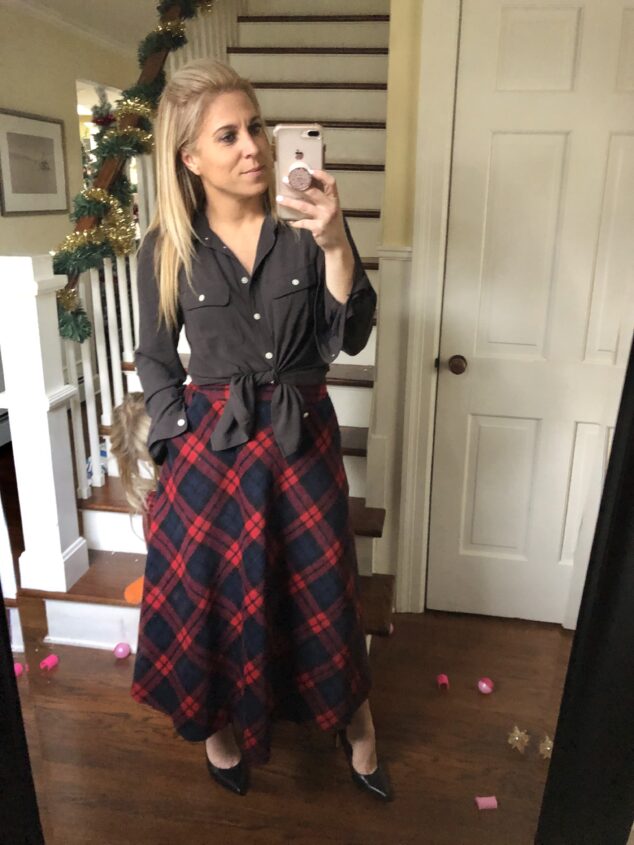 Style #4: Denim Shirt and a Tartan Skirt: Denim denim denim for DAYS! I love denim because it goes with everything! It's such an easy go-to look for anyone. I love this look because it's comfortable and professional and fun! I feel like this look could be worn to work and out for play!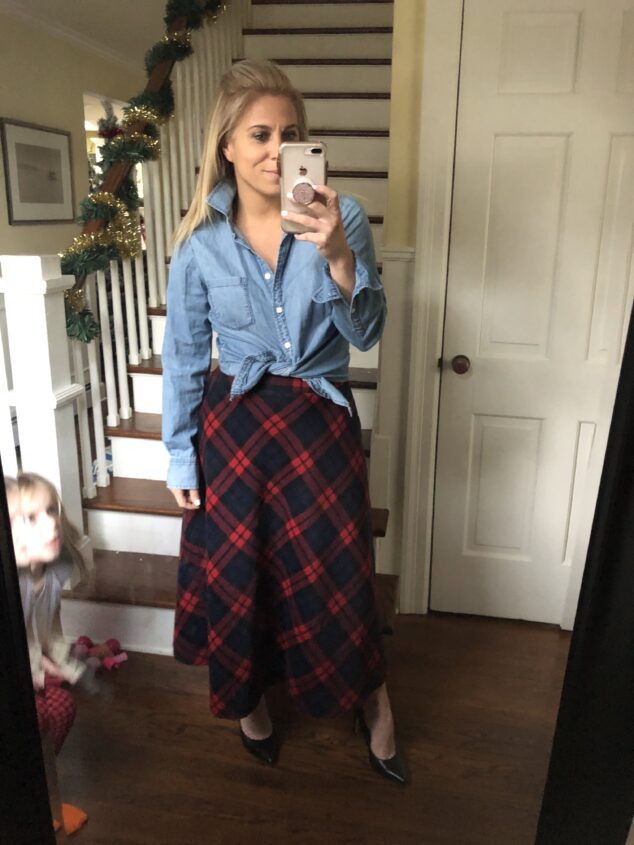 Style #5: Red Sweater and Tartan Skirt – I've never been one to pair a sweater with a maxi skirt! It's such a winter look and it's so cozy! It's also a great look for the winter. I love that it's a beautiful option for the winter months ahead!!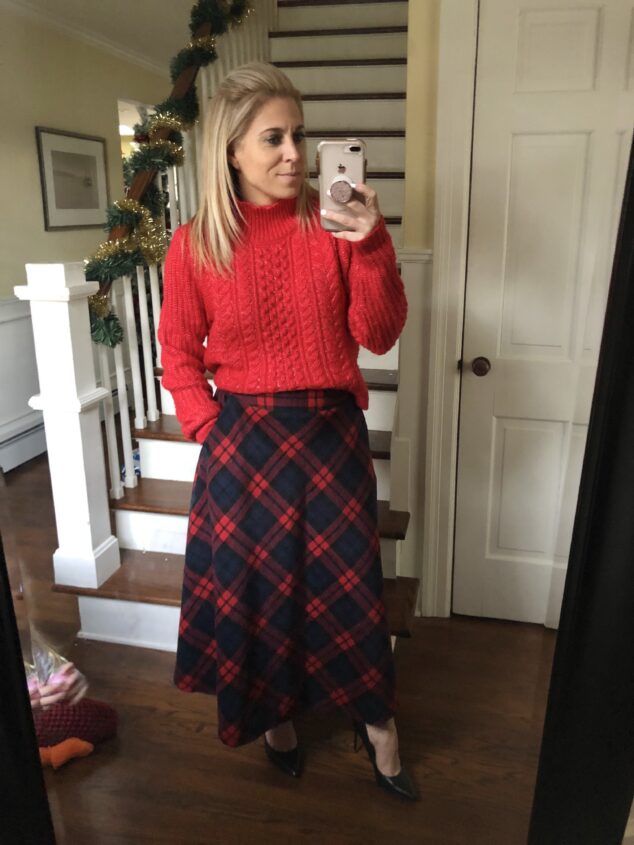 I hope these 5 styles help you out when you're looking for a great option with your red tartan skirt! I love how beautiful and gorgeous this is to style! It's a fantastic option for your wardrobe.
Buy the red tartan skirt here.
Please don't forget to join my Daily Dose of Style FACEBOOK GROUP!
And for all of my mama friends! I also have a Fashion Over 40 – Daily Does of Style Facebook Group that I would LOVE for you to join! I share trends and styles every single day in there, along with the best sales online for fashion. I fully believe that you can and should be able to look your best without breaking the bank. You want to feel confident and beautiful and you CAN! I hope my info helps! We have a ton of fashion fun in there! And you don't need to be 40 years old!!!!!!!

HEAD ON OVER AND JOIN US HERE!!!
Make sure you keep sending me what kinds of fashion and styles you'd like to see me share! It makes it so much more fun to create content when I know people are looking for certain things. I've been getting lots of requests for winter holiday dresses and jackets! I love when people let me know! So keep them coming!