One of the best things you can do during the winter in New England is enjoy some family ski holidays. It's all about bringing your family together and enjoying a wonderful holiday on the slopes! It's just a fun and exciting activity to do with your family in the winter and it's something that we started last year and will continue to do!
When you take some family ski holidays, you want to make sure you find the best slope for your family. I used to ski as a child every year from the time I was 5 years old till I was 18 years old. It became a family bonding activity throughout the years and it was something that I ALWAYS wanted to do with my family. For reasons I just don't know – I never got my kids on skis. It's funny because every year I wanted to do it, but it just never happened.
Last year my dear friend Nicole Feliciano hosted a MomTrends Ski Weekend at Mount Snow in Vermont for families and we were part of the crew that experienced the slopes with them! My kids LOVED being on skis last year and really took to it immediately. The second I heard that MomTrends was hosting another ski weekend in Vermont, we jumped at the opportunity to get back on the slopes! We hadn't had another chance to do more family ski holidays, so this was a true treat.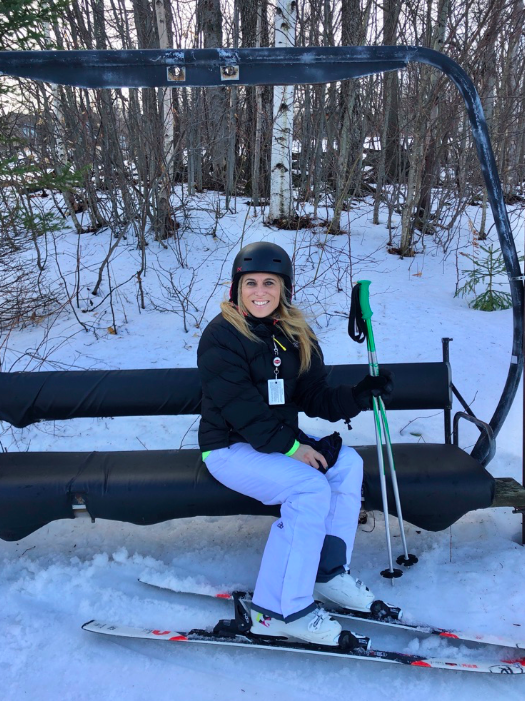 Family ski holidays are a time to come together, be active, laugh, have fun and be "away" from it all for a small amount of time. Stratton Mountain is an incredible destination for a families because it's the kind of mountain that's perfect for everyone. They open every day at 10 am, and mountain tours are perfect for first-timers looking for the full Stratton experience or Stratton regulars searching for their new favorite trail. Families, small groups and individuals with intermediate to advanced skiing and riding levels welcome. It really is an incredible resort that stands as a legacy to the dauntless spirit of its founders and the families who have made it their home, creating traditions, marking milestones from generation to generation as Stratton added lifts and trails, events and activities, homes, lodges and a unique slopeside Village.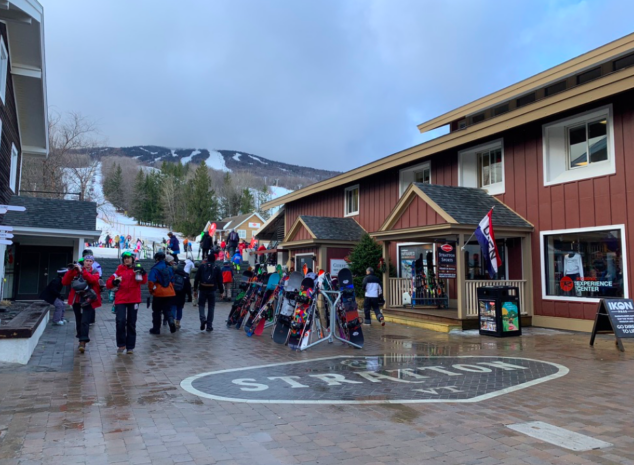 Stratton Mountain makes it so seamless and easy for you when you arrive with your family. This is the part I was dreading because I know with 5 kids, it can be tough to not only get the tickets but go through the rentals. We didn't experience anything like this at all, everything was so easy and so effortless. You can buy and rent right at the same spot, which I love!
The Stratton Lift Tickets increase as it gets closer to your desired date, so purchasing online is the best way to lock in the best savings. Online lift tickets must be purchased at least 24 hours in advance. The prices vary depending upon single day and multi-day, you get the best deal with the more days you book. Adult tickets average between $95-130. Teen tickets average between $75-105. Kids tickets average between $75-95.
We all rented skis from the shop at Stratton Mountain (boots, skis, helmet, poles). They have rentals for the advanced skier to the first-timers, and have the latest from Rossignol and Burton in over 20 different ski/snowboard models to choose from. We breezed through the rental area, which was great. The staff was so helpful with us because in all honesty – my kids really are still first time skiers. I appreciate the time and effort they gave us while we were there getting fit for the rentals.
Once we were all fit with our rentals, we were OFF TO THE SLOPES! I signed the kids up for a 1/2 day afternoon lesson, so we were able to enjoy a morning together without us rushing off to ski school. I have to say, everyone looked the part for skiing and I loved it! Victoria was so cute in her little helmet, googles and coat. She looked like my little ski bunny!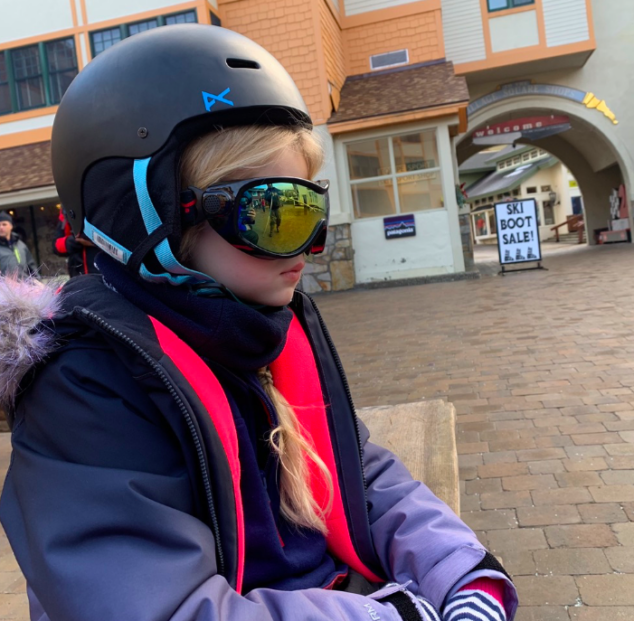 I just want to reiterate, too. Rossignol is a wonderful brand when it comes to skiing, so I just loved knowing that we were wearing some of the best of the best. I don't know skiing as well as I know swimming, but I know in swimming that there are certain brands (Speedo, TYR) that are the ones to use when it comes to swimming gear. That's how I view Rossignol, too!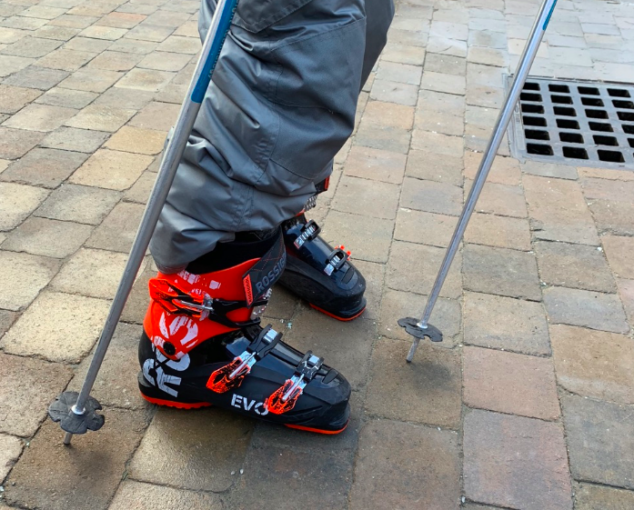 Growing up during our family ski holidays you never wore helmets, you just wore hats. I can't tell you just how much I love the fact that the mountains recommend helmets for skiing. Your head needs to be protected against falls or even falling snow/ice. I felt so comfortable with everyone being armed with helmets for our heads!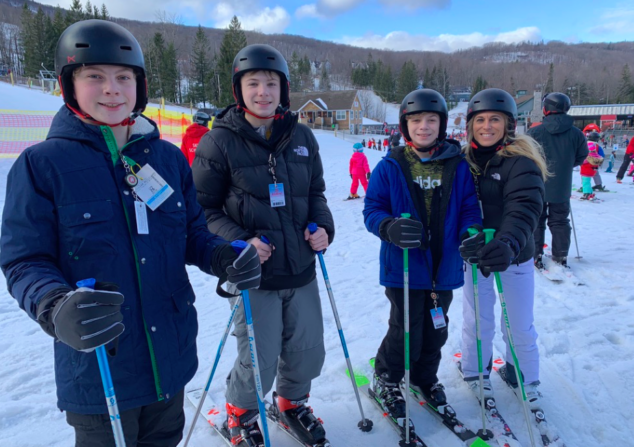 I've never had this happen before while skiing, but while we were at Stratton Mountain the weather was like spring! The temps were 50-60 degrees and it was like skiing during the warmer months, not January! I had ALL of us bundled from top to bottom, so quickly we had everyone take off some of their layers to enjoy! My Henry even had his jacket unzipped, it was amazing! You didn't even really need gloves, if you can believe that!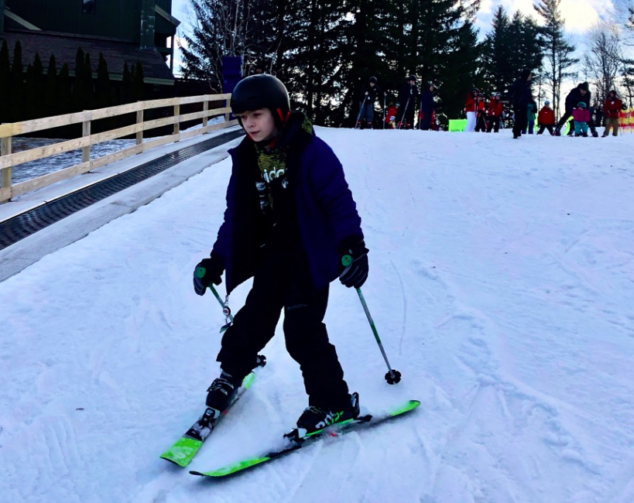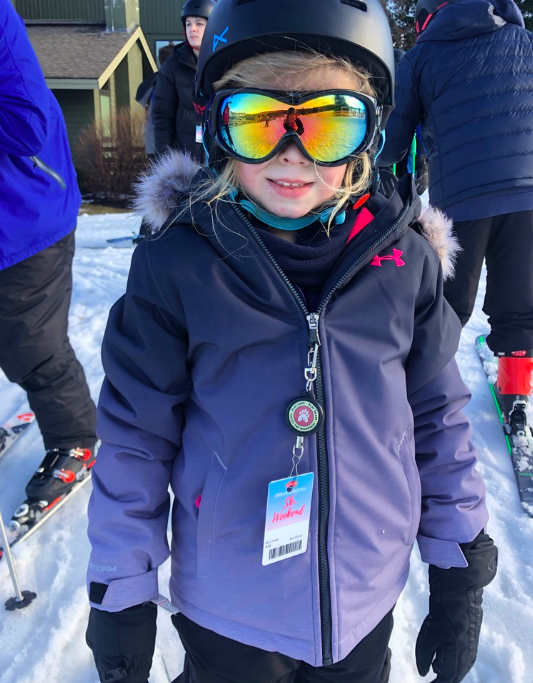 Going into this amazing family ski holidays, I had ONE GOAL in mind. I just wanted my kids more confident and comfortable on skis. I wanted to make sure they looked good and safe out there on the slopes and I wanted to make sure they had fun! There's nothing worse than seeing your kids get frustrated with trying something new, so I had everyone take it SUPER SLOW on the first few runs and confined everyone to the bunny trails. Literally – BUNNY TRAILS.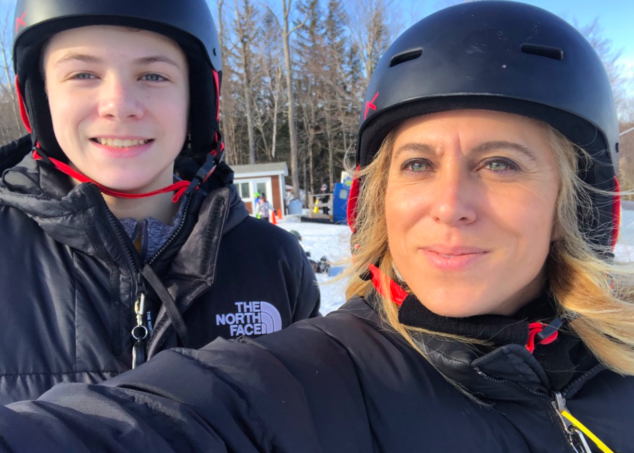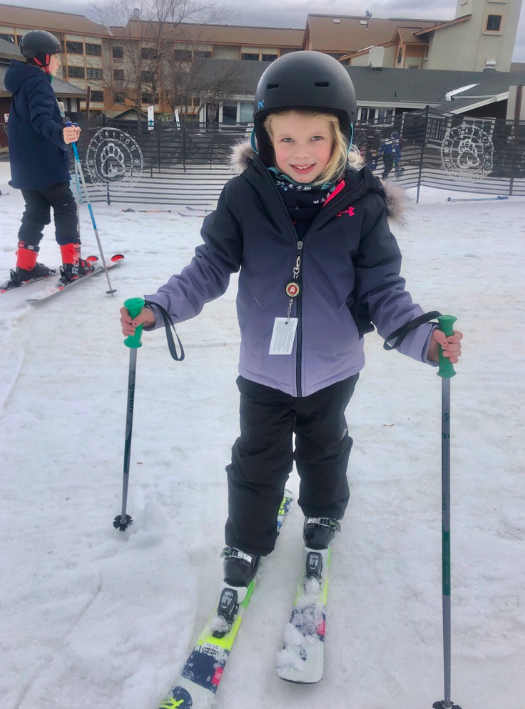 We spent all morning going up and down the smaller slope, really trying to make sure the kids understood how to stop and go. My husband only started skiing when he was a teenager, but he took to it quickly so he was a HUGE HELP with me teaching the kids. One of the best things about Stratton Mountain is the fact that there are so many trails for different abilities. After the older boys seemed to "master" the smaller bunny trails, I took them to the next step up!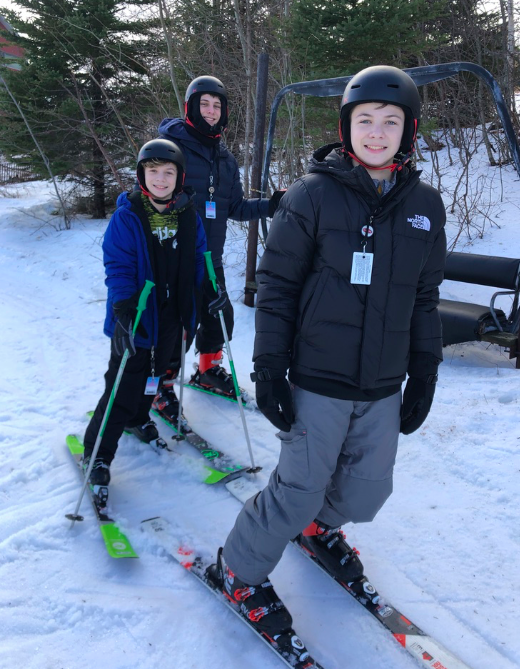 It was so amazing seeing them get excited about mastering the "next step" up. Stratton Mountain's staff was exceptional, too. We even had a woman stop and help Henry on the chairlift because she could tell he was a little nervous about it. She slowed it down and worked through how to get on and UP! I appreciated these small gestures because this is what makes a ski trip with your family so amazing… watching them enjoy it and not feel too overwhelmed by learning something new!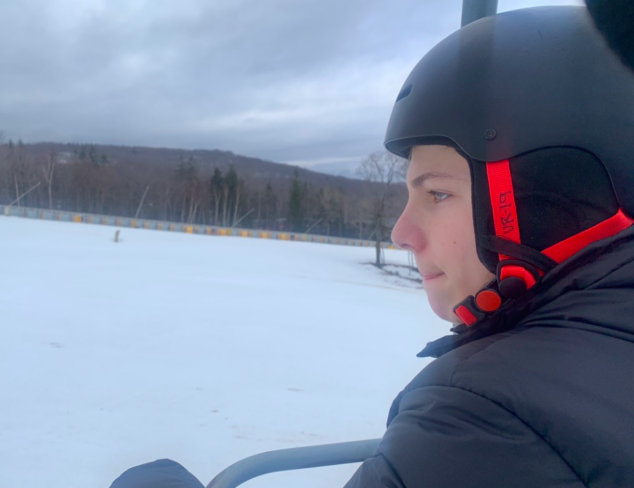 I don't know if you've seen me mention this before on the blog, but my 3rd son Ben blew his knee out on Thanksgiving. We had already planned the family ski holidays with MomTrends, so I was nervous about whether or not he would be able to do anything! There was even a moment I thought about seeing if he should stay home with my parents, but Ben really wanted to come. He's been doing such a great job with keeping up on his knee exercises, that we got the thumb's up to let him do some bunny trails.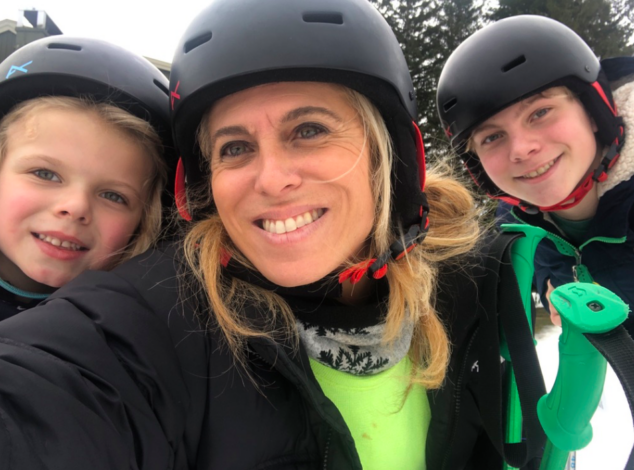 He wasn't able to go off with his brothers, but he was patient and completely understood why he needed to stay with me and Victoria on the smaller slopes. I just didn't want him to overdo it and hurt himself even more! After the 3 of us did a few runs, we would go in for a quick hot chocolate break (which was always my fave thing to do as a kid, too!).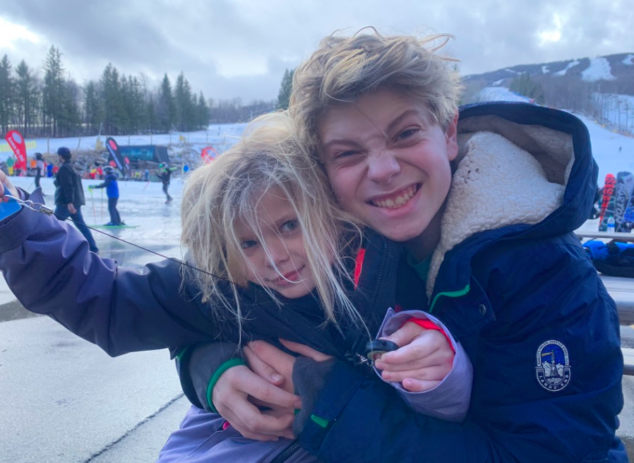 William, Alex and Henry were ITCHING to get to the bigger slopes, so off they went! The good thing is that Matt and I were able to take turns with them. Matt would go out for an hour or so and then we'd switch! It was great seeing them get stronger and stronger as the day went along!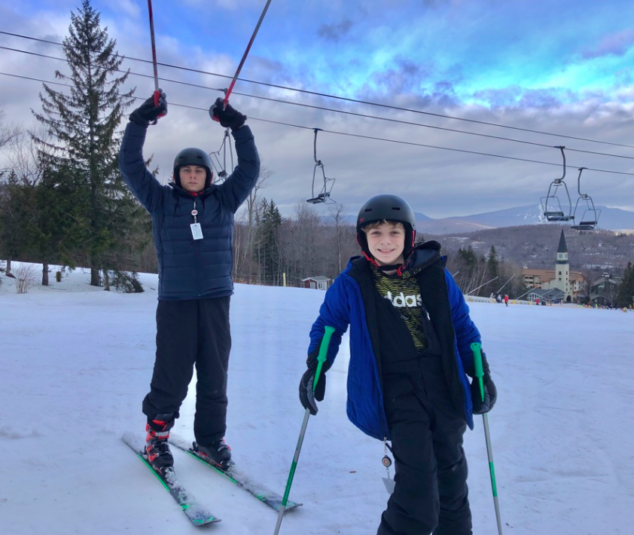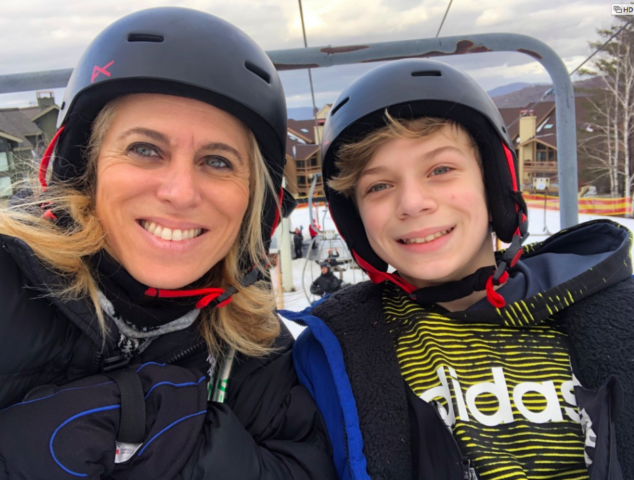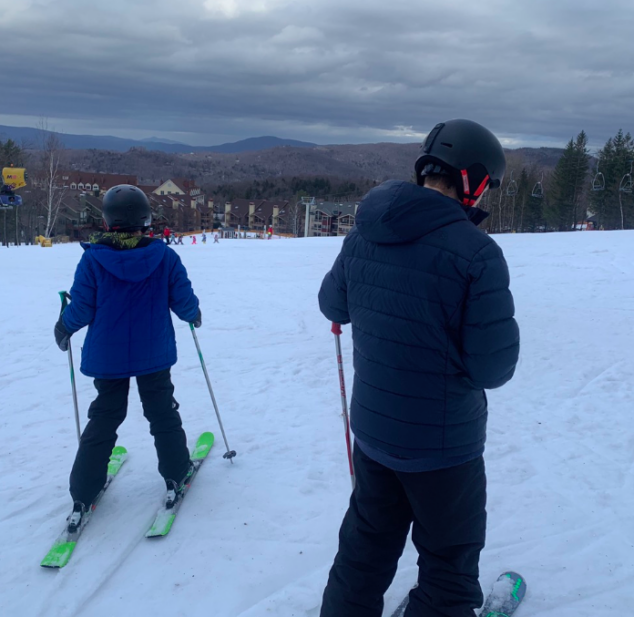 The boys had one goal during this family ski holidays, they wanted to make it 1/2 way up the mountain before the first day was over! They kept seeing little kids whiz by them on the trails, but I kept trying to explain that these kids didn't just learn to ski… they've been skiing for years! It made it a little easier for them to get it, but I loved seeing them have some determination to get up there! The best news… they made it!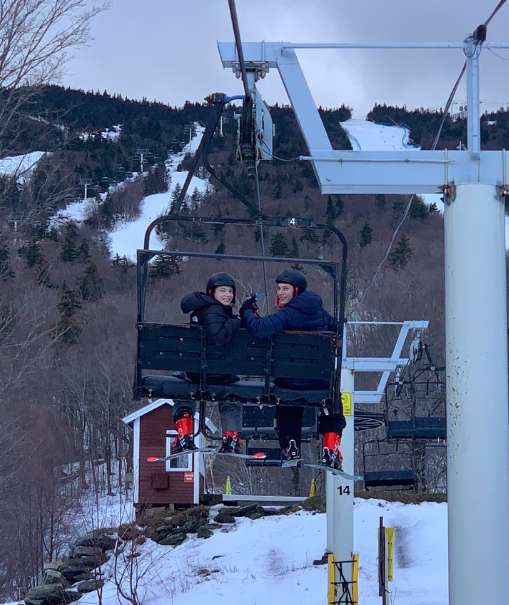 Let me share more about Stratton Mountain for your family ski holidays! I was asked on Instagram Stories about childcare at Stratton. Victoria is too old to be at it, but yes – they have it for kids that are 6 weeks to 5 years old.
Conveniently located at Skier Drop-Off, our fully licensed child care program offers a full day of fun in a perfect play environment with safe and enriching toys, art projects and storytelling with a professional staff that understands how to fuel your child's imagination. Outdoor time is plentiful in our beautiful mountain environment. Lunch and healthy snacks included.
Stratton childcare is part of the Vermont Child Care Industry and Careers Council. This is an industry that supports Vermont's children, families, communities, schools and businesses by promoting the highest quality child care for young and school age children through the recruitment, development, mentoring and retention of qualified child care professionals.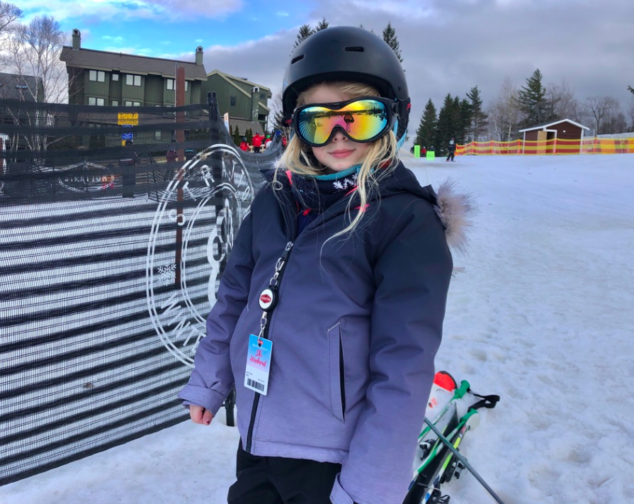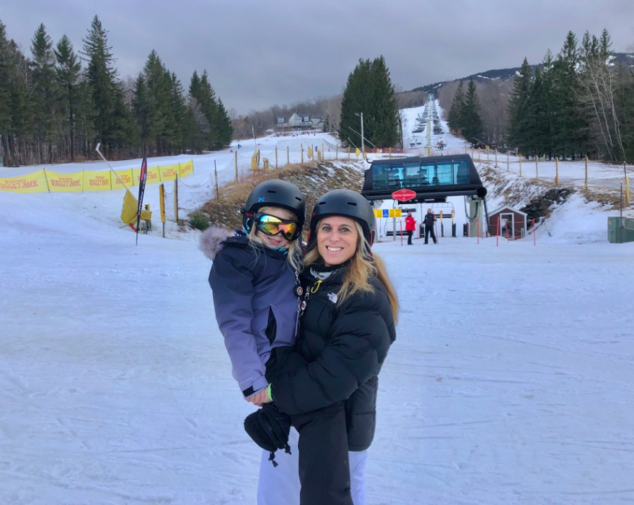 Personally – I loved seeing this little fearless peanut take to the slopes! She was just nonstop and I loved seeing her get so excited once she went down the hill without falling! She kept at it, making me stay at the bottom to watch her! When she finally did it, she took off her skis and ran right over to me for a hug and kiss! I loved that my Ben captured it!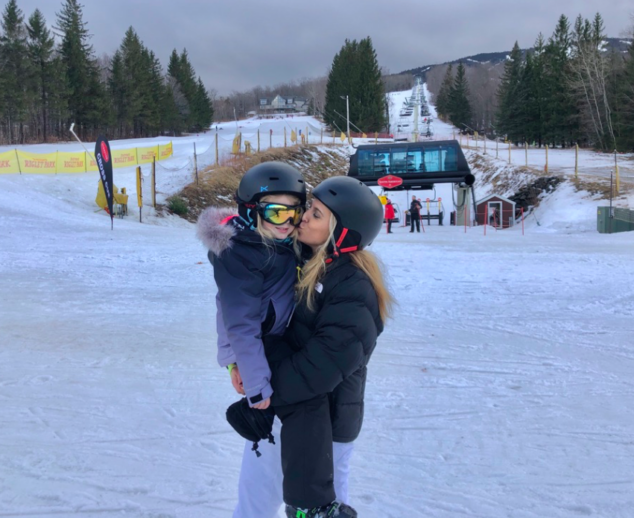 Stratton Mountain Lessons for Beginners (13 and up!)
Stratton offers beginner friendly lessons to set yourself up for success on the slopes. Skiers and snowboarders will see a vast improvement after completing even just their first lesson. Stratton progresses beginning riders by building a strong foundation of skills, proper techniques, rider awareness, and mountain etiquette. Our highly skilled pros will cater each lesson to your needs and ability levels to make the most out of your day on the mountain.
Stratton's pros guide you through a dynamic learning experience to help each individual of a group lesson improve. Lessons are a great chance to get insider tips on mountain terrain, the best beginner friendly equipment, adjusting to snow conditions, and even where to have to best après experience when the lesson has ended. There is no better way to spend a winter day than on the mountain, and this is your ticket to a lifetime of winter fun.
We stayed at the Black Bear Lodge which was minutes away from Stratton Mountain. It was a PERFECT place to stay for our family because it's a true family hotel. My kids fave part? THE HOT TUB!
Enjoy the comfort and convenience of a classic Stratton lodge located just a quick shuttle to the slopes (winter only). Continental breakfast included in room rate (accurate head count required). Enjoy Table 43.1 restaurant for dinner and drinks on site. Free WiFi, indoor hot tub and sauna available to hotel guests. Black Bear Lodge offers a limited number of rooms for well-behaved pets for an additional fee. If you are interested in booking a room with your pet, please call 1800-STRATTON (787-2886) for availability.
This was one of the best family ski holidays! There's something about just being away from it all in the beautiful mountains of New England. Vermont is one of the most stunning destinations and I loved being at Stratton Mountain with my family. The snow. The skiing. The beauty of it all, it as just breathtaking and you know what, it was EXACTLY what we all needed as a family.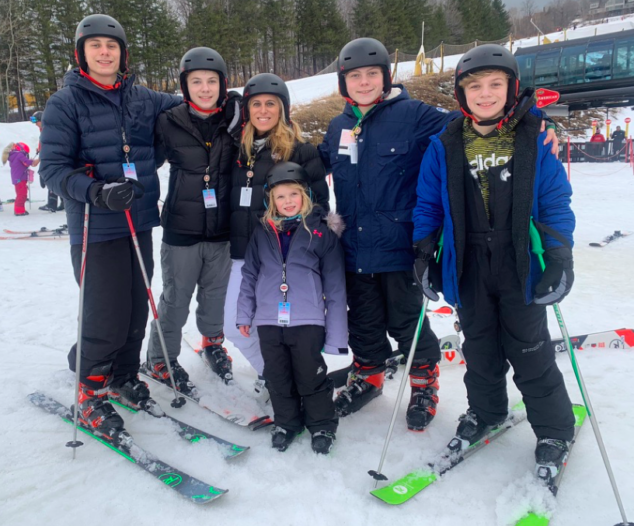 Seeing their faces light up was the joy of the weekend for me!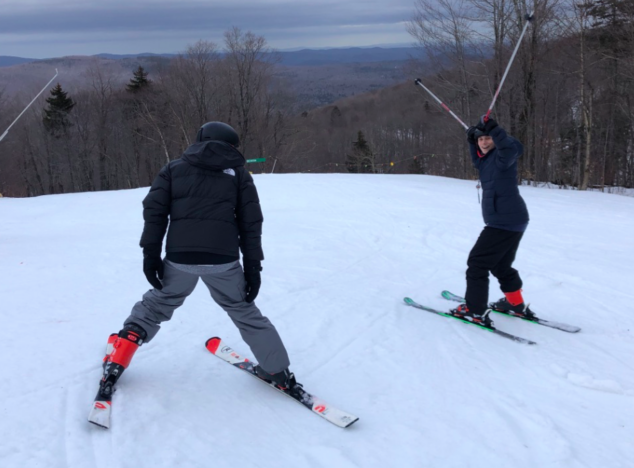 Also… you don't want to miss out on the Stratton Village!  Shop, dine, spa, stroll through Stratton's classic alpine gathering place. You'll find inviting options for all, perfect when traveling with a big group. Wake to farm-fresh eggs at Benedict's. Share stories of your day around a patio table or by a roaring fire as the seasons change. Sample the best of Vermont cuisine, craft brews and signature spirits. Outfit all your adventures in the hottest brands.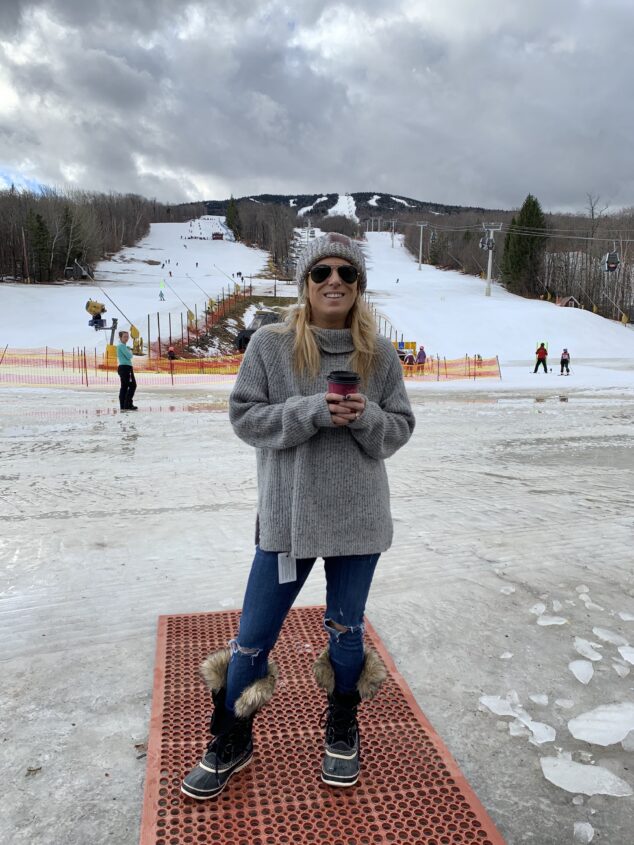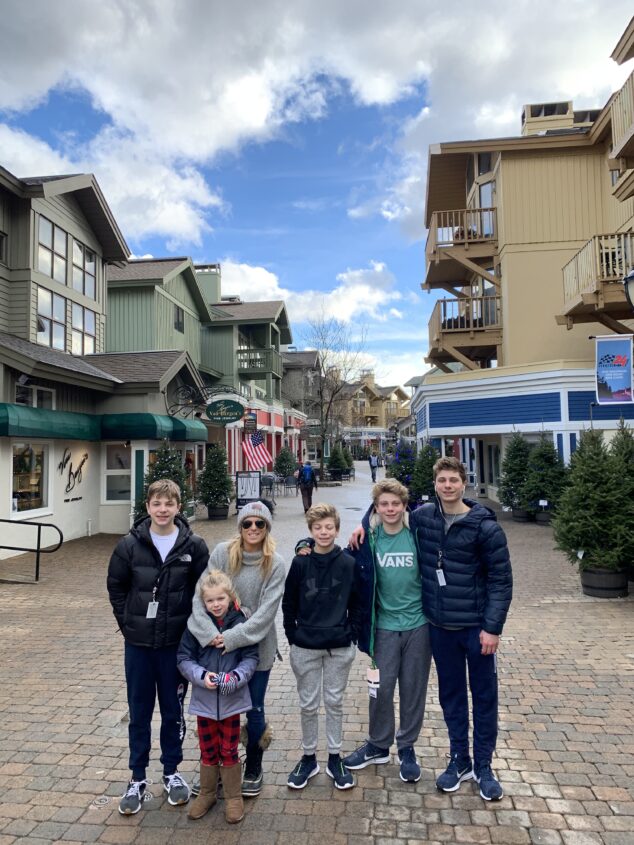 I hope that my kids continue wanting to enjoy the slopes! I know this will be an annual thing we add into our family's life! Thank you to MomTrends for the spectacular weekend at Stratton Mountain. I strongly suggest you heading here for a weekend! My my fellow Rhode Islanders, it's only 3 1/2 hours away for some fabulous FUN!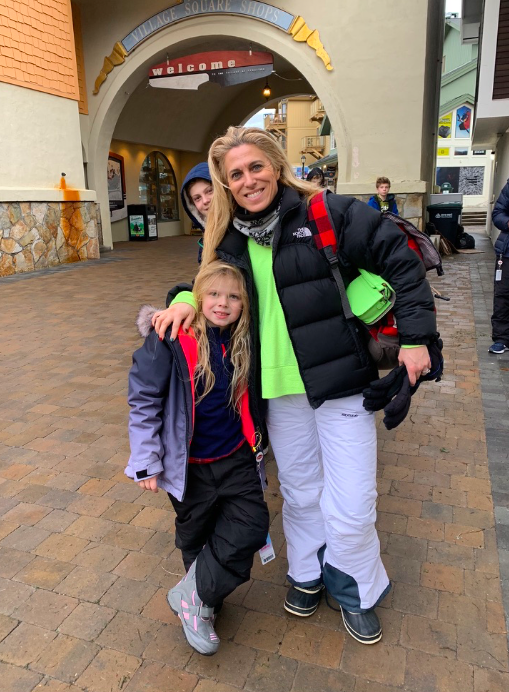 Check out some additional winter activities (101 of them) for YOU to do with your kids!
Head here for more info!
Disclosure: This was a hosted MomTrends trip. All opinions are 100% my own.