If you're looking for a layer to add into your wardrobe, adding a puffer vest is always a good idea. Showing you how to wear a puffer vest today and some of the best ones out there to grab! When it comes to finding the perfect puffer vest you want to make sure you have warmth and comfort.
How to Wear a Puffer Vest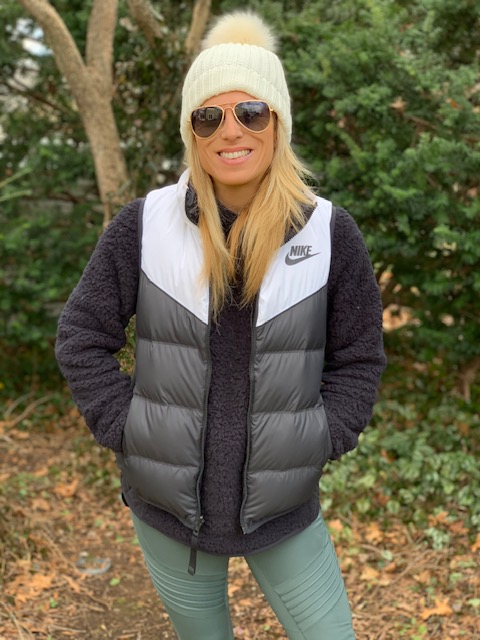 I've always loved puffer vests. I actually remember being a little girl and having a bright red one that I would wear everywhere! My brother used to always joke with me that it looked like I was wearing a life vest, but I didn't care. I loved it and it kept me warm. The older I've gotten, the more I've come to realize that my love for puffer vests are really based around the comfort. The core of your body stays so warm when you're wearing a puffer vest and it's a great shell to always have on hand.
When it comes to figuring out how to wear a puffer vest, I'm showing you how I wear mine. I love to wear mine out and about all the time because it really is like wearing a jacket. As long as the weather isn't too cold (I'm talking below 45 degrees) I usually just wear my puffer vest over a sweatshirt or fleece and call it a day!
I wore my new fave Nike Puffer Vest yesterday with some relaxing clothes. Here's the deal with me and when it comes to how to wear a puffer vest, I love to dress mine down. I never really wear it out unless I'm in total dress down clothes. Can you dress a puffer vest up? Yes. Do you really need to? No. A puffer vest is meant to be an added warm shell, nothing more – nothing less.
Here's my Nike Puffer Vest – The Nike Sportswear Down Fill Vest features down insulation and a stand-up collar for lightweight warmth and coverage. It sports chevron design lines on the front for a classic sportswear touch. I love that I can run with this vest and also wear it around and about, too. It's a great vest to workout in and even if I sweat, it doesn't weigh it down. It's perfect!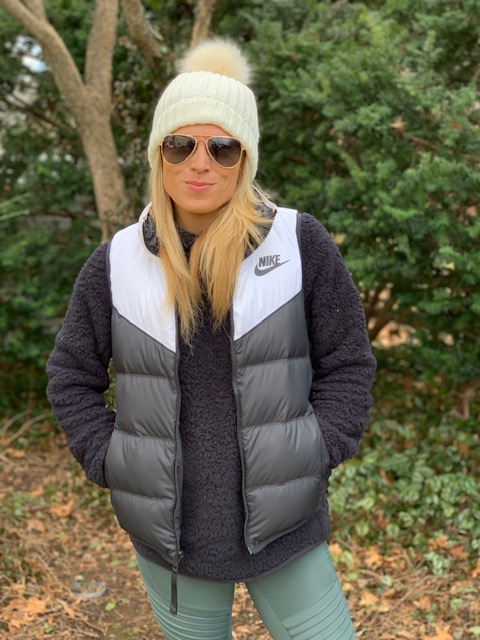 My fashion advice when it comes to how to wear a puffer vest? Keep it comfortable. I'm wearing my Abercrombie fleece pullover along with my New Balance leggings. I knew that these 2 pieces with my puffer vest would work easily. I was super comfy, but also super warm. I always buy my puffer vests 1 size too big just so I have enough room to zip it over a sweatshirt or fleece pullover. I hate anything that's super duper tight, so I love to keep it a little on the loose side.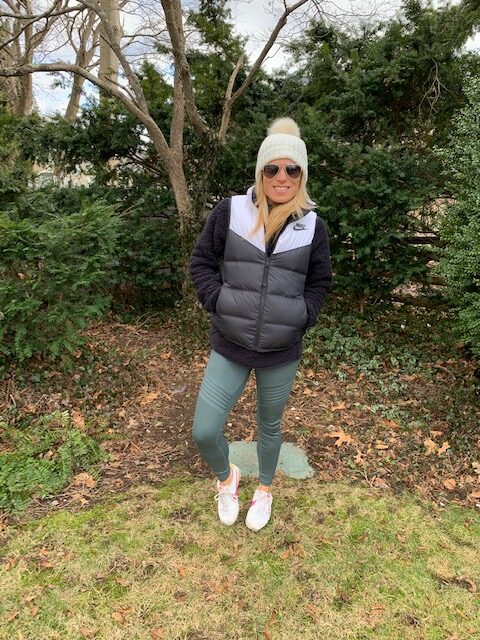 I always, always, always wear sneakers with my leggings, so anytime you see me out and about with my puffer vest, I'm always in sneakers with it, too! I love to wear these Nike Cortez out and about because these aren't sneakers that I actually workout in. These are my day to day shoes that I love to chill in and just toss on when I'm leaving the house. They serve one purpose and one purpose only – COMFORT on the FEET.
When you're looking at how to wear a puffer vest, let me share some places where you could easily wear one. If you're heading out to a soccer game or any kids' sport activity, always nice to have an additional layer on. If you're just hanging out on the weekend, always great to have an extra layer on your chest. If you're looking for a quick top layer if you're heading out to dinner or on some errands, always great to toss on. If you're heading to the gym and don't want to wear a bulky coat, always great to toss it right on!
Where can you find some amazing puffer vests? I recommend these retailers to look into for a fabulous, fashionable and perfect puffer vest!
The North Face – These are the comfiest and warmest vests out there! I have a black one that is super warm and I love, love, love it! You will have this one forever, I promise! This isn't a wear and next season it's shabby. This is year to year to year.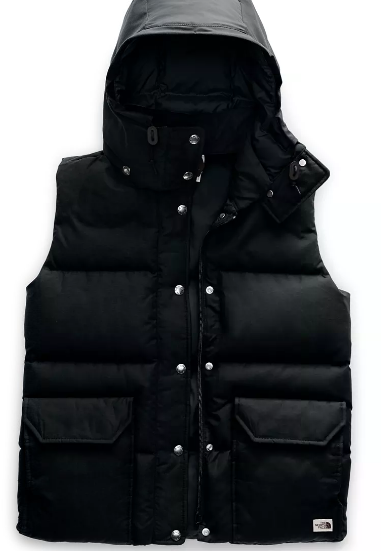 Lands' End – They have awesome vests for women. These Women's Winter Down Puffer Vests are wonderful options at such amazing prices. These are great pieces to add into your wardrobe and the prices are always perfect. I love these so much and they're offered in a variety of colors.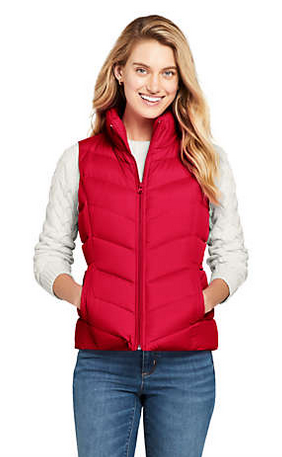 Abercrombie & Fitch – These are chic and fashionable puffer vests and I think they are really great options if you're looking for a vest with a faux fur hood. I love that these are warm AND fashionable. They're also just a vest that is super warm and you can wear with jeans and booties! This is the kind of vest you could rock with those!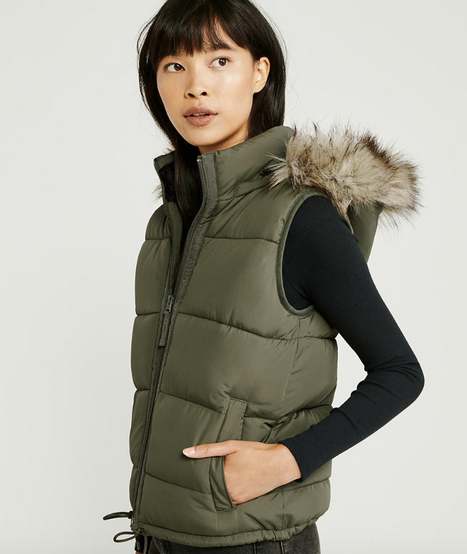 Loving the warmth of all of these vests! If you're looking to stay warm and be warm, I always want to share with you the best base layer for cold weather. I've down a BIG round-up!
Please don't forget to join my Daily Dose of Style FACEBOOK GROUP! This has turned into my favorite spot online and I love sharing there every single day! It's been an outlet for me to be open and honest about my fashion loves! It's a great place to learn new things, so I hope you come on over! I'm also going to be starting a kid fashion one soon, too!
Loving this Fashion Over 40 – Daily Does of Style Facebook Group (that I would LOVE for you to join) and I share trends and styles every single day in there, along with the best sales online for fashion. I fully believe that you can and should be able to look your best without breaking the bank. You want to feel confident and beautiful and you CAN! I hope my info helps! We have a ton of fashion fun in there! And you don't need to be 40 years old!!!!!!!

HEAD ON OVER AND JOIN US HERE!!!