I'm obsessed with Rock Band T Shirts. I've always loved to wear them under blazers, jackets and cardigans. They're a fun staple tee shirt to wear with clothing. I've been asked throughout the years where you can buy band tees and honestly, you can buy them in a variety of places. My big thing is that I don't want to pay over $50 for a tee shirt!
Rock Band T Shirts
Here's the thing with rock back t shirts – you can represent ANY band you want! There's no right or wrong rock band tee! If you're a ACDC lover, wear them! If you're a Rolling Stones lover, wear them! If you're a NKOTB lover, wear them! Wear whomever and whatever you want when it comes to your rock tees. Just find ones that work for YOU and your music taste!
I feel like it's the kind of trend that is great for any age, too. I'm always (at 41 years old) aware of trends and if they seem to work for women over a certain age. I feel like rock band t shirts work more for people that are a little older because we actually (dare I say it) know the bands! When we're wearing them, we're wearing them because we love them.
I'm someone who loves a great fashion deal. I've seen rock band t shirts for over $50 and I just think that's INSANE! You don't need to pay that price for a tee shirt! I wanted to share with you some of my fave band tees that are perfect for wearing that are under $30! I bought a few to check out how they feel, too. The last thing you want to do is buy a cheap tee that is uncomfortable! That doesn't work either.
Sharing with you 12 rock band t shirts that are chic, trendy, reasonable and rock and roll approved! I love all of these because they check the boxes of:
Band Loving
Super Soft
Under $30
I'm a HUGE Stevie Nicks fan. I always have been and always will be. When I was a kid my parents would play Fleetwood Mac on repeat on the record player. Remember those? Record players! Talk about VINTAGE! I used to love seeing them sing along and dance around the kitchen. I not only love Stevie Nicks voice, but it brings beautiful memories into my head from childhood. I feel like I love music so much because my parents brought so much of it into my life as a kid!
I found a bunch of Stevie Nicks Rock Band T Shirts on Amazon last week and couldn't get over the great selections! This one spoke to me the most out of all of them! I love that it's gray and I loved the photo of Stevie Nicks right on the front!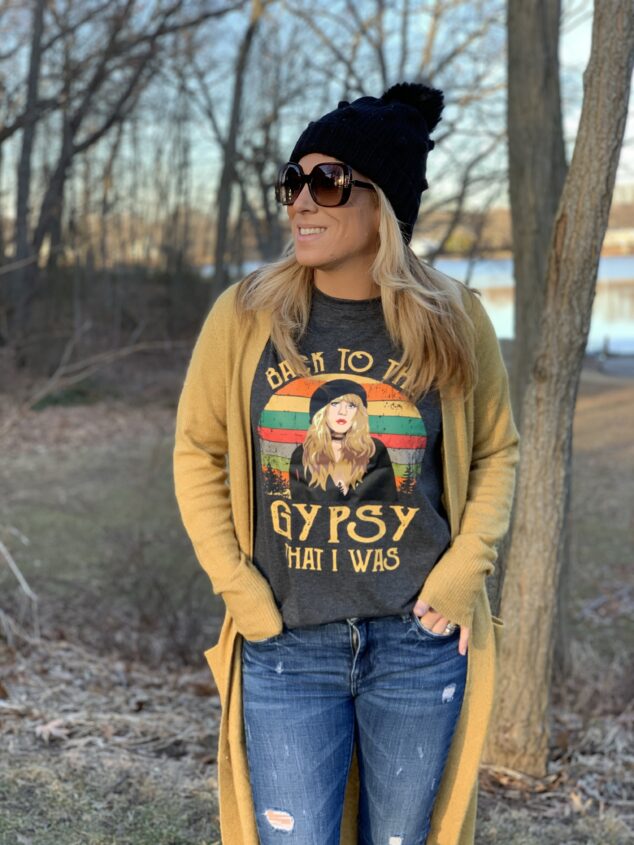 I thought it was colorful and bright and bold and full of ROCK BAND LIFE! The perfect tee for me to wear with my long cardigans, short cardigans, moto jackets and blazers! I also knew this tee would be a talking piece. Whenever I've worn it out in the last week, someone has asked me about it OR said how much they love her, too. It's a fun conversation fashion item.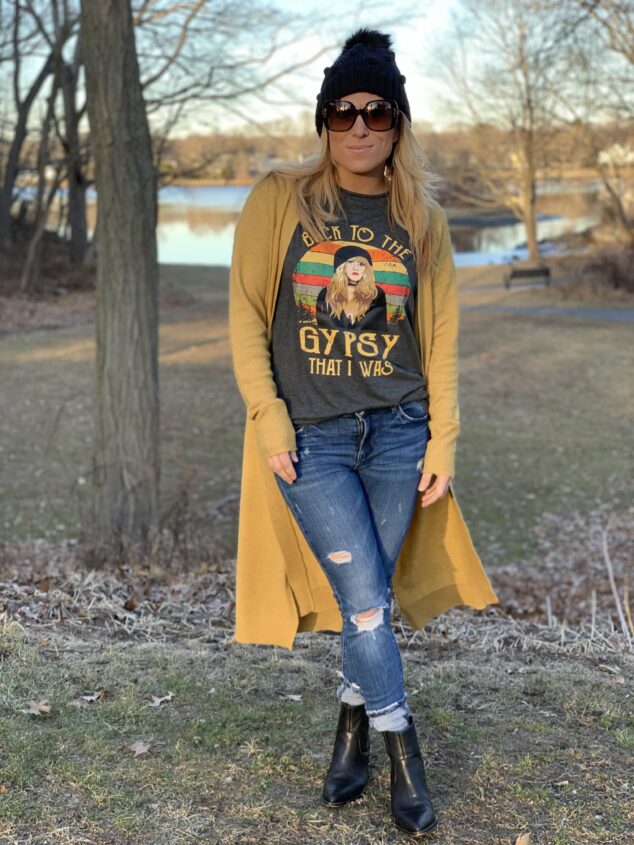 If you're a Stevie Nicks fan, I love this tee! It's SUPER SOFT, too! It actually has a slight stretch to it, which I like even more because it fits well.
Here are some of the features:
❤【T Shirt Material】Cotton blend, soft and skin-friendly, breathable, elastic

❤【T Shirt Detail】Back to The Gypsy That I Was Funny Letter Print, Vintagae Stevie Nicks Graphic, round neck ,short sleeve, casual T-shirt for Stevie Nicks Fans And Rock Band Lovers

❤【T Shirt Occasion】 Fashion and funny style, Suit for Concert, parties, shopping, beer and wine parties and a variety of daily activities.

❤【T Shirt Season】 Spring,Summer,Fall,Good Choice To Match With Your Favorite Skinny Jeans Shorts Leggings or Boots,and so on.

❤【T Shirt Washing】 Hand/Machine Wash Cold Water,Dry Flat,Not Bleach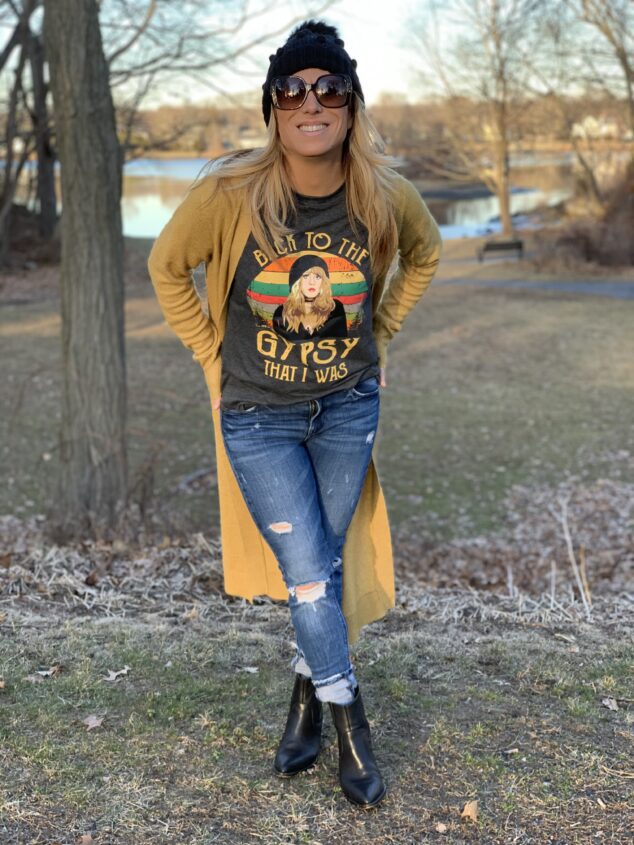 Like I mentioned – you can wear your Rock Band T Shirts with just about anything! I decided to make it super simple with this one. I grabbed my fave distressed jeans and one of my longer sweater cardigans. It's COLD in New England right now. I can't wear my tee as is right now, so I need to think about different options! I love pairing it with hats, too. Fedoras and wool hats are my personal go tos!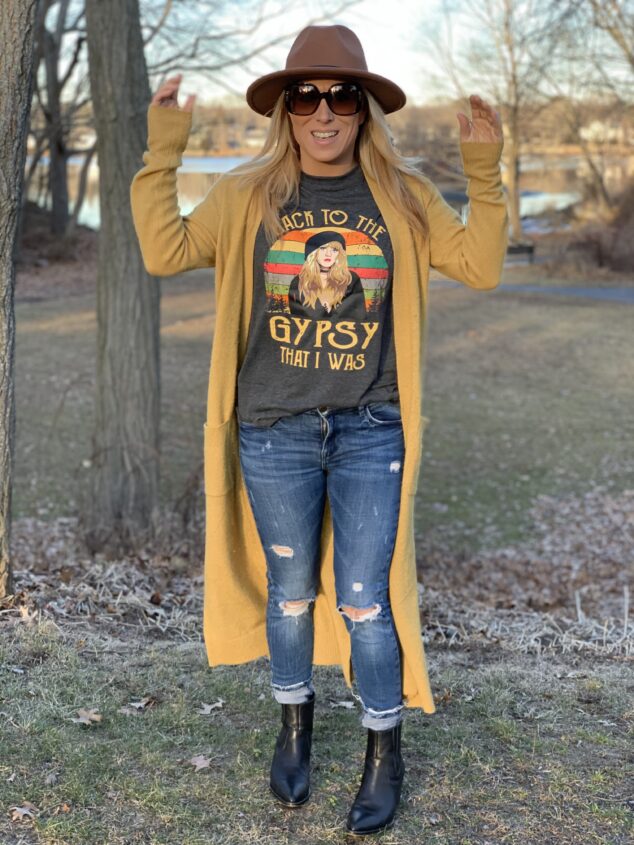 You could also wear these tees with pencil skirts, shorts, jeans, leggings and trousers. What I love about Rock Band T Shirts are that you can dress them up and/or create a casual look. I decided to grab my western booties as my shoe, but you could wear flats, sneakers, tall boots. Anything goes with a tee, it just depends what your personal style is! My advice? GO FOR IT!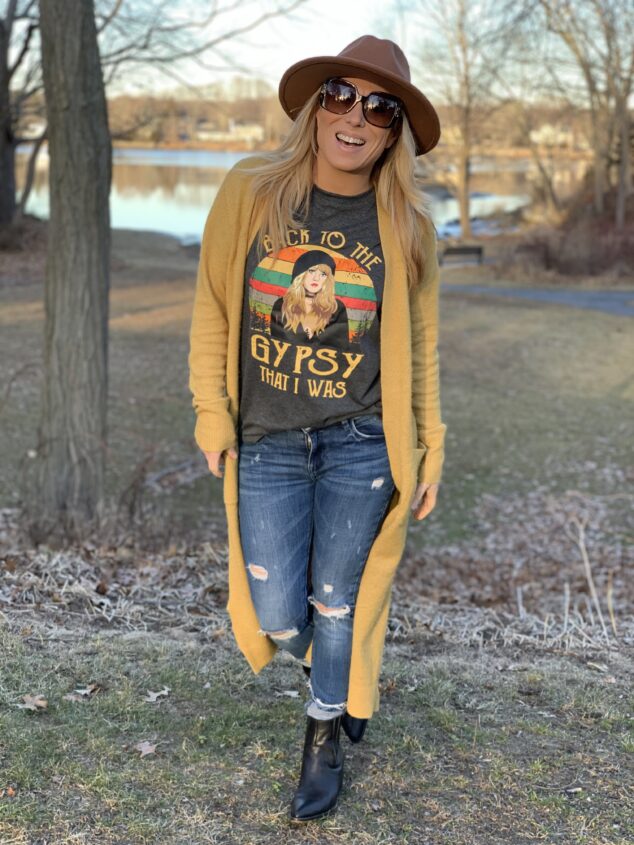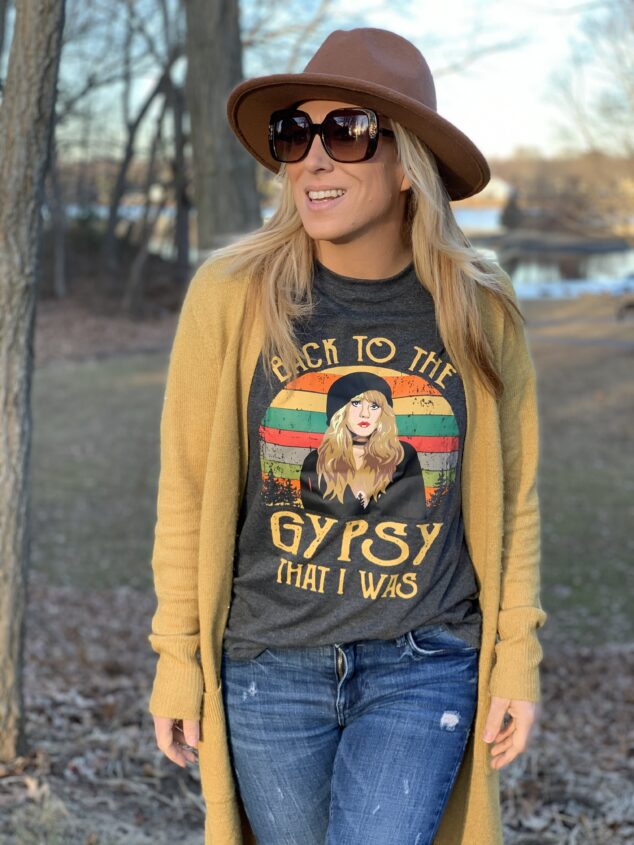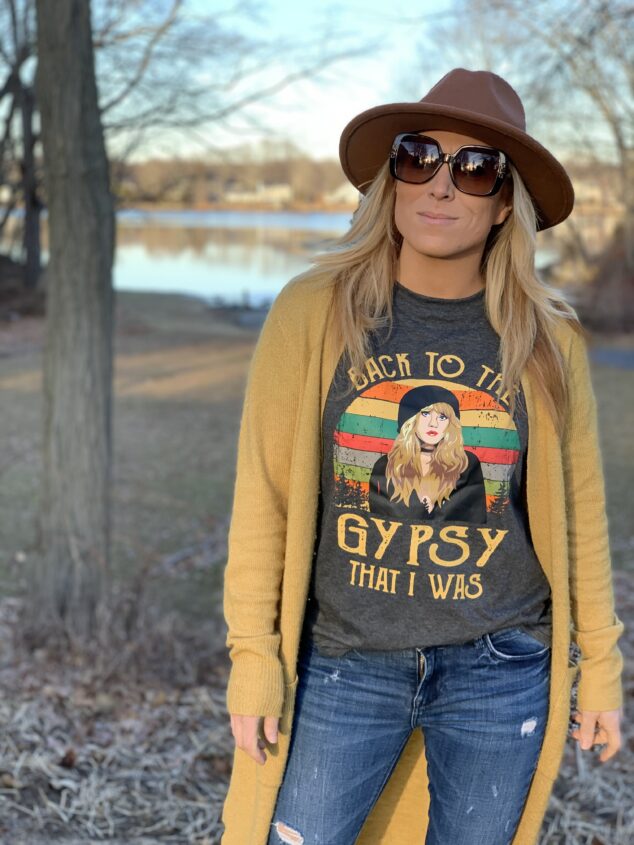 Buy these Rock Band T Shirts here.
Please don't forget to join my Daily Dose of Style FACEBOOK GROUP! This has turned into my favorite spot online and I love sharing there every single day! It's been an outlet for me to be open and honest about my fashion loves! It's a great place to learn new things, so I hope you come on over! I'm also going to be starting a kid fashion one soon, too!
Loving this Fashion Over 40 – Daily Does of Style Facebook Group(that I would LOVE for you to join) and I share trends and styles every single day in there, along with the best sales online for fashion. I fully believe that you can and should be able to look your best without breaking the bank. You want to feel confident and beautiful and you CAN! I hope my info helps! We have a ton of fashion fun in there! And you don't need to be 40 years old!!!!!!!

HEAD ON OVER AND JOIN US HERE!!! I also share beauty tips there, too.
Make sure you share with me if there's something you love and I missed it on the blog! See my last post on Golden Goose Dupes! I share something on the fashion and beauty front every single day and I love it.
*Affiliate links included.