Skirts are one item in my closet that I amp'ed up on over the last year. I was tired of just wearing jeans and yoga pants (though they're so comfy) and wanted to bring in more "pretty" clothes like skirts and dresses. Skirts became a favorite go to for me and loved sharing ways on how to style skirts. They are really a great go to because they can be dressed up or down.
How to Style Skirts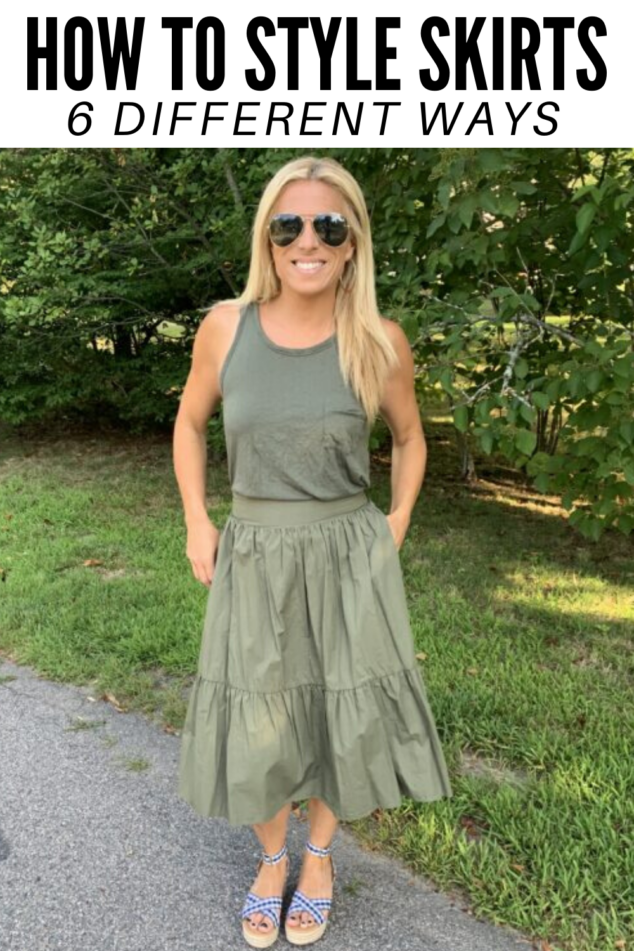 When it comes to figuring out ways on how to style skirts, it's important to remember that you need to find skirts that work with your personal fashion sense. One thing I've done in the past is buy skirts that aren't that great on the versatile scale. I can wear them maybe once or twice, but that's it. I want to be able to wear skirts a variety of times and in a variety of ways.
I'm going to share with you today 6 ways on how to style skirts. I hope these help you and inspire you to grab some skirts and wear them more often! I'm so in love with them now, I just love wearing to the bus stop to get the kids. Don't just use them for work, have some fun and use them whenever you can!
Here are my 6 ways to style skirts. I wanted to make sure I found 6 completely different ways to truly make it work for you! If you're looking for additional ways, let me know! I feel like it's such a wonderful option when it comes to fashion to show different ways to make things work!
How to Style Skirts – Look #1: TANK IT UP
I love wearing tank tops and tees with skirts. It's such an easy go to item. I feel like it's easy to grab tanks that are solid colors – black, white and beige. I love pairing them with skirts because it's just super easy for anyone to make it work. This is a look that is effortless. It doesn't matter your age, size or style – everyone can rock a tank and skirt.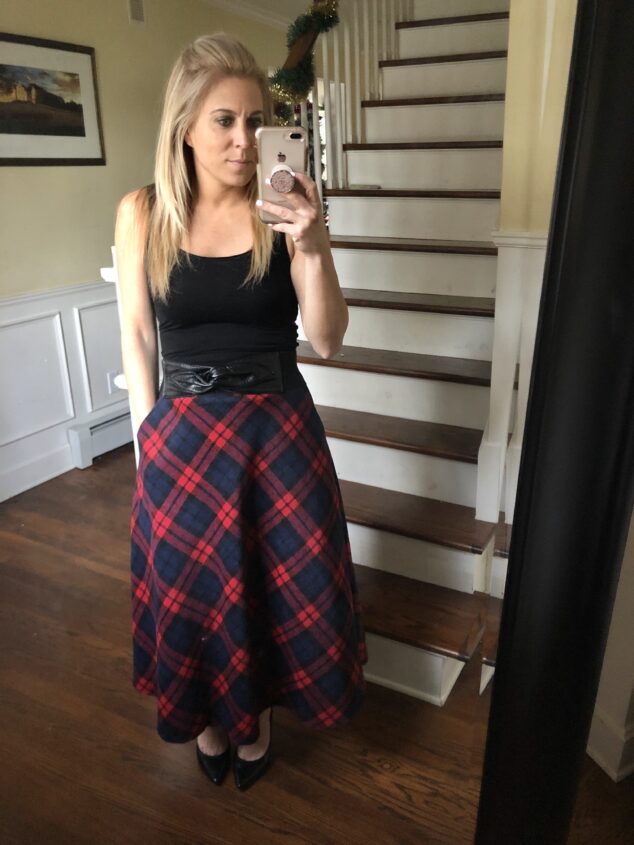 How to Style Skirts – Look #2: DENIM SHIRT
The denim shirt is a go-to for any outfit. I'm telling you right now – if there's something to have in your closet, a denim shirt is ONE OF THEM. It's one of those items that can be worn with skirts and jeans and trousers and shorts. You can wear it with just about anything. Honestly – ANYTHING.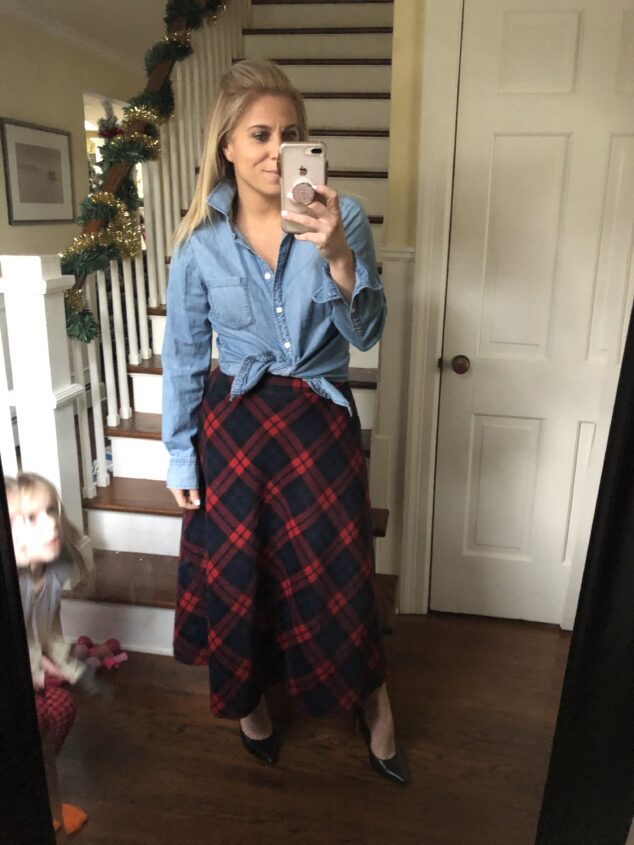 How to Style Skirts – Look #3: SWEATER IT UP!

I love a good sweater to wear with skirts! It's always great to find sweaters that work with skirts and can be tucked in and worn with skirts and pants. I'm obsessed with crewneck sweaters. You also need to make sure you have a thinner one that's lightweight. It's something that you can wear again and again and again. But I love this sweater with this black mini!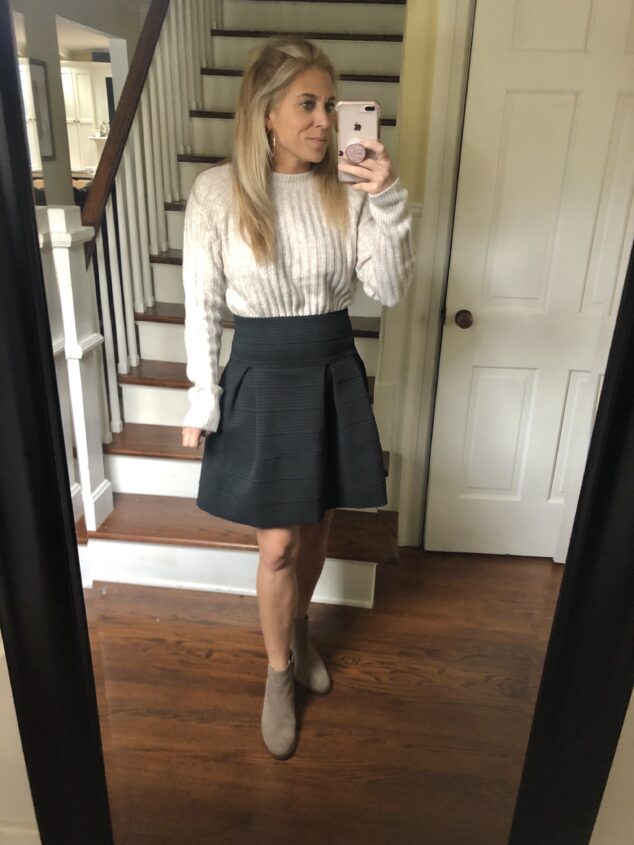 How to Style Skirts – Look #4: WHITE TEE

I love a good white tee. White tees are again another timeless classic. I think that this is such a great item to have for the same reasons as a denim shirt, it's just a must have. You can wear it with ANYTHING and EVERYTHING. I'm someone who doesn't invest a ton of money in white tees because they always get so dirty, so quick! I love going to Target to stock up and just use them and toss them when they needed to be tossed! (Why do the armpits always get so yucky?)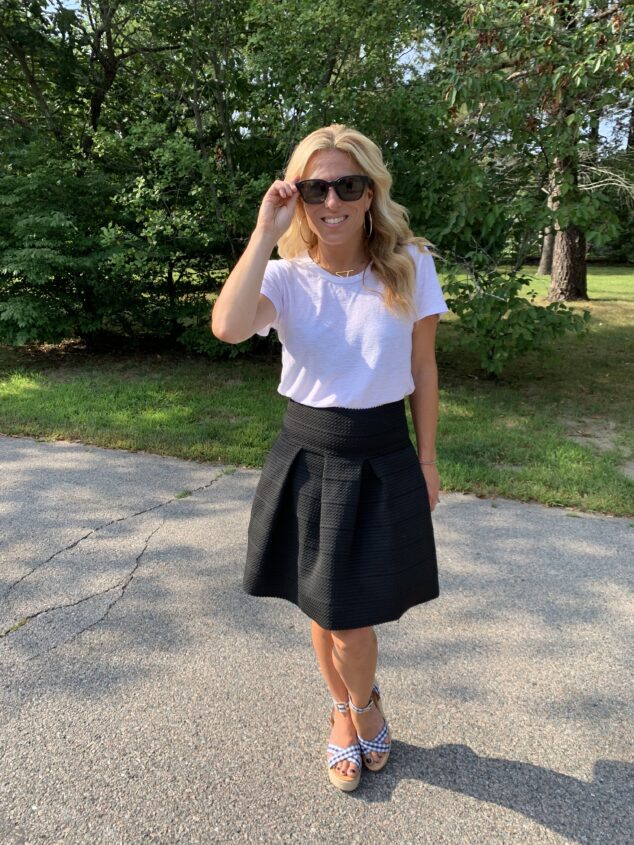 How to Style Skirts – Look #5: MONOCHROMATIC

This is one of my fave fashion styles, period. I love a monochromatic look, which means head to toe the same color! I love being able to find a color that I love and wear it. This green is a perfect example of that! I found this skirt and this tank and wore them together. You can do this with ANY color, but the best is when you can find a color that you love. Black is one of the most popular colors to wear as a monochromatic style. It's easy! Love this look!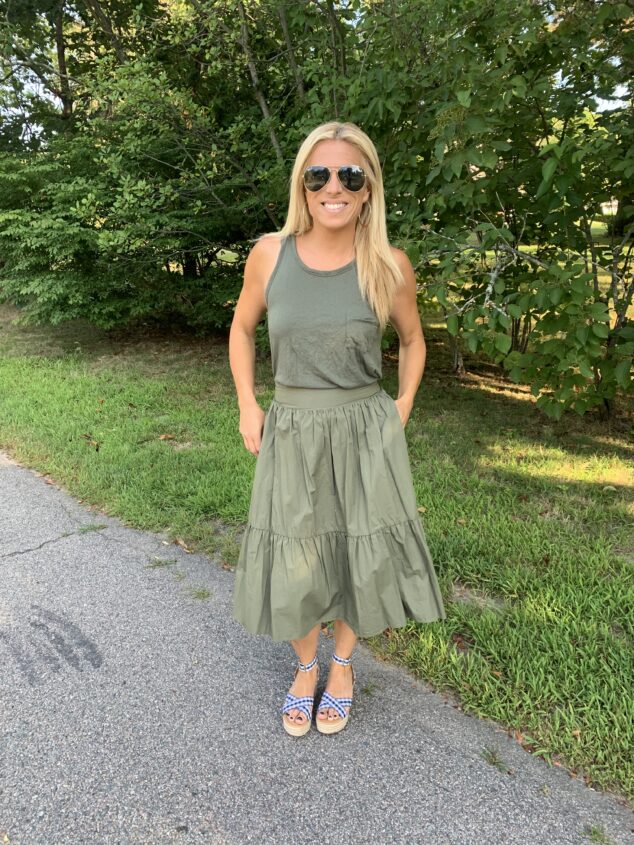 How to Style Skirts – Look #6: BLAZER TIME

If you're looking for a way to rock a skirt for work, I've got one for you! I love a good pencil skirt because they're such a versatile skirts. I thought this look would be great for anyone to wear to work – cute blazer over a tee. I love this look because it's a fun twist on a normal powersuit. It's a great and professional look for women to wear and rock at the same time! Plus! With so many different blazers, you can have a ton of fun!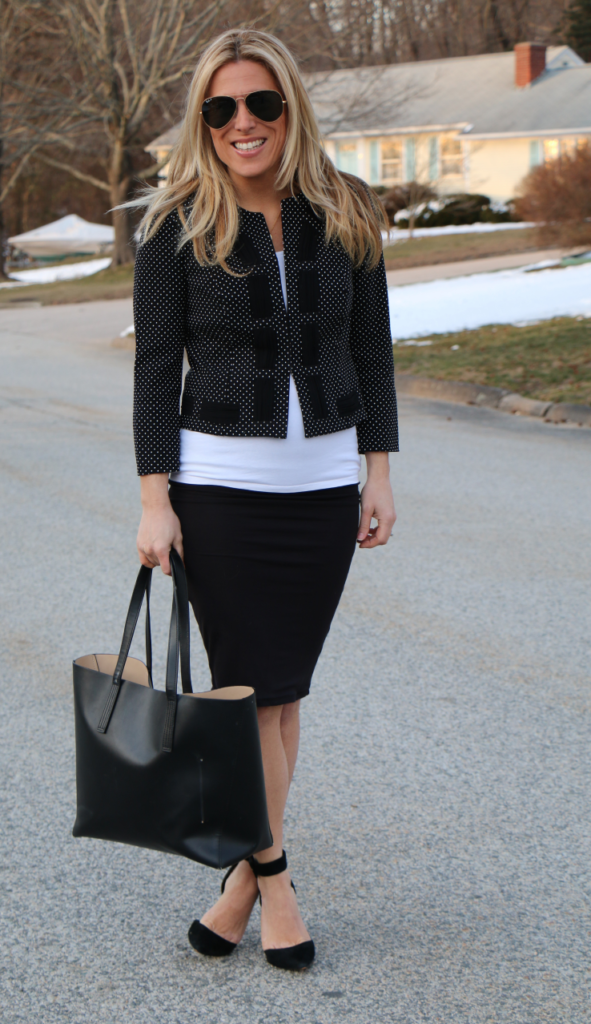 Please don't forget to join my Daily Dose of Style FACEBOOK GROUP! This has turned into my favorite spot online and I love sharing there every single day! It's been an outlet for me to be open and honest about my fashion loves! It's a great place to learn new things, so I hope you come on over! I'm also going to be starting a kid fashion one soon, too!
Loving this Fashion Over 40 – Daily Does of Style Facebook Group (that I would LOVE for you to join) and I share trends and styles every single day in there, along with the best sales online for fashion. I fully believe that you can and should be able to look your best without breaking the bank. You want to feel confident and beautiful and you CAN! I hope my info helps! We have a ton of fashion fun in there! And you don't need to be 40 years old!!!!!!!

HEAD ON OVER AND JOIN US HERE!!! I also share beauty tips there, too.
Make sure you share with me if there's something you love and I missed it on the blog! See my last post on White Ladies Jacket – 8 Casual Finds! I share something on the fashion and beauty front every single day and I love it.