If you're looking for a fun and family-friendly restaurant to head to while visiting Boston, I've got the perfect choice for you – Banners Kitchen and Tap! It's an immersive restaurant and bar featuring upscale tavern cuisine as well as classic game-day menu staples, healthy alternatives, a children's menu, and many other unique offerings for lunch, dinner and brunch.
Banners Kitchen and Tap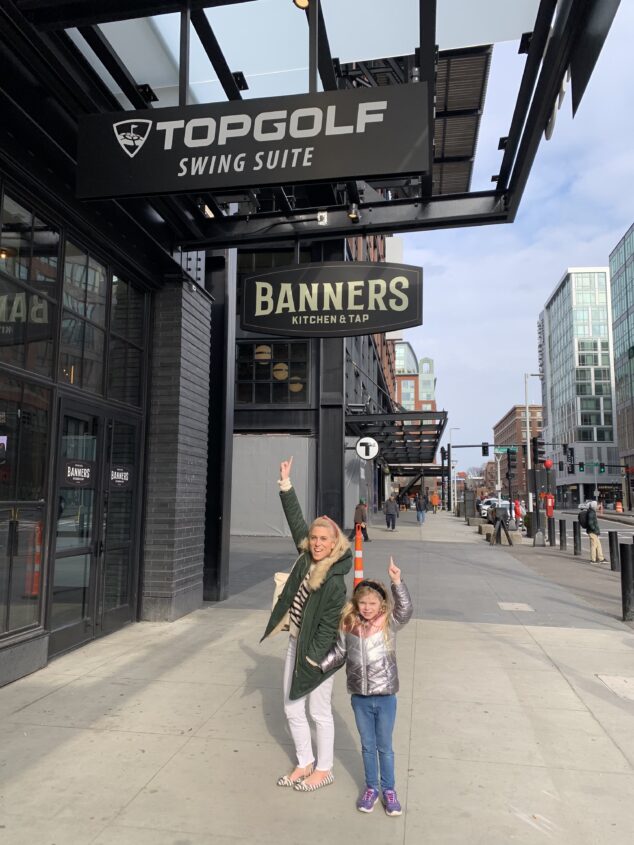 While in Boston this past weekend for an event, we dined at Banners Kitchen and Tap. The second we walked in, I knew my kids were going to love it! It was busy and fun and filled with TV screens everywhere playing sports! It was a dream come true for my 4 sons. They were mesmerized. There's not many places that warrant them putting their devices away without me asking them to – Banners Kitchen and Tap did the trick in seconds for them!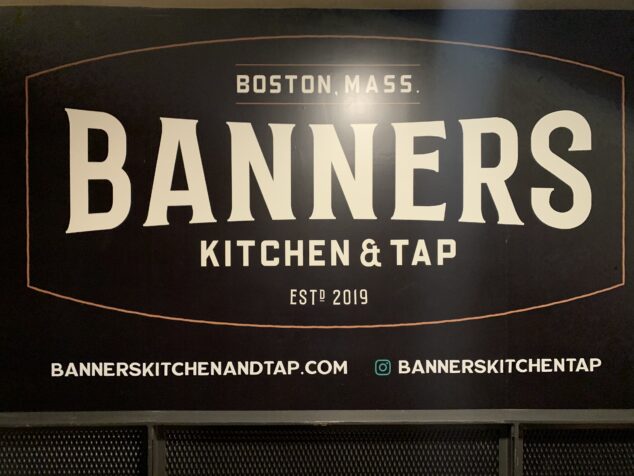 Banners Kitchen and Tap is named for the iconic championship team banners raised into the rafters throughout history. Banners Kitchen & Tap is located in the thick of Boston sports, on the former site of the Boston Garden, adjacent to the TD Garden and North Station at The Hub on Causeway, so it makes perfect sense. I grew up a Boston sports girl, so this was really neat for me to see up close and personal, too.
Whenever I head to a restaurant with my entire family, there are 3 things I'm always curious about:
MENU
ACTIVITIES
VIBE
I've been to too many restaurants with my kids where I walk in and say to myself, "Oh… this won't work." I can tell you without a hint of hesitation, Banners Kitchen and Tap is not like that at all! When I walked in, the first thing that went through my head was, "OMG, this is AWESOME!" It's the kind of place where you can go at any age and have a good time! Have a baby? Totally fine. Have a toddler? Totally fine. Tweens and teens? Absolutely perfect. 21 and UP? You're going to love it.
Let me start with the menu because I feel like that's always the first stop/look for people at a restaurant. The menu has just about something for everything… burgers, chicken, appetizers, salmon, ribs, salads, sandwiches, noodle bowls, etc! I'm telling you – they have it all. Their Children's Menu is wonderful because they truly do offer a variety of options.
Kids Menu
All items with choice of French fries, vegetable sticks or fruit skewers
My husband ordered the Banners Burger with sirloin, short rib and brisket patty, cheddar, smoked bacon, tomato-jalapeño jam, frizzled onions, on sesame seed bun.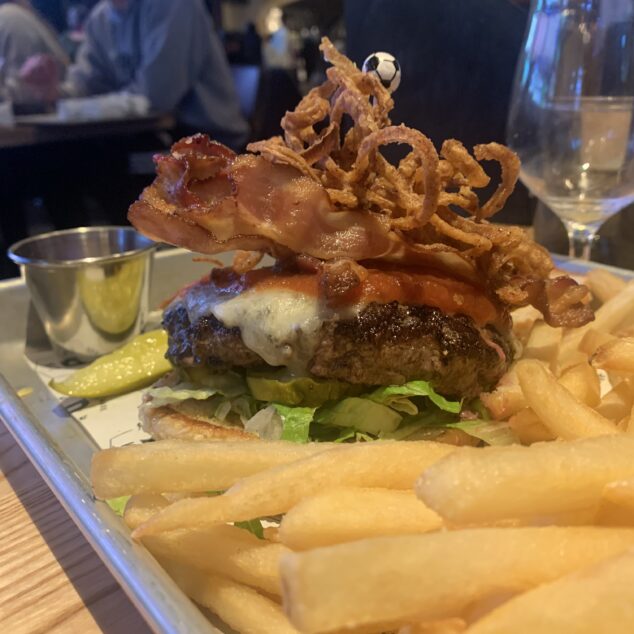 My son Alex noshed on NACHOS for dinner! He loved them so much while we were at their Topgold Swing Suite that he wanted his own plate, so we let him! As you can tell they're jammed packed with smoked BBQ beef chili, black beans, cheddar cheese sauce, jalapeños.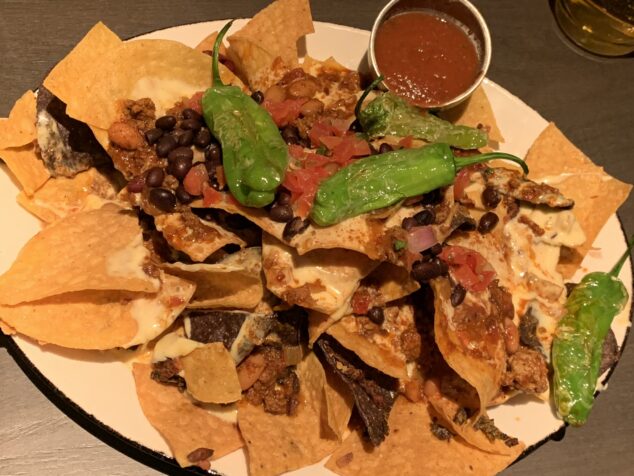 I ordered (along with my son William) the Beer Can Chicken. It was INCREDIBLE! OMG! You can expect citrus-garlic marinated, butter mashed potatoes with this plate! So yummy!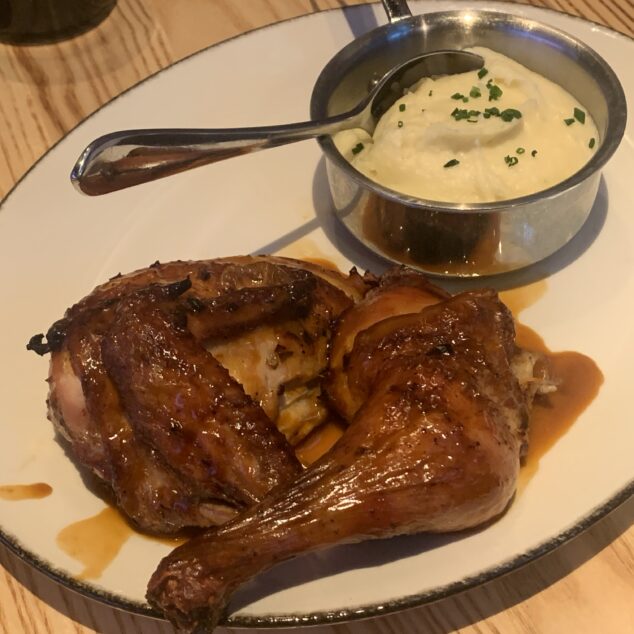 As far as activities go at Banners Kitchen and Tap for guests, it's kind of AMAZING! I shared all about our Topgolf Swing Suite experience while we were there. I highly recommend either doing it before or after your meal, you can't go wrong! It's a wonderful activity to do while you're at Banners! We played before we ate and the kids had a blast enjoying all the immersive and interactive games! This is a MUST DO while visiting!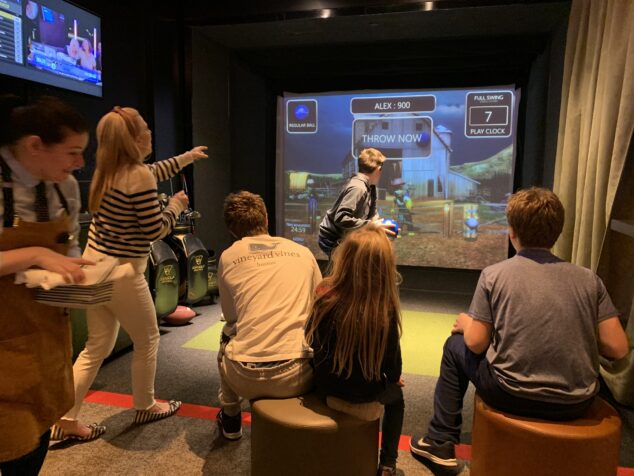 Not to mention they have the biggest in-restaurant LED TV screen on the East Coast! Yes, the BIGGEST! I wasn't prepared for how massive it was and how cool it was to watch sports from it! We had the Celtics game right in front of us and it felt like we were court side! I can't say enough about Banners Kitchen and Tap!
If you're looking for more information, definitely head over to
Banners site
! It's a GREAT destination to dine at if you have ANY events at TD Garden! I know Disney On Ice is coming soon!!
Disclosure: This was a partnership, all opinions are 100% my own.