If you're looking for some really good family fun I've got it for YOU! We took the kids to Banners Kitchen & Tap Topgolf Swing Suite in Boston, MA last weekend for some family time together. Topgolf is an amazing experience for you and your family (and friends!) to enjoy! If you've been wondering about going, here's my advice – GO!
Topgolf Swing Suite
My sons were so excited to try out Topgolf Swing Suite because they've heard so much about it. If you know my sons, you know they're BIG sports guys. They love to do it all – baseball, football, basketball, hockey, golf, etc! Before we headed to Topgolf they went on YouTube to check out what they had in store. It was so cute seeing them so excited about it, especially at their ages!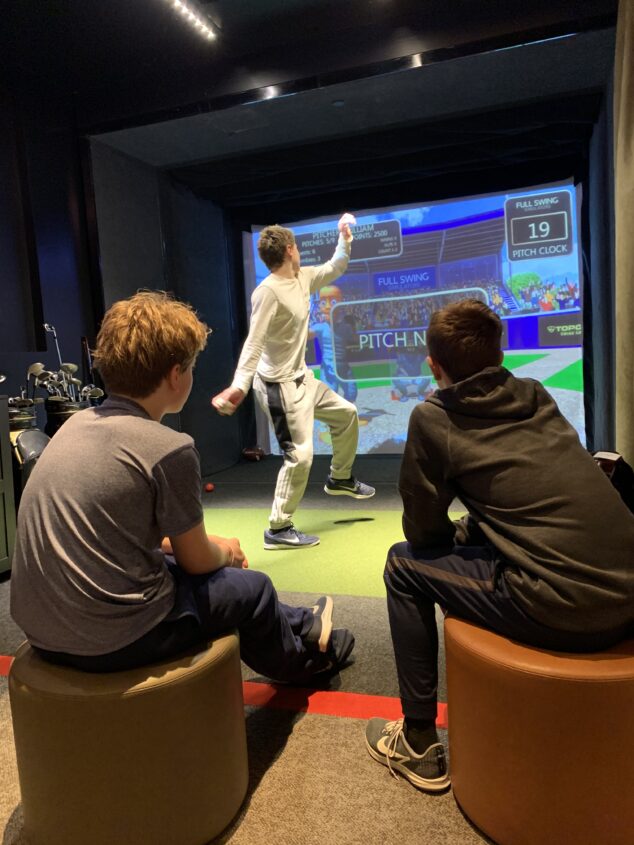 Topgolf Swing Suite is an immersive social experience offering guests a comfy lounge to play and enjoy fantastic food and beverage service. With a massive screen and a selection of exciting virtual games, the Topgolf Swing Suite delivers a one-of-a-kind simulation that's fun for golfers and non-golfers alike.
How cool is the fact that it's ALL through simulation? I didn't know it was going to be like this for us. I thought it was so cool that we could (literally) pick whatever it is that we wanted to play! We had one solid hour of playtime and the kids made sure to make sure we tried every singel game that was available!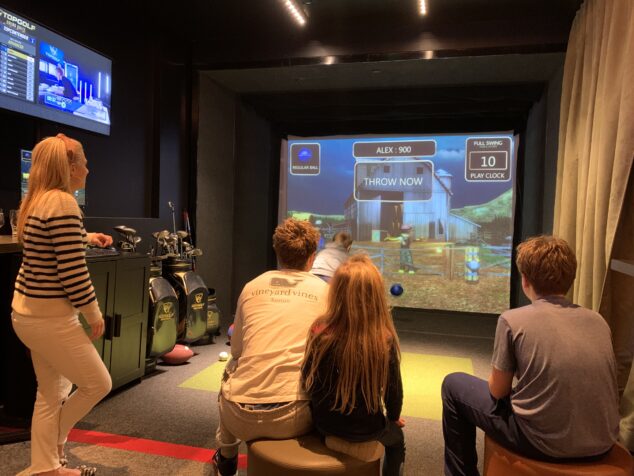 Through the premium experience of play, food and beverage and music, Topgolf inspires people of all ages and skill levels to come together for playful competition. The newest extension of Topgolf combines a simulated Topgolf experience with the luxurious atmospheres of hospitality and entertainment venues across the country. Each Topgolf Swing Suite location features a massive screen with a variety of multi-sport games, as well as HDTVs, comfortable lounge seating and food and beverage offerings.
Let me share this with you, when you have kids that are teens or tweens or elementary school age, it's not always easy to find family activities. We're hitting a brand new milestone in our life with teenagers. Most teens like to be connected at all times, so I'm ALL about finding things to do with them that actually keep them off their phones! Topgolf Swing Suite was my answer! It was perfect for ALL my kids!
My Victoria (who is 6 years old) took to the games like a bee to honey! You can chose a youth setting, which was great because it was perfect for her! Here she was pitching the ball and laughing the entire time! It was so cute to see her big bros cheering her on, too!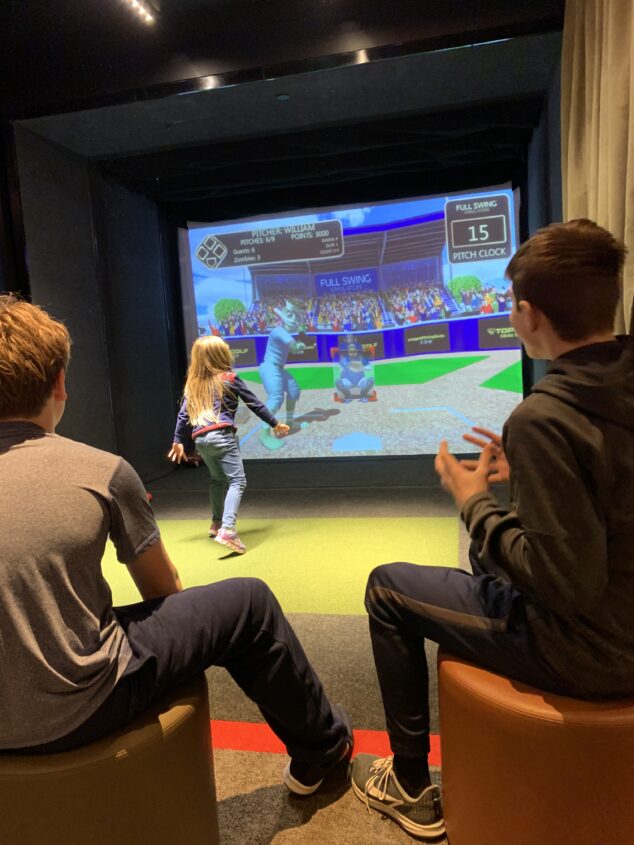 Alex took to Topgolf Swing Suite like it was made for him! If I let him stay there all day, he would've done that! It was really fun seeing him take to everything. I love that he got super serious every time it was his turn. It was also great for the boys to be together and laugh and have a good time!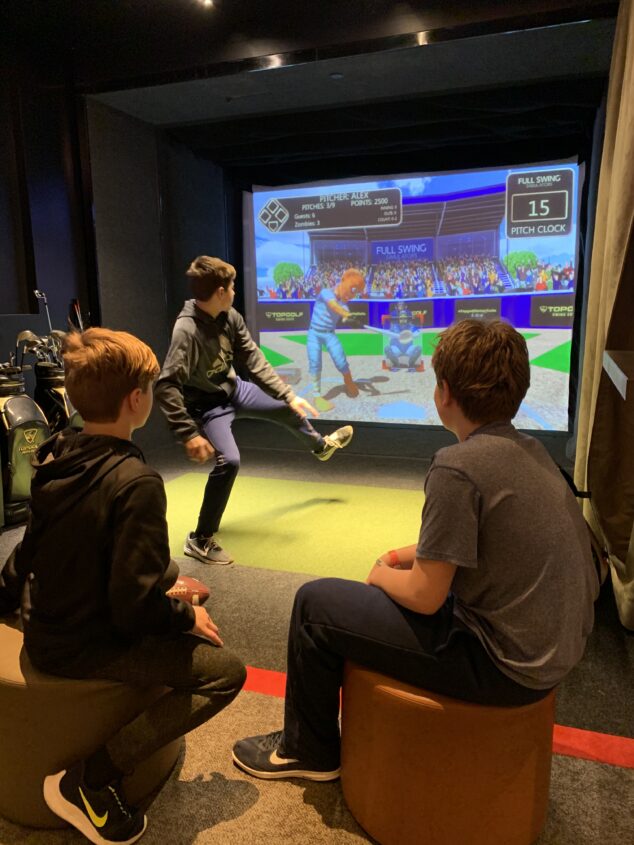 My Henry is big time into football! I always loved watching him play flag football, but this took it to another level. It was awesome seeing this gigantic simulation for him. He kept getting himself set in the middle and ready for the football to takeoff! It was awesome seeing him love it, too!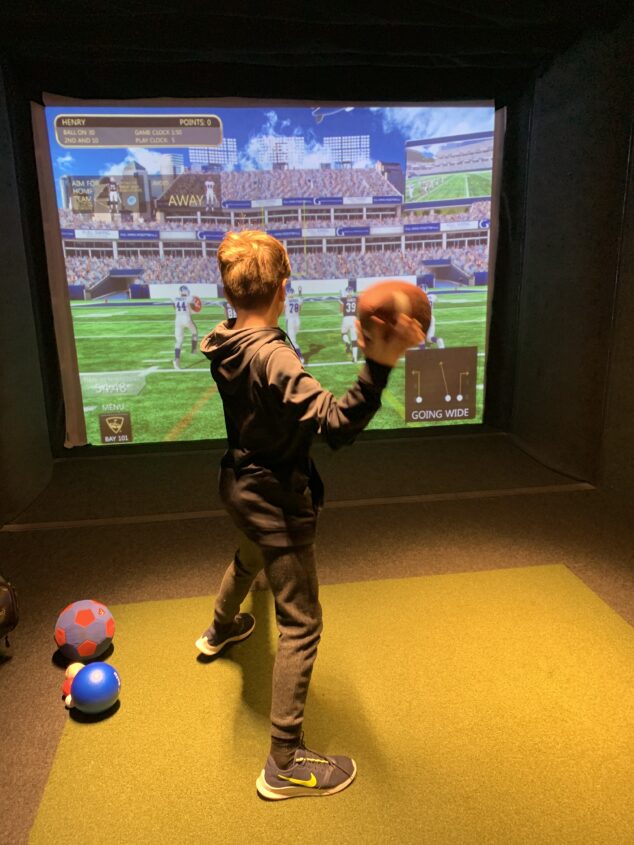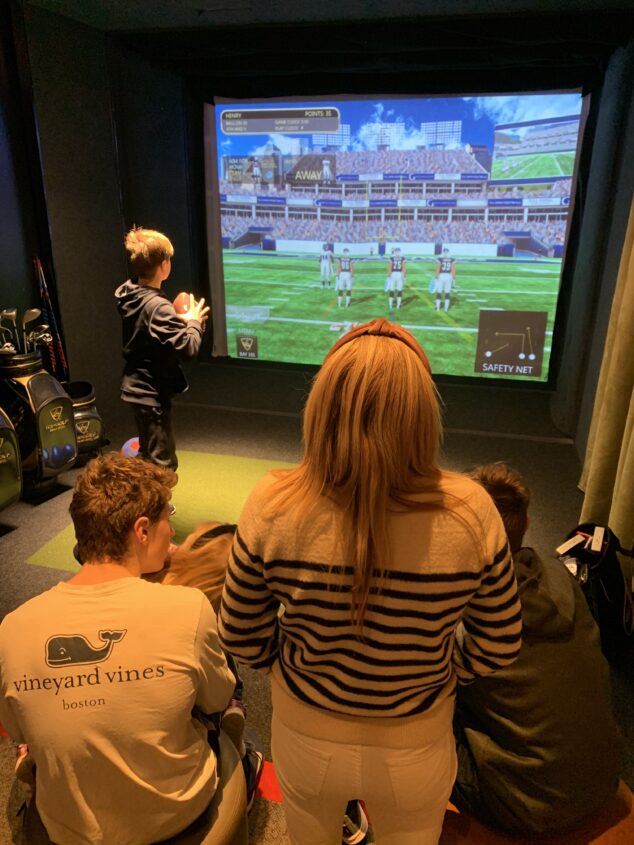 My oldest son William is 15 years old. He still loves hanging out with us, but it's getting different. He loves hanging out with his buddies and spending time hanging out around town. Finding activities to do with my high schooler and 6 year old isn't easy. I LOVE LOVE LOVE that Topgolf Swing Suite brought us all together for this awesome hour of fun! All ages. Everyone laughing. Everyone competing. It was a BLAST!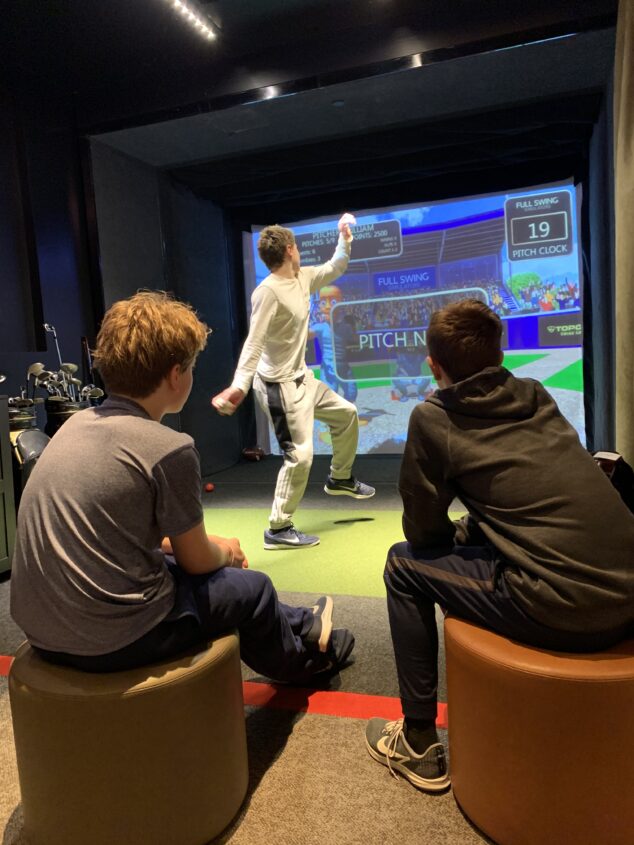 What I loved was standing there with my husband and seeing us all together! What fun it was to be there with everyone! It was really cool to just BE. This is a great activity to do with your kids during school breaks! With February vacation coming up soon, this is a great activity to do with your kids. I really thought it was for kids who were older, so I loved seeing it up close and personal!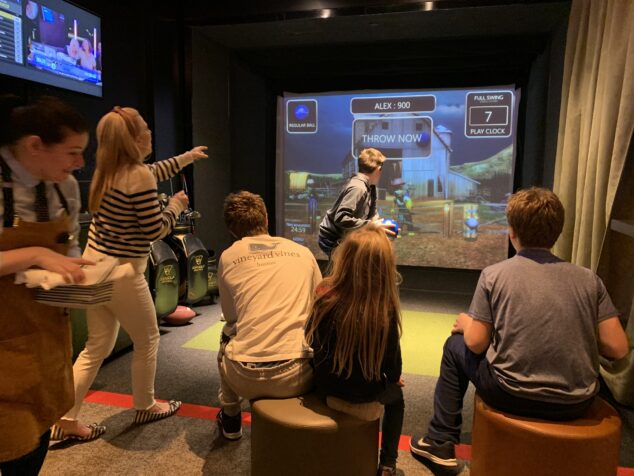 And guess what else you can do up there? You can EAT!! Oh, yes!! You can enjoy some drinks and food while playing, too! We were going to be eating at Banners Kitchen and Tap afterwards, so we just ordered some appetizers! I love that Topgolf Swing Suite is right inside Banners Kitchen and Tap. It's super easy to go from one to the other!
The appetizers were incredible!!
Can I just say that you need to order the ESPCo Pretzel & Beer Cheese? It's an incredible two large pretzels, hazy IPA & white cheddar fondue, French mustard. We literally INHALED these pretzels in 5 minutes! They were insanely amazing!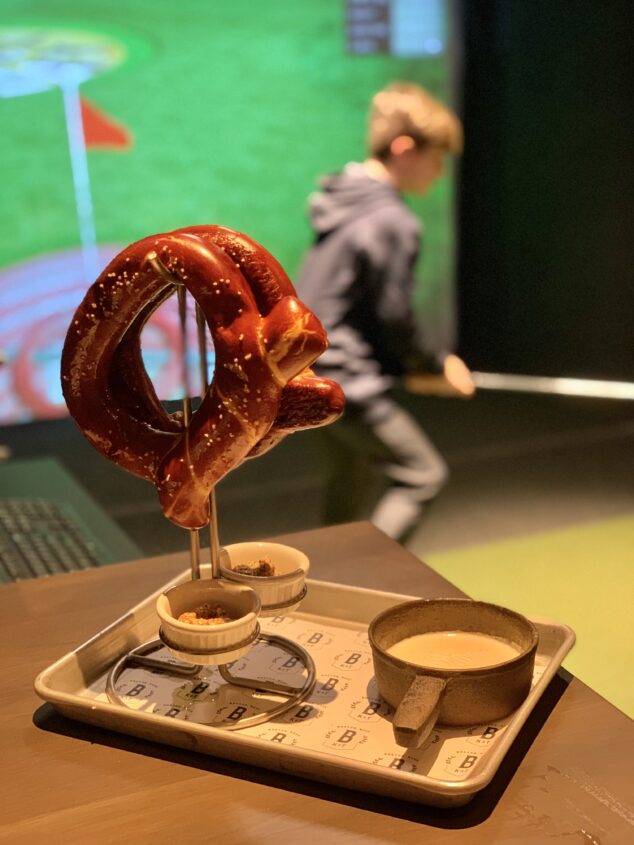 Say hello to these delicious NACHOES! These are filled with smoked BBQ beef chili, black beans, cheddar cheese sauce, jalapeños. They were the most incredible nachos ever!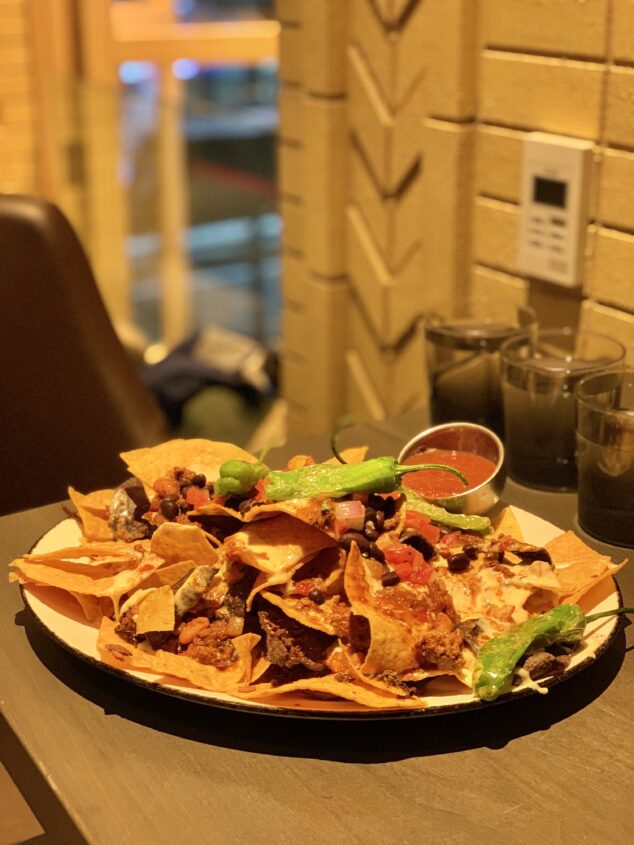 I wanted to make sure I shared this awesome activity with you because we had such a fun time! I don't usually golf, the last time I golfed was when I was pregnant! Funny how I started golfing while pregnant, but it's true! Afterwards I put the clubs down because I was so crazy with the 5 kids. I picked up golf clubs to swing away here and the kids couldn't believe that I could actually swing a good shot!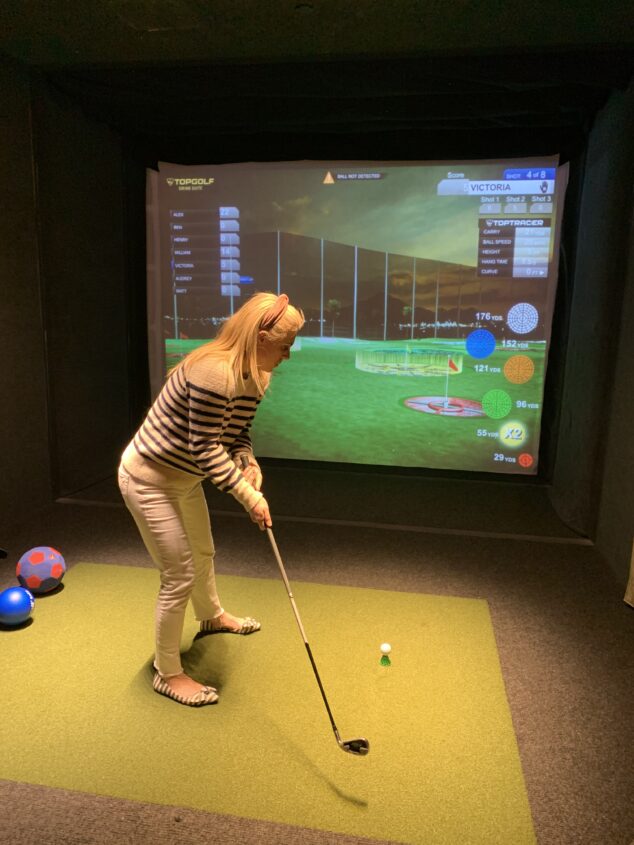 Make sure you take the time to check out Topgolf Swing Suite in Boston, MA! You will love it and have such a great time! Bring your family and friends! If you have any questions, let me know! I feel like we spent so much time there I can answer just about anything for you! The kids want to go back during spring break, too! Maybe we'll see you there!
Disclosure: This was a press trip, all opinions are 100% my own.