If you don't have a leopard print dress in your closet, it's time to get one. I'm sharing 5 ways to style a leopard dress (or animal print dress). One thing that holds women back from buying is not knowing what to wear with something or how to style it, showcasing how to style one 5 different ways!
Leopard Print Dress: 5 Ways to Style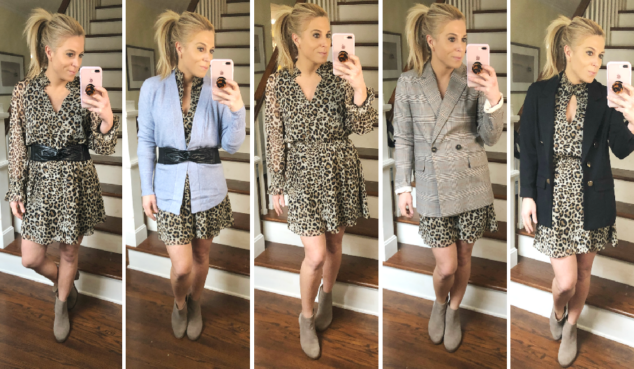 Believe it or not, until recently I had never owned a leopard print dress. I've always admired from afar, but when I saw leopard becoming a HUGE trend over the last 6 months I knew I wanted to add more into my closet. I'm only 5 feet tall, so I went with a shorter leopard dress that I found at Macy's (it's on super sale right now for $19.93, down from $109!).
What I loved about this leopard print dress off the bat was that I knew I could have some fun with it! I'm all about seeing how many ways I can "style" and "work" something, so immediately I went to my closet and starting coming up with different ways to make this dress work for me. I love wearing dresses like this to work, but I also love wearing them day to day, too! You CAN with this dress!
I'm sharing below 5 easy ways to wear this leopard print dress. I also want you to know that you can wear any animal print dress the same way, too. My hope is that these styles will inspire you to grab items out of your closet and pair them together with different pieces, too! Remember – fashion is FUN! Grab some leopard print clothes and have some fashion fun with me!
Look #1:
This is the easiest look of all because there's nothing to it. This dress is adorable on its own, which I love and adore. It has a cinched waist, which is very comfortable to wear. It has a peep-hole at the neckline and also peep-hole sleeves, too. I appreciate these details because it makes the dress standout. The length is on the shorter side (note I'm 5 feet!).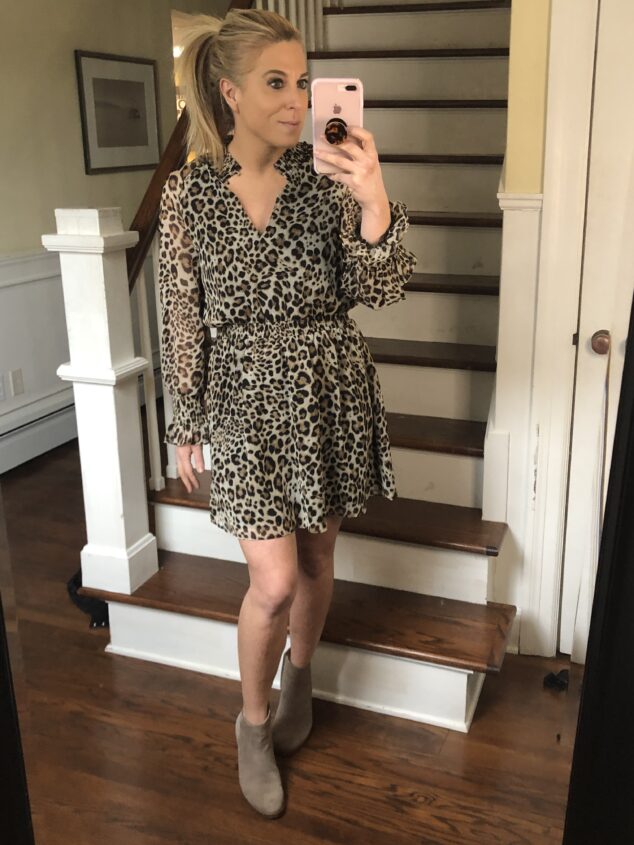 Look #2:
I decided to do some mixing of prints with this Leopard Print Dress. My advice when it comes to mixing prints is this, make sure the prints work together. I love to give the advice to look for the same color family. This plaid printed blazer has brown undertones, as does the leopard print dress. It was easy to "marry" the prints together. I'm all about having some fun like this and I adore how this style turned out!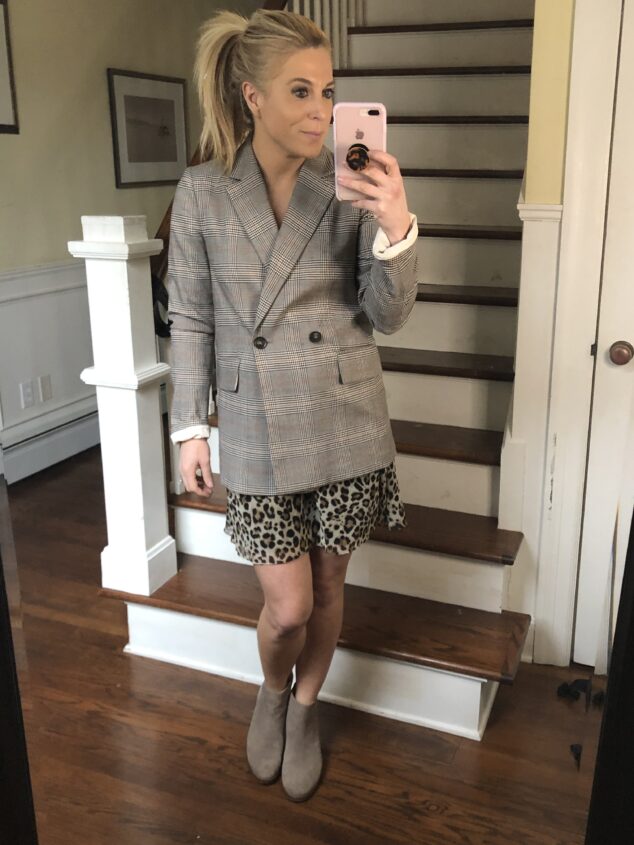 Look #3:
I love to add color to my looks because it just brightens and bolds it right on up! I bought this light blue open cardigan from LOFT a couple of weeks ago and have been wearing it whenever I can because I love the color! It's soft and beautiful. You can wear this look 2 ways, as is with the cardigan open OR like this with the belt over it. You can 2 different looks that I equally love! You can grab ANY cardigan you have and wear it like this!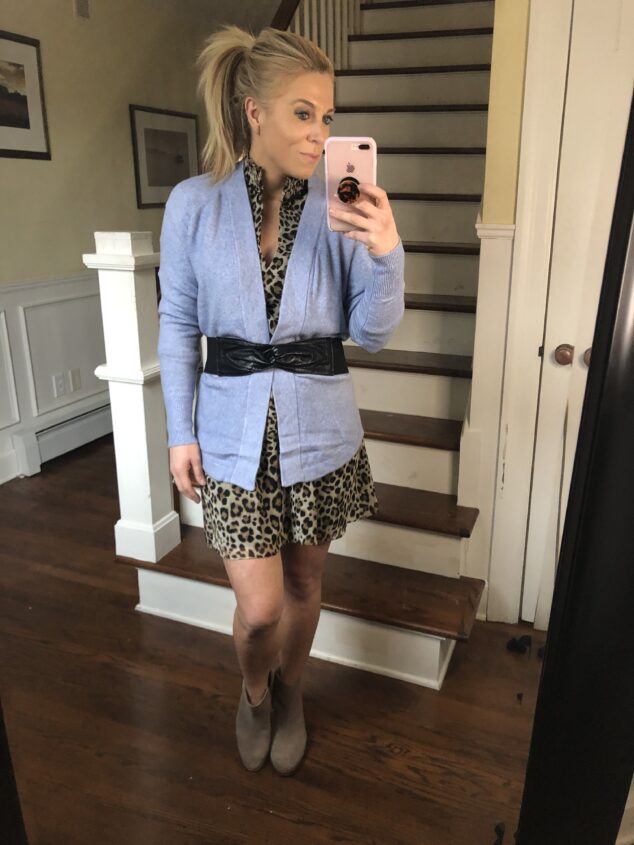 Look #4:
I wanted to share another super duper easy look with you! Since this dress has a built in cinched waist, it's easy to toss a belt over it. You can grab ANY belt you want or even wear a scarf as a belt. You decide how you want to rock your look! If you have a leopard print dress without a cinched waist, that's fine! Just find your waistline and belt it up there. I love this because it breaks the leopard up a bit.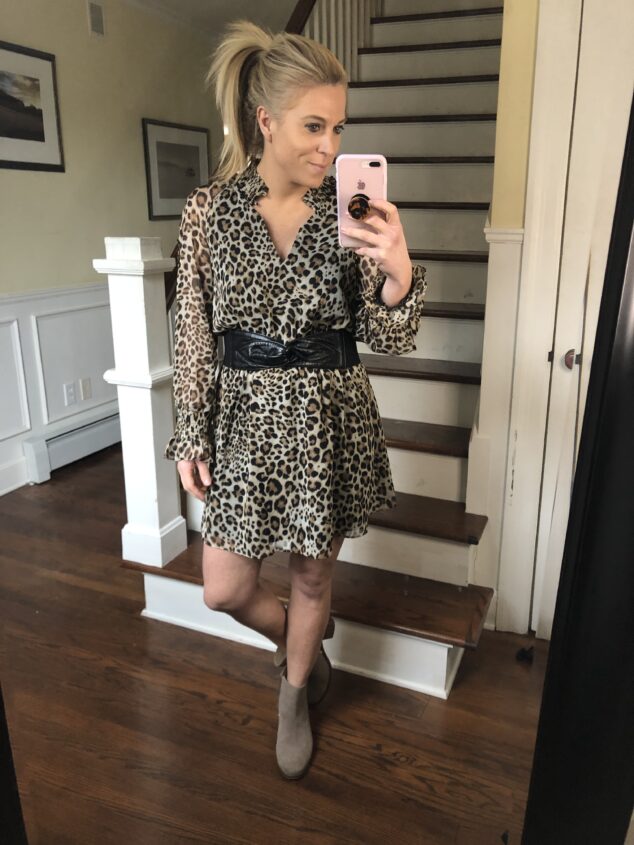 Look #5:
I wanted to make sure I added a more professional look in the styles. I fully understand that it depends on where you work if you can pull this off or not, but it's worth a shot if you can! Grab a standard black blazer with your leopard print dress. I actually love this look and this it's very chic and elegant looking. Not many people would automatically think black blazer with this look, but it does work!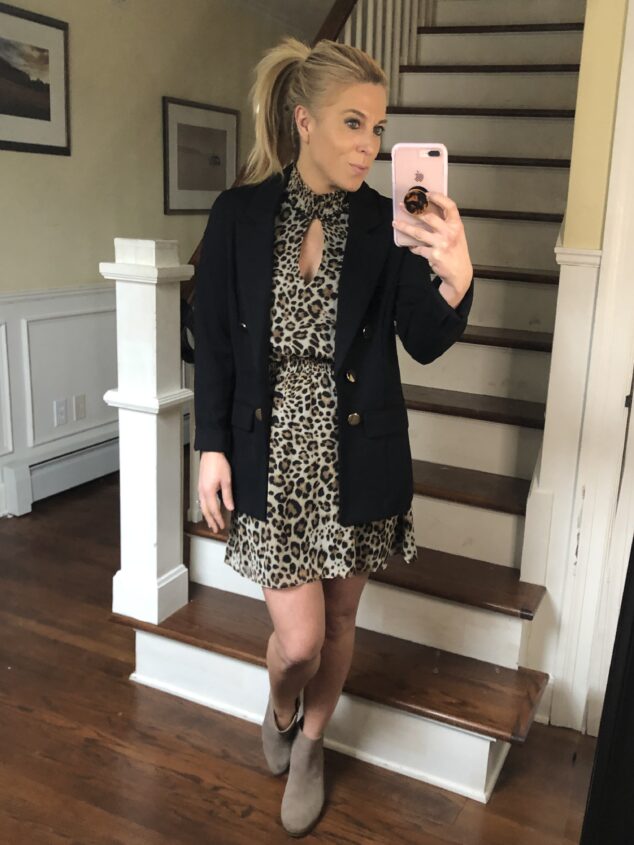 This leopard dress is one of my faves! I wanted to quickly give you the 411 on it, too! It's a RACHEL Rachel Roy at Macy's, Leopard-Print Keyhole Dress on sale right now for $19.93!
Details on this baby:
Answer the call of the wild in this fierce A-line dress by RACHEL Rachel Roy. Perfect for elevating date night or your all-around style.
Approx. model height is 5'10" and she is wearing a size small
Mock turtleneck; A-line silhouette
Pullover styling
Keyhole cutout at front; smocked at neckline and wast
Polyester; lining: polyester
Machine washable
I love leopard ANYTHING and seem to wear my leopard print flats all the time. It really is a trend that has gone from being a "trend" to a true CLASSIC! Make sure you add as much leopard as you can in your closet!
Please don't forget to join my Daily Dose of Style FACEBOOK GROUP! This has turned into my favorite spot online and I love sharing there every single day! It's been an outlet for me to be open and honest about my fashion loves! It's a great place to learn new things, so I hope you come on over! I'm also going to be starting a kid fashion one soon, too!
Loving this Fashion Over 40 – Daily Dose of Style Facebook Group (that I would LOVE for you to join) and I share trends and styles every single day in there, along with the best sales online for fashion. I fully believe that you can and should be able to look your best without breaking the bank. You want to feel confident and beautiful and you CAN! I hope my info helps! We have a ton of fashion fun in there! And you don't need to be 40 years old!!!!!!!

HEAD ON OVER AND JOIN US HERE!!! I also share beauty tips there, too.
Make sure you share with me if there's something you love and I missed it on the blog! See my last post on Tory Burch Dupes!  Think about these for some of the looks I shared today, too! Thank you so much for heading over here!