Anyone love sweatshirts? How about some outfits with sweatshirts? Graphic sweatshirts and tees are my favorite go to items when it comes to FUN fashion.  I'm all about finding a graphic sweatshirt and a graphic tee and wearing it a variety of different ways. Valentine's Day is such a fun way to explore fashion and wear your heart (literally) on your sleeve.
Outfits with Sweatshirts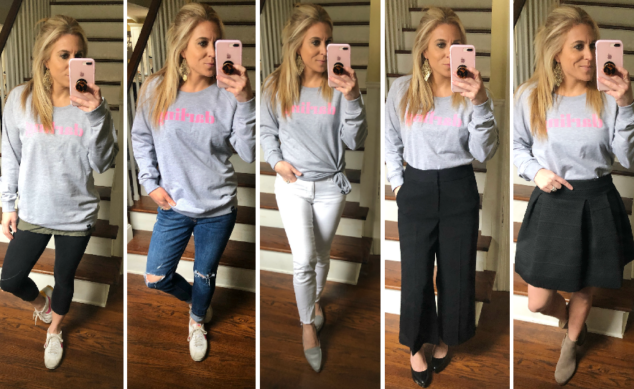 As you know, I'm all about pushing fashion items as far as I can push them, even outfits with sweatshirts. What do I mean by this? I love being able to show how you can take a simple item and wear it a variety of different ways. I love being able to show something casual, something dressy, something for work and even something for a day to day look.
I was sent this awesome DARLING Sweatshirt from Cents of Style and love it! It's chic and trendy and (honestly) just FUN! I'm all about making sure I have items in my wardrobe that make me happy. When I was a little girl my Nana always used to call me,"Darling"… so when I saw this sweatshirt I was in love with it because it brought me back. I love items like this!
When it arrived at my house I loved it because it was also very lightweight. It wasn't a bulky sweatshirt, it was very soft and very light – which was perfect because I knew I'd be able to style it easily. Showcasing outfits with sweatshirts was fun for me to do because I think it's such a cool sweatshirt to style. It actually wasn't as tough as I thought it would be!

Outfits with Sweatshirts #1
Grab those white jeans! I'm all about wearing my white jeans all year long. I'm just not a Memorial Day to Labor Day weekend white jeans kinda girl. I like to wear them as much as I can! I grabbed my jeans and my graphic sweatshirt to wear with them and cinched the waist with an elastic band. I wanted to make the look an everyday easy look. I love this because anyone can rock a look like this one.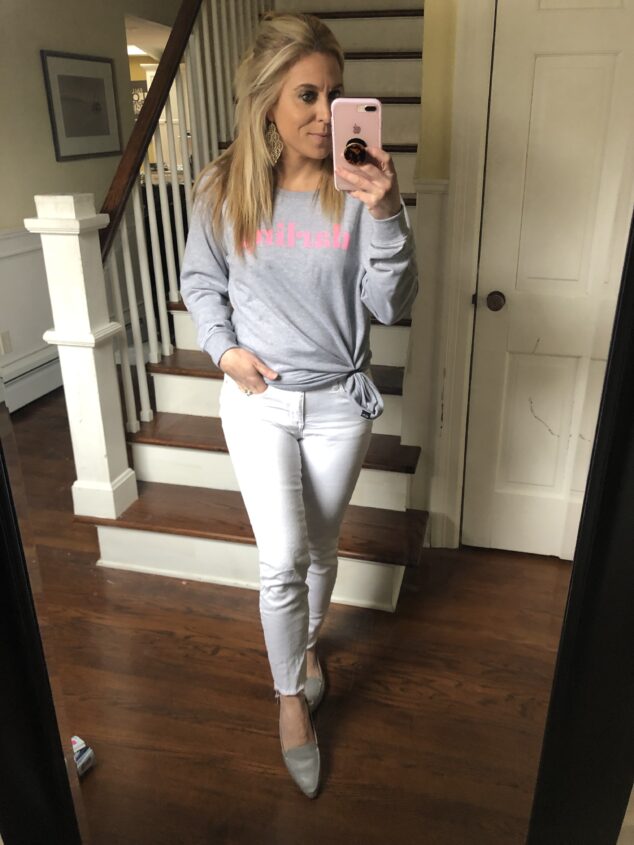 Outfits with Sweatshirts #2
Talk about another super duper easy look! I'm obsessed with jeans and sneakers with just about anything on top! I'm a casual type of girl when it comes to weekends and evenings. I don't like to wear anything too crazy or too over the top. I love a distressed jean because it looks a little chicer to me, but you can do whatever you feel looks best on you! Easy look for the mamas!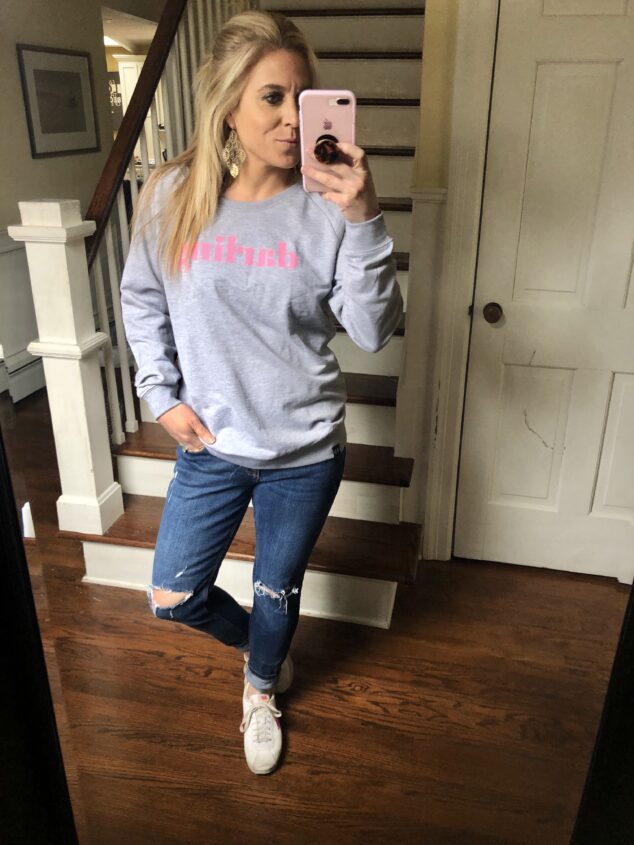 Outfits with Sweatshirts #3
I wanted to push it for work with this graphic sweatshirt. Not many people think you can rock a sweatshirt to work, but you can! Let me preface – not ALL sweatshirts can be worn to work. This one is lightweight, so it's easy. I bought these high-waisted trouser pants this past fall at Banana Republic and LOVED them. I really thought this look for work was amazing – it has a touch of fun, but also very professional. You could easily add a blazer to this look, too.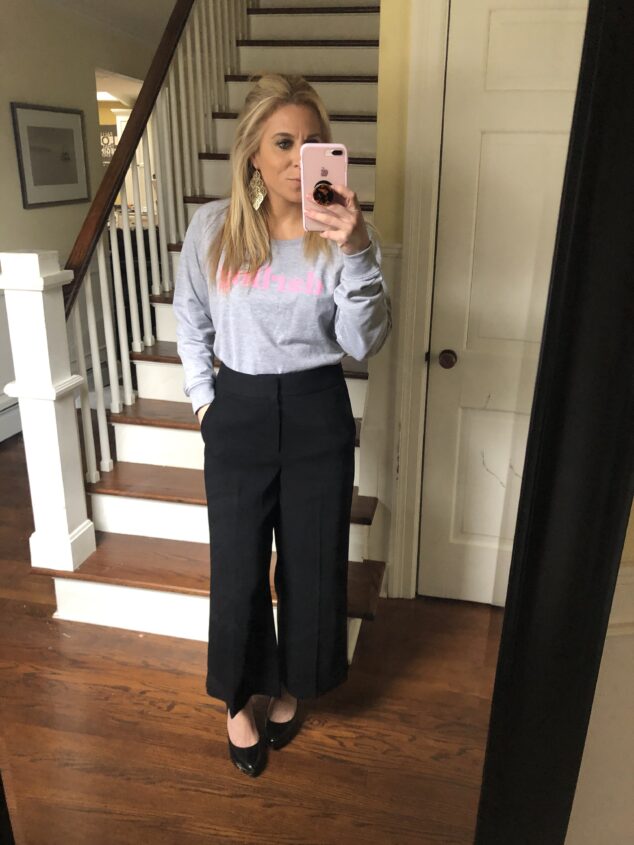 Outfits with Sweatshirts#4
I wanted another professional look to share with you, too! I loved this mini skirt with this graphic sweatshirt because it was cute and also trendy as can be. This one is more of a fun look, but I wanted to show how you can and could wear it with a skirt. You could also grab a pencil skirt or a maxi skirt with this one. Just make sure the sweatshirt is tucked in enough to have a good and flattering fit.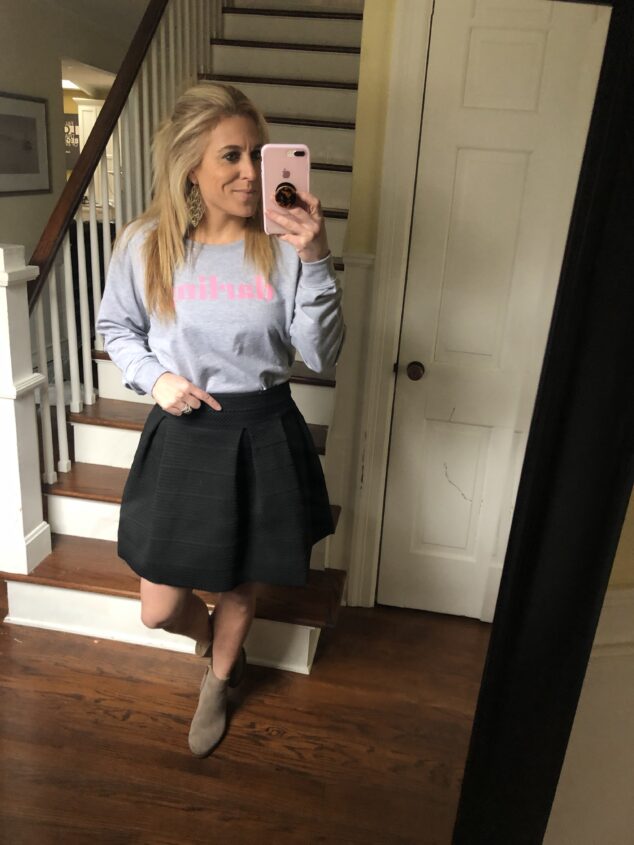 Outfits with Sweatshirts #5
This look is VERY casual! You knew I was going to go totally casual, right? This is a look for the gym or for just hanging out. I love that I can pair this with workout pants or just leggings. I think this sweatshirt is just easy to wear with just about anything! I love it because it's adorable and just fun for a weekend and/or gym. This look is probably the easier of them all!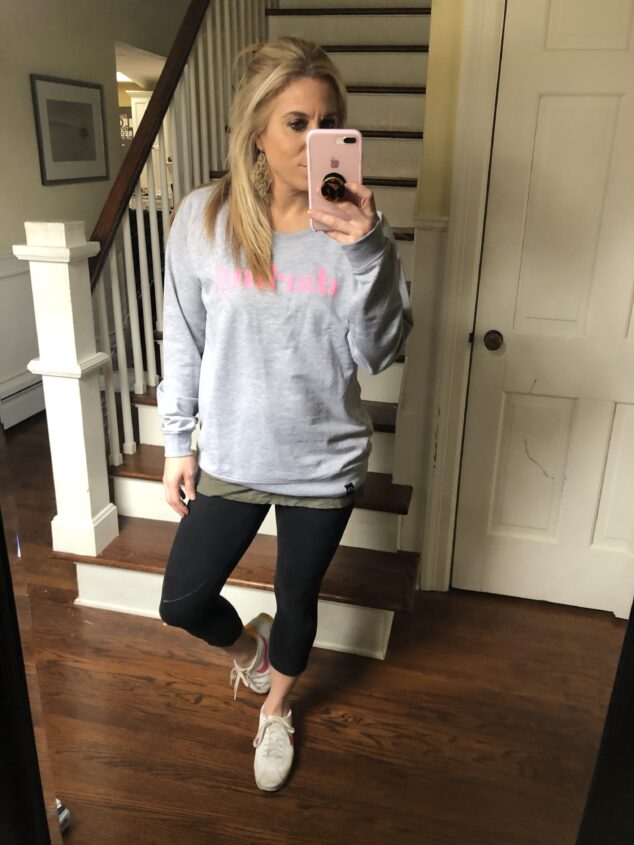 I'm all about showcasing outfits with sweatshirts here, but I hope this inspires you in other outfits, too. I love that this sweatshirt is available right now over at Cents of Style for $39.95 and it's (right now thru 2/6/2020) buy 1, get 1 free! Snag this sweatshirt with the code: VDAY. Love these sweatshirts and they have tees, too for some extra fun!
Please don't forget to join my Daily Dose of Style FACEBOOK GROUP! This has turned into my favorite spot online and I love sharing there every single day! It's been an outlet for me to be open and honest about my fashion loves! It's a great place to learn new things, so I hope you come on over! I'm also going to be starting a kid fashion one soon, too!
Loving this Fashion Over 40 – Daily Dose of Style Facebook Group(that I would LOVE for you to join) and I share trends and styles every single day in there, along with the best sales online for fashion. I fully believe that you can and should be able to look your best without breaking the bank. You want to feel confident and beautiful and you CAN! I hope my info helps! We have a ton of fashion fun in there! And you don't need to be 40 years old!!!!!!!

HEAD ON OVER AND JOIN US HERE!!! I also share beauty tips there, too.
Make sure you share with me if there's something you love and I missed it on the blog! See my last post on Rock Band T Shirts! I feel that these tees are tees that any woman can rock (pun intended) at any age! I hope these tees inspire you to go for it! I share something on the fashion and beauty front every single day and I love it. Think about these for some of the looks I shared today, too!
*Affiliate links included.