Mom outfits are important to have on hand. What do I mean by mom outfit? Simple. You have preset outfits that you know you could grab, toss on and be ready in minutes! Growing up my own mother used to call them her mom uniforms. She knew what she liked and she knew what she looked good in, so she simply just wore those things. It was easy.
Mom Outfits: 3 Styles to Wear
I'm someone who fully believes that all my mom friends should have mom outfits that they love and are ready to rock in! I definitely have go-to items in my closet that I know I can grab in seconds if need be. I also am someone who likes to keep it easy when it comes to having set looks. I don't like to complicate my fashion. I like to feel good in what I'm wearing and (most important) love what I'm wearing, too.
One of the biggest misconceptions when it comes to having go-to mom outfits is that you can't be stylish, chic and trendy. Oh, my mom friends! You can be very chic and trendy with go-to looks. It's all about making sure you key pieces that are stylish and that can pretty much go with just about anything. It's the versatility in fashion that makes it fun. It's great seeing one piece being worn a variety of different ways! But most important – for this post – I want to show how you can create 3 styles to wear from basic pieces and still look chic, trendy and fashionable!
Are you ready!?
*I'm also trying to find outfits that can work for any season. You know I love a good layer, so any of these looks below can be styled with an added layer on top!
1st UP for my Mom Outfits: Jeans and Twist-Knot Tank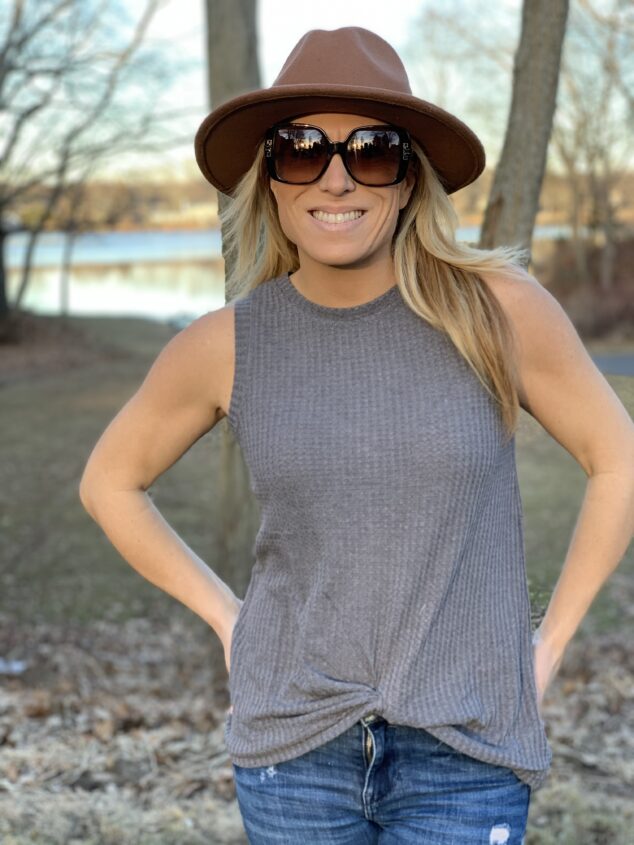 I'm not kidding when I say I don't like anything too complicated when it comes to fashion. We have plenty of time to dress up and look our best for functions and events and work. When it comes to "basic mom style" (yes I'm going to say it), I prefer my style to be relaxed and casually chic. That's truly how I like to go. I'm also all about DENIM. Find denim and bring it into your mom outfits!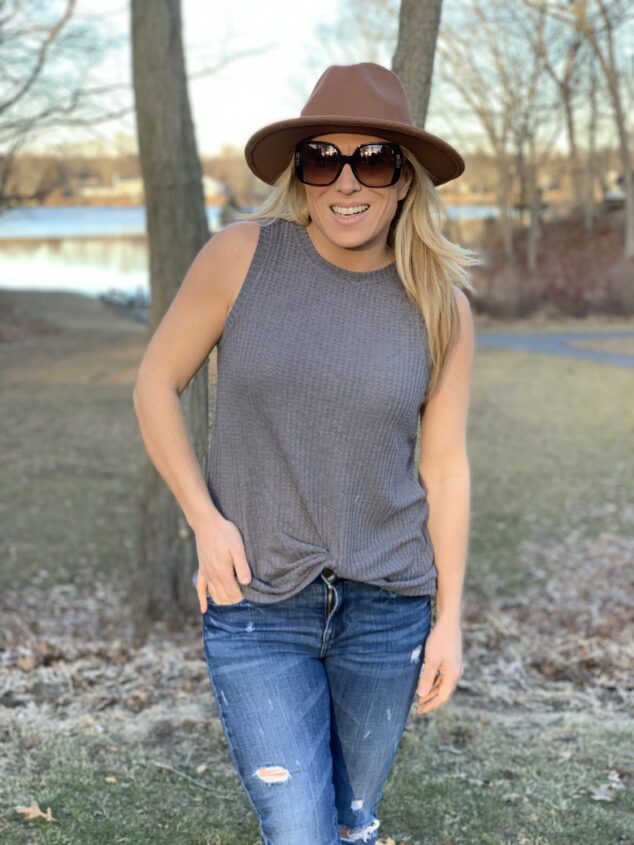 I found this twist knot tank on Amazon for $20.99 and I love it! It's a great waffle knit that is soft to touch and really comfy to wear. I love the knot in front because it gives the illusion of a tuck in, but it's not. I'm also someone who likes to conceal my hernia, so anything with a little give and/or tuck in front is great with me! I'm going to be ordering it in a bunch of other colors, too! You can wear this specific top so many different ways, too.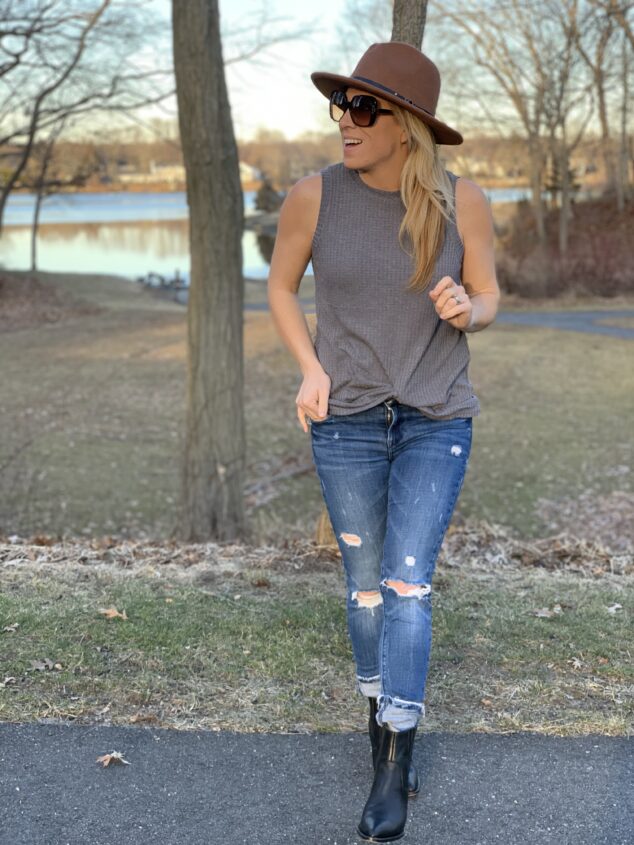 I love, love, love wearing a simple shoe with my mom outfits. In the fall and winter you will always find me in booties. In the spring and summer you will always find me in sandals. It's great to have go-to shoes with your outfits because it makes it easier to work!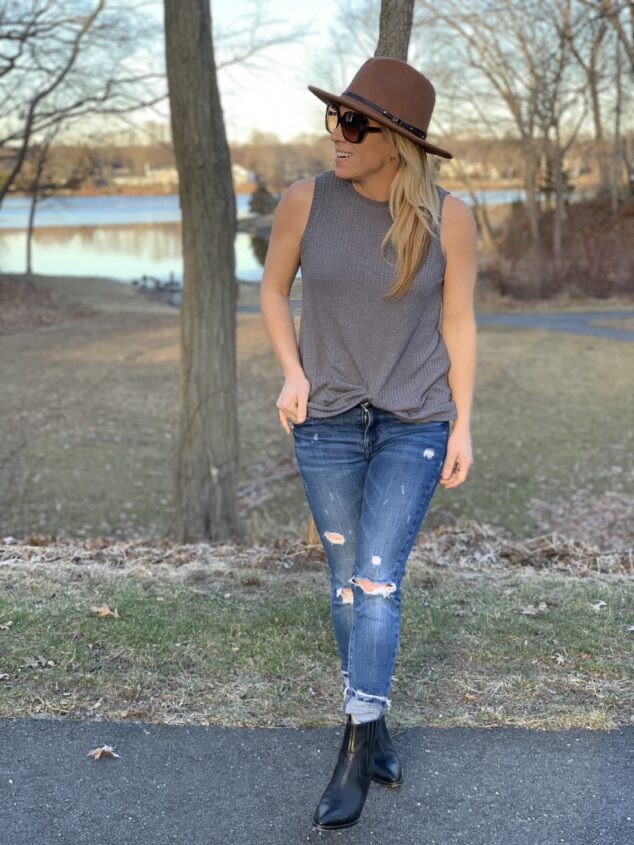 You also know I love a little accessory magic, too! Can't live without my fedora and sunglasses!
2nd UP for my Mom Outfits: Chic Tank and Jeans

I'm all about jeans as the staple piece when it comes to mom style. I really love being able to showcase outfits that work with jeans because it's just such a universal item that any woman can wear. Now this mom look isn't just jeans and a tank, the tank has a ruffle neckline which I personally love. When it comes to finding go-to mom outfits, I love being able to find pieces that LOOK pretty, too.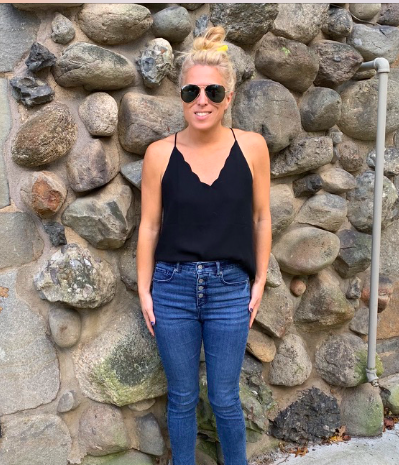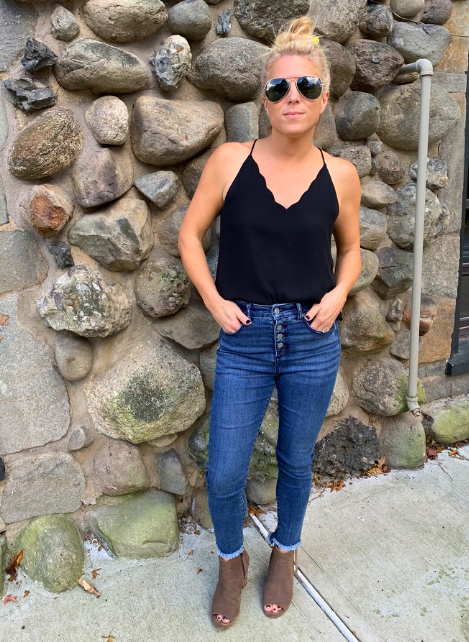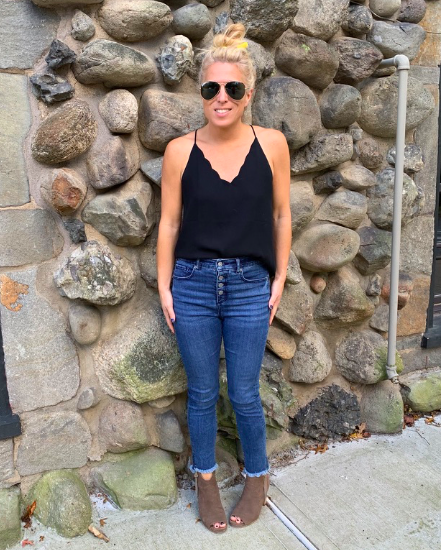 This is such an easy go-to look for anyone! I love how simple it is and how flattering the look is on every BODY, too.
3rd UP for my Mom Outfits: MONOCHROMATIC for the win!

I love looks that are easy. If you want easy, you want MONOCHROMATIC! They are the easiest of all! If you aren't familiar with monochromatic styles, it's the same color from head to toe. I say this loosely because the shoes don't count! It's just a look that's the same color. I'm here in a white tank and white jeans and feeling fine! Easy go to mom style and look and will never, ever go out of style!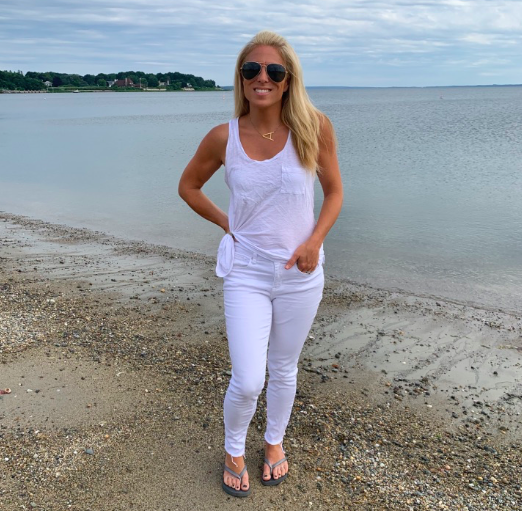 You can wear any color that works best for you. I also love to wear black and gray from head to toe, too. It's just an easy look and you can dress it up and dress it down as you see fit. I can't say enough about how amazing and easy this style is to create for the ladies out there!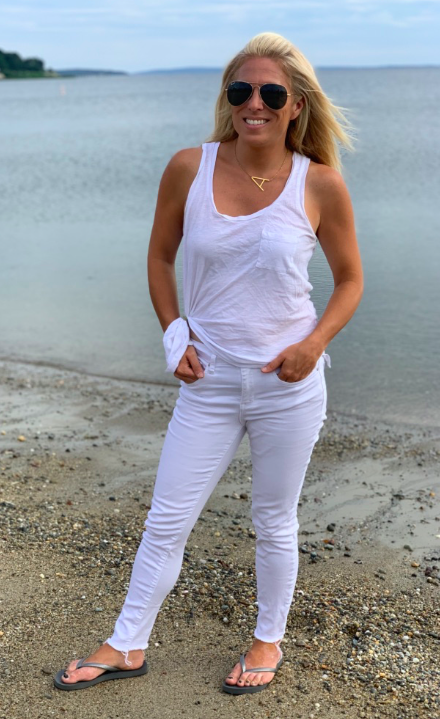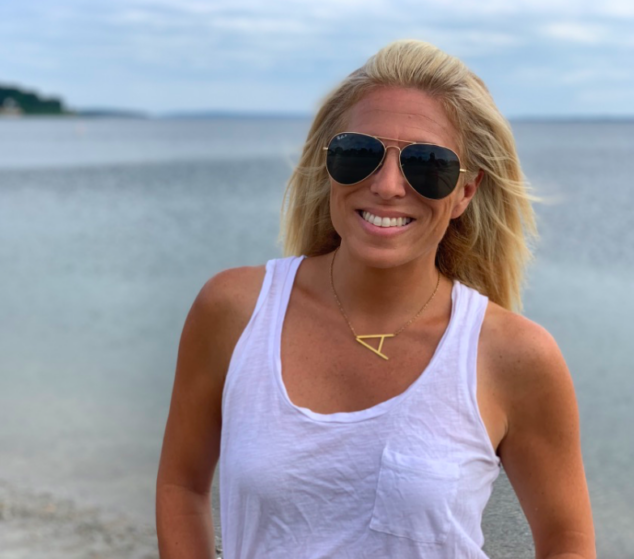 I hope these styles inspired you with finding some mom outfits that you can wear all the time! It's about finding that easy everyday style that works for you and your fashion sense. Let me know what you think! I personally feel that any mom can rock and wear any of these styles above that I showcased!
Please don't forget to join my Daily Dose of Style FACEBOOK GROUP! This has turned into my favorite spot online and I love sharing there every single day! It's been an outlet for me to be open and honest about my fashion loves! It's a great place to learn new things, so I hope you come on over! I'm also going to be starting a kid fashion one soon, too!
Loving this Fashion Over 40 – Daily Dose of Style Facebook Group (that I would LOVE for you to join) and I share trends and styles every single day in there, along with the best sales online for fashion. I fully believe that you can and should be able to look your best without breaking the bank. You want to feel confident and beautiful and you CAN! I hope my info helps! We have a ton of fashion fun in there! And you don't need to be 40 years old!!!!!!!

HEAD ON OVER AND JOIN US HERE!!! I also share beauty tips there, too.
Make sure you share with me if there's something you love and I missed it on the blog! See my last post on Outfits with Sweatshirts!  Think about these for some of the looks I shared today, too!
*Affiliate links included.