Ever since a Casiotone Digital Keyboard entered our house, we've been listening to the sweetest music around our house. We're big music lovers in our family, we always have music playing. We recently brought in a digital keyboard and it's been one of those items that has brought so much fun and joy to our family.
Casiotone Digital Keyboard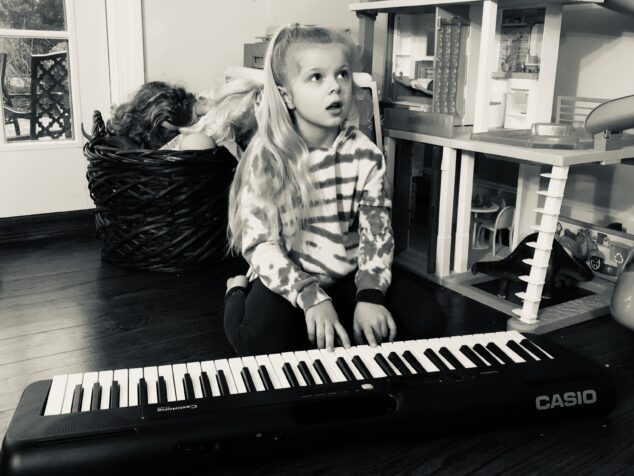 I grew up with a very musical family. My grandfather played the drums professionally, so we would always go see him play on the weekends. Every time I would visit my grandparents he would have fun instruments for us to play with while we were there. It was always so much fun for us to create MUSIC with him.
When I became a mom to 4 little boys, I'm not going to lie. I always had this dream that they would start a little band. I would look at the Jonas Brothers or the Hanson Brothers (aging myself here) and think that my guys should do that, too! I tried my hardest to get them interested in playing instruments when they were little, but we never stuck with it. The only child to try anything was our Alex when he played the trombone for 2 years. It's always been something I've wished we had stayed on top of for them.
Fast forward to present day, let's face it – there's no time like the PRESENT! We were sent a Casiotone CT-S200BK Digital Keyboard to try with our family and (truthfully) the kids took to it like fish to water! The kids tore the box open immediately and started playing and messing around with the different keys. It was amazing to see them so excited about it, especially that they go to try is all together.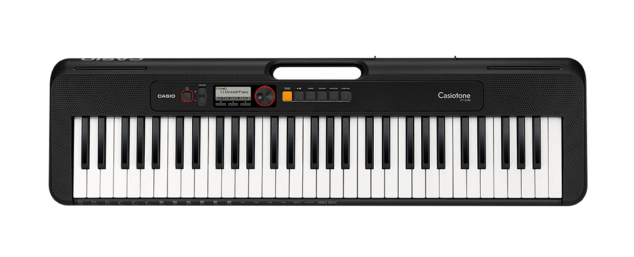 Let me share a little about the Casiotone CT-S200 model with you! It comes in 3 colors (black, red and white), so whatever one fits your musical fancy… go with that color choice! With the CT-S200 you can enjoy music whenever and wherever you like. Its compact size of 930 mm x 256 mm x 73 mm is 30% smaller in volume than the CTK-2500 and CTK-2550 models, and it boasts roughly 16 hours of alkaline battery life*. With a grip at the top of the keyboard and a weight of only 3.3 kg, it couldn't be easier to carry. The design incorporates rounded edges and corners, making it safely portable.
I want to note here, too. I love that it is so compact and lightweight because the kids can carry it around the house and place it in different rooms. It doesn't have to stay put in the basement or in the living room, it's very easy for the boys to carry around and play with it in their rooms or for some family kitchen time!
The first thing I was able to determine about the Casiotone is that it's also VERY user-friendly. I couldn't get over how easy it was for the boys (and now Victoria) to work it. The CT-S200 features a simple, intuitive interface, offering an organized layout with fewer buttons by using both a full dot LCD screen and dial. It is also equipped with a home button that lets users return to the original screen at any time, making for a superior multi-function keyboard with enhanced usability.

Also, important to note, too! The CT-S200 includes a mode that lets users put together drum, bass, and synthesizer phrases to easily enjoy dance music, as well as 12 types of Dance Music Voices that sound great with dance music. Just press along with the rhythm to add accents to ordinary playing and enjoy dance music. This is my daughter's favorite feature!
And! There's an APP! Oh, yes! This is the cool part that we just got into with the kids. Display 50 in-app demo songs or downloaded MIDI files on the Chordana Play piano roll or musical score screen to play your favorite songs anytime, anywhere. Play music without reading a musical score by striking keys in rhythm with the bars as they scroll down from the top of the screen. Track your score on the app's scoring feature to make practice fun and watch your playing improve. How amazing is this, right?
There's nothing like walking into a room and seeing a sight like this…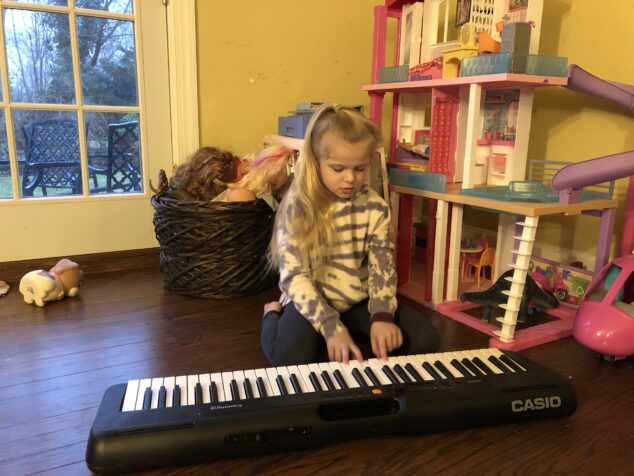 This Casiotone Digital Keyboard has truly brought so much joy into our home! I want to note here, too… my kids have never played a keyboard OR the piano. I played piano as a kid, so I taught them how to play "Chopsticks!" They ALL know how to play it now and I love that they've taken it upon themselves to learn more songs (thank you YouTube!).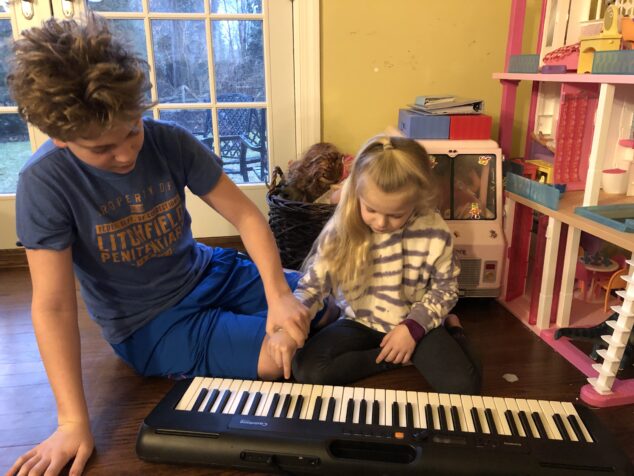 There's also something really magical about seeing your kids helping each other out, too. My son Ben spent this weekend teaching my daughter how to play "Up On The Housetop!" (for next Christmas!). I don't know if Casio knew just how incredible a Casiotone Digital Keyboard would be in terms of bringing families together, but it's true. There's something magical about music. It opens up our hearts and souls.
Thank you so much to Casio for sending this along for us to play with and try out as a family! Maybe my dream of a family band will come true someday! You never know, right? I can't say enough about how amazing this is to have for your family. I know that now with every upcoming family event, this Casiotone will be making an appearance.
Casio offers other digital keyboards, too. If you're interested or have any questions – feel free to ask me. I would also suggest heading to Casio.com to see what else that have for selections. I'm a big fan of the Casiotone CT-S200, but again – there are a bunch of other options, too!My biggest takeaway is to open your family up to something NEW and FUN!
Disclosure: Gifted from Casio. All opinions are 100% my own.