Looking for the best Italian restaurant in NYC? I've got it for you at La Mela restaurant. La Mela is a family style Italian restaurant on Mulberry St. in Little Italy, New York that serves families, groups and offers catering. Your plate will be full, as well as your stomach when you dine at La Mela.

Best Italian Restaurant in NYC – La Mela
Living in Rhode Island about 12 minutes from Federal Hill (Rhode Island's Little Italy), I definitely know good Italian food. When I knew I was heading to NYC for the weekend and spending the weekend down in Little Italy, the first thing I thought about was finding the best Italian Restaurant in NYC. You can't go downtown in NYC without thinking about finding some great Italian food. It's kind of a must do for me.
La Mela restaurant was where my 3-day mastermind retreat was hosted in NYC. A dear friend's family owns and runs La Mela, but I'd never been there before to eat. I'm telling you right now, it was INCREDIBLE. Absolutely. Positively. Incredible. As a fan of Italian food, I was completely impressed by the menu, and beyond that, too – you feel like family there.
La Mela opened over twenty five years ago with the focus to offer high quality affordable Italian cuisine with a unique cultural dining experience. Today, this sentiment still stands and this is why it's truly the best Italian restaurant in NYC. Their customers are family and you feel this when you see all their family photos throughout the restaurant and on the walls, which are also adorned with photographs of customers over the years.
You feel a warmth when you walk into La Mela, like the comfort of home. Everyone is welcoming to you, making you feel that they're been waiting for you to arrive. There's something really beautiful about that in NYC. In a City filled with people, La Mela makes you feel like you're part of their family and that leaves an impact on you.
Let's talk food. Food is where it's at, especially when I'm telling you that it's the best Italian restaurant in NYC. Those are some pretty big words to toss out there, but I'm telling you, you will agree with me the second you visit and dig into one or two (or three) of their dishes. La Mela's menu has a little bit of everything. If you love veal, they've got it. If you love chicken, they've got it. If you love fish, they've got it. If you love steak, they've got it. If all you want is pasta, they've got bunches of options for you.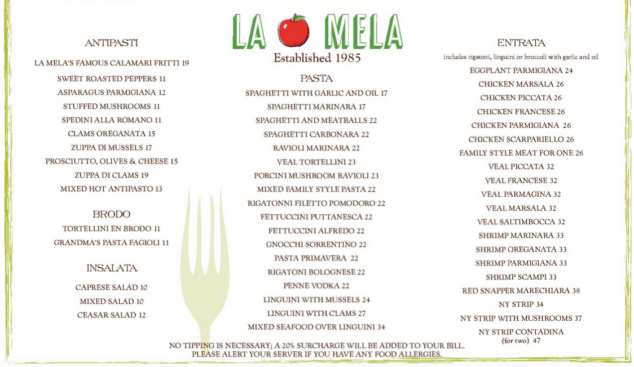 They also offer family style serving, which is something I always look for with a family of 7. There aren't many restaurants that offer family style serving, so I was so excited to know that it was an option for guests who come to dine. Whether you're dining with your family, friends or colleagues, this is a great way to try a little bit of everything! It's also a fun way to share a meal with people and break bread!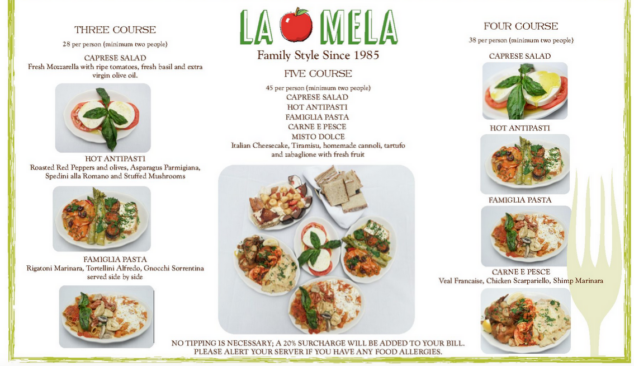 I'm going to share with you some of my personal favorite dishes from La Mela. I know everyone has different taste buds, but I'm someone who loves to try just a little bit of everything. I'm a foodie to the core and appreciate really delicious food. I'm not kidding, after having La Mela the first day we were there, it was all I could think about! You know a restaurant has made an impact on you when you wake up wondering what you want to order for lunch!
Let me bring you through some of my favorite foods from La Mela! I feel like when you actually SEE what something looks like it gives you a better idea of what you can expect.
First up! The CALAMARI! I'm telling you right now, it was amazing! The crunch was delicious. The bite was insane. The portion was hearty. I was really impressed by this dish, it's definitely a must get when you're dining at La Mela.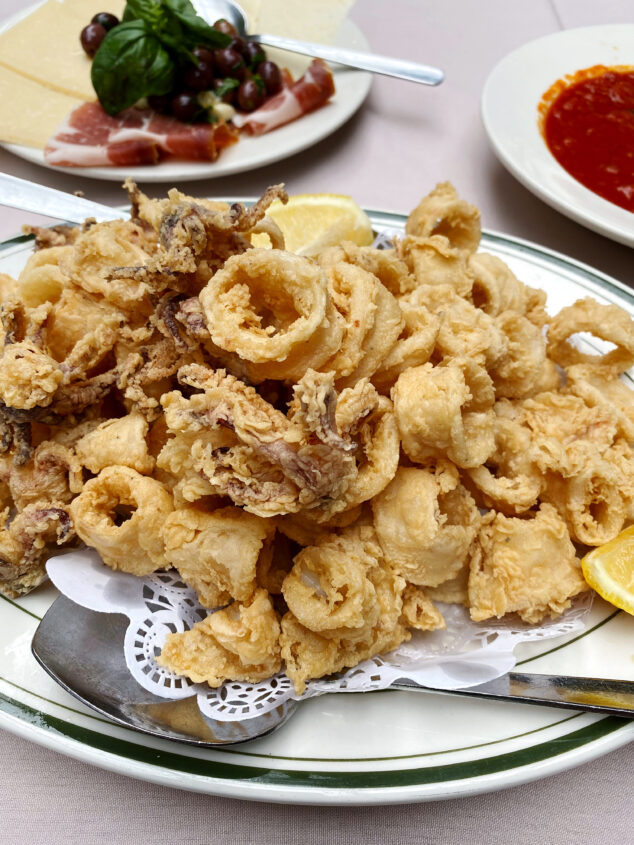 I had 2 favorite dishes that I had at La Mela that I would literally drive to NYC just for… ! No joke! First up with the Fettuccini Alfredo. Let me say this, if you love creamy and cheesy, you will love this. Actually – you will inhale this! I couldn't get over this dish and it was tough because I was sharing with my friends and I didn't want them to take a lot! LOL! That's the telltale sign of a really GREAT dish, right?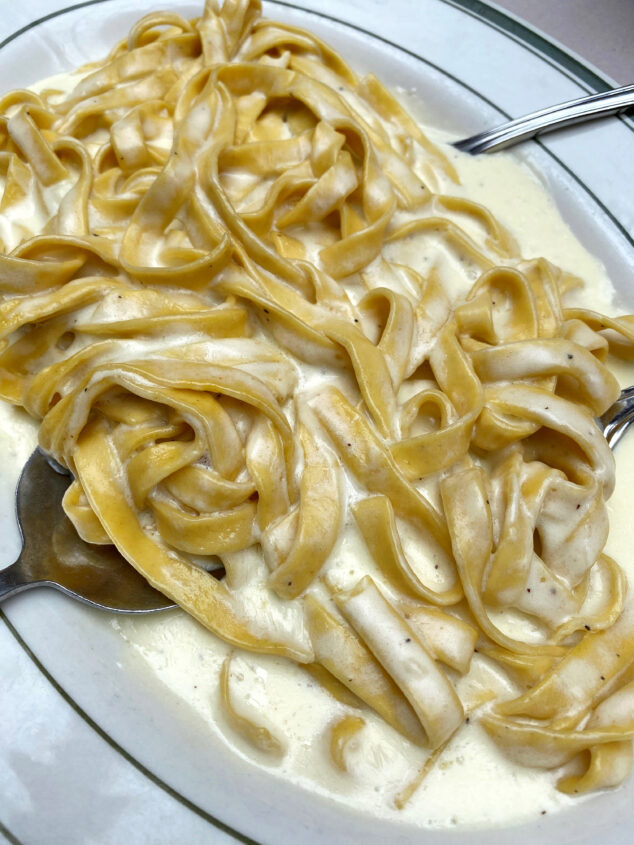 Nest dish I could literally eat every single day of my life? Penne Vodka. OMG. People. This is a dish you could have morning, noon and night. My husband tries to make this at home, but (I hate to say it) doesn't come close to this one from La Mela! This is authentic and incredible. I'm telling you, it's tough to find the right adjectives!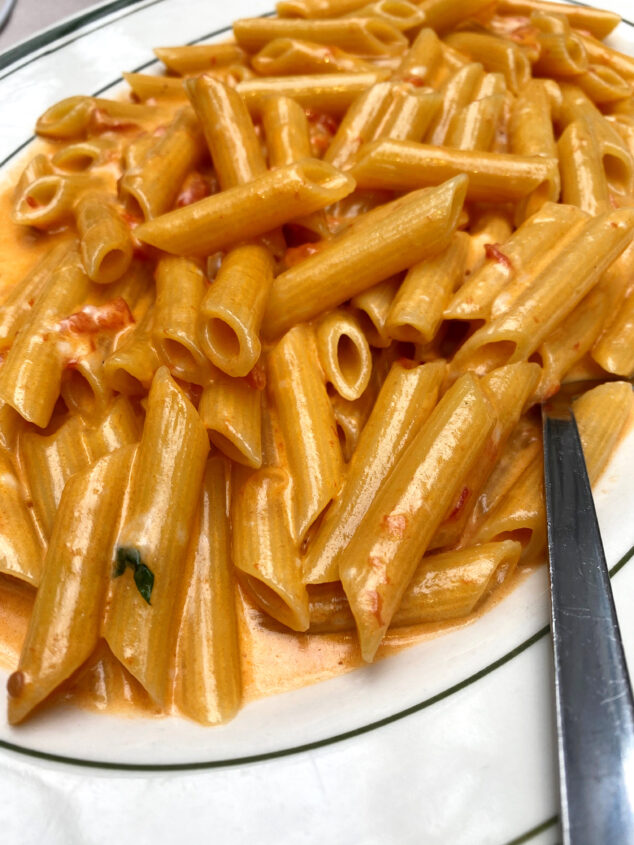 We just had a variety of dishes delivered to our table and everything was accepted with OPEN ARMS! See those delicious bites? Let's play the "I Spy" GAME! I Spy… Chicken Piccata, Penne with Garlic and Oil, Penne with Marinara and Chicken Parmigiana. I need to also say that that basket of bread was the best bread ever, too. I think I went through an entire basket by myself!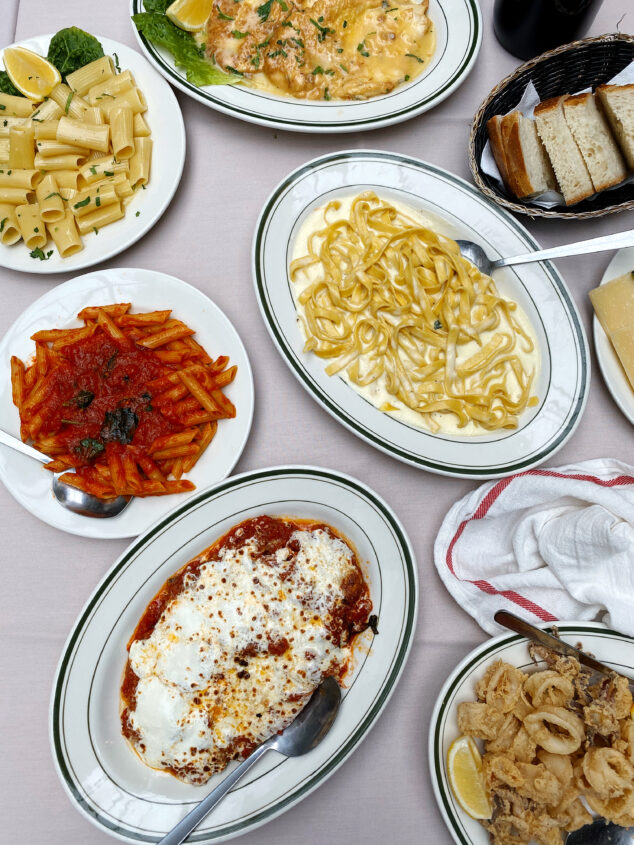 I can't thank La Mela enough for opening up their arms for me! Make sure you head to 167 MULBERRY STREET • LITTLE ITALY NEW YORK, NY 10013 to check it out! For your reference, the hours are: SUNDAY ~ THURSDAY 11:30AM – 1:00AM, FRIDAY ~ SATURDAY 11:30AM – 1:00AM.
Make sure you take the time to head there and dine! Go with an appetite so you have the ability to indulge and truly enjoy everything that they have on the menu! Plan a dinner around your meal and remember – if you're looking for the best Italian restaurant in NYC, this is it! You will fall in love with La Mela!
Check out my post about What to Do in NYC with Teenagers.
Thank you to my friend Julie from The Little Kitchen for the photos!