Sometimes there's key items everyone should have in their closet because they're just GREAT! A womens sweater wrap is one of those fabulous items! You can wear a sweater wrap in a variety of different ways to make it look like a new outfit and style every single time you wear one out. Showcasing today how to wear one and rock the mom style!
Womens Sweater Wrap: 5 Ways to Style
Let me start at the beginning with my womens sweater wrap. I had never owned one before until I started working for Donna Karan back in 2000. I swear a sweater wrap was part of the Donna Karan uniform! The ladies in the office all had one and it was very 1st investment piece when I joined the team. The girls in the office would wear them in the most stylish ways and I just picked up on it and fell in love with WRAPS!
I don't know who exactly "invented" the womens sweater wrap, but Donna Karan is the first person I saw wearing one and at DKNY they wold fly off the shelves! She would wear them all the time and I used to love seeing how effortlessly chic she looked when she would come into the office with one on. She's the QUEEN of NYC fashion, so whatever Donna wore, I wanted to be next in live in, too! She was the Donna Karan New York 7 Easy Pieces PIONEER!
It's been YEARS since I worked for Donna Karan, but I've always kept a womens sweater wrap in my closet. They really are just such a fun and easy fashion item and own and wear and rock! I know that there are over 25 different ways to wear one, but for the sake of this post and to make it super easy – I'm going to showcase 5 ways to wear a sweater wrap. I'm hoping one of these ways will jump out at you, or maybe ALL of them!
These are the 5 ways I've always worn my womens sweater wrap. I don't go crazy and try different styles that I'm not comfortable with, I like to keep it easy for myself on the fashion front. I'm going to outline below the 5 ways with images, just so you have a good idea as to what it looks like after it's styled. I PROMISE you, anyone can wear this trend. It's created equal on the fashion front and I love that about it!!
Look #1: Wear it as is draped down in front. This is the EASIEST way of all and (honestly) looks chic. You can wear this with black pants and a black tank and it's the most elegant look ever! I love easy (as you ladies know!), so I'm all about how to wear something the easiest way possible. Drape it and GO!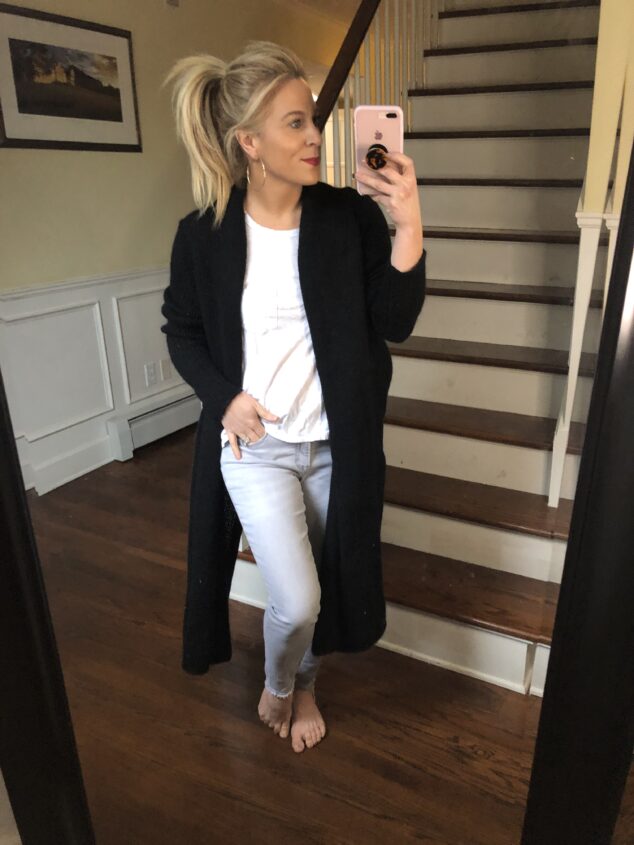 Look #2: Turn it around and wear it backwards! When was the last time someone told you to wear something BACKWARDS? This is one of the only tops you can wear like this and I love it! You can tie the 2 ends behind you and you're good to go! I love how you can drape it off your shoulder or shoulders, however you want to make it work. This is a chic way to wear this womens sweater wrap.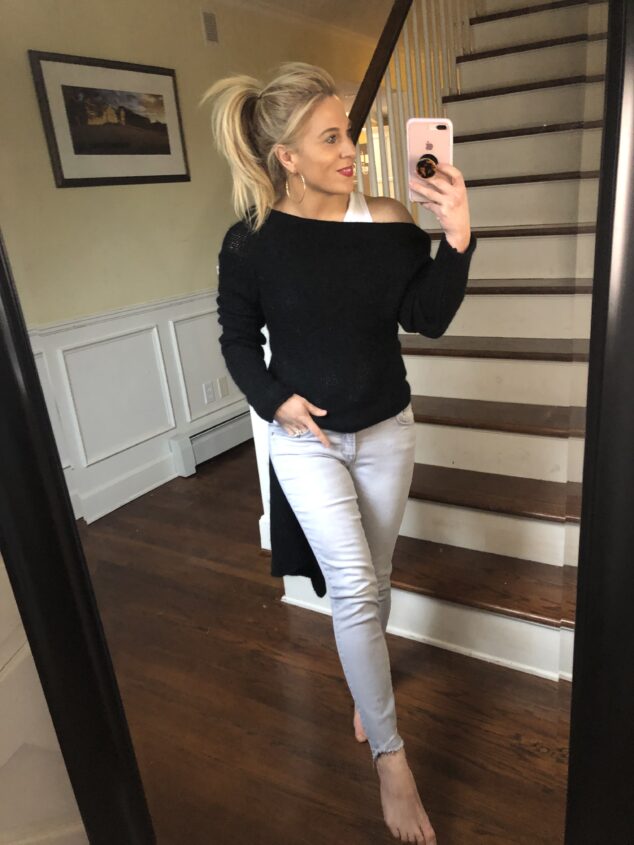 Wrap #3: Side tie with the womens sweater wrap! This is a little more of a chic way to wear it and potentially could only wear this out on a date or with your friends, but I do like this look. I think it's a fun way to wear it. You could wear this with leggings and a tunic, too. You could also wear this look over a dress. There's so many ways to wear this… or just with a tank and jeans!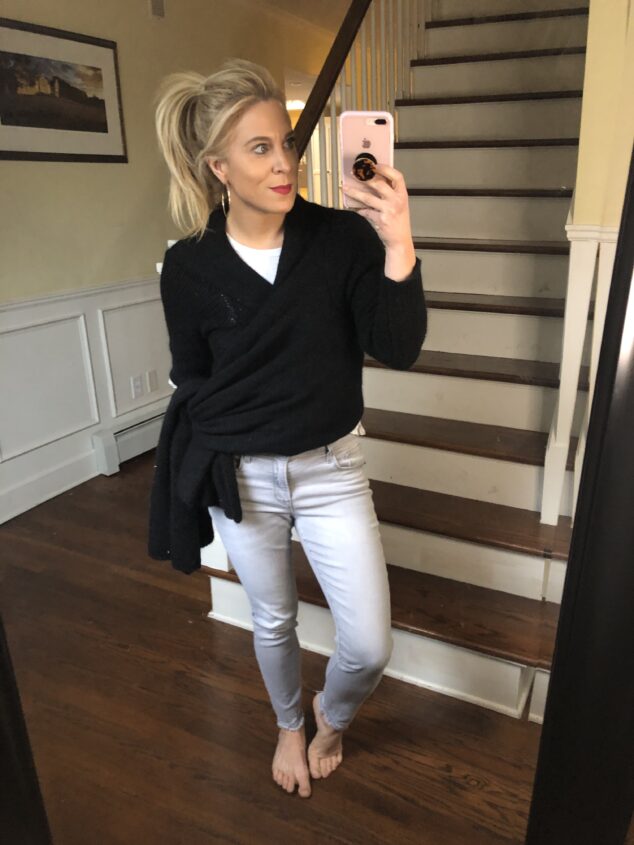 Look #4: Wrap it in the back! This is a way that should be easy if your sweater wrap has ends that are long enough. All you have to do is tie it in the back. I love this because you can adjust the front to look the way you want it. It's also a really great way to wear to work. I love how elegant it looks, but also has a chic edge to it.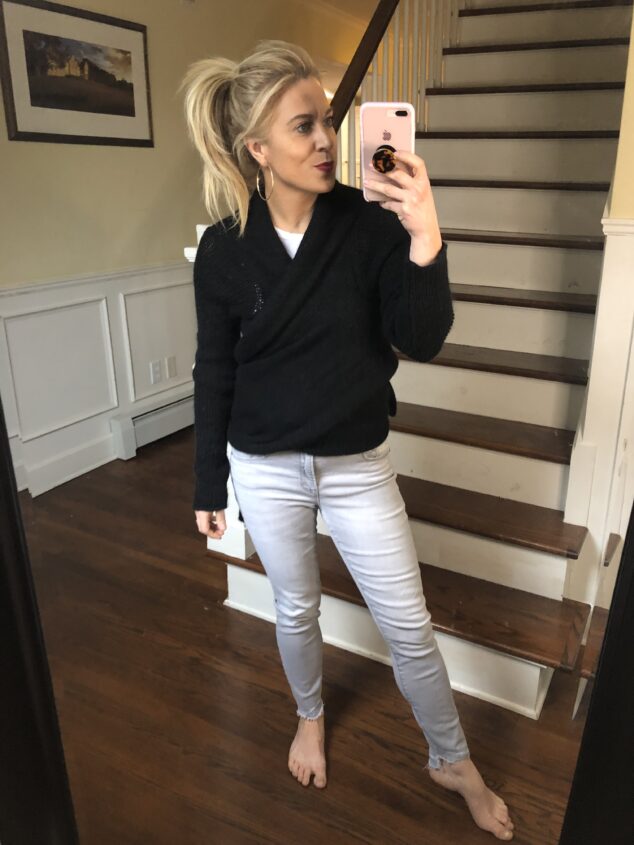 Look #5: You either will like this look or not. All you need to do is loop the front and you're good to go! This is an easy one if you're just looking for a fast, easy style. I like this one because it's just a different look, but it's also one that you can wear with just about any style underneath. I would say this is such a great way to wear it if you have on a little black dress! It really adds another dimension to the look!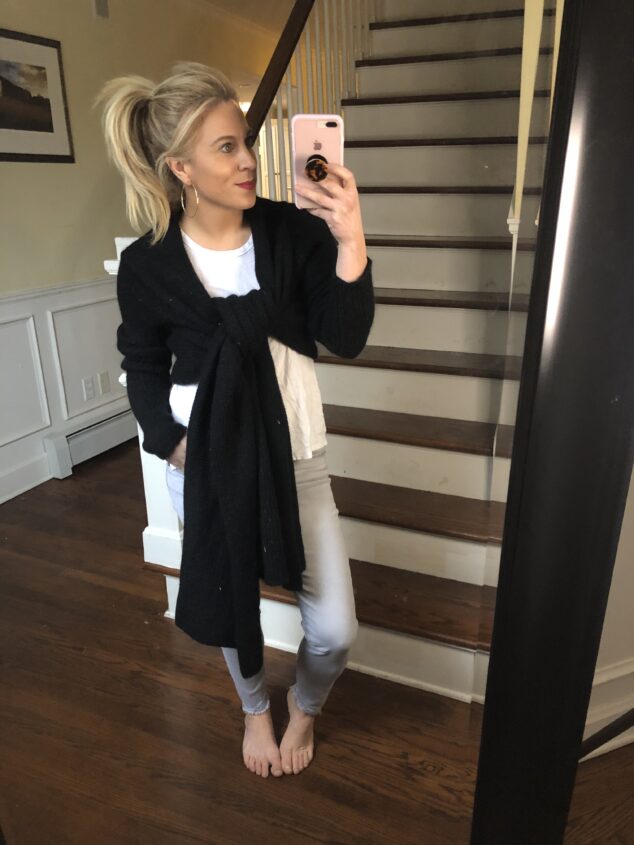 These are 5 ways to wear a womens wrap sweater! I hope you like these ways and believe me, there are so many more ways, too! This is literally just the beginning! If you want more, let me know and I will share them!
Please don't forget to join my Daily Dose of Style FACEBOOK GROUP! This has turned into my favorite spot online and I love sharing there every single day! It's been an outlet for me to be open and honest about my fashion loves! It's a great place to learn new things, so I hope you come on over! I'm also going to be starting a kid fashion one soon, too!
Loving this Fashion Over 40 – Daily Dose of Style Facebook Group (that I would LOVE for you to join) and I share trends and styles every single day in there, along with the best sales online for fashion. I fully believe that you can and should be able to look your best without breaking the bank. You want to feel confident and beautiful and you CAN! I hope my info helps! We have a ton of fashion fun in there! And you don't need to be 40 years old!!!!!!!

HEAD ON OVER AND JOIN US HERE!!! I also share beauty tips there, too.
Make sure you share with me if there's something you love and I missed it on the blog! See my last post on Outfits with Sweatshirts!  Think about these for some of the looks I shared today, too!