I'm all about black ripped jeans. Nothing too ripped, but just enough ripped. As a 40+ something year old woman, I'm always asked when the "cut off" age is for ripped jeans. Truthfully I don't think there is one, it all depends on the amount of ripping! I prefer something that's more subdued. I don't go for rips from top to bottom. I feel like that's WAY TOO young for any woman over 25!
Black Ripped Jeans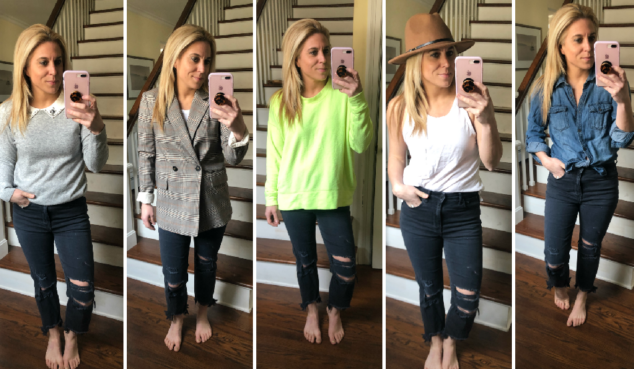 There are so many appropriate black ripped jeans out there for women right now. You don't have to worry about finding a pair that is completely shredded! Off the top of my head I can rattle off 3 stores that sell them right now – American Eagle, Abercrombie & Fitch and Old Navy. I found a bunch of them recently that I just fell in love with and would recommend for women!
I'm excited to share with you my 6 different ways to style black ripped jeans! Again – total side note – ripped jeans aren't for everyone, but if you love looking for different styles and ways to work different looks – I hope this helps you, too!
Look #1: Black Ripped Jeans
There's something fun about going sweet and sexy with an outfit. I love this peter pan collar top from LOFT. It's one of my faves from the fall. It's definitely an elegant top that you can wear, but I've paired it with my ripped jeans for a little fun! I wanted to show how you can easily mix some different pieces to make it work. Business on top, party on the bottom!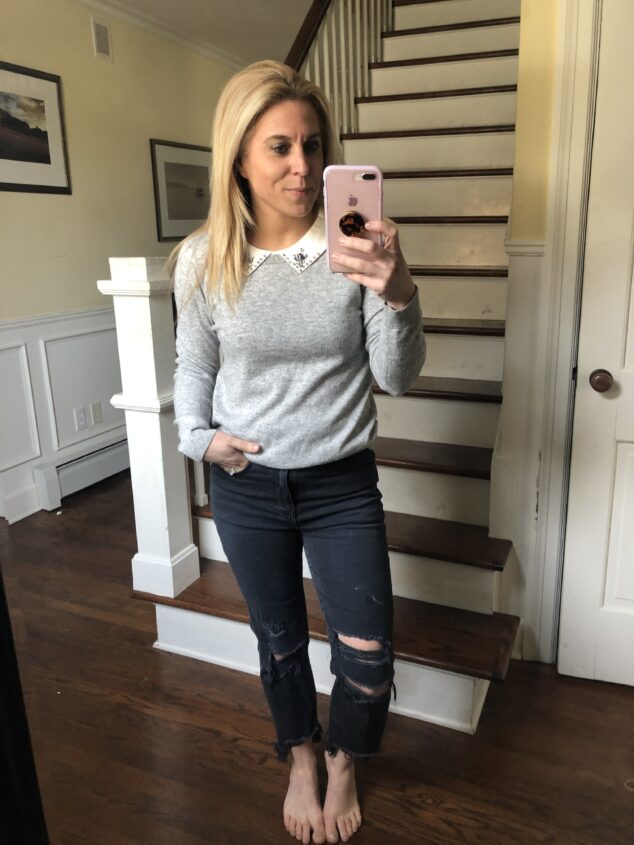 Look #2: Black Ripped Jeans
I've said it before and I will say it again, everyone needs a DENIM SHIRT. A denim shirt should be a staple item in your closet. It doesn't matter how old you are or what size you are, everyone can rock a denim shirt. I love seeing denim on denim, but I especially love denim on black. I think it's a classic and elegant way to wear a style. You can dress this look up with heels or keep it chill with sneakers! I love this easy, go-to look for a woman!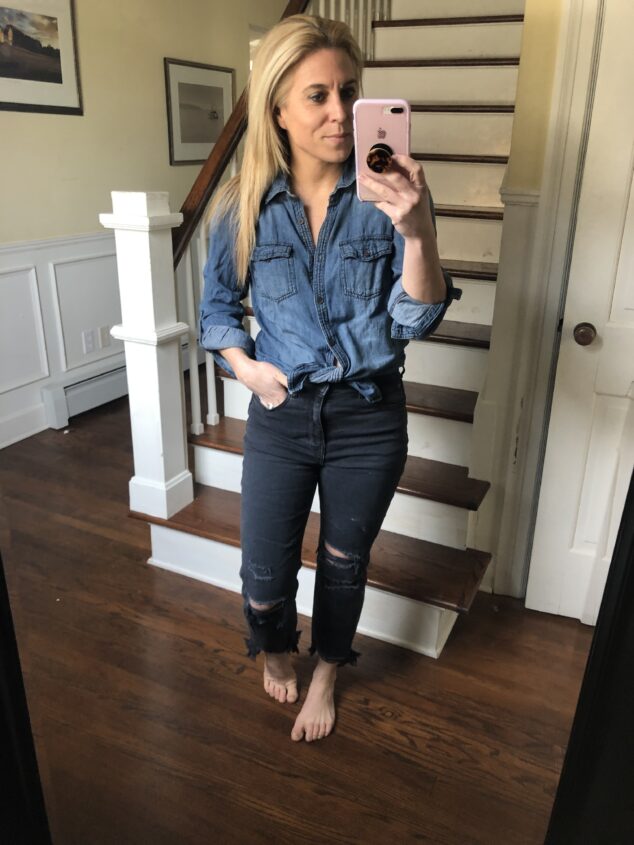 Look #3: Business Blazer
I wanted to see about making this as a professional as can be. Now… I will say this, I know that not everyone can wear this style to work. It ALL depends on wear you actually work and what you do for a living. If you have the kind of job where you can push the fashion envelope a little, this is a fun one. I feel like it's a little like my top style – business on top, party on the bottom! Make this fun look work for YOU!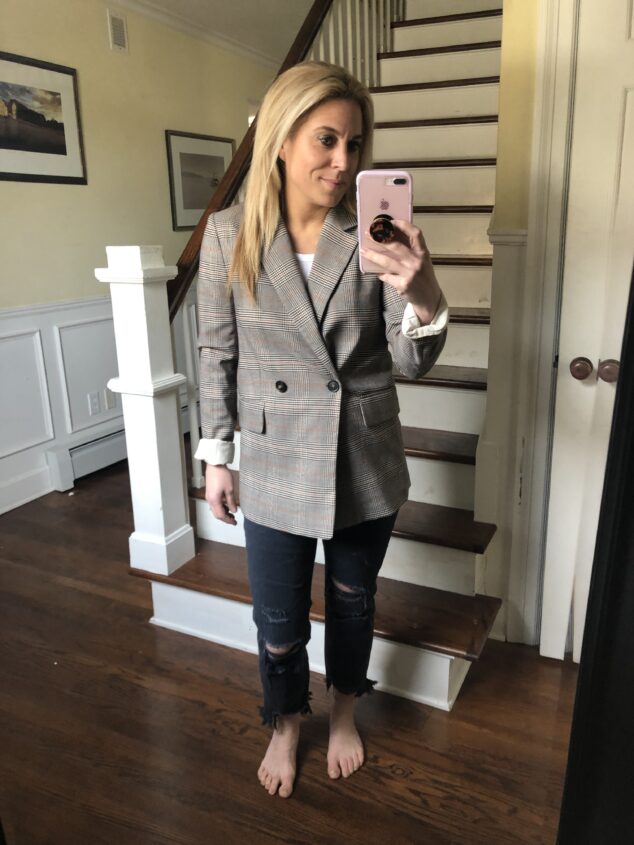 Look #4 Black Ripped Jeans
Let's go for a POP of color! I'm all about neon because it's the brightest and boldest color you can find! I love adding a bright POP to black jeans.  I think it's unexpected and that's what I love most about it. It's just a fun way to rock it and a fun way to wear it. I have a bunch of neon tops that would easily go with these jeans. It's a fun everyday style kind of look.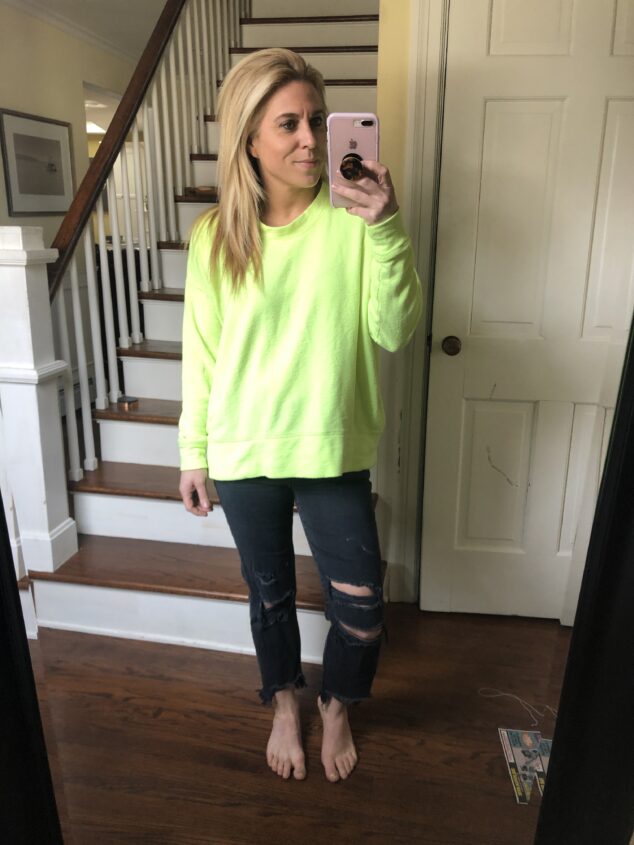 Look #5: Black Ripped Jeans
If you're a boho girl, you're going to love this top! I got this top at Anthro this past DEC and I've worn it so many times. I love how easy it is to pair up and match with just about anything! I definitely think that ripped jeans are more on the edgy side of fashion, so again – I love mixing different styles together. I took my fave boho top and paired it with my edgy jeans. I think the look works perfectly together!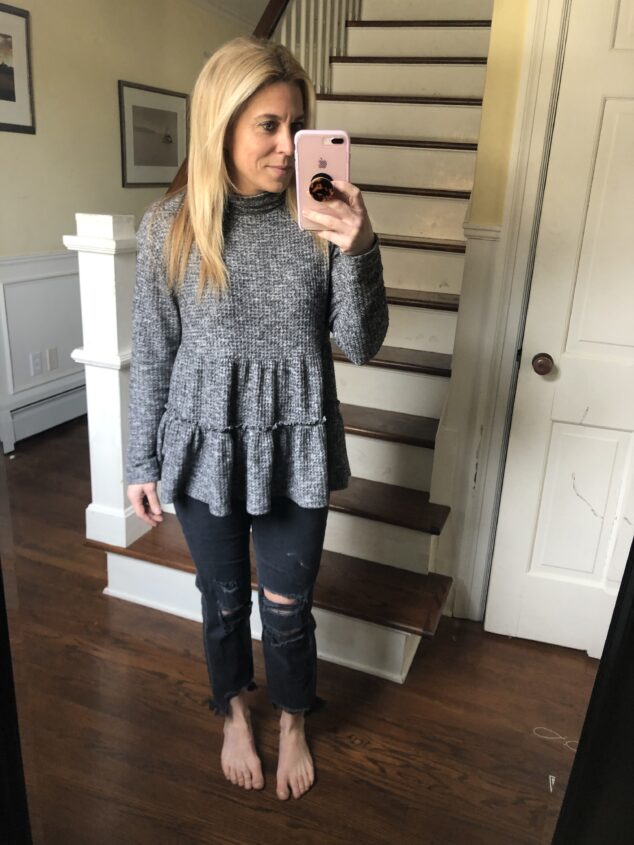 Look #6: Black Ripped Jeans
You know I needed to bring my fave fedora hat into the picture! This is what is so great about ripped jeans, they're a classic piece on their own. You can just grab easy, basic pieces and wear them with it. I took one of my fave white tanks and just paired it with my jeans. Nothing too crazy for fashion, right? I wanted to add a little chicness to the look, so I turned to some of my fave accessories!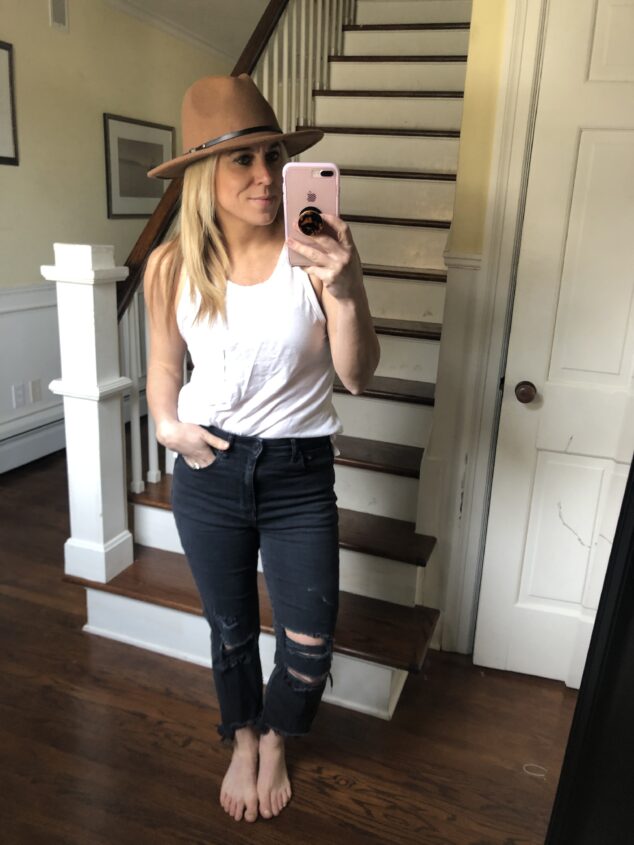 I hope these 6 styles have inspired you on the fashion front! It's so much fun to piece together different looks for me when I have an anchor item. These black jeans are definitely a go to item that you can wear a bunch of different ways! I just love them so much!
Please don't forget to join my Daily Dose of Style FACEBOOK GROUP! This has turned into my favorite spot online and I love sharing there every single day! It's been an outlet for me to be open and honest about my fashion loves! It's a great place to learn new things, so I hope you come on over! I'm also going to be starting a kid fashion one soon, too!
Loving this Fashion Over 40 – Daily Dose of Style Facebook Group (that I would LOVE for you to join) and I share trends and styles every single day in there, along with the best sales online for fashion. I fully believe that you can and should be able to look your best without breaking the bank. You want to feel confident and beautiful and you CAN! I hope my info helps! We have a ton of fashion fun in there! And you don't need to be 40 years old!!!!!!!

HEAD ON OVER AND JOIN US HERE!!! I also share beauty tips there, too.
Make sure you share with me if there's something you love and I missed it on the blog! See my last post on Gucci Dupes!  I'm all about sharing the best ways to look your best without breaking the bank! There's no need to spend tons of money when you can find key pieces that are so affordable! Think about these for some of the looks I shared today, too! Thank you so much for heading over here!
*Affiliates are in the post.