Spring is almost here! It's time for Transitional Pieces for Spring on the fashion front! I'm all about finding pieces that work for the seasonal switch. These are the best pieces because they can work so many different ways for your wardrobe. I'm going to share how I'm taking (1) transitional piece and working it 4 different ways.
Transitional Pieces for Spring
I'm all about transitional pieces for my wardrobe. I found this Sleeveless Cute Twist Knot Waffle on Amazon for $21.99. I personally love it because it's an easy layer that can be worn so many ways. It's also offered in a variety of colors, too. I chose this gray color because I felt like it just worked with my wardrobe. I don't have many gray tops, so this one was perfect for me.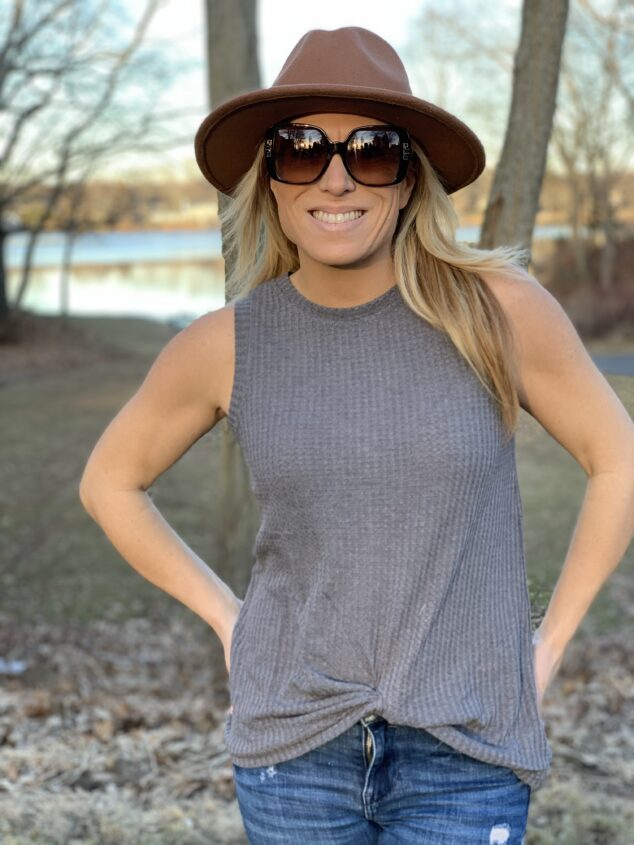 The great thing about transitional pieces is that they can be worn between seasons. It's not always easy waiting for the warm weather or vice versa, waiting for the cold weather. I know living in New England that I've always been aware of having a transitional wardrobe because I don't like somewhere where I need to wear tees and tanks all year OR wear sweaters and scarves all year. We get 4 seasons in New England and my fashion sense reflects it.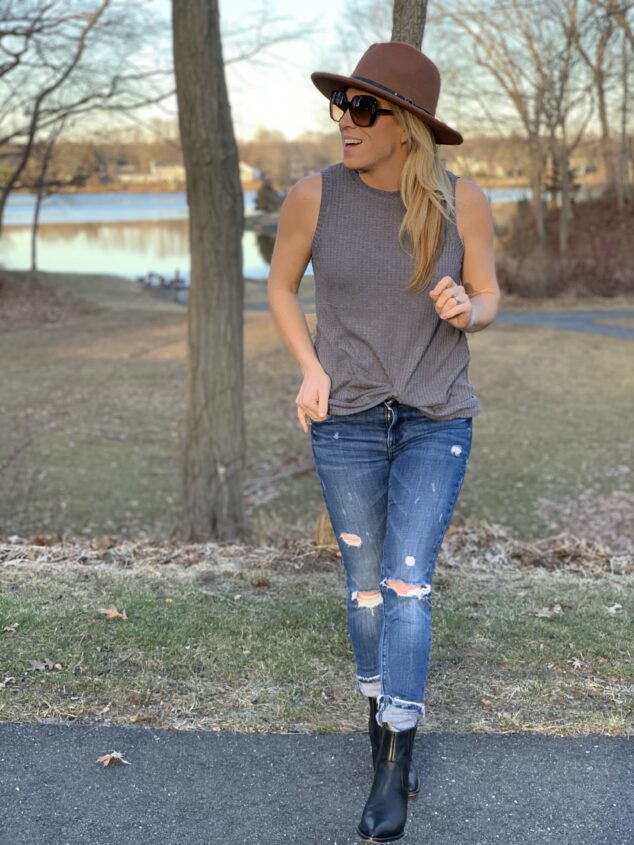 I'm all about having key pieces (like the gray tank above) because it's easier to dress for the weather. Even on the days where it's super cold in the morning, but heats up during the day. I've pretty much grown up that way when it comes to fashion and style. I love knowing that I have transitional pieces that work for me during this fashion tricky time!
I'm styling this gray tank for you 4 different ways today. I wanted to show you up close and personal how you can take 1 item and literally create easy, different looks with it. Keep in mind that right now where I live it's about 40 degrees. It's definitely on the colder side, but sometimes during the afternoons it "heats" up to about 50 degrees! Crazy, right? Transitional pieces are great because I can wear this top as is or style it with some of my favorite layers!
Ready for Look #1?  Pretty easy, right? Wear as is! Grab your fave jeans and wear them with this tank. I love this because (as you can see above, too!) you can wear with booties or just about anything on the shoe front. I love that it's a simple way to wear, but it's a classic way. The tank can just stay on its own. I love the twist knot in front, I think it's such a cute touch for the tank.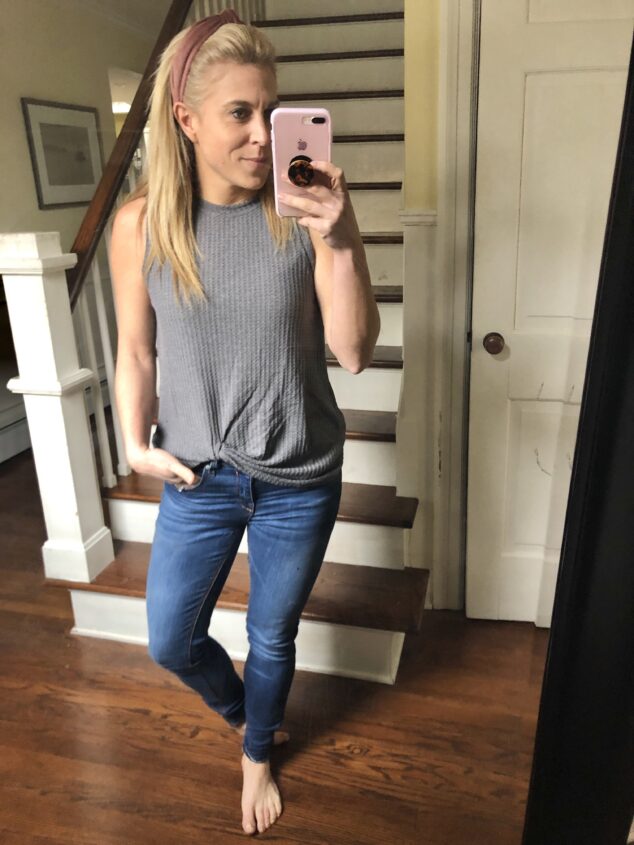 Look #2 on the Transitional Piece front! I tried to make this one as professional and as fun as can be! I grabbed my favorite black double breasted blazer and wore it with my black leggings. I love this look because it's fun, classic and a little edgy! I'm all about seeing how I can push pieces and really make them work for myself. This tank just works with this blazer and tank beautifully!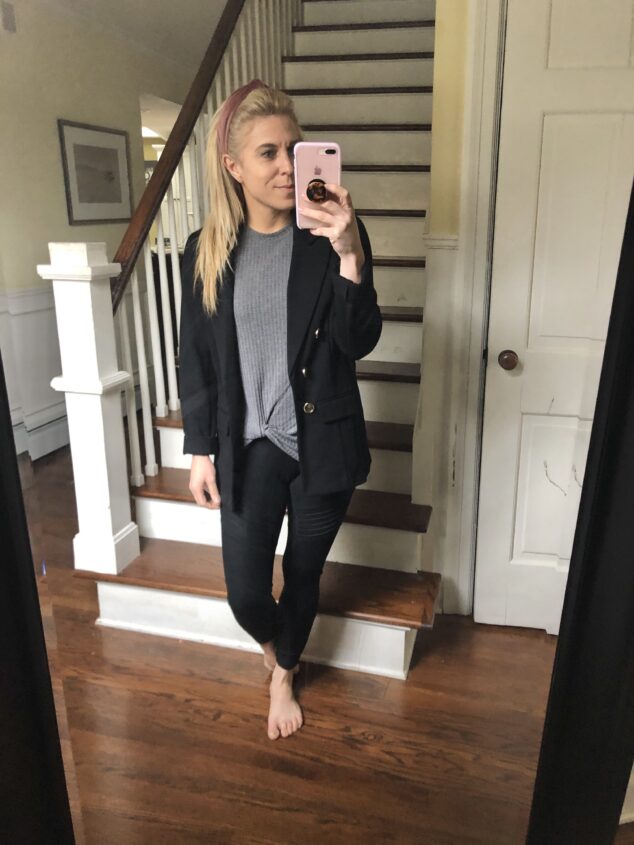 Look #3 with this great tank! A question I get a lot from readers is what to wear with printed jeans and/or printed pants. This kind of tank is perfect. I love that it's just a simple and elegant top to toss on with these pants. I bought these printed jeans years ago at cabi. They are my fave go to item in the spring and summer. This tank just works with them beautifully. I love that I can toss on a jacket and/or blazer to make this look work even more!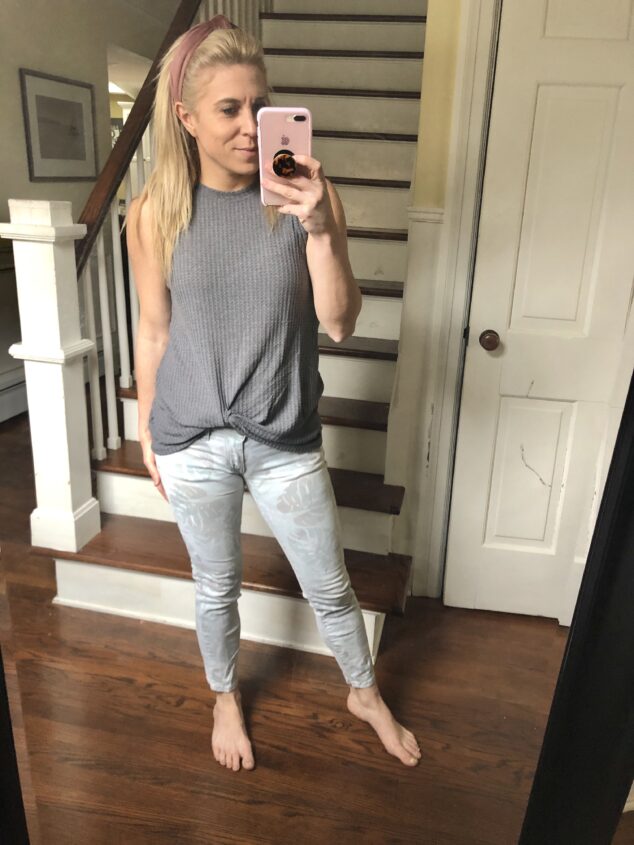 Look #4 on the Transitional Pieces front – it's all about the WHITE JEANS! I'm obsessed with white jeans and denim jackets. They're an amazing go to with any look. Since this is a standard spring outfit, it's a great one to rock! I'm someone who wears white jeans year round, but there's something about taking them out in the spring that really is fun! Everything is starting to bloom and it just really seems like the perfect time! This look is probably my fave of all of these because anyone can make a look like this work!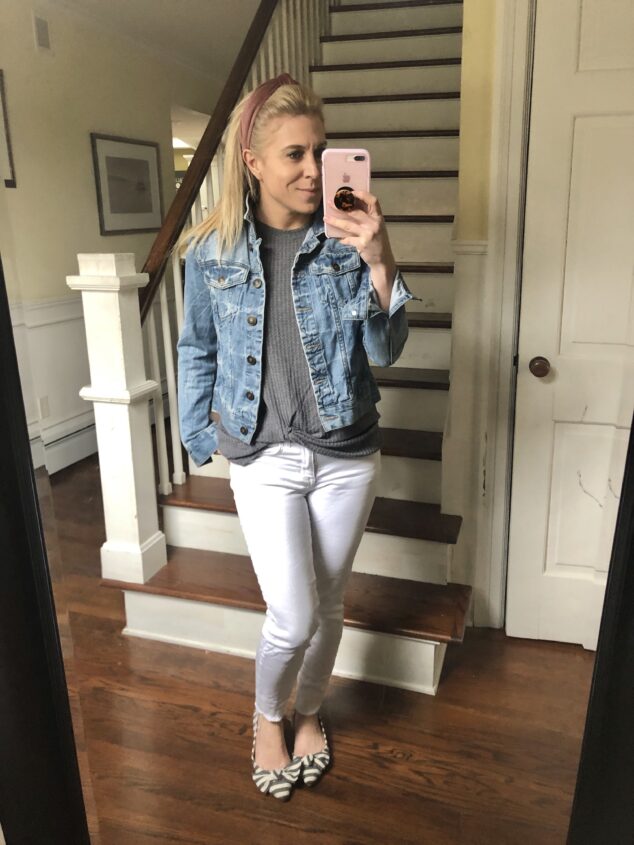 Hoping these looks inspire you when you're on the hunt for transitional pieces. If you live in an area where you need to make sure you have items on hand to get you through each season, then you definitely know what it's like to need transition fashion items. It's truly a must to have a few on hand to make your wardrobe work the best for you!
Make sure you buy this tank with the twist knot and check out the other color options, too! Buy it here.
Please don't forget to join my Daily Dose of Style FACEBOOK GROUP! This has turned into my favorite spot online and I love sharing there every single day! It's been an outlet for me to be open and honest about my fashion loves! It's a great place to learn new things, so I hope you come on over! I'm also going to be starting a kid fashion one soon, too!
Loving this Fashion Over 40 – Daily Dose of Style Facebook Group (that I would LOVE for you to join) and I share trends and styles every single day in there, along with the best sales online for fashion. I fully believe that you can and should be able to look your best without breaking the bank. You want to feel confident and beautiful and you CAN! I hope my info helps! We have a ton of fashion fun in there! And you don't need to be 40 years old!!!!!!!

HEAD ON OVER AND JOIN US HERE!!! I also share beauty tips there, too.
Make sure you share with me if there's something you love and I missed it on the blog! See my last post on Gucci Dupes!  I'm all about sharing the best ways to look your best without breaking the bank! There's no need to spend tons of money when you can find key pieces that are so affordable! Think about these for some of the looks I shared today, too! Thank you so much for heading over here!
*Affiliates are in the post.