If you're into boating or living a nautical life make sure you head to the New England Boat Show this WEEK in Boston, MA! Let me also add that if you're just looking for a really cool and fun activity to do with your family this week the New England Boat Show is an excellent place to come visit! The Show will be running February 8-16, 2020 at the Boston Convention & Exhibition Center at 415 Summer St, Boston MA 02210-1719.
New England Boat Show
The 2020 Progressive Insurance New England Boat Show welcomes approximately 55,000 people each year to shop over 700 of the latest boats and brands at the best prices of the year for every lifestyle and budget, and offers activities and education for all ages and skill levels. Tickets for the show are $16 for adults, and children 12 and under are free.
Here's a MAP of the SHOW: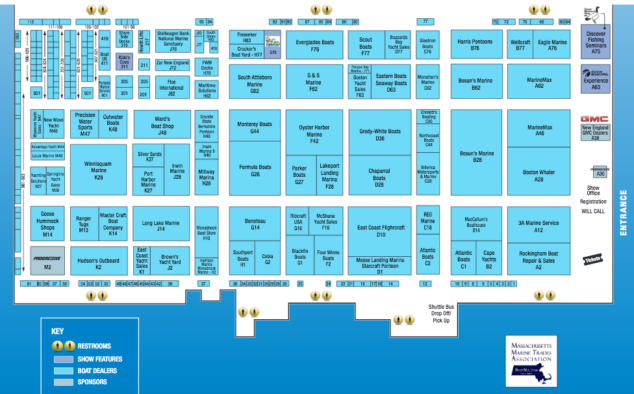 This is New England's biggest and best boat show; the best indoor gathering for boating enthusiasts with more than 700 boats and marine accessories along with free educational seminars and plenty of activities to entertain the kids. Family-friendly features include Salt, the inflatable humpback whale, kids paddle pool, and even an interactive casting tank. For boating enthusiasts of all ages, there are hundreds of seminars on topics and the latest tech and accessories from exhibitors like Goose Hummock.
Here are the HOURS of the SHOW:
Saturday 10:00 AM – 8:00 PM
Sunday 10:00 AM – 6:00 PM
Monday 12:00 PM – 8:00 PM
Tuesday 12:00 PM – 8:00 PM
Wednesday 12:00 PM – 8:00 PM
Thursday 12:00 PM – 8:00 PM
Friday 12:00 PM – 8:00 PM
Saturday 10:00 AM – 8:00 PM
Sunday 10:00 AM – 6:00 PM
The Progressive Insurance New England Boat Show offers attendees the best deals and the chance to shop and compare the newest products firsthand.  Plus, it guarantees your boat will arrive just in time for Spring.  Believe it or not, January is actually the best time to start thinking about boating! Attendees at the New England Boat Show can buy a boat on the spot at the very best deals of the season. Buying in January/February means your boat will be custom-made and ready to launch in the water in time for spring.
I know the BIG question of budget comes up when talking about boating. Everyone wants one, but is it practical to buy? The New England Boat Show has so many boating options to explore – many boats can be financed for $200 or less a month. Try the Sea-Doo or Yamaha's new personal watercraft for under $99 a month if you finance, or an entry-level wake sport, fishing or pontoon boat. More than 60 percent of boaters have a household income of $100,000 or less.
Since I'll be attending with my kids, I also wanted to make sure I gave parents some ideas for what you could actually do while at the New England Boat Show with your family. I mentioned a few of these above, but wanted to give you a little more information on some of the amazing activities that are being offered.
Build -A-Boat—Kids' Toy Boat Building – Space 311: If they can imagine it, they can build it! Little skippers will have boatloads of fun creating a one-of-a kind nautical masterpieces to take home as a show souvenir.
Kids' Boating – Space 311: Boatloads of fun on the water—just for kids! Young mariners can splash around a mini lake in a paddleboat.
Tour "Salt", the 40 foot Humpback Whale- Booth J78: Take a tour of Salt, our life-size 40 foot inflatable humpback whale!  You will be able to tour the inside of Salt and see what the inside of a whale looks like. Hear the unbelievable but true story of our real humpback, Salt, and why she's famous.  Discover the reason she swims 3,200 miles each year to visit Stellwagen Bank National Marine Sanctuary, your underwater park off the coast of Massachusetts.
PROGRESSIVE® INSURANCE BOOTH – Come visit the Progressive booth for education and inspiration to help you get the most of your boating lifestyle! Stop by to master your technique at our docking pool or take a spin at a Virtual Reality boating experience. You can also:
Boost your boating IQ with an entertaining curriculum of hands-on boating courses
Spin the Progressive compass for your chance to win a branded takeaway item
Get answers to boating questions and chat with Progressive Insurance experts about boat coverage
Children younger than age 13 can participate in the virtual reality activation with parent's onsite permission.
SEMINAR TOPICS:
Ask a Captain
Boating Apps & Tablets
Docking De-Stressed
10 Steps to Being a Good Gilligan
Get Your Captains License
Gateway to Boating
Trailering (Hooking Up)
Maintenance 101
Hands-On Interactive:
Electronics 101 (SS Neversail)
Docking Pool
Line Handling
Trivia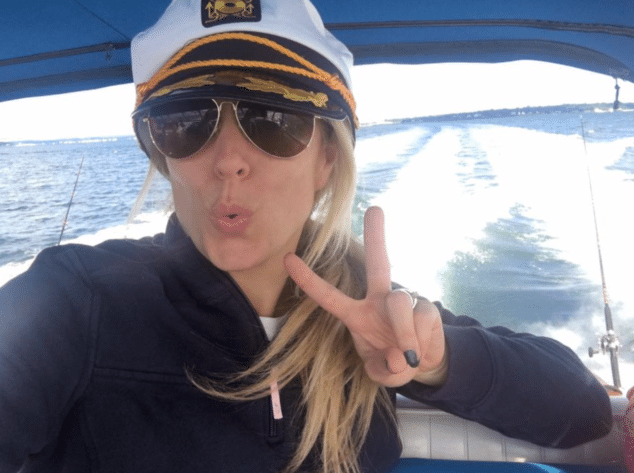 I just wanted to answer some of the questions that you might have about attending the New England Boat Show:
Are there additional fees for the New England Boat Show?
No. Your admission ticket covers it all.
Can I bring a backpack into the New England Boat Show?
Yes, it will be subject to a security check prior to your entrance by Boston Convention.
Can I come back the same day to the New England Boat Show?
You can come back on the same day. Tickets are for a same day admission. Multi day tickets are available.
Can I get on the boats at the New England Boat Show to check them out?
Yes, most boats on display are available for the public to board. However, at the dealer's discretion, access to some boats may be limited or require an appointment.
Are there hashtags to follow for the New England Boat Show?
Yes – #neboatshow #boatingvibes
Is there food available there?
Yes, there are a number of places to dine, drink and relax at the show.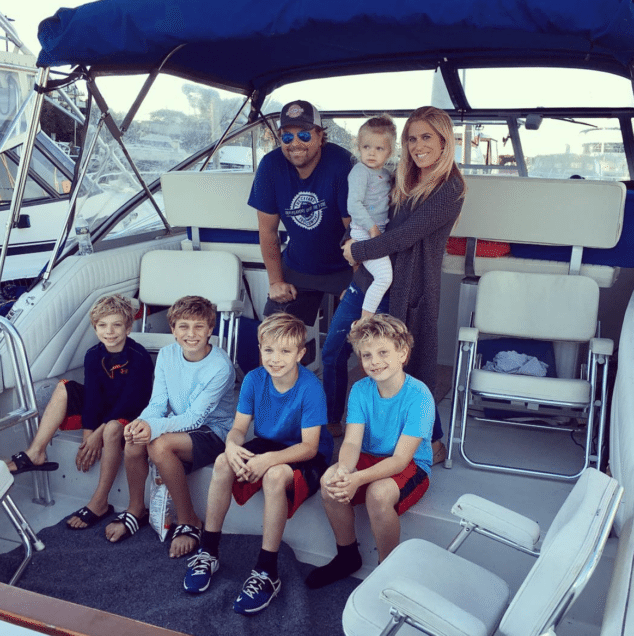 I'm super excited to head to this show!! Boating has been one of the best activities we brought to our family. It really made us closer and gave us a combined interest. As kids get older it gets a little tougher to find things that you can all do together. I love boating because all of my kids (ages 6-15) love it and get involved in the process! If you're a newbie, I shared some of my favorite
boating essentials
for you to check out, too!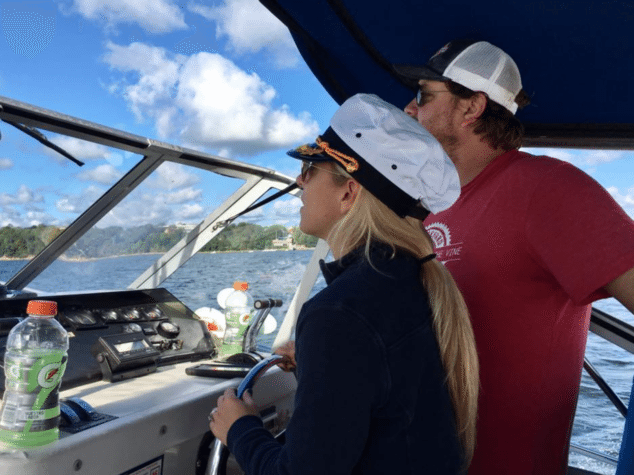 I'll be there on Sunday sharing Instagram Stories throughout the day! @AudreyMcClellan
Check out additional information
here
.
Hope to see YOU ALL THERE!