I'm all about Tie Dye Clothing for myself and my daughter. It's definitely a go-to look for us. Tie Dye Hoodies are a big trend right now, along with tops and joggers. Excited to share with you how to style a basic tie dye shirt 5 different ways today.
Tie Dye Clothing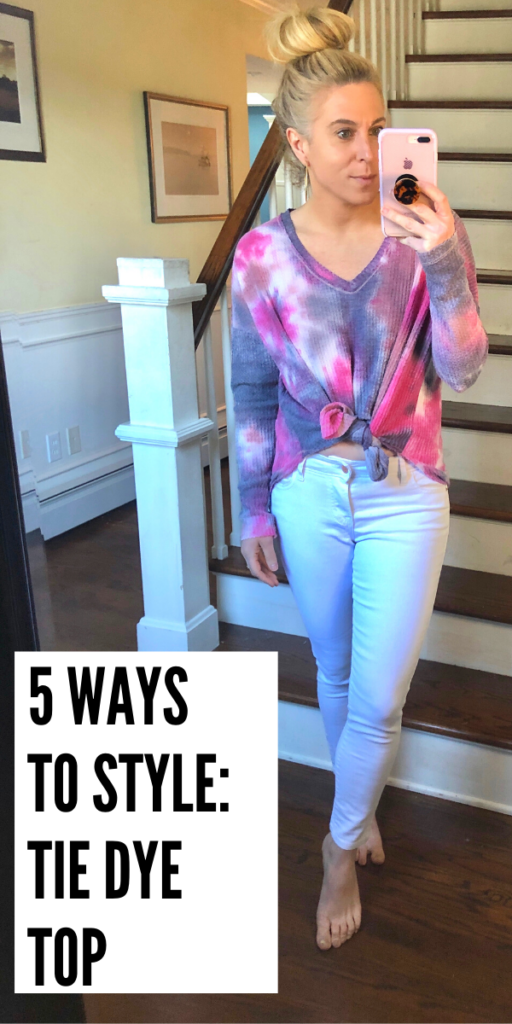 When it comes to tie dye clothing, I think may women think it's a youthful trend. I understand the thought behind that, but I promise you that there are so many ways to wear tie dye clothing. You need to find the right pieces that will work for you and your wardrobe. Not only that, it's important to make sure the color of the tie dye you're choosing works for you, too!
On my Target shopping trip the other night I found a full section of tie dye clothing. The kids were rolling their eyes at me because I wanted to stop and try a few pieces on, but I didn't care. The second I saw one particular shirt, I knew I needed to see what it looked like on. It reminded me of a Free People top, but it was only $18.99! That price beats Free People!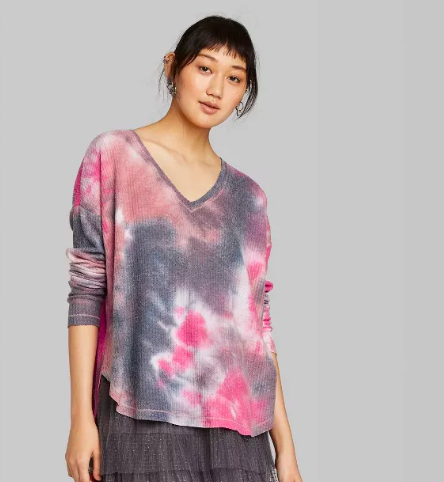 The second I put this tie dye top on, I knew I needed it. It's a long-sleeve T-shirt sports a deep V-neckline and dropped shoulders for a relaxed fit. Tie-dye-like print adorns the tee in light pink, magenta and gray-blue hues. It was true to size (for reference, I got a small) and it really fit well and flattered.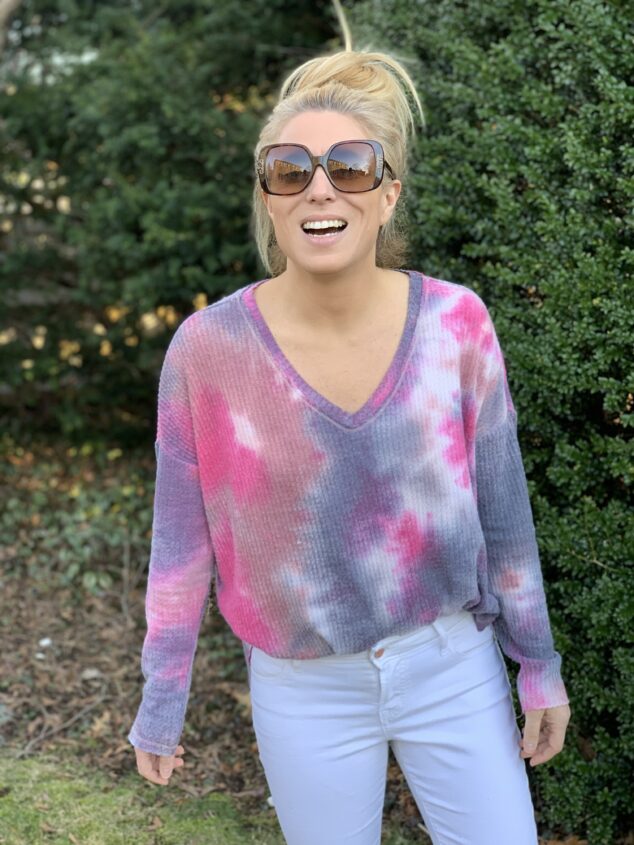 The tie dye colors just really popped for me on this one and I loved it! I feel like that's the big secret when it comes to buying tie dye clothing, you need to make sure you really are finding a color combo that works for you and suits you well. You won't want the colors to be too bold for you if you're not a fan of them. I like that these colors were more subtle, nothing flashing like a neon sign.
The big question then becomes HOW TO WEAR TIE DYE CLOTHING? It's the question that I feel like we ask ourselves once we see a top or hoodie or something we love. I'm sharing with you 5 different ways to style this shirt. As always I like to go casual, professional and chic to give you a little big of everything!
Look #1: Tie Dye Clothing
I found this adorable ruffle skirt over at Free People! I wasn't sure if I was going to like it, but I really fell in love with it once it was on. I thought that since it was such a fun skirt (and ruffles are a HUGE trend this season!) it would be fun to pair it with this skirt. I'm all about making sure I have some fun looks in my wardrobe! I love this one!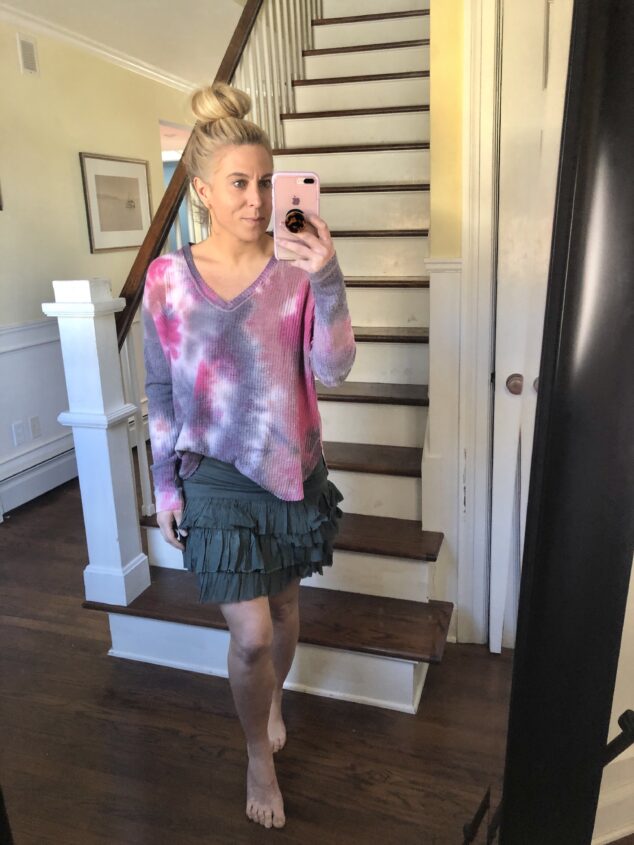 Look #2: Tie Dye Clothing
I wanted to go for a professional look here, just to see if I could make it work. These are my Banana Republic wide leg and high rise pants for work. I love these because they really are such a great staple to have in my closet. As long as you wear tops with them that you can tuck in and give a smooth look and finish, you're good! I loved how this was a fun twist on a work wear look. You could easily add a black blazer, too!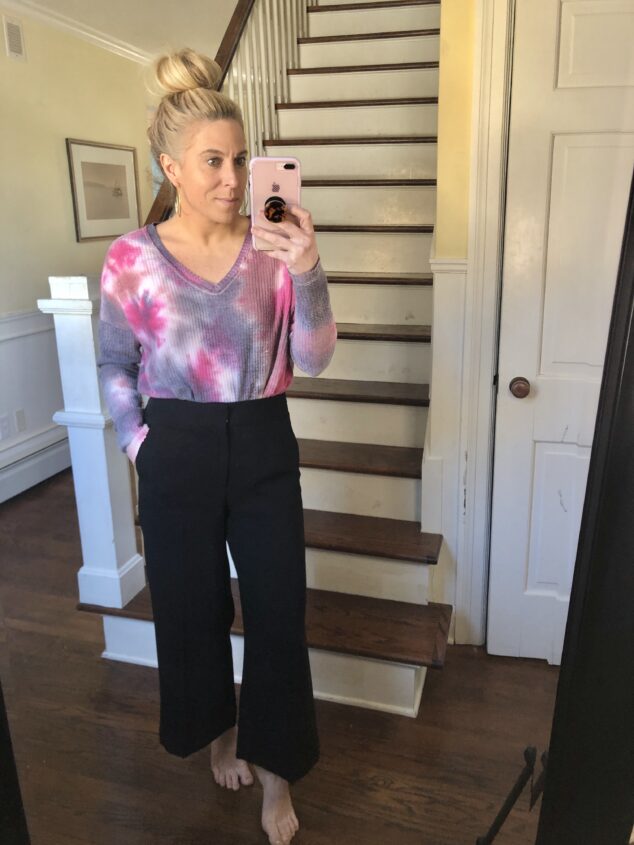 Look #3: Tie Dye Clothing
Denim it UP! I love love love a denim jacket, so I wanted to show a super laid back look. This is an easy style for any woman to wear. It's a great weekend style or evening wear. This is a look I would wear to a basketball game, swim meet or even just drinks with some of my friends. I love the ease of this look, but it also gives a chic and fashionable vibe!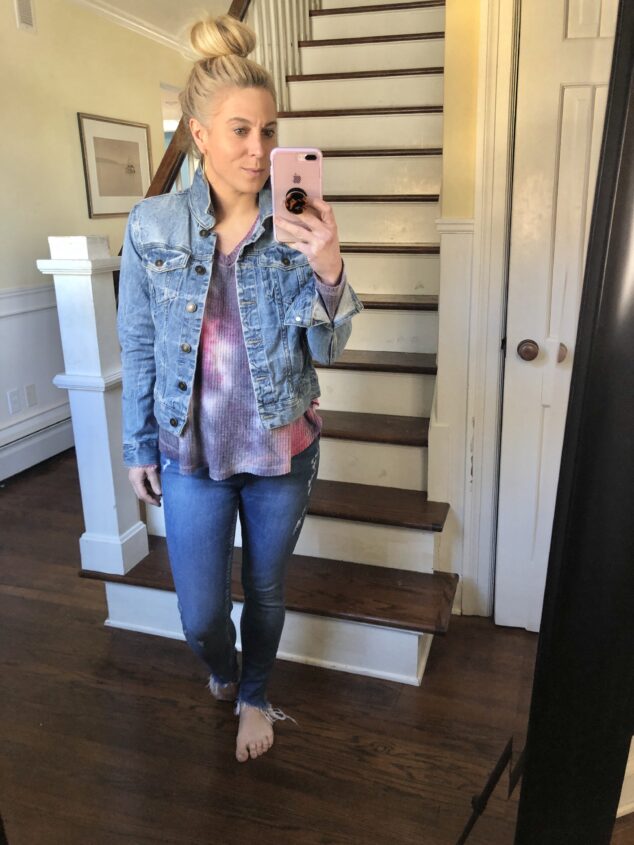 Look #4: Tie Dye Clothing
I live for my white jeans in the spring and summer. LIVE. FOR. THEM. I think that this is such a fun and fresh look for the spring and summer months ahead! It's the kind of look you could wear just about anywhere, right? I decided to knot tie the shirt in front, but you could do whatever you wanted to do with it. I would also suggest tucking it in with a fabulous belt, too!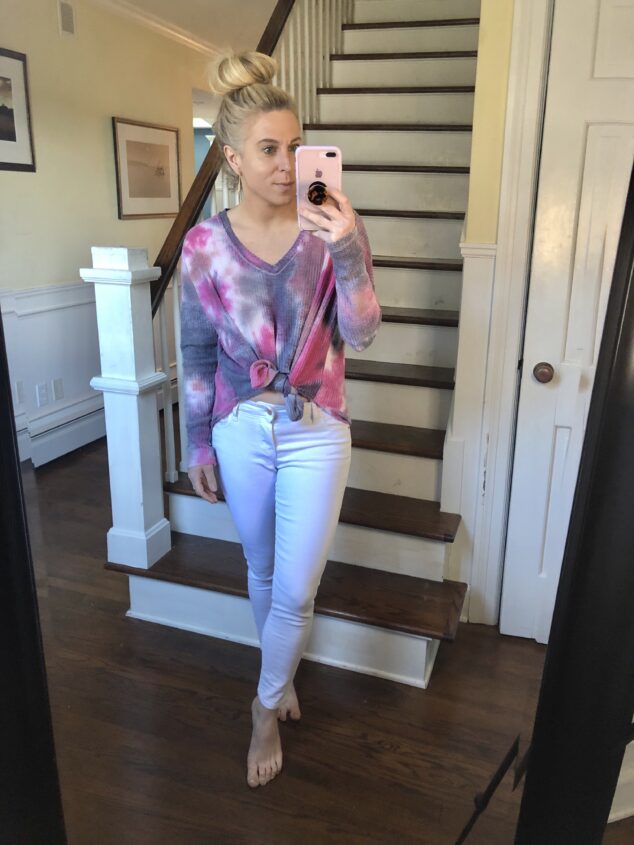 Tie Dye Look #5:
I wanted to show you another way to "tie" the tie dye top. Lots of women hate doing the knot twist because it gives the appearance of a crop top, but it also keeps coming undone, too. I love that you can take a basic elastic band and literally just tie it to the side. It's easy and stays in place all day long. You could create this style and wear it with jeans, trousers, leggings, workout pants, skirts and shorts!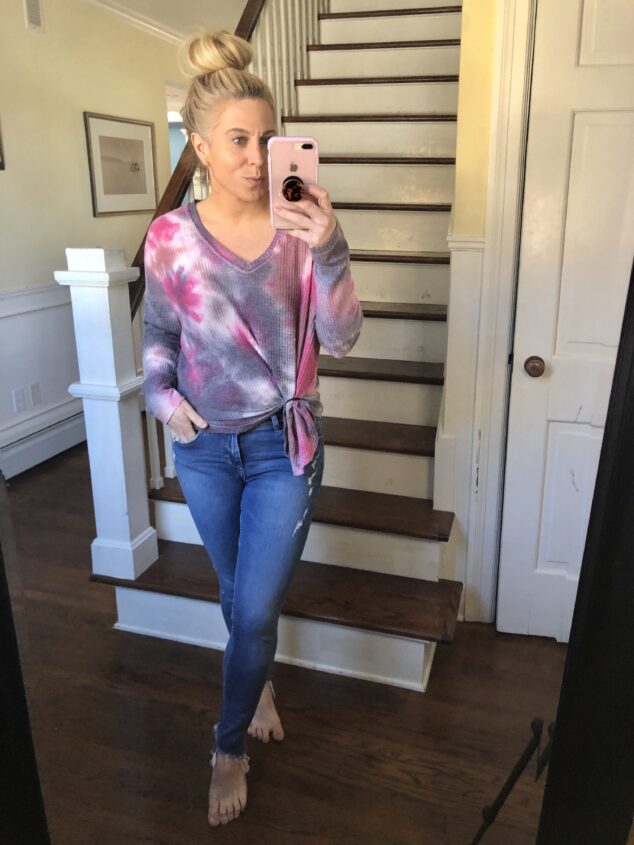 I hope these styles help you out along the way!
Please don't forget to join my Daily Dose of Style FACEBOOK GROUP! This has turned into my favorite spot online and I love sharing there every single day! It's been an outlet for me to be open and honest about my fashion loves! It's a great place to learn new things, so I hope you come on over! I'm also going to be starting a kid fashion one soon, too!
Loving this Fashion Over 40 – Daily Dose of Style Facebook Group (that I would LOVE for you to join) and I share trends and styles every single day in there, along with the best sales online for fashion. I fully believe that you can and should be able to look your best without breaking the bank. You want to feel confident and beautiful and you CAN! I hope my info helps! We have a ton of fashion fun in there! And you don't need to be 40 years old!!!!!!!

HEAD ON OVER AND JOIN US HERE!!! I also share beauty tips there, too. Love your support and let me know what it is you're looking for, too!
Make sure you share with me if there's something you love and I missed it on the blog! See my last post on Lululemon Dupes.