There's one thing about wearing matching Mommy and me clothes with Victoria that I love, it's a great way for us to bond! We recently bought matching Mommy and Me Hoodies to wear this spring and you would've thought I handed her gold. There really is something special about taking the time to match and twin with your little one.
Mommy and Me Hoodies
Throughout the years we've worn Mommy and Me shoes, Mommy and Me Rompers, Mommy and Me Raglan Shirts and the list goes on and on and on. It's what we love to do together and we've been doing since Victoria was a little girl! This time around I wanted to go with something a little more casual, so I went with Mommy and Me hoodies.
With spring coming along and summer right behind it, I wanted to find something that was on the lighter side for us. We love wearing Mommy and Me Matching Coats (we were obsessed with our leopard winter coats from Sara's prints!), but I thought we needed something for the warmer months. Since TIE DYE is such a huge trend right now, I thought it would be fun to rock some Mommy and Me hoodies with a little flare!
One of the best tricks I've been able to find when it comes to Mom and Me Outfits is that you can buy GIRL sizes for you and your little one. A girls size XL is comparable to a woman's size small. A girls size XXL is comparable to a woman's size medium. It's been the easiest way for me to find clothing that works for the two of us. I personally love shopping at Target for our matching clothes, which is where I found these Mommy and Me hoodies!
I'm all about making sure that I have some options for us because we love to dress alike so often! I'm shocked that we don't have any other hoodies and sweatshirts! It's that one item that I feel like we can all pull off and wear at ANY age, so this one was a fun one to get with her!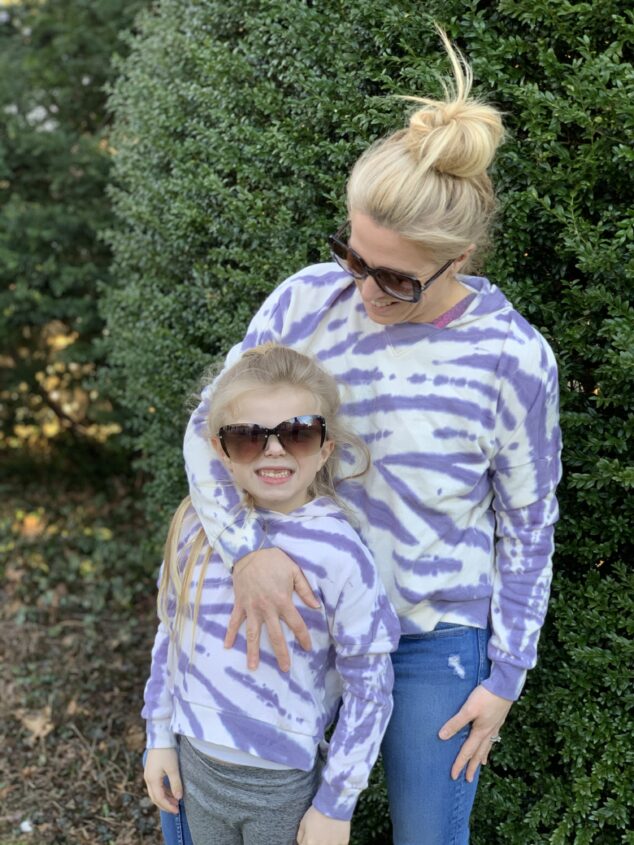 How cute are these Matching Mommy and Me hoodies? I can't get over how perfect these are for the spring and summer. Like I mentioned above, tie dye is a big fashion trend this season and it's great to be able to rock it with my little girl. I love how these can be worn with jeans or sweats or leggings. We can workout in these and even just wear them to the beach this summer as an additional layer.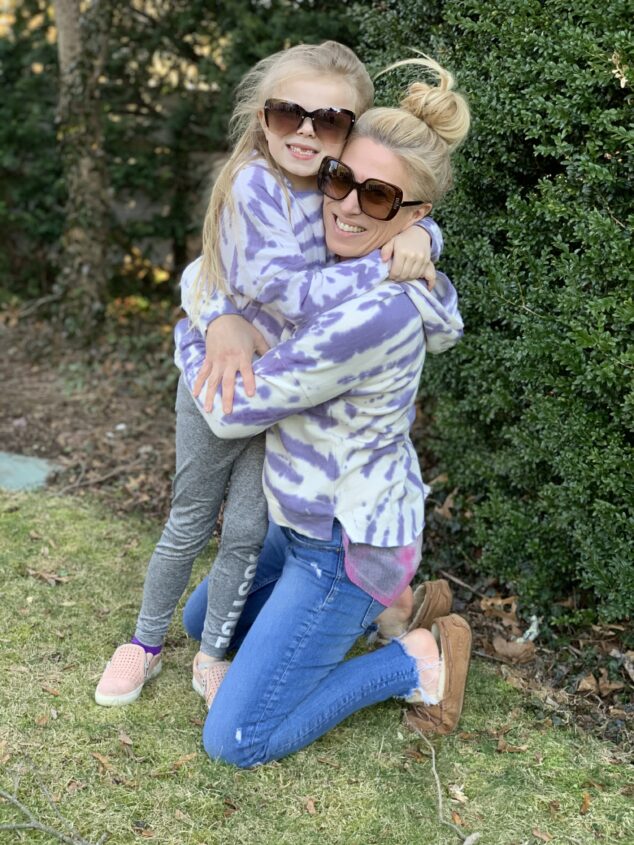 Even just taking photos with her in our Matching Mommy and Me hoodies, you can see how happy she is about it! I love seeing her light up! This is what makes it all worth it for me. It's that simple for me. She's my little angel and she gets super happy about being able to dress up like her Mommy! It's the best fashion thing in the world for me!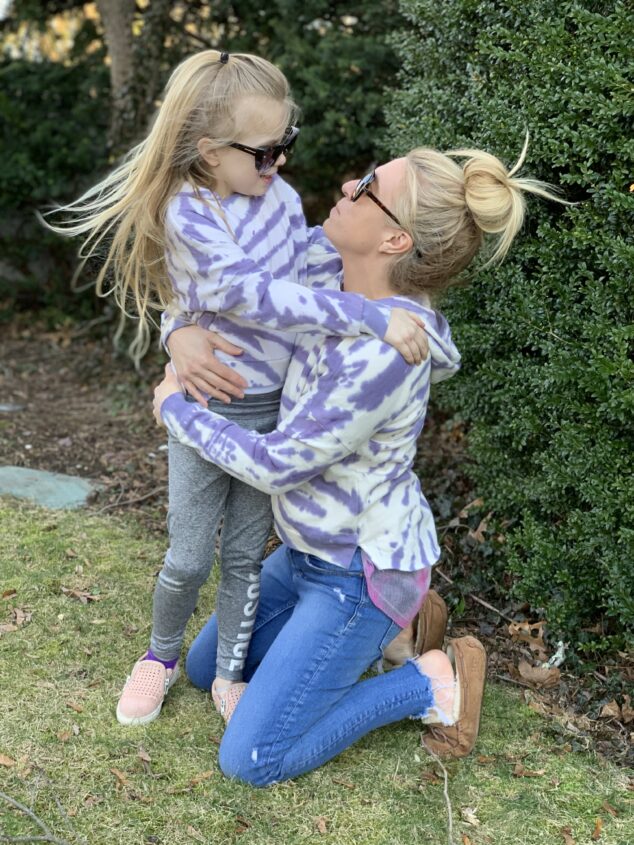 I'm happy to share with you some info about these tie dye hoodies, too! Your girl will be ready for cool weather in cute, comfy style with this Tie-Dye Hoodie Pullover from art class™. This dolman-sleeve hoodie is made from soft material that makes it comfortable to wear all-day long, and features a purple and cream tie-dye pattern to lend a stylish touch to any casual outfit she pairs it with. The rib-knit accents at the cuffs and hem help give her a great fit. She'll love to pair this tie-dye hoodie with her favorite jeans or leggings and be super comfy all-day long. They're $16.99!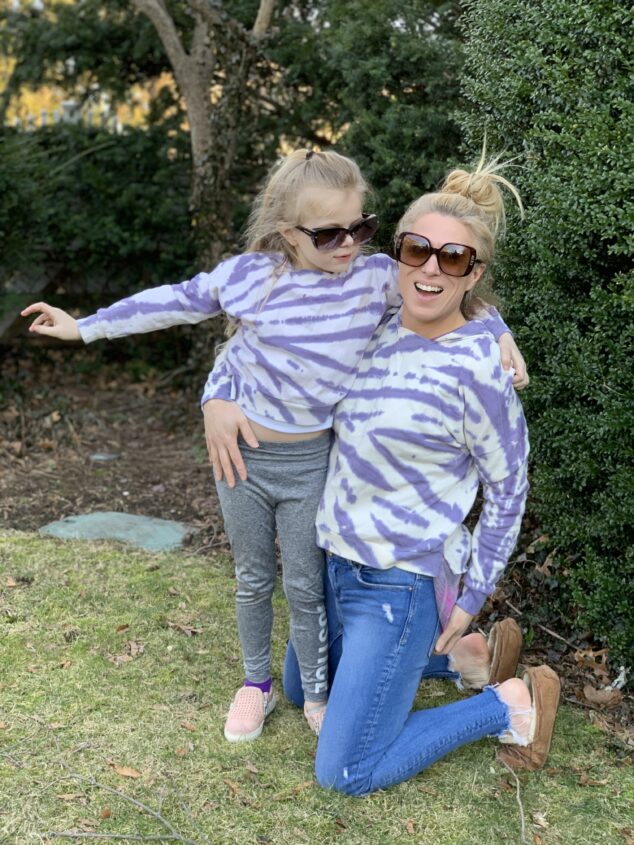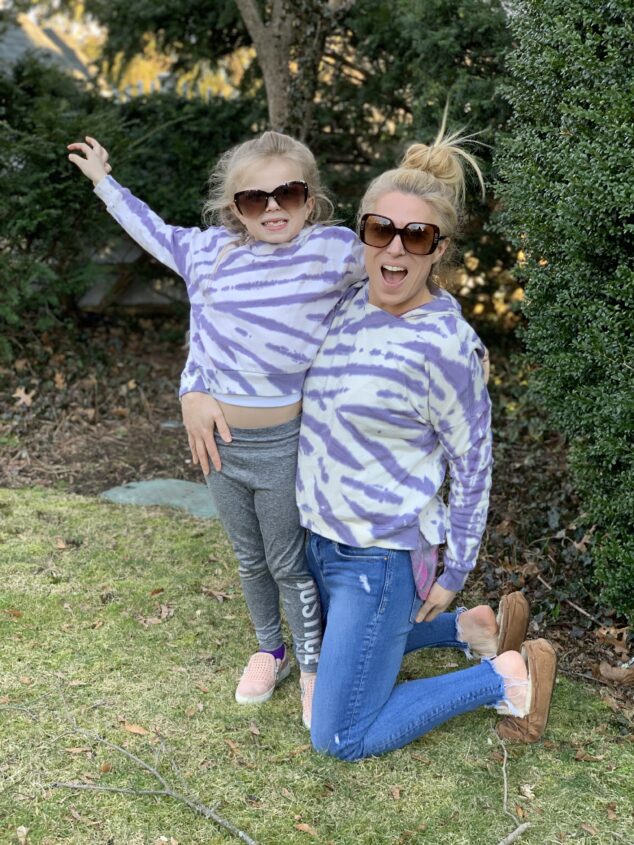 Thrilled with these tie dye Mommy and Me Hoodies and excited to share with you on some other options, too! I think it's wonderful to have items like this on hand for little ones and big ones! Hoodies are an item I don't buy enough of for myself, so this was a really good excuse to grab them!
Again, here's where you can buy them. Don't forget that this one is an option from the GIRLS section, so make sure you size appropriately. The fit was great for me and seemed to sync up beautifully as a woman's size small. Truly loving this style and think it's a great option for mamas!
I'm sharing some of my favorite Mommy and Me hoodies below with you, too! I hope these will help you out when you're looking for some matching items for you and your girl, too. I love these options because they're reasonable and also very cute and adorable. I think these are great options to start off with and believe me, there's tons more out there, too!
Please don't forget to join my Daily Dose of Style FACEBOOK GROUP! This has turned into my favorite spot online and I love sharing there every single day! It's been an outlet for me to be open and honest about my fashion loves! It's a great place to learn new things, so I hope you come on over! I'm also going to be starting a kid fashion one soon, too!
Loving this Fashion Over 40 – Daily Dose of Style Facebook Group (that I would LOVE for you to join) and I share trends and styles every single day in there, along with the best sales online for fashion. I fully believe that you can and should be able to look your best without breaking the bank. You want to feel confident and beautiful and you CAN! I hope my info helps! We have a ton of fashion fun in there! And you don't need to be 40 years old!!!!!!!

HEAD ON OVER AND JOIN US HERE!!! I also share beauty tips there, too. Love your support and let me know what it is you're looking for, too!
Make sure you share with me if there's something you love and I missed it on the blog! See my last post on Lululemon Dupes.