I'm a HUGE Disney fan and wish upon the stars that I lived closer to Disney World or Disneyland. The best thing I can do from Rhode Island? I can create Disney Inspired Outfits that are all about Disney Bounding! Dressing up like some of my favorite Disney characters is something I love to do with my daughter because it's fun, it's special and it's magical.
Disney Inspired Outfits
I started doing these Disney Inspired Outfits last February after a press trip to Disney World. My daughter Victoria missed me, so when I got home I told her we would dress up and have some Disney fun for ourselves at home. The best part? We started and couldn't stop! We started going through all of her favorite Disney characters and it was so much fun finding items that would be perfect for Disney Bounding!
I was thrilled to see Disney started sharing fun ways to welcome #DisneyMagicMoments at home. Since we're a big Disney family and have to do much of our celebrating at home due to location… this spoke to me because the magic is truly contagious! When I saw that The Disney Parks Blog was getting into the Disney Inspired Outfits magic by sharing some Disney Bounding content, I was so happy…
Calling all Disney fashionistas! In celebration of the release of the new book, DisneyBound: Dress Disney and Make It Fashion by Leslie Kay, creator of the DisneyBound blog, I'm excited to bring you tips on how you and your families can create that perfect, comfy-meets-fashion Disney look while you're at home. Using items you already have in your own closets, take your loungewear look to the next level while watching some of your favorite movies, shows and shorts on Disney+!

That's right – in collaboration with Leslie, the Disney Parks Blog is bringing Disney fans tips and tricks on how they can create outfits inspired by their favorite Disney characters using items they already have in their closets to wear while streaming new films on Disney+. Read more here.
I thought it would be fun to share some of our own personal Disney Inspired Outfits that we created for some Disney Bounding fun, too! Not only is it fun to dress up, it's also fun to take photos and find the perfect backdrop for the photos, too! It really is something that is a blast to get into and it's a fun bonding moment for moms and their kids, too!
What are some of our Disney Inspired Outfits for Disney Bounding?
First up? Mary Poppins! This one was a fun one because we knew exactly what we were looking for when it came to this one! I knew I needed to make sure I nailed it and really made it worth the money. I didn't want to spend a ton, so I capped myself at $50 for this look. Victoria is obsessed with Mary Poppins, so this was fun because she just wore her regular costume. I bought the blue pleated skirt and literally searched "Mary Poppins Blouse" on Amazon. Check out the post here.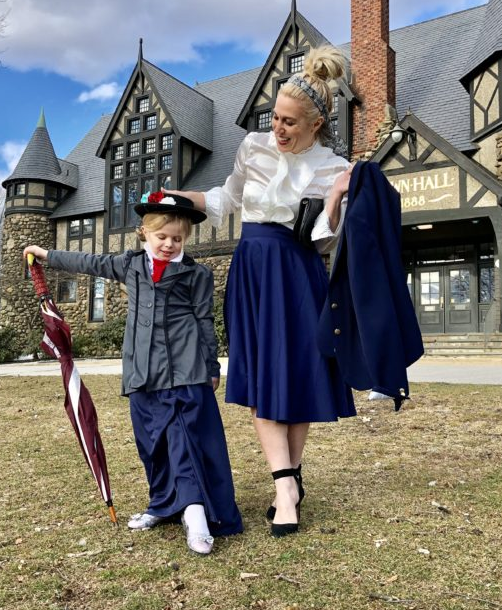 We did BELLE! Which was fun because when we did this one last year this was Victoria's favorite princess at the moment! She was so happy to have the full yellow skirt and to see me in mine, too! We went into the woods and took some cool photos together. It was a rainy day, but the branches were protecting up! I just bought these skirts and tops on Amazon! Again – nothing crazy expensive! See more here.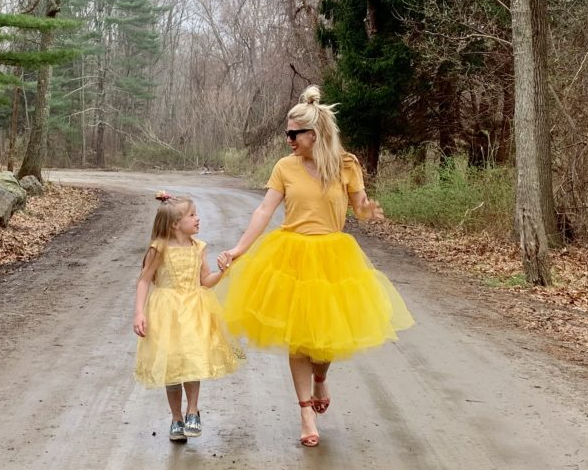 Let's go to our iconic MOUSE! This was a fun one because I personally LOVE Minnie Mouse! She's my fave and I knew that whatever we bought we could wear over and over again with this Disney Bound FUN! To be honest with you, this was also an easy one to create because all you need is 1) Minnie Ears 2) Red skirt with white polka dots 3) black top! That's it! This one was a snap to put together. I bought the skirt and Victoria's costume right on Amazon. Check out the post here.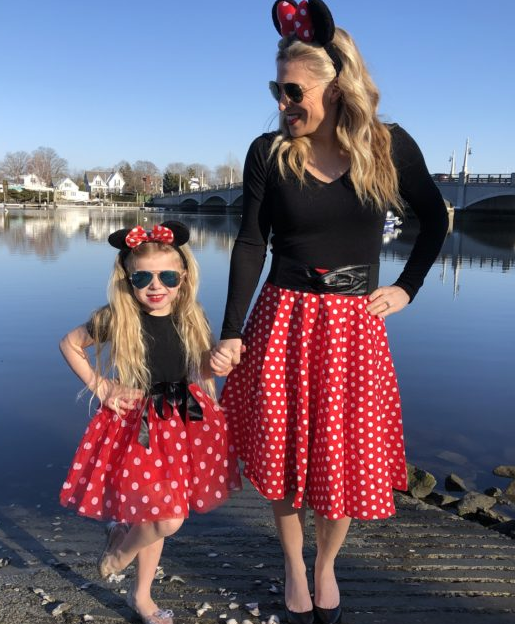 Tinker Bell was a fun one because the skirts were so bright and bold! If you love Disney and the magic Bell, this is such a fun way to incorporate it in! I love that with certain Disney Inspired Outfits for Disney Bounding you can use so many items that you already have at home. I bought these lime green skirts, but had these white tanks at home. Check out more information on this Disney Bound look here.

Snow White! I loved coming up with these Disney Inspired Outfits for Snow White! There are so many ways to do this one, but I chose to go for the yellow tutus! We laughed and enjoyed the process as a duo! I think my favorite of all was this Snow White one. It was super cute and full of memories because we really had fun going into the woods for photos and brought apples! I pulled a yellow tutu skirt, red bow headband, navy lace blouse, red strappy heels and red lipstick! This is how we do these photos, too – Victoria wears the costume, I share the Disney Bounding inspiration! Check out my Snow White post here.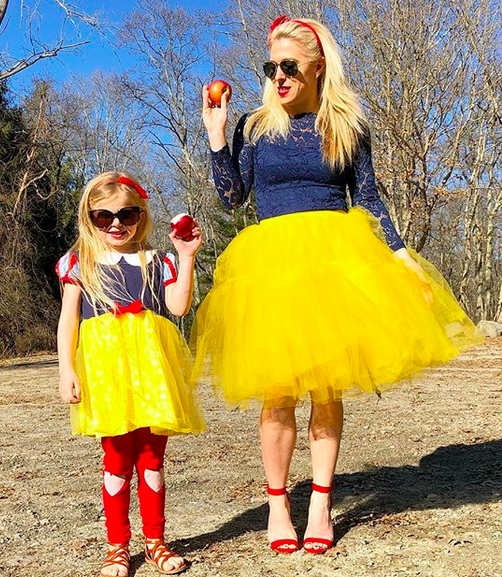 I even did one on my own when we were at Disney for our Permission to Hustle Retreat! We had all the ladies dress up as their favorite Disney characters and create Disney Inspired Outfits for some Disney Bounding FUN! I love Aurora from Sleeping Beauty, so this one was a fun one for me! I just bought a pink tutu and grabbed a pink shirt. I had some heels on and felt the "princess" part.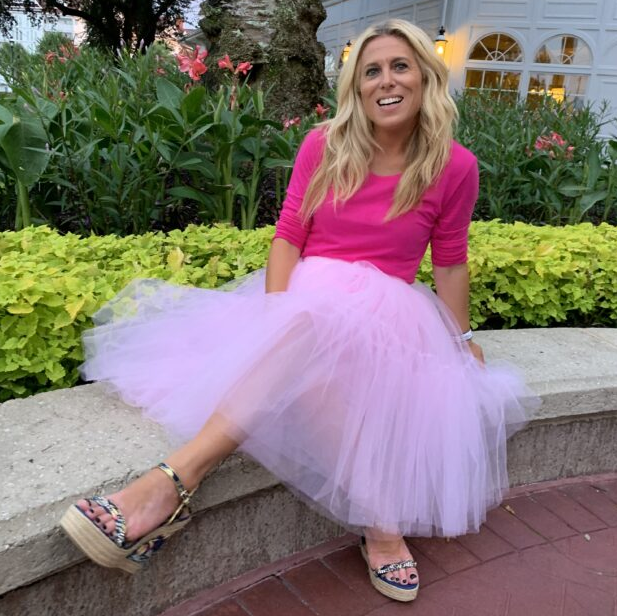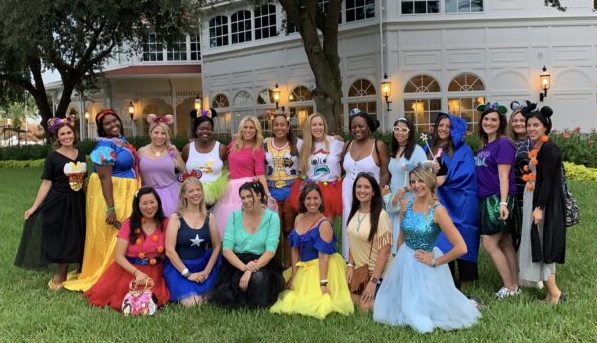 Creating Disney magic at home is the best kind of magic because it's special and personal to you. It's the magic of Disney… it can go anywhere and be anywhere if you believe. I know that it's not easy right now for the Parks to be closed for so many people, but it's giving us all a deeper appreciation for the Parks and the beauty and love of Disney.
I hope these Disney Inspired Outfits make you smile! I hope you take advantage of the creativity we all have within ourselves and create some fun Disney Bounding fun! Make sure you check out The Disney Parks Blog for the INSPIRATION!