If you're all about gardening made easy, then this is the post for you! Not everyone was born with a green thumb, so it's important to make sure you have gardening products that are doable, practical, user-friendly and (most important) get the gardening job done.
Gardening Made Easy
Regardless of where you live, gardening made easy is something you can definitely accomplish. It doesn't matter if you're in the city or country, you can make it work for you. You just need to make sure you have the "right" gardening products to create a successful garden.
My husband got into gardening back in 2012. He had been diagnosed with a cancerous tumor and really wanted to take control of what he was putting in his body. He decided to create a garden that would supply us with veggies and fruits and anything else we wanted to consume at home. We weren't prepared for the size garden he was about to build, but it ended up being the best thing in the world.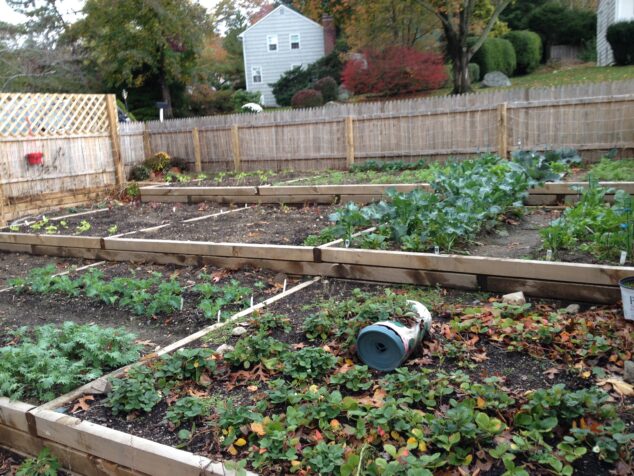 He also became consumed with reading articles on gardening made easy and really wanting to do everything he could to learn about plants and gardening as a whole.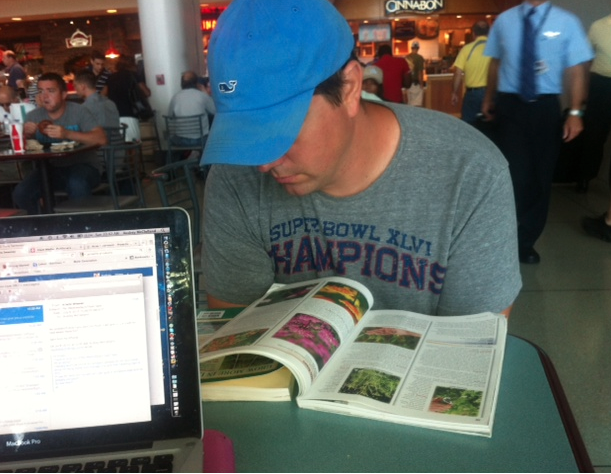 When it comes to you and creating a garden for your life. There are probably lots of questions going through your mind… What do you need? How much should you spend? How long will it take to build a garden? What items should I plant? What if you don't have a ton of space? Can you create a garden in your house? Can you create a garden in a small space?
The good thing is that there are answers to all of these questions. What I want to do is share with you (5) gardening made easy products that you will love and really take advantage of them in your home. It all comes down to making sure you have the right tools to get the job done.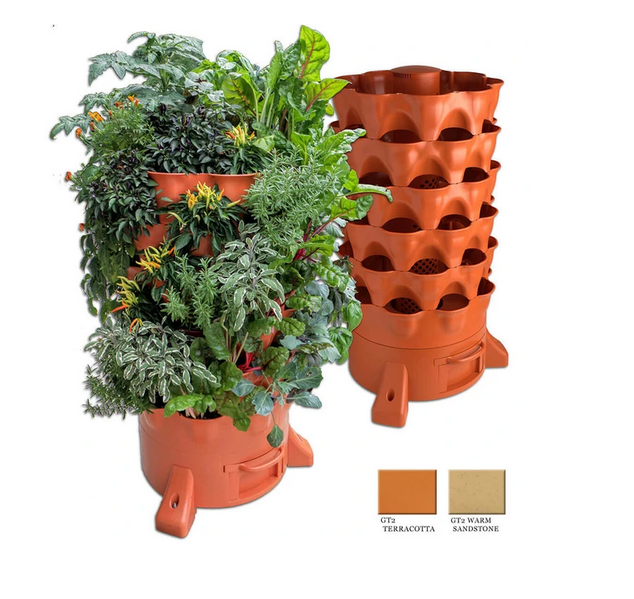 Why is this a must have product for gardening made easy? You're going to love this product and see how easy it makes gardening for you and what you can do with it!
The rotating Garden Tower® 2 is a composter that grows 50 plants in 4 square feet nearly anywhere.
Turns waste kitchen scraps into organic fertilizer to grow organic produce.
The Garden Tower® vertical garden planter and composting system replicates a natural ecosystem allowing plants to access nutrients recycled through organic composting processes.
Easily grow nearly any vegetables, herbs or flowers organically.
An organic and resilient 6 cubic foot vertical soil-based alternative to expensive and difficult hydroponic systems.
Proudly 100% Made in the USA using 100% UV stable food-grade high-purity HDPE plastic, and backed by a 5-year manufacturer warranty.
43″ tall & 24.5″ wide. 36 lbs. (~220 lbs. with moist soil)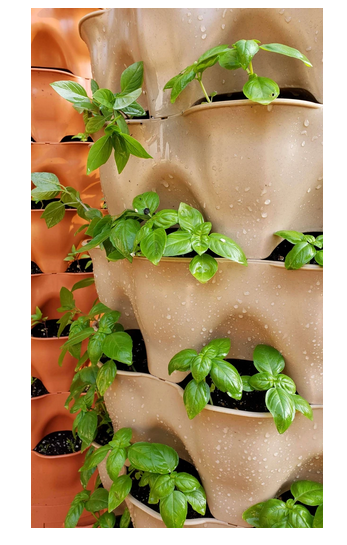 This vertical planter garden is ideal for people with limited space, but really want to get into gardening. You don't have to have acreage to produce an amazing garden and this incredible vertical planter garden is full proof of that sentiment.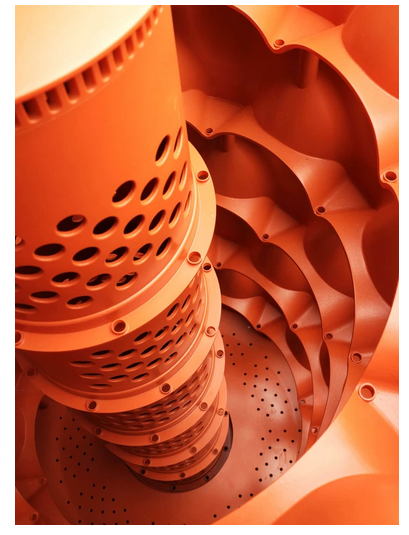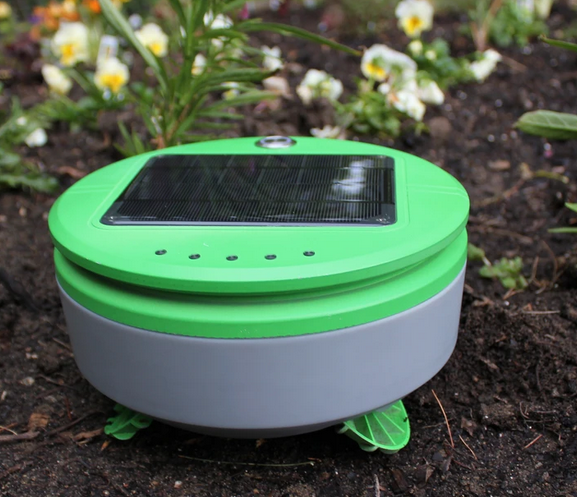 What I love about this one is that it actually HELPS YOU OUT!
Tertill weeds the garden with just the touch of a button, no programming required. Its rugged weatherproof shell and large solar panel let it stay in the garden all season long, running on nothing but sunshine.
The gift bundle adds extra accessories to ensure gardeners have everything they need to be successful. A truly unique gift for gardeners of all ages!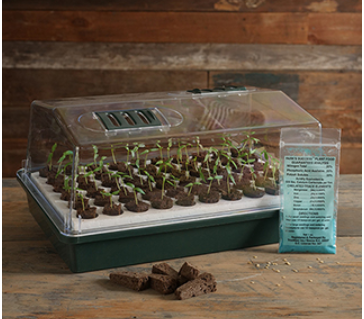 I love this for gardening made easy. You will think this is a huge help for you when you're starting out!
With the Bio Dome, you place only one seed in each Bio Sponge, which really helps stretch out today's smaller seed-count packets. The only seeds unsuitable for the Bio Dome are very large ones (which you would want to direct-sow, anyway) and root vegetables needing space to grow their tuber (carrots, beets, radishes, etc). Everything else, from Impatiens to Petunias to Tomatoes, does beautifully in these perfectly constructed Bio Sponges.
Before and after germination, your seeds receive just as much light, water, heat, and air circulation as they need, thanks to the adjustable vents and bottom-tray watering design of Park's Bio Dome.
This environment offers such great growth conditions to the emerging seedlings that Bio Dome plants are usually ready to transplant a bit quicker than other seedlings — and they suffer virtually no transplant shock in the garden.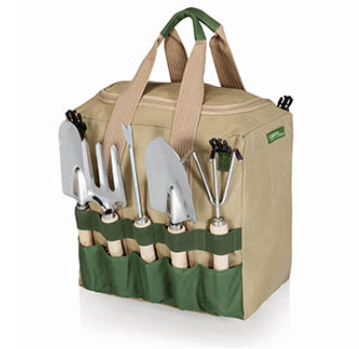 Whether you're gardening indoors or outdoors, this will help you out!
Give your back a break with the Gardener Chair and Tool Set. This handy folding seat features a detachable polyester storage tote, with external tool pockets for easy access while sitting.
This handy all-in-one set includes 5 steel tools with wooden handles: narrow-face trowel, broad-face trowel, garden fork, cultivator/rake and weeder. Lightweight and portable for use anywhere. Sturdy steel frame supports users up to 200 lbs.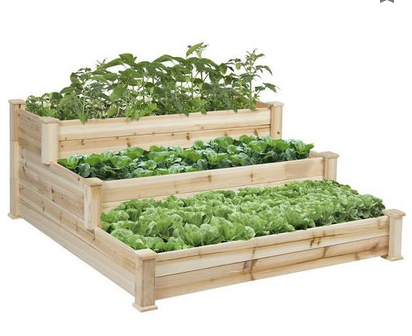 If you're looking to starting a garden outside, this is a great item to keep in mind. This will definitely make gardening made easy for you to have this.
STAIR STEP DESIGN: 4x4ft garden bed is designed with 3 open tiers, making it perfect for growing plants and vegetables ranging from short to medium and tall heights
QUALITY PLANT GROWTH: Separated design gives your plants ample space between each other to grow to their full potential
DURABLE COMPOSITION: Made of 100% fir wood that is 0.5 inches thick for a gardening planter that is built to last through the seasons
EASY ASSEMBLY: No tools are required for setup; everything necessary to build your new garden bed right out of the box in just minutes!
Hoping these gardening made easy products help you out! They're all helpful and useful and will get that green thumb working!
Read here to see about our Gardening Journey at Home.
This is a sponsored posting with Responsival.