My husband created this most Simple Chicken Tikka Masala Recipe the other night at home and I just needed to share it with you. He's a big foodie and loves nothing more than trying new dishes at home for our family. They're not all a big hit, but this one really won the love of all of us (even my 8 year old daughter!).
Simple Chicken Tikka Masala Recipe
We've always been fans of Indian food. There's an INCREDIBLE restaurant near us in Providence that we love to visit called Kabob & Curry. It's the most amazing Indian food ever and they inspired my husband to give it a go at home with this Simple Chicken Tikka Masala Recipe.
Every time I go to Kabob & Curry I always get the Chicken Masala. It's just my favorite dish because it's so yummy and delicious and tender. I wasn't sure my husband would be able to get it to taste like we got it at a restaurant, but he did and I couldn't have been happier!
I work with Perdue Farms as one of their Ambassadors. Whenever we get chicken to make at home for any meal, we always make sure it's Perdue Farms. It's that simple. They have the freshest, most delicious chicken meat of all.
I personally got to visit Perdue Farms headquarters and was so impressed by the facilities and farms, and the passion and the love behind everyone there. They want to give their customers the best product of all. And they do!
For the Simple Chicken Tikka Masala Recipe we went with the Perdue Farms pre-cut boneless diced chicken. Just being able to eliminate the step by having everything pre-cut is so a huge timesaver. They have an amazing bundle right now called the Premium Diced Chicken Breasts Bundle that is the one we recommend.
Five 2-lb. boxes Perdue Harvestland Diced Chicken Breasts (each box contains 4 packs, each filled with approx. 0.5-lb. of pieces)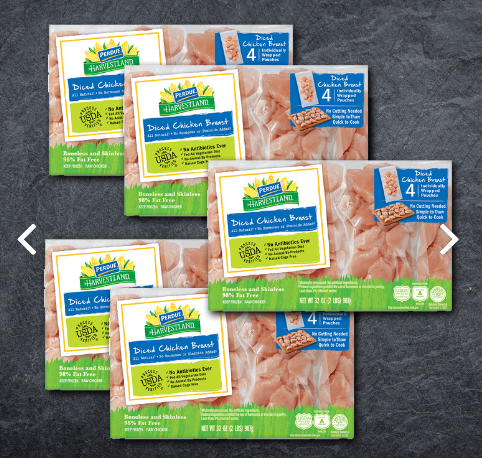 This bundle features 10 pounds of Perdue Farms' finest all-white boneless, skinless chicken breast meat — pre-diced in perfect portions and packaged in pouches designed to thaw quickly. Which means you get lunch or dinner on the table in a snap every day of the week!
From our Harvestland brand, this premium protein comes with our promise that poultry is raised on family owned American farms, fed all-vegetarian diets with no antibiotics and no animal by-products EVER and USDA Process Verified. Forty total servings for just over $1.62 a serving!
Having this bundle on hand for recipes now and later is perfect. We love making big meals when we're watching football, so having bundles like this help us out. We can easily grab and GO! This is exactly what my husband did when it came to this simple Chicken Tikka Masala Recipe.
Chicken Masala Recipe
INGREDIENTS:
2lb Perdue diced chicken
Marinade:
1 cup whole milk plain yogurt
1 tablespoon minced garlic
1 tablespoon minced ginger
2 teaspoons garam masala
1 teaspoon of salt
1 teaspoon Kashmiri chili (or mild smoked paprika)
1 teaspoon turmeric
1 teaspoon cumin (ground)
Sauce:
4 tablespoons butter
14 oz pureed tomato
1 1/4 cups of heavy cream
1 onion diced2 tablespoons minced garlic
1 tablespoon minced ginger
1 1/2 teaspoons garam masala
1 1/2 teaspoons ground cumin
1 teaspoon turmeric
1 teaspoon coriander (ground)
1 teaspoon Kashmiri chili
1 teaspoon red chili powder (adjust to your heat level)
1 teaspoon salt
1 teaspoon dark brown sugar
How to:
1. In a bowl, mix all the ingredients for the chicken marinade. Add Perdue Diced Chicken in a gallon ziplock bag and combine with marinade. Marinate in refrigerator for at least an hour but overnight if possible.
2. Optional step for added flavor – Brown chicken in a hot cast iron skillet with vegetable oil and set aside.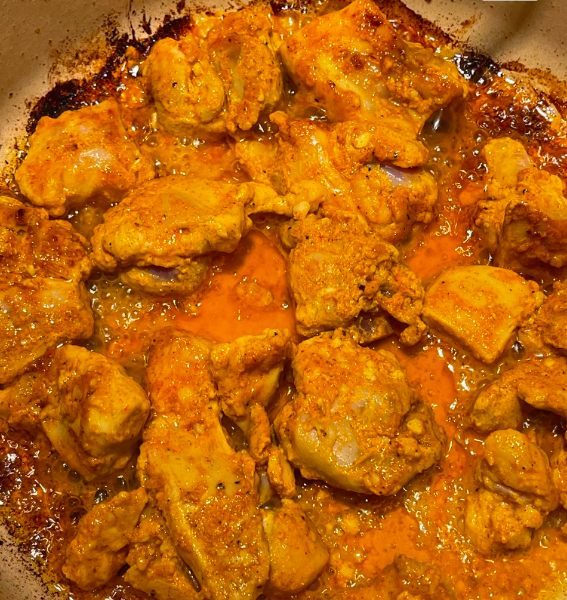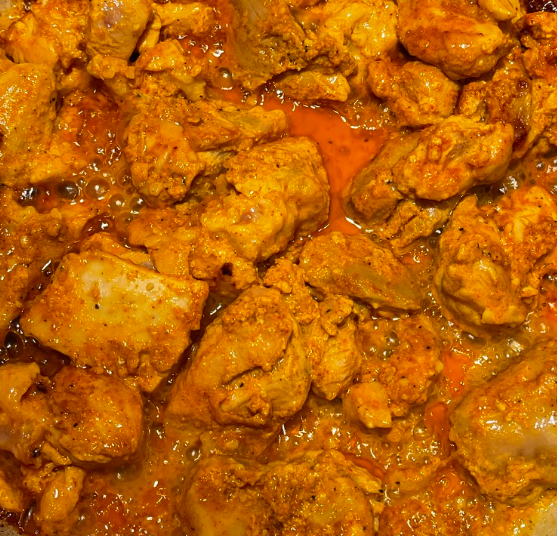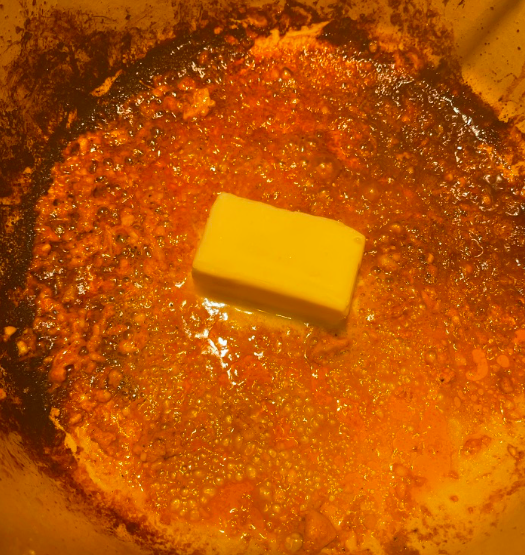 Melt butter and sauté the onions until translucent.
Add garlic and ginger and sauté for an additional minute.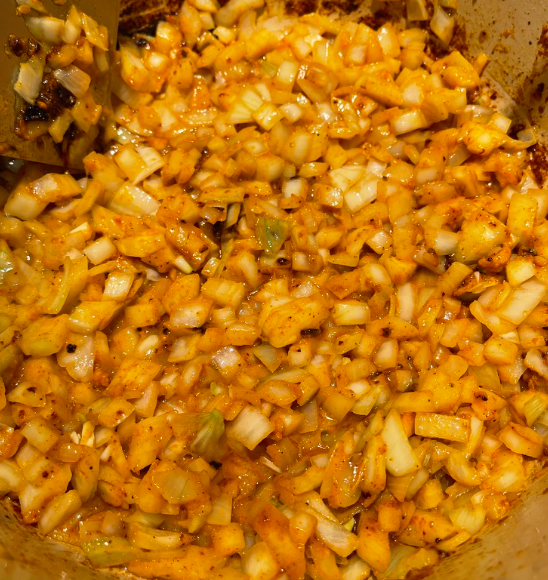 3. Add garam masala, cumin, turmeric and coriander, tomato puree, chili powder and salt and simmer until sauce thickens (10-15 minutes) stirring occasionally.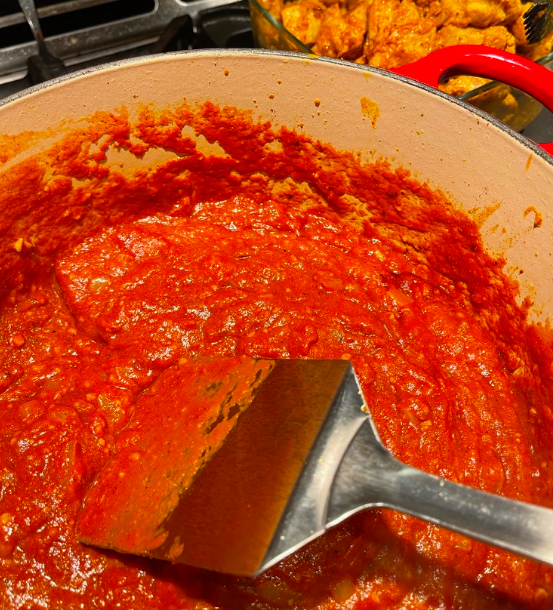 4. Stir in the cream and sugar and add the chicken.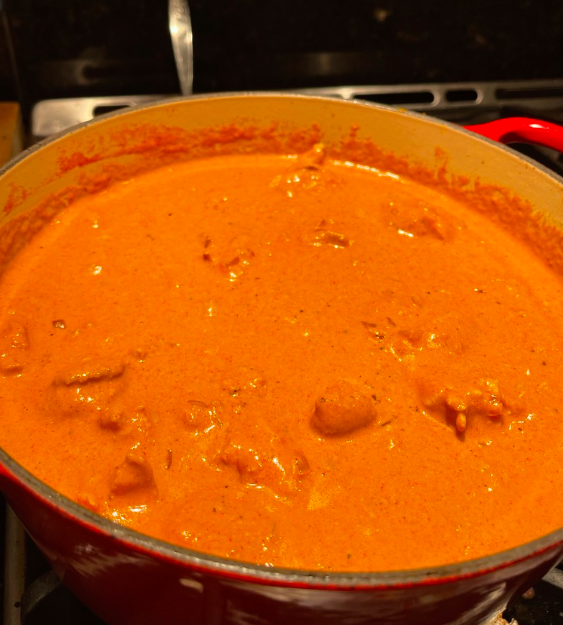 5. Cook for 10-15 minutes until chicken is cooked through. If sauce is too thick, add a little water to thin.
6. Serve over hot basmati rice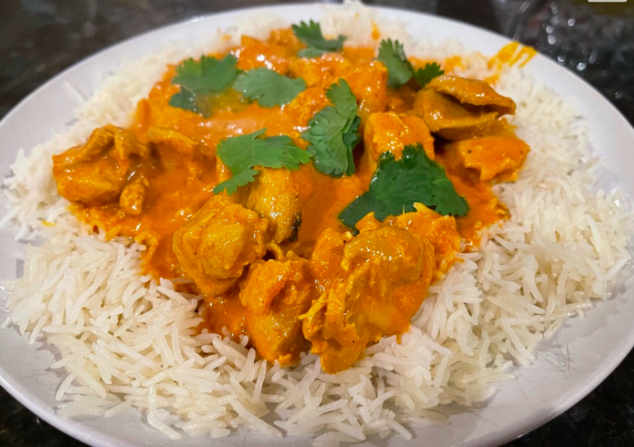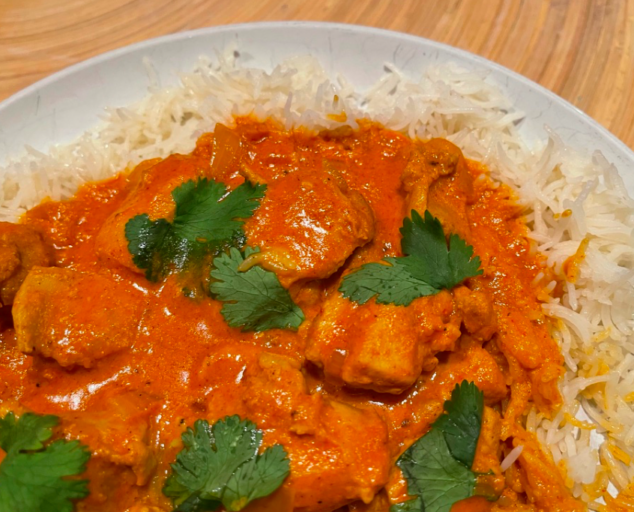 Looks amazing, right? Just imagine how good it actually tastes! It was heavenly!
Also check out Perdue Farms WYNGZ for GAME DAY!