When it comes to Valentine's Day, I love to create some fun hairstyles on my daughter's hair. If you follow me, you know I love creating cool looking hairstyles whenever I can, but there's something sweet and cute about a Valentine's Day Hairstyle. It just makes me happy and I hope this one makes YOU happy, too!
Valentine's Day Hairstyle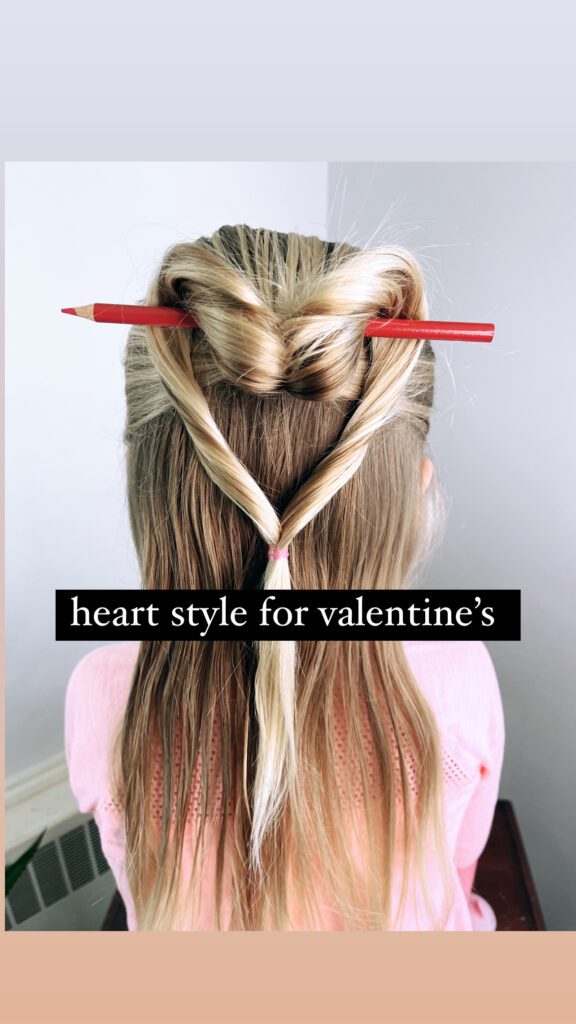 This is one Valentine's Day hairstyle that I learned a couple of years ago when Victoria's hair was finally long enough to make it work. I forget where the heck I learned it, but I remember thinking it was the cutest and coolest hairstyle ever. I've even tried to have my husband do it on my hair, too.
When it comes to this specific Valentine's Day Hairstyle, it's all about creating a heart in your hair. I've popped this in Victoria's hair throughout the year or for special occasions, but it really works the best for the actual day of LOVE. You can have some fun with this style, but it really does just completely pop on its own.
What You Need for this Hairstyle
This hairstyle is an easy one in terms of what you need for it. I'm all about creating easy hairstyles for moms (which you know), but I'm also all about using the least amount of products possible. It's not always easy to know you need 100 bobby pins or 15 elastic bands before you start a new style. Keeping it minimal is the easiest of all.
2 elastic bands
long object (like a pencil) to hold u the heart
View this post on Instagram
It's a really cute style, right? I've just always loved this particular Valentine's Day Hairstyle. I feel like the heart is just so cute and bold for people to see. The one thing you have to keep in mind is if your child wears this to school, make sure the long object holding the heart up isn't too sharp.
This looks like a "hard" hairstyle, but I promise it's not nearly has hard as it looks. You need to make sure the hair you're doing this on is brushed straight without any knots or tangles. This is always the toughest part for us. Believe it or not – here hair is always tangled.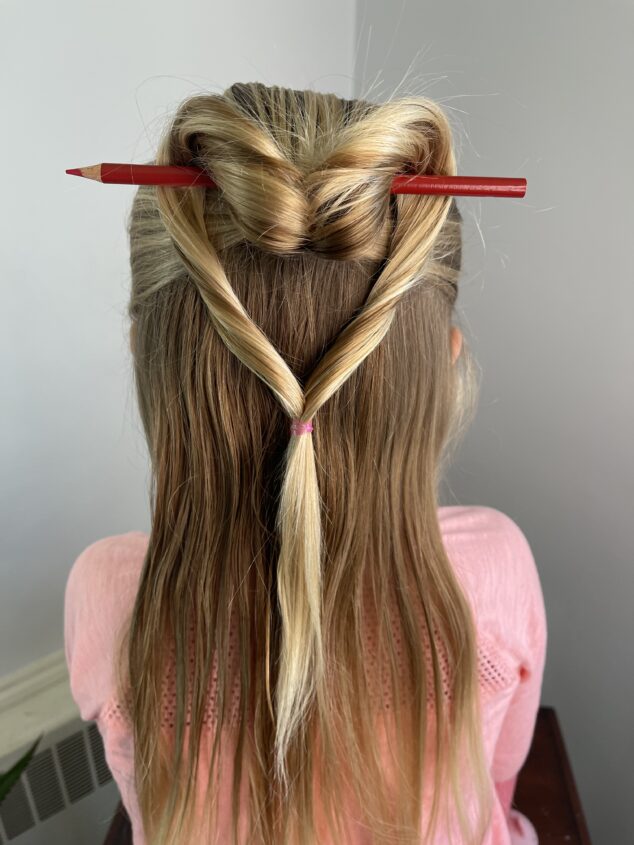 Steps for Creating a Heart in your Hair
Take a small section of hair on the top of your head and create a ponytail.
Take an elastic band and loop it into the ponytail about 2 inches from the bottom (you can always adjust).
Part of the section of hair between the two elastics and loop the bottom through (you can see the tutorial).
Take your fingers and slowly pull up the section of hair and you will see a heart form (you can see in video).
Take the long object and loop it through the top of the heart to hold it in place.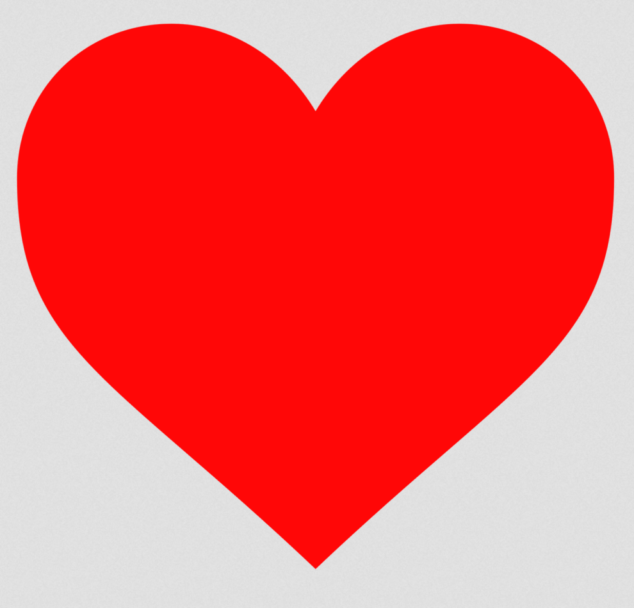 I know these steps might be tough for you to walk through, but I promise – if you watch the video enough times, you'll get it in a second! It's one of those hairstyles that once you get it down, you'll be able to do it in your sleep.
This one is a cute Valentine's Day Hairstyle and you will want to do this every single year! It's one of those hairstyles, too – don't forget that you can do on your hair, too. I think this style looks great as Mommy and Me hairstyles, too. It's just a really fun and bold Valentine's Day hairstyle that people will stop and ask you about (WATCH!).
Valentine's Day Hair Accessories
If you're looking for an additional "bling" for Valentine's Day for your hair, I'm going to share with you some of my favorite items you can get right now. These are 3 of my favorites to share with you. I wanted to get a little bit of everything – clips, headband and scrunchie!
Sequin Double Hearts Hair Clips – 6 Pack – Mix and match Valentine's Day colors for a unique, festive look! You get two each of pink, white, and red, each with a silver-tone finish.

Red Glitter Hearts Crown Headband – You'll look like a Valentine's Day princess when you wear this heart-filled crown. It's adorned with lots of glittery red hearts, plus golden glitter for extra sparkle.

Valentine's Day Hair Scrunchie Scarf – This classic scarf-style hair scrunchie is all dressed up for Valentine's Day! It's printed all over with pink, white, and red hearts.

Let me know if you try this Valentine's Day Hairstyle. I love seeing people try the hairstyles that I share on my social feeds. It's so awesome to see moms and dads and even kids – come together and try something on their hair. It makes me smile and feel like what I'm sharing actually means something to someone. It's special.
Check out some Valentine's Day sweaters and tees that I'm sharing on the blog, too. I'm all about making sure Valentine's Day is celebrated on the hair and beauty side of things. I usually take out my red lipstick in January to start prepping for the day of LOVE.
Make sure you're following me on INSTAGRAM where you can see the hairstyles I share online all the time. I'm all about everyday hairstyles and sharing them with other moms and dads and ANYONE! You'll see all my hairstyles are easy and simple and can be done by anyone. I'm not a professional, so it's important to make sure my styles are truly doable for ANYONE.