Ever wondered how to style a puffer vest? It's one of those items that I've always had in my closet because it's so versatile. Sharing 5 puffer vest outfits with you to get some use out of them.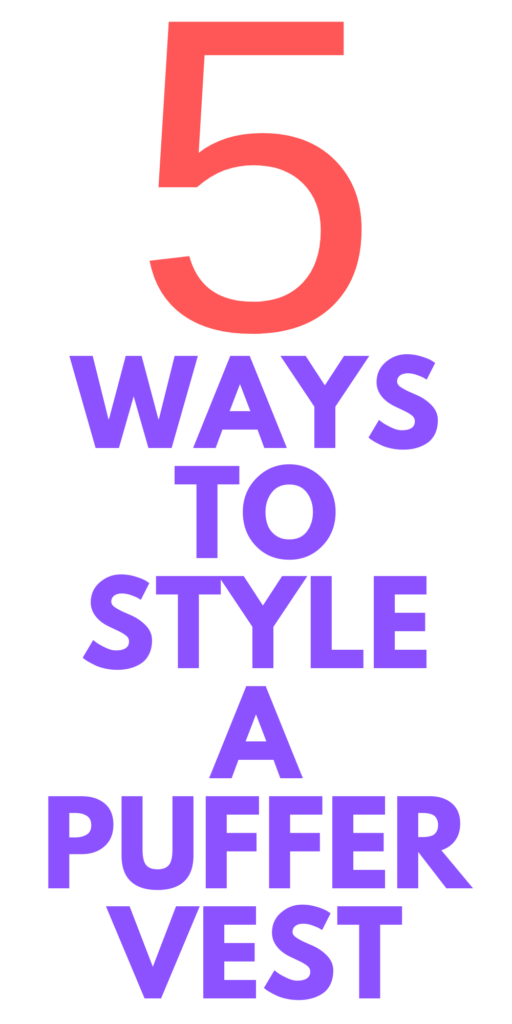 When you're looking for ways on how to style a puffer vest easily – think about everyday fashion for yourself. A puffer vest outfit is always chic and always in style because it's one of those items that never go out of style. It's an evergreen fashion item. Enjoy these ways one how to wear a down vest.
How to Style a Puffer Vest – 5 Ways to Wear
Puffer vests are great for this time of year because you don't need a big bulky coat or jacket. You just need a shell protecting your chest, so a puffer vest gets the job done perfectly. When it comes to figuring out how to wear a puffer vest, it's all about realizing you can make it work in a variety of ways.
#1 – Patterned Prints and Jeans
This is a fun way to style a puffer vest. The great thing is that it goes with any kind of top – any pattern and any color. It's a great toss-on layer when you leave need an extra added piece of warmth.
Remember that you can get away with any solid color puffer vest and wear it with any color or patterned shirt underneath. When you're trying to decide how to style a puffer vest just keep knowing that anything goes.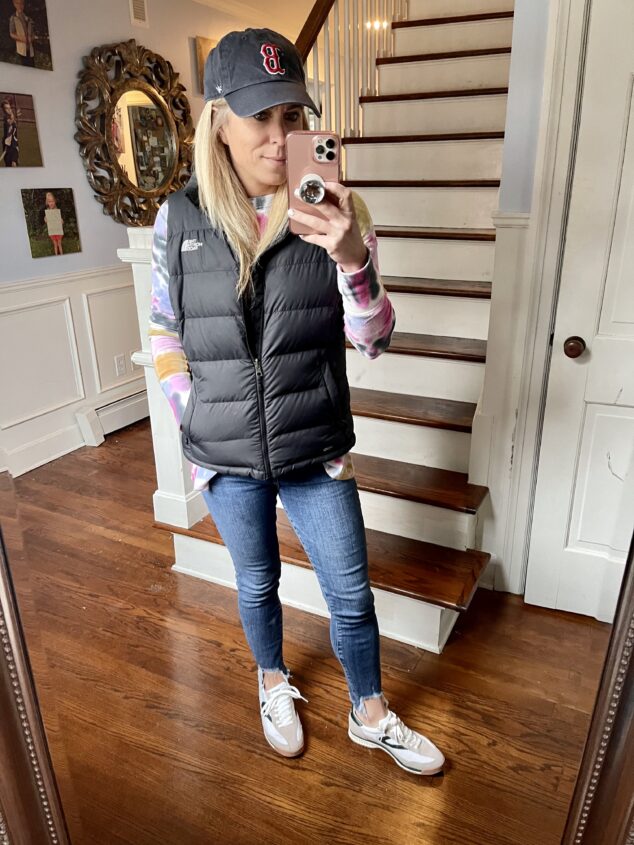 #2 SPANX and Sweater Puffer Outfit
If you love SPANX, here's an everyday outfit. This is an easy style to wear when you're about to head out to errands or even just going to a restaurant.
I wanted to show this outfit because it's one that everyone can create – basic black leggings and a gray sweater.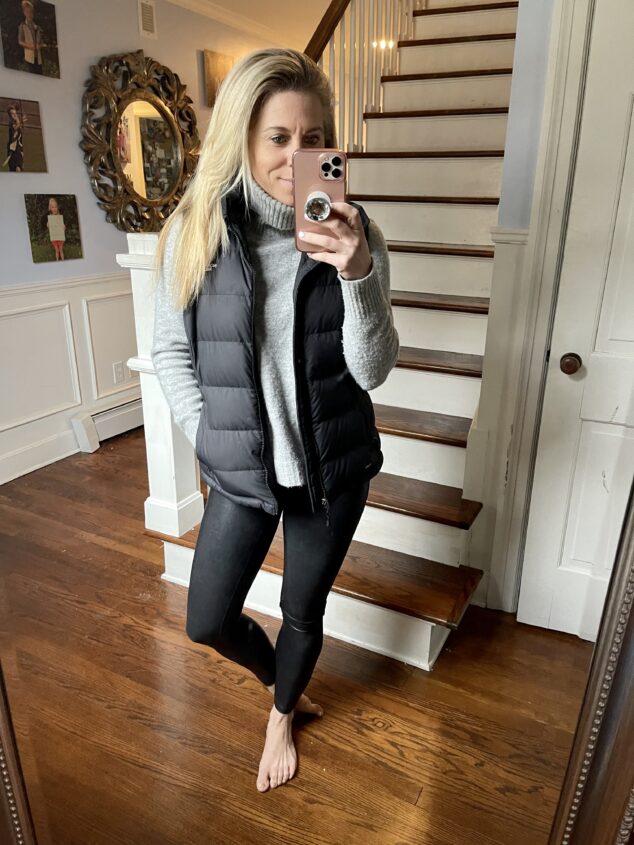 #3 How to Dress Up a Puffer Vest
I wanted to showcase how you can even dress it up a little with a dress. This is a Free People dress that I have that is more on the relaxed side, so it's a fun one to add with a puffer vest.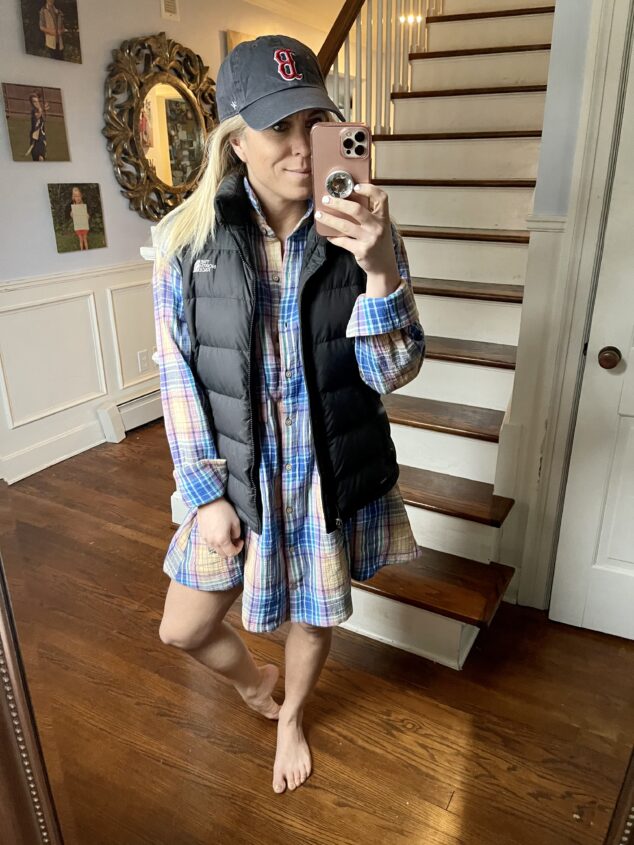 #4 Denim on Denim with a Puffer Vest
This is a simple style and shows how to break up denim. I love wearing denim on denim and using a puffer vest as a fun layer. This is a look you could easily wear to work (depending on what you do) and also just out and about. It's a classic style that would work for anyone.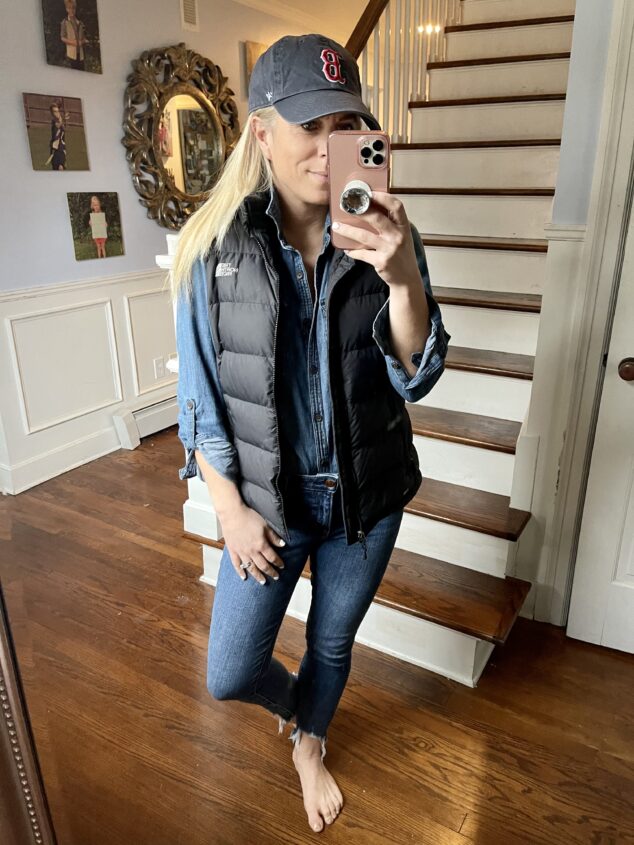 #4 – Sherpa and Workout Pants with Puffer Vest
What I love about this Nike puffer vest outfit is that it's an easy one you can wear to the gym or just out and about. I'm a big fan of warm layers when it's chilly, so I love that you don't have to wear a jacket and that just the vest covers you.
You don't have to worry about how to style a vest because you can style is ANY way you want and feel comfortable. Whether you're wearing a sherpa or sweatshirt underneath, it works. These New Balance workout pants are my personal faves.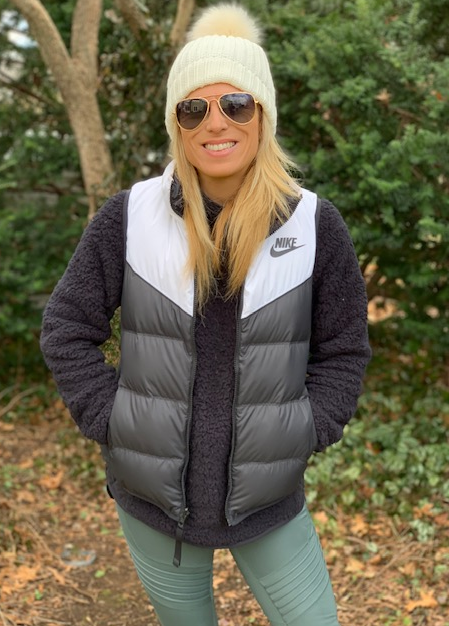 Good thing is that this Nike Puffer vest is still available to buy:
#5 Camo Pants with Puffer Vest
When looking for what to wear with a vest think about what you love to wear and then just add it in. I personally love wearing printed pants (one of my fave is the camo). When you have a solid colored puffer vest you can get away with wearing it with just about anything.
I think the pants add a fun spin to this easy look, too. I love how they make the outfit pop with the puffer vest.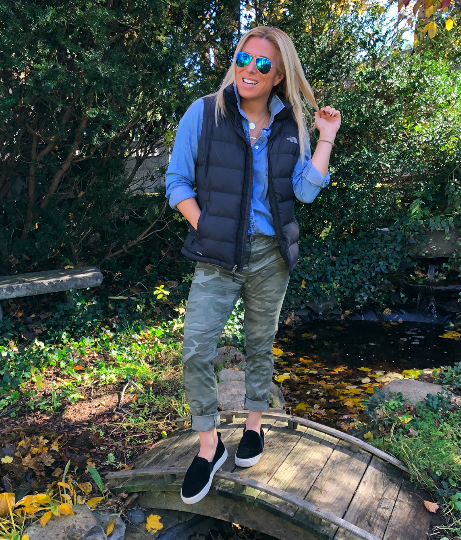 Hopefully these tips on how to style a puffer vest help you out. These are also tips you can remember when trying to figure out how to wear a winter vest, too. I know I get asked a bunch of questions when I share some how to or ways to wear certain things, so I wanted to answer some puffer vest questions!
How should a Puffer Vest Fit?
My rule of thumb is to make sure you can layer clothing underneath. I always go up one size. I love to wear (as you can see) sweaters and blouses and sweatshirts, so I love having that extra room.
Are Puffer Vests in style?
Yes! Puffer vests are always in style and work well in a variety of different fashion ways. You will enjoy seeing how many different ways you can mix and match one. Have some fun with this fashion item!
What is a Down Vest?
According to Eddie Bauer – "The Down Jacket, known more commonly in the fashion industry as the "puffer jacket", is a is a quilted coat which is insulated with either duck or geese feathers. Air pockets created by the bulk of the feathers allow for the retention of warm air."
If you're looking for some additional fashion tips, I just wrote how to buy jeans without trying them on.
There's also tons of fun fashion and beauty content over on my TikTok channel.