Looking for what to wear with wide leg pants? I'm all about wide leg pants (even at 5 feet!). I became obsessed with wide leg pants last year. I always stayed away from them because I never knew what to wear with them. Now I'm embracing them and showcasing 5 different shoes for you to wear with wide leg pants.
What to Wear with Wide Leg Pants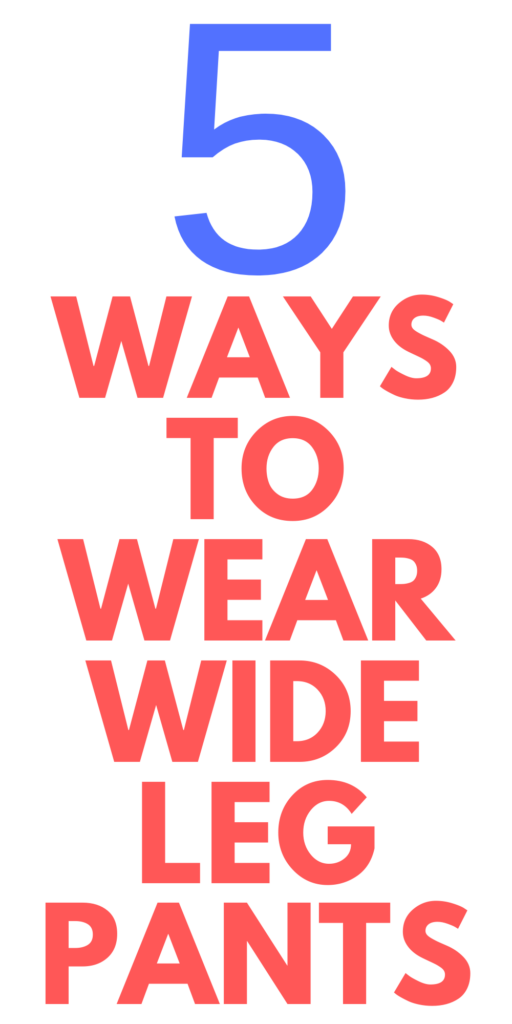 Looking for ways to wear with wide leg pants? I've got you covered (literally) with what to wear with wide leg pants because there's so much you can do. These are the coolest and most comfortable pants for you to wear. I'm not kidding, I literally would see them in the store and walk right by. I would gush inside, but figured I'm too short to pull off anything wide leg.
Finally while in Banana Republic I grabbed a pair and tried them on. The second I saw them in the mirror, I feel in love with them. They were perfect and just the kind of easy pant I needed and wanted for myself. They're also the kind of pants that you can dress up or down. They're extremely versatile.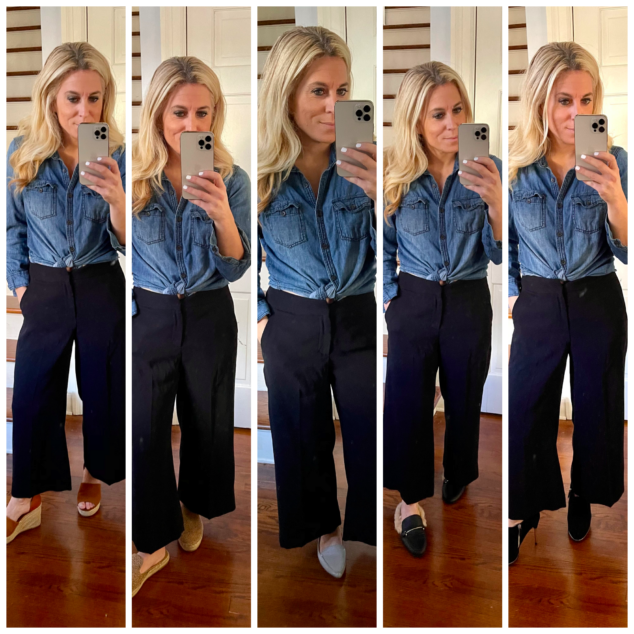 In talking with other women about what to wear with wide leg pants, there seem to be 3 things women wonder about:
What kinds of shoes work with wide leg pants?
How can you pull off wide leg pants if you're on the shorter side or the taller side?
How can you make them work for the office or weekend?
I wanted to showcase 5 completely different looks just by switching up my shoes. I think we all get so focused on how we're going to make certain styles work, but the reality is it can be as simple as a shoe change to make something work well.
I love these different ways on what to wear with wide leg pants because you can keep the same shirt on and change it up in as easy as 1 – 2 – 3! As you can tell I kept my shirt basic (simple denim shirt that everyone should own!) and just kept it simple with a paid of black wide leg pants.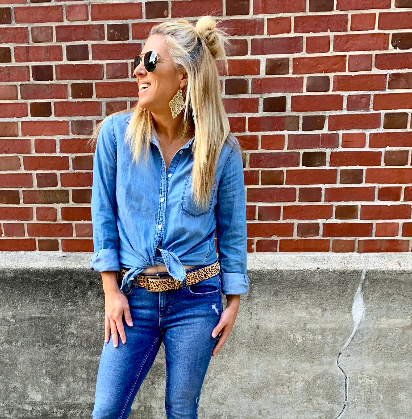 As a fashion side, if you're looking for shirts that are perfect to wear with just about anything and everything, buy a denim shirt. I love being able to share how to style denim shirt. Hopefully this will help you when it comes to trying to figure how to wear one in a variety of different ways.
Sharing my favorite black wide leg pants here:
Bootie Time:
Here's my first recommendation for what to wear with wide leg pants when it comes to shoe. I personally love a good high-heeled bootie. These are great for adding a professional tone to a an outfit. I also love that you can give yourself a little height lift in these, too. They're just a classic pair of shoes for you to have on hand, but work beautifully with a pair of wide leg pants.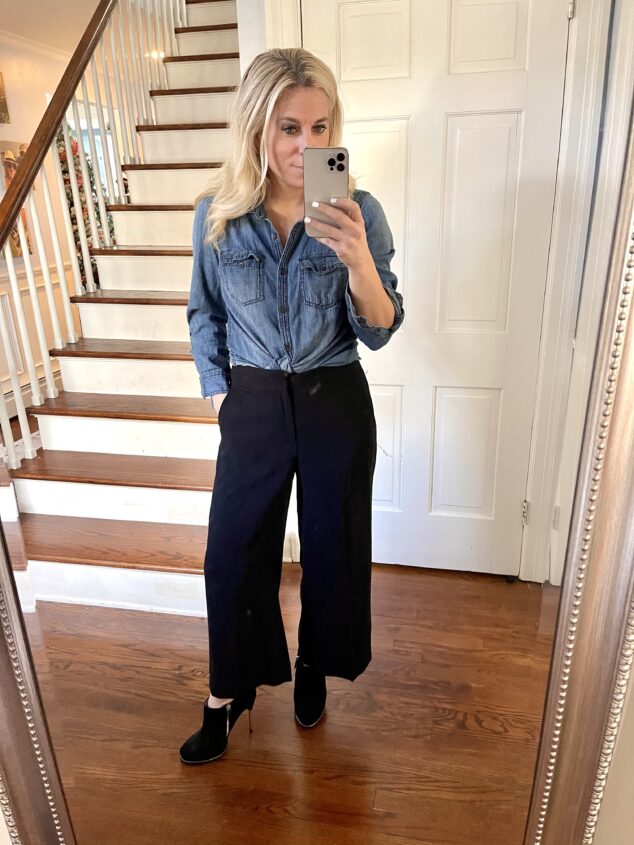 Espadrilles:
I love adding a pair of espadrilles to my wide leg pant fashion rotation. It's a simple shoe to toss on and it really does work both ways – dressing it up or dressing it down. I personally think that it gives a fun edge of dressing up, but you decide what works best for you. I just love that you can wear this outfit to work or out with the girls. I personally just think these shoes should be staples in everyone's closet.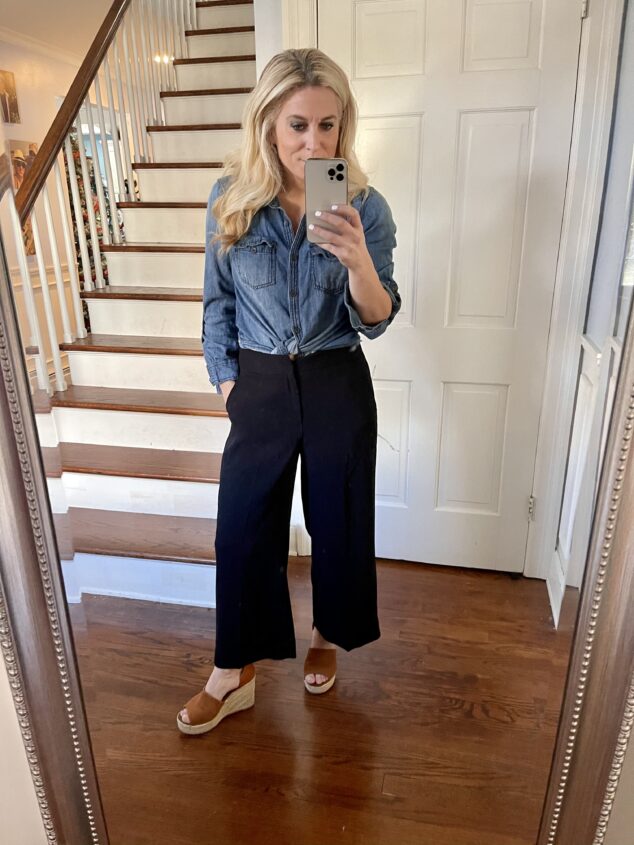 Slip-on Flats:
I'm all about finding the most comfortable slip-on flats that I can find out there. These flats are amazing when it comes to what to wear with wide leg pants. I love these flats because they also work for professional reasons and for comfort reasons, too. I love wearing these out on date nights, too.
Please see how the quick change of shoes can really change the look of this outfit. I love how quickly it's a fast change. It gives the look a more polished look, too. These just work well with wide leg pants, especially when you can see a hint of ankle, too.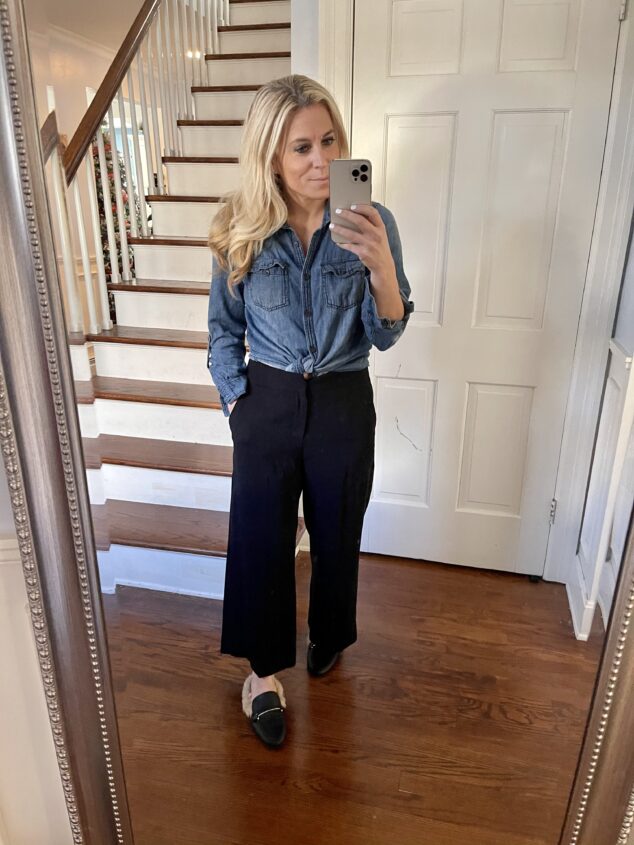 Pointed Leather Flats:
I'm OBSESSED with pointed flats because they work with every look, too. I think it's just a fabulous option when it comes to wide leg pants because it's just a perfect outfit. I'm repeating myself, but I love that these shoes also work for professional or play time, too. When I saw play time I mean date night, girl's night and just hanging out in general.
These leather flats are a grayish color, but you can find any color that works best for you. I'm all about making sure that I have a classic pair that can be work a variety of different ways, but I love these for wide leg pants.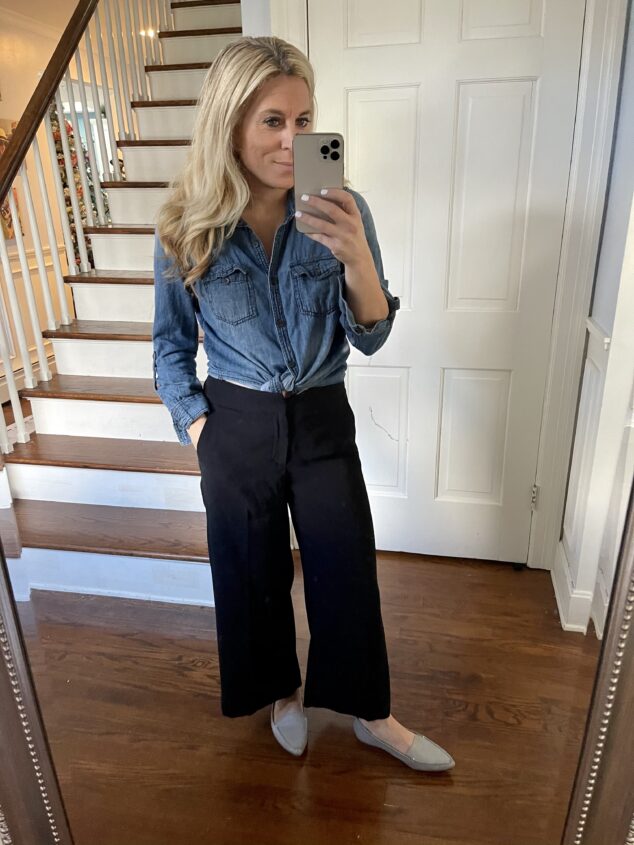 Slip-on Sneakers:
These slip-on sneakers are the easiest for a casual look. I love these slip-on sneakers (or any sneaker) with wide leg pants because it gives a chic and chill look. Sneakers aren't great for work (depending upon what you do for a living), but I wanted to make sure I gave you a solid relaxed style, too.
I'm all about making sure that I can get as much use out of certain items that I can and these sneakers are definitely one of them. I'm obsessed with sneakers and try to work them into as many outfits that I can.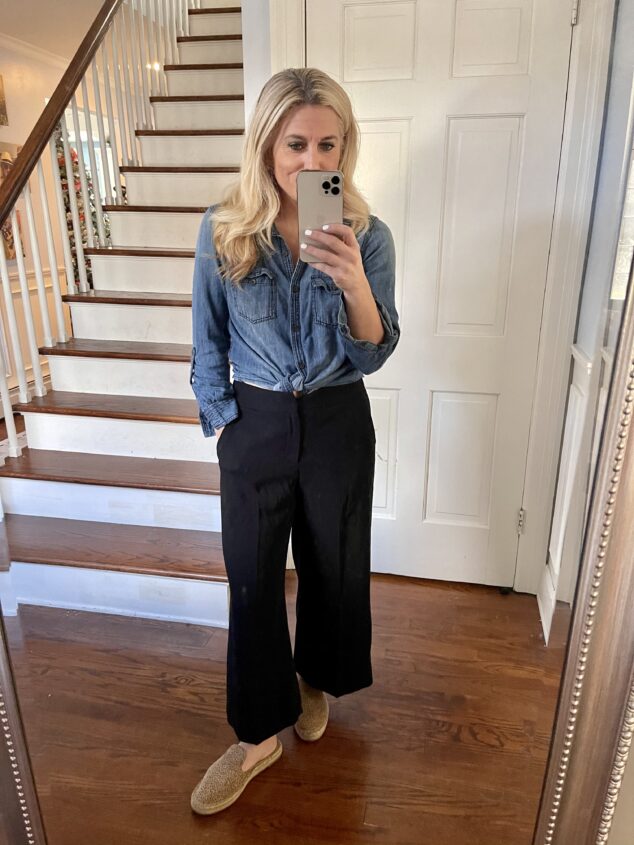 As you can tell from above, I gave you some examples in easy section as to some of these shoes and where you can buy them. I always love when someone shares some advice (fashion in particular) and then links to where I can go and find something that they dished about, too.
Make sure you follow me on Instagram, too. I love sharing fashion deals in my stories for you to take advantage of, too. I'm all about trying my hardest to share the best ones out there, so love for you to follow me!