When it comes to finding some great St. Patrick's Day hairstyles there are so many to choose from for your hair. A shamrock hairstyle is one of the classic ways to go because shamrocks are synonymous with St. Patrick's Day. Sharing with you a simple and easy matching pigtail style.
Shamrock Hairstyle – Matching Pigtails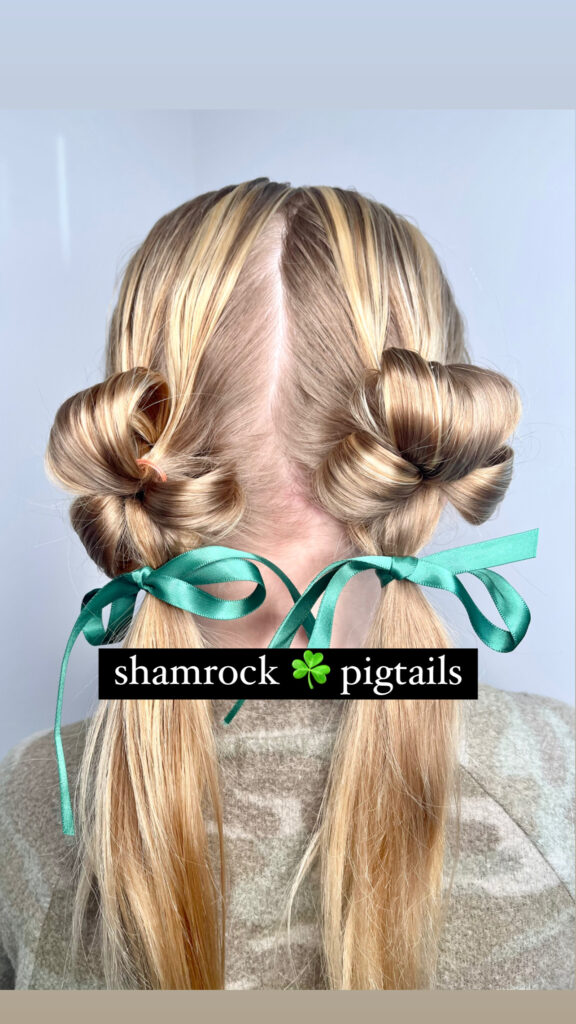 With St. Patrick's Day right around the corner, it's fun to show your pride whether you're Irish or not. This shamrock hairstyle is one of the cutest styles you can create for St. Patrick's Day. When you're on the hunt for St. Patrick's Day hairstyle options, this is one to try.
For this particular style, you will need a Topsy Tail hair tool. I used the Topsy Tail to create this fun and cute St. Patrick's Day hairstyle.
A Topsy Tail helps you effortlessly create a range of fun and simple updos. You can flip, wrap, twist, tie or twirl with a Topsy Tail hair tool. This particular one comes in 2 sizes with elastics & instructions for how to create your perfect pony, braid, & more.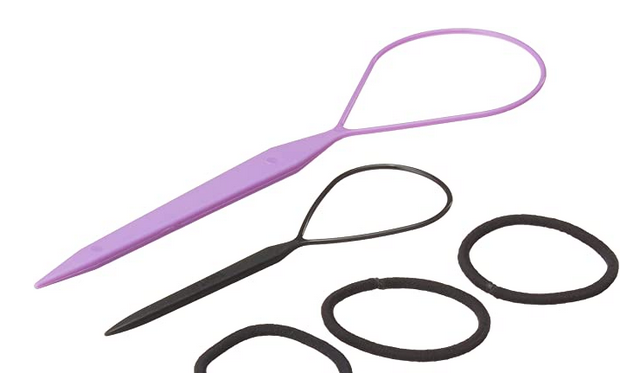 When you're trying to create this Shamrock Hairstyle you want to be able to make sure you have (in addition to the Topsy Tail) 4 elastic bands and 2 green ribbons.
This is a cute St. Patrick's Day hairstyle to wear the week leading up to the holiday, too. It's one of the easiest hairstyles to do, too. If you tried my St. Patrick's Day Shamrock Ponytail, you will basically be doing the same hairstyle except on pigtails. It's one of those styles that pops.
Shamrock Pigtail Tutorial
Check out how to create this simple and easy hair tutorial for your child. You can also do this hairstyle on yourself, too. It's more of a kid-like style, but I think for the holiday anything goes! Watch this step-by-step video for St. Patrick's Day hair.
View this post on Instagram
Place your hair in low pigtails. My advice is to spray it down with water or a leave-in conditioner.
Divide the hair (on top) into 3 sections. I make the middle one a bit thicker so that the "top" of the shamrock will appear bigger.
Take your Topsy Tail and place it underneath the ponytail to create the 3 sections of the shamrock leaves.
Follow how I work the Topsy Tail in my video above to create the shamrocks.
When completed bring all the hair together into a ponytail.
Add some green to make it even more fun for St. Patrick's Day.
This shamrock hairstyle is as cute as can be for St. Patrick's Day! These shamrock pigtails are just what lucky the leprechaun loves! If you're looking for any additional styles, keep checking back in on the blog.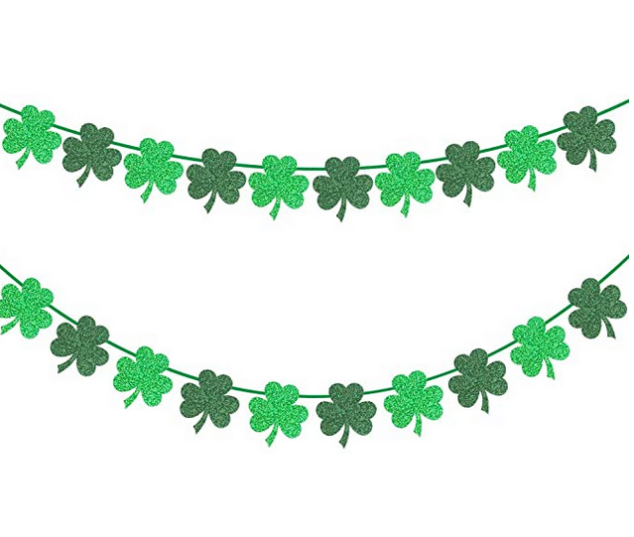 Make sure you bookmark this hairstyle for this year and next year, too. My daughter LOVES this one and can't wait to wear it next week to school.
Check out these 10 Braid Hairstyles You Can Do on your hair, too!
Check out my 20 Easy Hairstyles To Do Yourself. This one is a FUN one to follow and check out!
Also, follow me on TikTok and Instagram for daily hair inspiration!