Acne isn't something any teenager wants. Not that anyone wants acne, but during your teenage years it seems to be the most common. I'll never forget begging my mother to let me stay home from school a couple of times because I was so embarrassed over some teenage acne breakouts. My mom was always so patient and understanding, and always there to do what she could to help me (and my acne) out.
As a mom to 5 kids, 4 of them being teenage boys, I'm front and center with teenage skincare. Skincare can affect confidence, too, so skincare solutions have always been top of mind for me. Making sure all of my sons are taking care of their skin is something that's been important for me to teach them. I just want them to do whatever they can to make sure their skin stays healthy and clean, putting their best face forward.
I was introduced to Curology a few months ago and immediately thought that it would be perfect for my son Ben. What I loved about it was that Curology is a custom skincare formula made for your teen's personal skincare needs. A licensed dermatology provider evaluates your teen's skin profile, skin type, and medical history, and prescribes a custom mix of three active ingredients.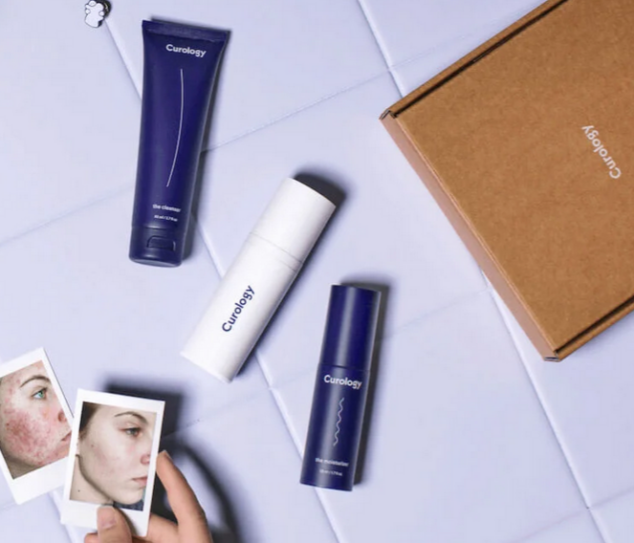 The cool thing is that whether your teen is up against acne, dark spots, or uneven texture—they get a simplified, all-in-one solution that's made for them. For Ben, he was up against acne breakouts due to wearing his face mask so much. He was sweating a ton under it, and it was obvious that it was really affecting his skin. I felt Curology would be the perfect answer for him.
To give you a little background, because as his mom, this was important for me to learn. Curology was founded by two dermatologists, a mom, and her son, on the belief that effective skincare should be affordable and accessible. I personally love this fact about it. Their team of licensed providers offers customized, prescription skincare solutions for acne that are easy to use and conveniently delivered.
When it came to finding a skincare solution for Ben, I know there were certain things that were important for him:
Easy Process. I knew he didn't want 10 different steps each morning and night to worry about.
Results. I knew he wanted to see results on his skin and feel that what he was doing was helping out.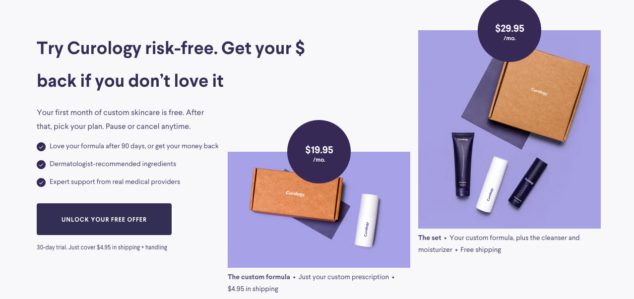 For Ben, Curology has easily accomplished these two things for him. He's able to do his skincare routine quickly and he's seeing the benefits from sticking with it.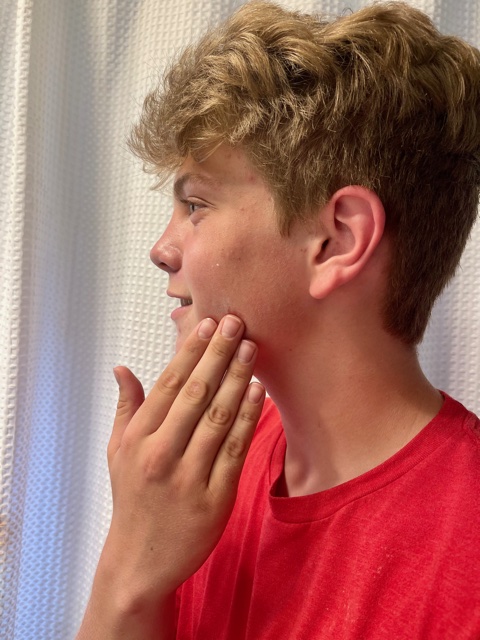 How do you get your perfect formula?
Easy, peasy! Curology's dermatology providers are real medical professionals. After signing up online (which is super easy to do!), a licensed provider is paired with your teen to evaluate their skin and determine which ingredients to prescribe. No office visit, no copay. Your teen's provider has their back—and can adjust their formula as their skin changes. This was great because even though we were in the middle of the pandemic when we signed up, our schedules are normally so busy, it was great to do it right online.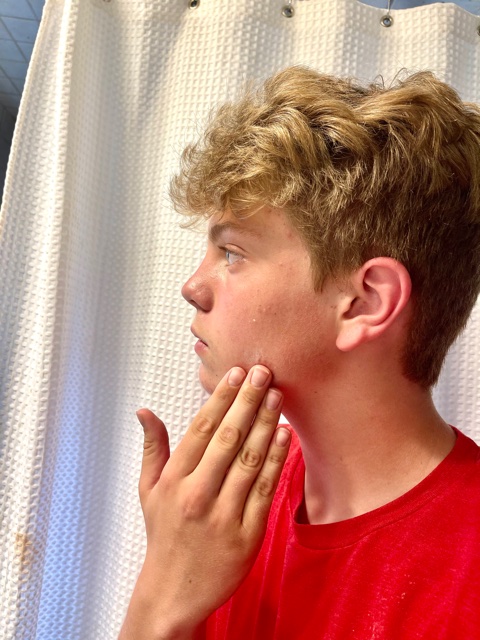 We started off with a free trial before we got going and this really allowed Ben to try the products and see how they felt on his skin. As a part of your teen's trial, they'll get a month's supply of a custom skincare formula—along with a cleanser and moisturizer designed by Curology dermatologists. As the end of the trial period approaches, you have the option to adjust the plan. After that, you'll receive your supply every two months, hassle-free and delivered to your door. Pause or cancel anytime.
What Ben's Using on his Skin
Ben's been using Curology for 4 months now. His skin loves the products and work really well on him. Again, what makes Curology special is that they listen to your needs. Ben's been using (3) products:
The cleanser: Ben has told me that the cleanser goes on easy and feels lightweight on his skin. He loves that even just a small amount allows him to get a good lather on his skin.
The moisturizer: Ben loves the moisturizer. He had never used one before and loves how it feels so smooth on his skin. It's also been great for him because he normally has dry skin and it's been great (especially right now) hydrating his skin. He also loves how fast it dries.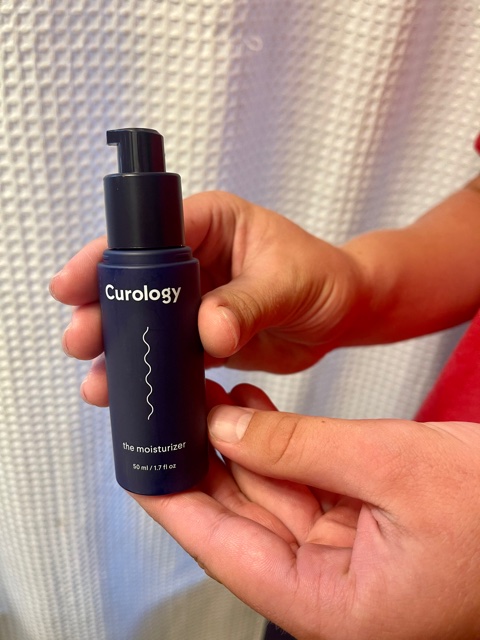 Custom Skin Formula: Ben's Custom Formula contains Azelaic Acid 2%, Clindamycin 1%, Zinc Pyrithione .25%.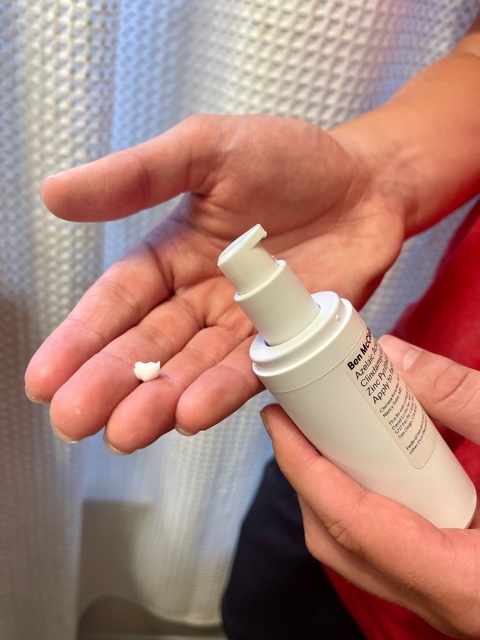 These products have been designed by in-house dermatologists to be non-comedogenic, fragrance-free, dye-free, paraben-free, and hypoallergenic.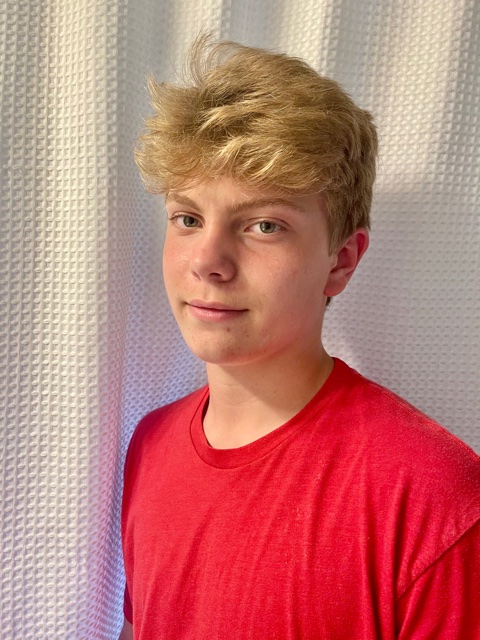 We can't say enough about these Curology products and the seamless system. Please reach out if you have any questions for me (or Ben!).
*Sponsored posting with Curology.