In the blink of any eye, back-to-school season is here. Whether you have a child heading into kindergarten or into college, it's time to prepare yourself and your family for the year ahead. My kids know that as the first day of school rolls around so do my lists, organization charts, activity calendars, and new routine setups.
This back-to-school season is different from all the others because we have a teen driver in the house. My William got his license this past April, and my Alex just completed Driver's Ed and will be getting his permit toward the end of September. What can I say, life is moving fast and this is a major milestone for us. This is the first school year that I won't be sending four boys out of the house together to the bus stop. This year, William will be driving two of his brothers to school, and I'll be waving out the front door as they pull out.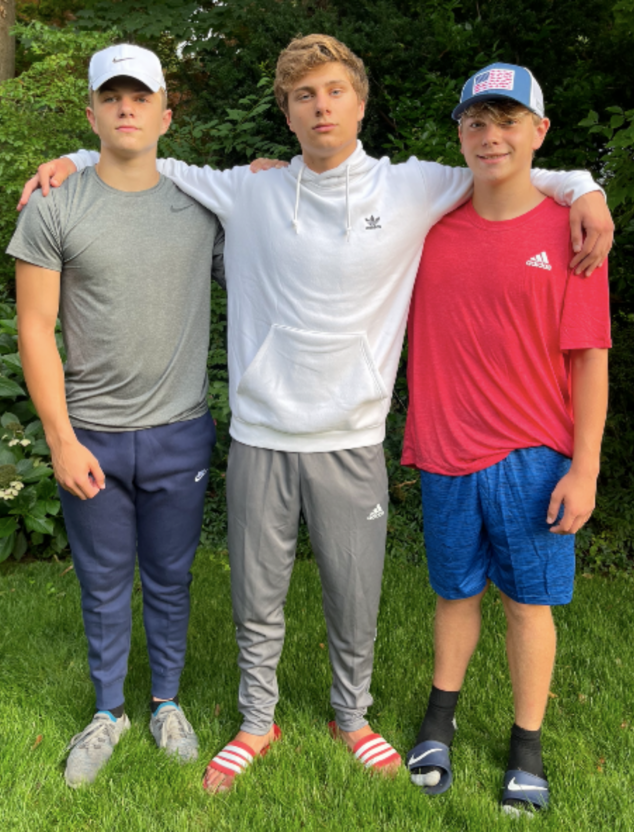 As most parents of teen drivers will attest, life is much easier having an additional driver to help (especially in a large family like mine), but there's also an added layer of concern and worry about having him on the road. With school back in session, this means more traffic from cars, busses, pedestrians, and bicyclists. This also means that William, along with other drivers, will have to exercise extra caution and patience.
Safety on the roads this back-to-school season needs to be something everyone, especially teen drivers, is aware of. When sending your child off in the car, it's imperative to make sure they know how important it is to be smart and safe on the road – not only for themselves but for others. I'm happy and thrilled to share that I have partnered with Chevrolet this year to spread the message about the importance of safety on the roads, especially for our teens.
Chevy is a brand I know, love, and use. When I first found out I was pregnant with William (back in 2004), we bought a Chevy Equinox. We upgraded to a Chevy Uplander when we had our fourth son, Henry, back in 2008. Then we upgraded to the Chevy Suburban back in 2013 with the birth of our fifth child, Victoria. I always feel safest in a Chevy and it's been a brand that has always been weaved into our family vehicles. Chevy cares about its customers like family, and that's why it was a no-brainer for me to work with them.
Chevy is a valuable and prime resource for families, and I appreciate this. As families prepare for their return to in-person school after a year of virtual learning, Chevrolet worked with The Harris Poll to survey parents of school-aged children to discover how the pandemic affected their driving skills and the new realities that teen drivers face. The survey found that 61% agree that with fewer people were on the road last year, they were able to drive more carefree. In fact, the pandemic impacted how often people were on the road, with 56% of parents saying they drove LESS during the period.
Now that drivers are sharing the road this fall, everyone must exercise extra caution and have patience. According to the same survey, 73% of parents have noticed more aggravated drivers on the road since the pandemic. This concerns me and I know I'm not alone because 61% of parents are more concerned when their child drives without an adult due to a lack of practice over the past 18 months.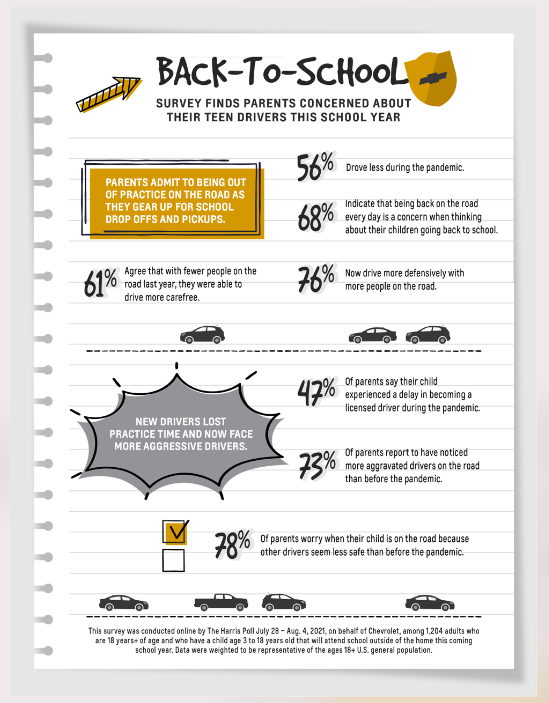 Whether your teen is a driver or passenger of a vehicle, it is important to have the necessary conversations about being smart and safe on the road. One thing you can do immediately is to take the time to familiarize your teen with your car's in-vehicle safety and technology features.
The 2022 Chevy Traverse offers multiple safety features that I absolutely love as it truly gives me peace of mind. This is why Chevy consistently stands out to me and why I would feel comfortable with my child driving the Traverse. I had the opportunity to do a walkthrough with the all-new vehicle and was beyond impressed. Here are some of my personal favorite safety features for my William (and almost Alex!).
Surround Vision: Multiple camera display with an overhead image of the area around your vehicle which helps when parking and avoiding nearby objects. This is great to have in school zones because you get a good sense of everything and everyone around you.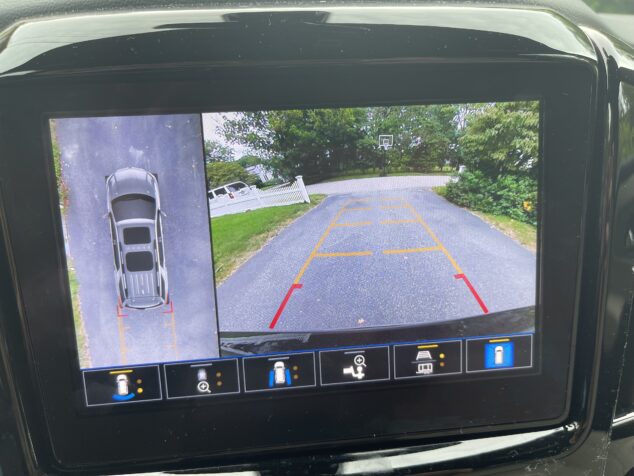 Teen Driver Technology: I wish every single car had this technology. This is like having a parent in the car with your teen driver, even when you're not physically there. It is the best security blanket for parents – I can't say enough positive things about it. This allows parents to set speed alerts, volume limits on the radio and even track their teen's driving performance with a digital report card. The report card tracks various components of each trip such as distance driven, maximum speed reached, and antilock brake events.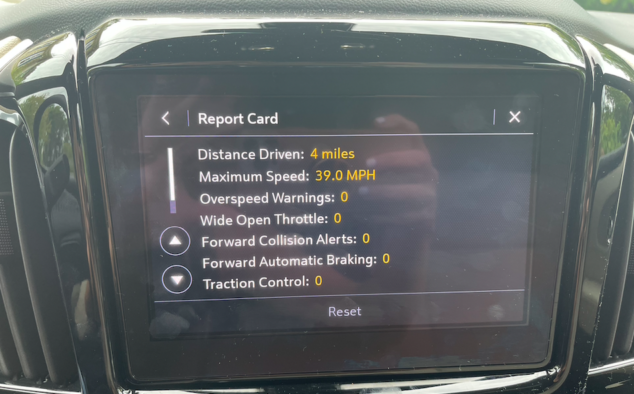 Buckle to Drive: This is an important one for teens. When activated, it prevents the driver from being able to shift out of park until the driver is buckled.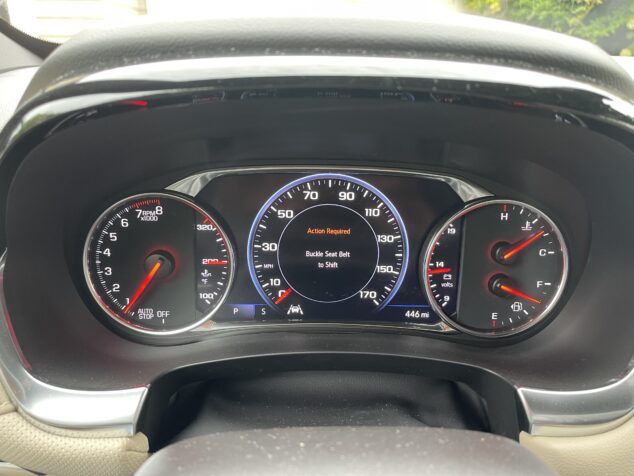 Lane Keep Assist with Lane Departure Warning: This is a great safety feature for the highway and comes standard on all Traverse trims! It uses a brief, gentle steering wheel turn to alert you when you may be unintentionally drifting off of the detected lane lines so that the driver can safely readjust while staying within the lane.
Forward Collision Alert: Forward Collision Alert can warn you if it detects a potential front-end collision with another vehicle so you can act quickly and safely.
As you can see, the 2022 Traverse has incredible features that bring extra peace of mind to any parent when sending your teens (babies) out on the road. Watching your child take the wheel and go off on their own is a hard transition. There's no book that can fully prepare you for this new stage. What has helped me the most is talking with other moms and dads about this new part of my life (and theirs).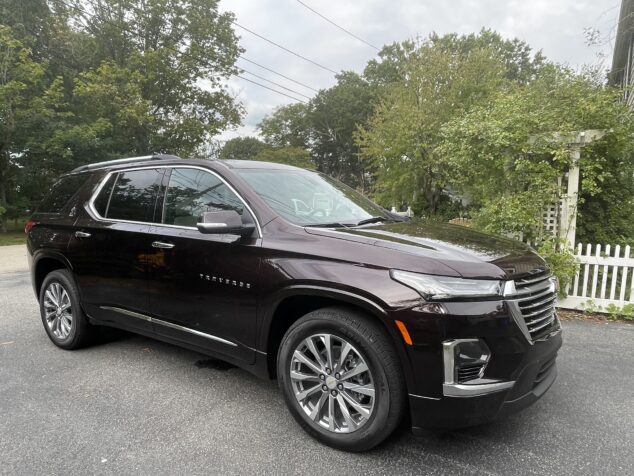 I know so many of us with teens right now are buying back-to-school clothes, filling up backpacks with essentials, stocking up on lunch items, preparing schedules for after-school activities, and getting everything set to make this school year ahead the best one yet. As you're doing all this prep, I want to remind you about road safety and keeping your teen(s) as smart and safe on the road as possible.
Please continue to use me as a resource and let me know if you have any questions or want to chat about anything. I know my William has waited a couple of years to drive to high school on his own. That time is finally here; I'm excited for him, but I also need and want him to be as safe as can be. The good thing is, as parents, we can arm them with the best knowledge, information, and vehicle as possible.
* This survey was conducted online by The Harris Poll July 28 – Aug. 4, 2021, on behalf of Chevrolet, among 1,204 adults who are 18 years+ of age and who have a child age 3 to 18 years old that will attend school outside of the home this coming school year. Data were weighted to be representative of the ages 18+ U.S. general population.
*I have partnered with Chevy this back-to-school season as a spokesperson. All opinions are my own.