For my local friends, here is a fun event for you to attend on NOVEMBER 3rd!
The Thayer Street District Management Authority is thrilled to announce the twenty-nine Thayer Street District businesses (23 food and 6 retail venues) have signed on to participate in the first annual "Taste of Thayer" to take place on November 3, 2021, 4:00 p.m. to 7:00 p.m. sponsored by the TSDMA.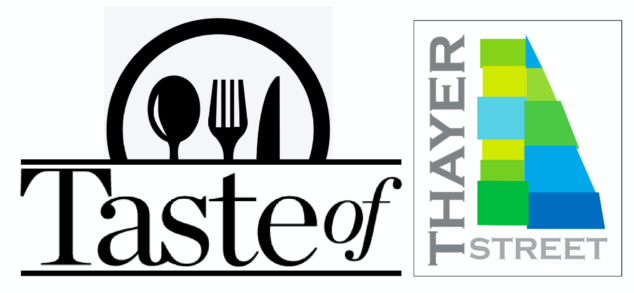 The current list of venues includes: Aroma Joes, Andreas, Ayame Hibachi Express, Baja's TexMax, Baja's Taqueria, Beatnic, Ben and Jerry's, Blue State Coffee, Chinatown, Den Den Korean Fried Chicken, East Side Pockets, Flatbread Co., Heng Thai and Rotisserie, Insomnia Cookies, Kabob and Curry, La Crepiere, Metro Mart Deli, Mike's Calzones, Pokeworks, Shake Shack, Shaking Crab, Ten One Tea House, Tribos Peri Peri, Berk's Shoes and Clothing, Brown Bookstore, Kind Connection, Pleasant Surprise, Rev'd Indoor Cycling, Spectrum-India. Live Music at Blue State Coffee and Pokeworks.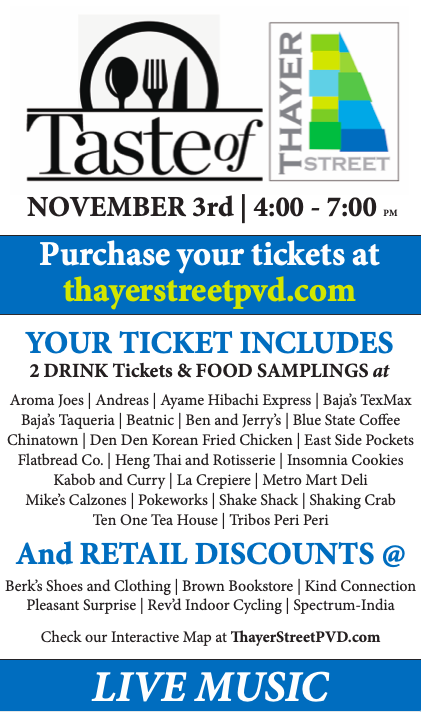 How it works: Each attendee will receive an admission button, a map of participating locations, and two drink tickets, which may be used at participating food venues for soft drinks, beer, wine, or well drinks.
They will receive a complimentary, sample-size tasting of a signature menu item at each of the twenty-three (23) participating food venues and special offers or shopping discounts at the six (6) participating retail stores.
The button (ticket) and package will be available for pickup at our will-call location (Outside the Brown Bookstore) on November 3, 2021, from 3:30pm to 6:30pm. Tickets are $30/each and can be purchased here.
The Thayer Street Business Interactive Map at https://www.thayerstreetpvd.com/interactive-street-map shows the locations of each participating venue under the "Taste of Thayer location" category.
Attendees will also have the opportunity to vote for their favorite venue and crown the King/Queen of the Street, which will receive a $1,000 prize. A $300 prize will also be awarded to the Most Creative venue. The awards will be announced Thursday, November 4, 2021.