We all have those polo shirts that we love to wear because of their style and comfort. They are perfect for a day at the office or just hanging out with friends on the weekend. The only problem is what to wear over them if you want to stay warm? In this blog post, I'm going to share What to Wear Over a Polo Shirt so you can find some comfortable and fashionable options.
What to Wear Over a Polo Shirt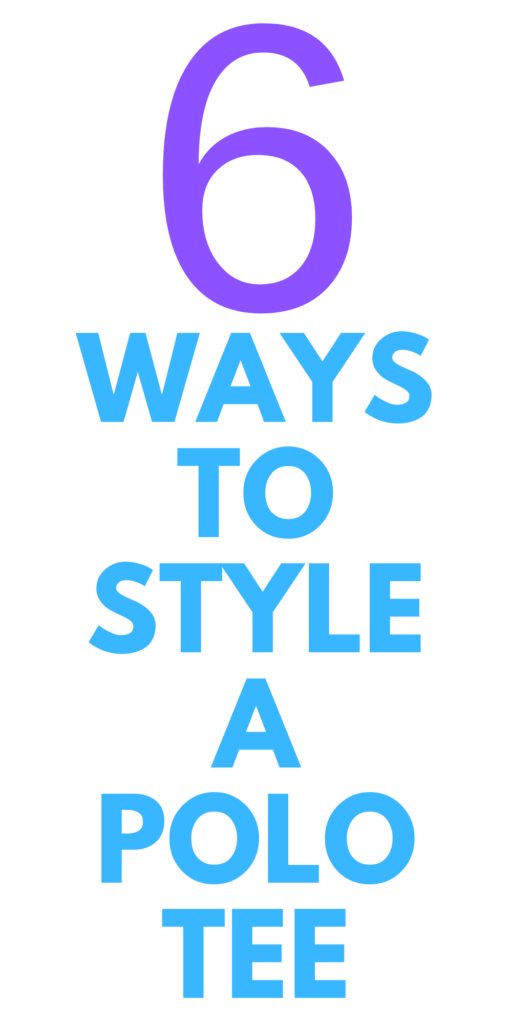 A wardrobe staple for me has always been a classic polo shirt. It helps me create a polished look in a classic way that works in so many different ways. It's easy for men to wear a polo tee for different occasions, but it's also just as easy for women. I love coming up with polo outfits that are easy to wear on a jam. This will help when you're trying to determine What to Wear Over a Polo Shirt.
You don't need to be on a tennis court or summering on the Vineyard (though I love the Vineyard). A polo tee gives you timeless style and you don't need to just wear one in the warm weather.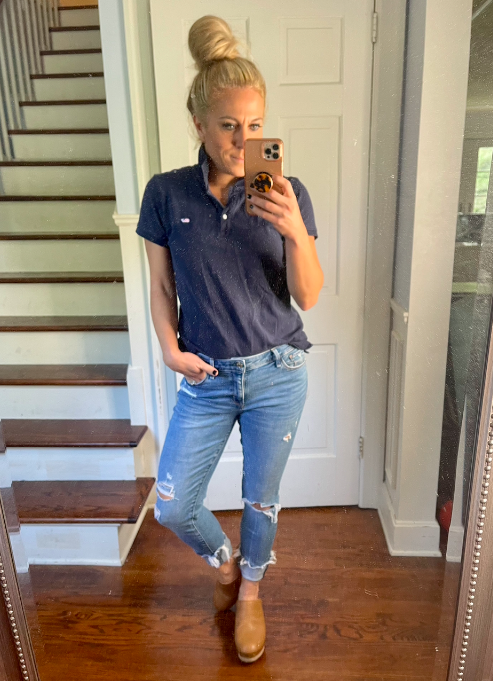 My favorite Vineyard Vines Polo Tee, click here.
Whether you're looking to create outfits for casual Fridays at work, casual days at home, or even formal occasions sometimes a regular t-shirt doesn't cut it. A great way to fulfill that void is to grab a polo for a nice look. It doesn't matter what kind of or style of polo you have, just find one that works for you and your body. The good news is that polos work on every body type. It's my favorite way to style a quick look that gives me either an instant casual vibe or an elegant polished look.
How's the best way to get started when figuring out What to Wear Over a Polo Shirt? The best thing is to find a polo t shirts (whether it's short sleeve or long sleeves) that fits well. The beauty of a polo is to have a top button present with distinctive collars so it gives it that preppy look. You can find polos in bright colors, neutral colors, a bold color, a dark color. They come in a jersey knit, textured waffle weave, smooth fabric and cotton. I prefer a polo with a tighter fit because it's a nice fashion statement.
How to Style a Polo Tee
Here are various ways to figure out What to Wear Over a Polo Shirt. I wanted to keep it simple and not go crazy. I feel like everyone should have some of these items (or types of them) at home in their closet. Find the perfect choice for you and have some fashion fun. I promise it's little effort to try these fashion tips and they will make a huge difference. It's all about finding the perfect layering piece. I'm showcasing all of these with skinny jeans with my fave clogs.
Look #1 Leather Jacket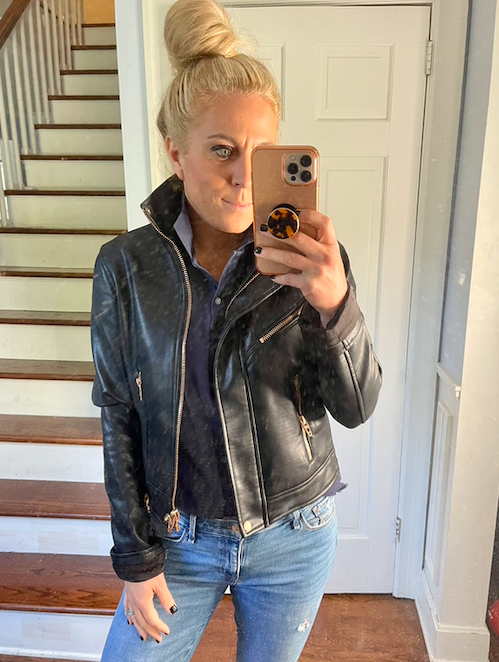 Everyone should have one in their closet. I prefer a basic cropped leather jacket. This is a great look for a casual date night. You can wear this all year long because it's the kind of look that just works. A leather jacket is a classic piece that works with just about anything. Whether you're wearing jeans or with a pencil skirt, it will make this look appear fabulous.
Look #2 Sweatshirt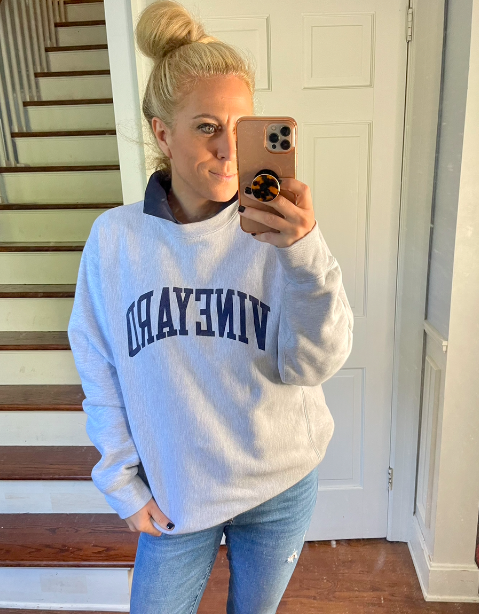 Here's a great opportunity for you to create a super casual look. I love this casual feel with an oversized sweatshirt. It's a fabulous relaxed look that is great to wear with jeans, joggers, cropped pants, and leggings. I love this look for a Saturday afternoon at home or a Sunday afternoon out with the kids. It's an easy look to toss together and it's a safe bet for you to wear just about anywhere.
Look #3 Cardigan Sweater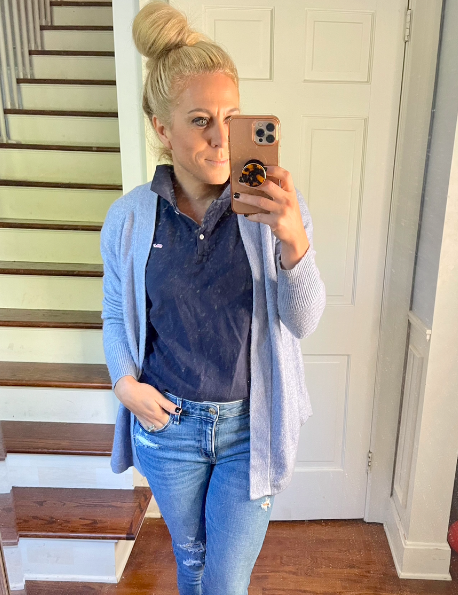 Looking for a fabulous add-on? I love grabbing a cardigan and adding it on top as a fun layer. My advice is to create a look with monochrome colors. I love a cardigan as a layer because it's a simple and easy layer to wear with jeans, dress pants, joggers. This is also a great look to wear to work with leggings and trouser pants. I'm just all about creating a simple look.
Look #4 Bulky Sweater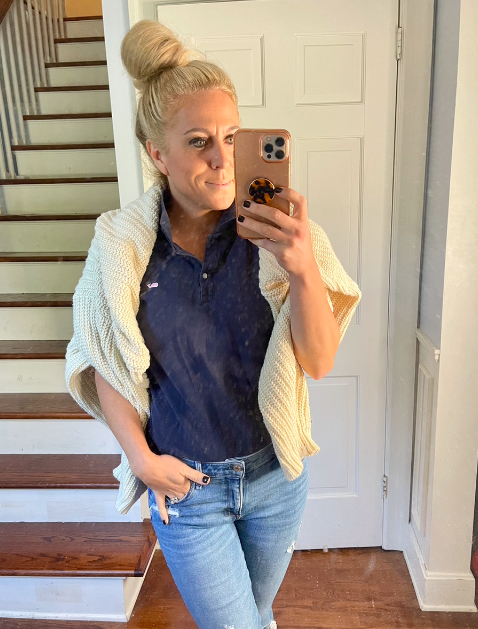 You can wear a bulky sweater over your polo, or I love to wear one with it over my shoulders. This is a smart casual look, You don't have to have the right size sweater, but the beauty is wearing it over your shoulders. Grab your favorite sweater and take the time to wear it with jeans, leggings, and joggers. I'm obsessed with wearing a look like this because it's so perfect for anyone to wear. It doesn't matter your size or body type.
Look # Henley Sweater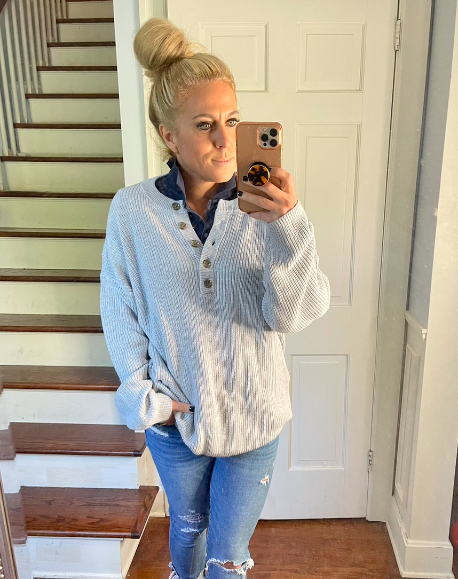 Looking for another sweater option? Here is your best bet. I love a henley because you have these extra buttons to show off the polo shirt. You can wear a basic polo underneath and this looks like a casual and perfect outfit. I love this look with jeans because it's a great and easy way to wear a classic style.
Look #6 Blazer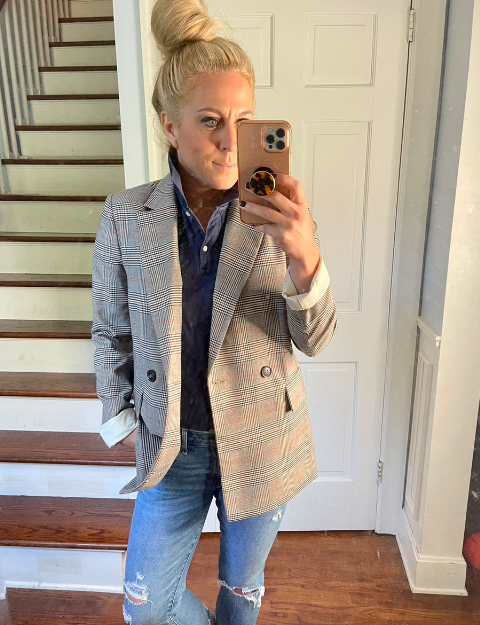 Looking for a smart look? I've got it for you! This is my favorite kind of look because it's perfect for work. It's a professional look that can be worn to the office (casual Friday) or with leggings, trousers, too. What I love about this look is that it's effortless and any kind of blazer could fit the bill. I opted for a pattern because the polo is navy underneath. This is a look you could wear again and again.
Hopefully one of these fashion looks jumps out at you. These are simple ways to transition your polos into the fall weather, too. When wondering what to wear over a polo, it's easy to add layers or wraps. It's such a great fashion item to have, but it's an even better one when you realize what you should be wearing with it.
Make sure you check out the other fashion content I share, too. I love sharing ideas on ways to wear certain things. It's always fun to get fashion ideas brewing in your head. Make sure you let me know if there's something you want to have featured on my site, too.
Don't forget to wear with your fave joggers, too!