Valentine's Day is my favorite holiday because it's all about the love. I'm OBSESSED with love and romance and happily ever afters, so for me, this is the best holiday of all. I've always joked with my husband that the pressure is on, so he better get ready!
Every year I love sharing a Valentine's Day Gift Guide with my readers, highlighting some great gift picks. It's not always easy coming up with some ideas for the ones in your life.
My bestie Vera and I partnered up to showcase some of the BEST gift ideas for women, men, and kids for Valentine's Day! Hoping these ideas help you out!
Valentine's Day Gift Ideas for HER
Let's start with the ladies! We're thinking moms, friends, aunts, teachers, cousins, sisters, grandmas, besties, colleagues, babysitters, and more!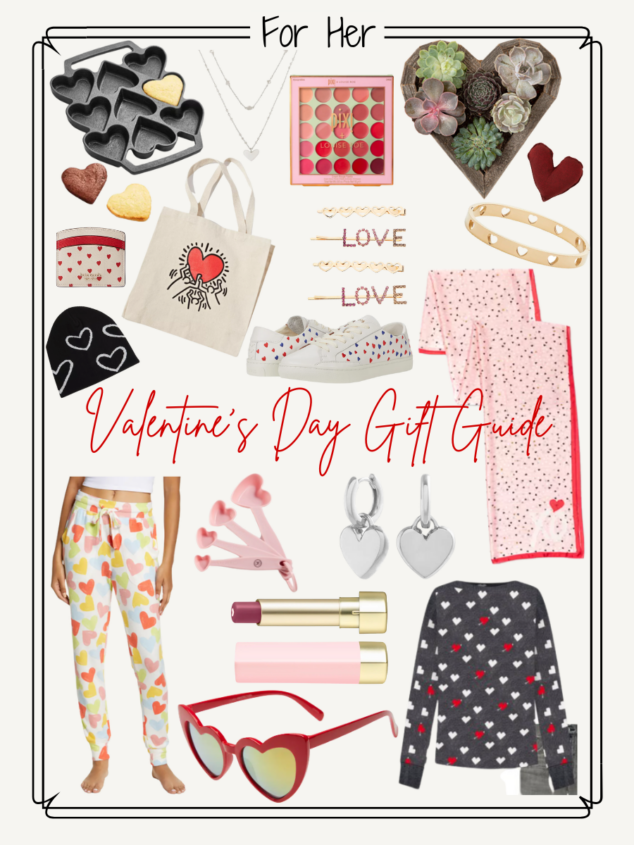 1. Heart Measuring Spoons // 2. Heart Boatneck Sweater // 3. Heart of Hope Lavender Warming Pillow // 4. Too Femme Heart Core Lipstick // 5. Comfy Joggers // 6. Heart Sunglasses // 7. Open Heart Bangle // 8. Redwood Succulent Heart Kit // 9. XO Wrap Scarf, Created for Macy's // 10. Women's Heart Lady Winter Hats // 11. Timeless Classics Heart Hoops Earrings// 12. Cast Iron Heart Pan // 13. Gold-Tone Heart & Crystal Love Bobby Pin Set //14. Spencer Valentines Day Heart Printed PVC Card Holder // 15. Pixie Cream Colour Palette // 16. Queen of Hearts Ibiza Sneaker // 17. Keith Haring Holding Heart Tote Bag // 18. Ari Heart Multi Strand Necklace In Silver
Valentine's Day Gift for Him
Now it's time for the GUYS in your life. We're talking boyfriends, husbands, fathers, friends, uncles, cousins, nephews, neighbors, coaches, and more! Who do you want to share some love with?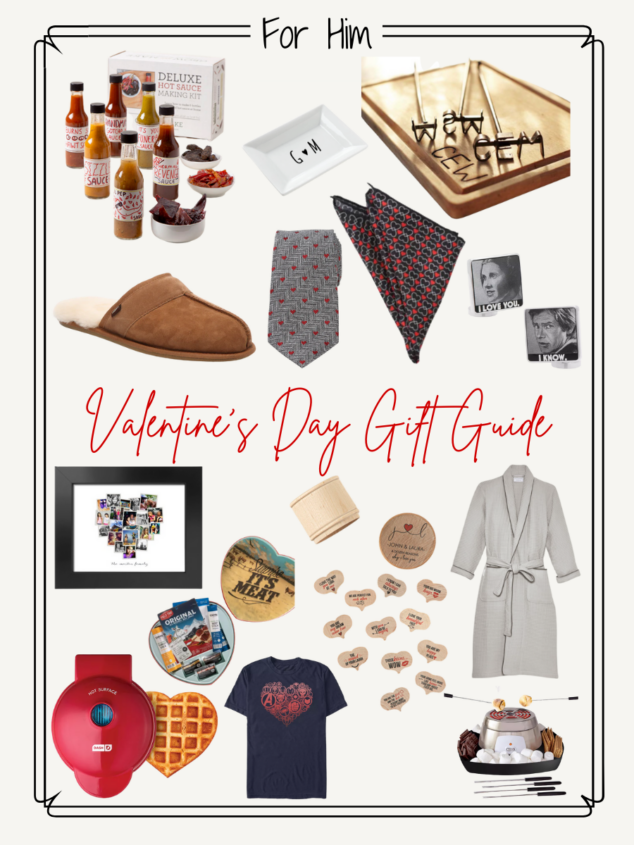 1. Men's Intertwined Hearts Pocket Square // 2. Herringbone Hearts Linen Tie // 3. Princess Leia and Han Solo Cufflinks // 4. Men's Heart Icons Short Sleeve Crew T-shirt // 5. A Dozen Reasons I Love You // 6. Smores Maker Electric // 7. Make Your Own Hot Sauce Kit // 8. Heart Rectangular Personalized Trinket Dish // 9. Tilted Heart Collage Art Print // 10. Men's Waffle Robe // 11. Dash Mini Heart Waffle Maker // 12. LEISURE SCUFF SLIPPER // 13. Steak Brand & Cutting & Carving Board // 14. Grand Jerky Heart
Valentine's Day Gifts for Kids
And now for the kids! That's right! Kids deserve some LOVE on Valentine's Day, too!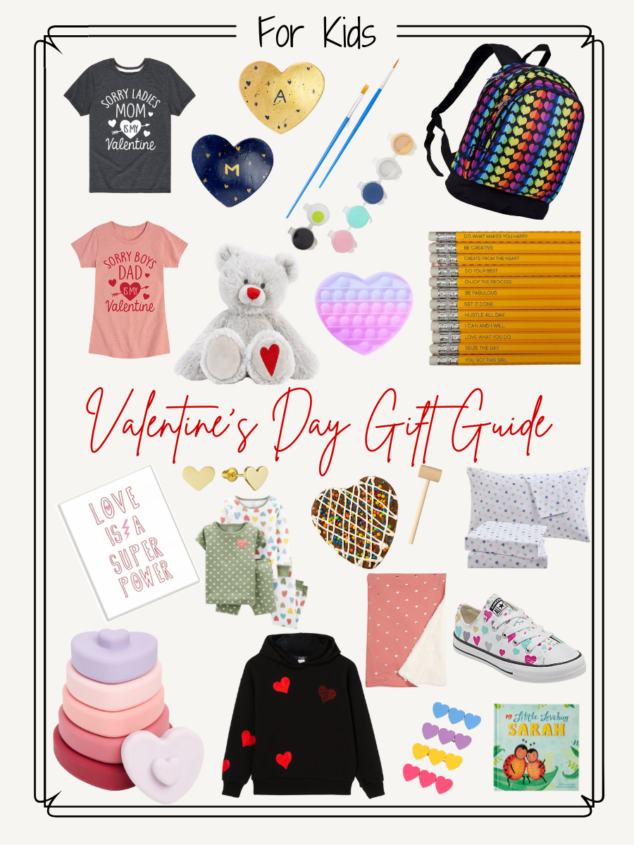 1. Metallic Print Cotton Blanket // 2. 14k Gold-Plated Heart Stud Earrings // 3. Olivia Finn Pastel Hearts Printed 3 Piece Sheet Set // 4. 4-Piece Hearts 100% Snug Fit Cotton // 5. Rainbow Hearts 15″ Backpack // 6. Ceramic Jewelry Dish Paint Kit // 7. Chocolate Heart Pizza & Mallet // 8. July Birthstone Bear // 9. Desert Pink 'Sorry Boys' Tee // 10. Heather Charcoal 'Mom Is My Valentine' Tee // 11. Love Is a Superpower // 12. Purple Heart Hair Clip // 13. Kids' Hearts Hoodie // 14. Little Girls Chuck Taylor All Star Hearts // 15. Heart Silicone Stacker Toy // 16. Personalized My Little Lovebug Book // 17. Color-Changing Heart Push Pop Anti-Stress Pad // 18. Yellow Positivity Pencil
When it comes to celebrating Valentine's Day, it's important to me because it's a day to acknowledge the love in your life, whether it's romantic or not. I love that it's a holiday that encompasses love for everyone, and if you're someone without a Valentine on the romantic side (yet), dreaming it into fruition is something you can do on Valentine's Day, too.
Just remember to LOVE the idea of LOVE in all of its forms.
You want to know how much I really love, LOVE? This past year I published five romance books, that's how much I LOVE a good love story. If you're someone who loves happily ever afters and everything that goes into a love story and Valentine's Day, make sure you check out my books, too!
Enter To Win $25 Gift Card
If you'd like to treat yourself to a nice cup of coffee while shopping online, enter to win a $25 Dunkin gift card! Must be 18 years or older and a US resident.
Happy Valentine's Day everyone!