I'm excited to introduce you to an incredible entrepreneur, Britt Riley founder of The Haven Collection. The Haven Collection is the first fully licensed daycare in the U.S. to offer flexible childcare, unlimited workspace, and fitness to all member families.
Britt's inspiration for The Haven Collection came in between feeding her newborn trying to catch some Zs when she started wondering how people do it; how parents with young children can be successful as parents and as professionals. Then it became clear: childcare needed to evolve into family care. Britt realized the only way to solve this problem faced by the majority of working families is to provide an entirely new experience. And so, The Haven Collection was born; one place where each member of the family is taken care of by providing the highest quality Montessori style daycare and unlimited access to workspaces and wellness opportunities for parents. Through Britt's own experience, Haven fills a need in a way most never thought could be possible.
I had the pleasure of interviewing Britt and loved her responses. I love meeting and chatting with moms who are just doing incredible things!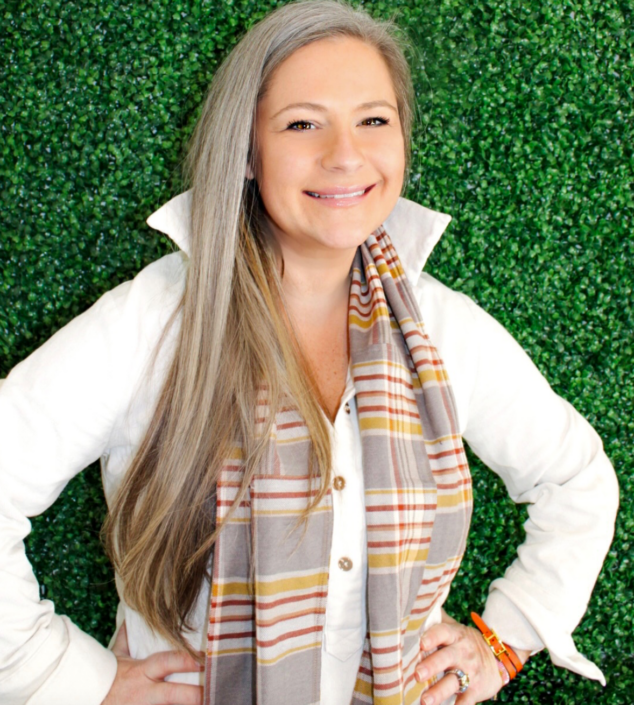 1. When did you feel like this business idea was needed?
This business idea has always been needed, it was just a matter of how it was going to play out. I was working remotely as an executive when my husband and I had our first daughter and I had a picture in my mind of what working mom life would look like. I imagined having my work kit in one arm and my baby in the other arm, totally naive to think not many aspects of my life would change, and certainly not so drastically, even though I had a demanding travel schedule that began immediately after my self-funded maternity leave ended.
It was during those first few years as a mother, and going from being the mom to a one-year-old to the mom of a one-year-old and an infant when I realized there had to be a better way to raise children during those first five years, while still experiencing professional success. It was during those years I really started thinking about how this idea of family-care could work.
2. Tell me more about your inspiration for this.
I knew deep down the U.S. childcare system was broken and someone needed to reshape it into a system that provided value for today's families; one with much more support for families. It was at 3:00 am one morning, when I was awake nursing my infant, trying to get my toddler back to sleep, and stressing about how I was going to make my mom-life work in conjunction with my professional life, that I knew this needed to go from an idea to a reality.
Because I was working remotely, I felt guilty dropping my kids off at an expensive, subpar daycare just to come back to my home office. I felt inferior for not being able to have my kids home, even though I was home. It got to a point where I couldn't bear dropping my kids off, so I thought having a nanny in the house, while I worked was the better solution. I was wrong; that didn't work either. But I knew there had to be a way to have parents and children under one roof that worked for everyone.
With the price of childcare as high as it is today, our goal was not to try to beat the prices already out there, but instead help create a valuable experience for entire families, beyond simply child care, that made the sticker shock a little less shocking. To do that, we needed to offer more than just high quality childcare; we needed to have facilities to support every member of the family in their professional and personal journeys. This would make it a worthwhile investment in the entire family's future.
3. Have you been able to see the positive aspects of your business among working parents?
Absolutely. Our business exists to help decrease the day-to-day stress of parents with children 5 and under. We are here to help guide them through these years in a way which provides them the support they need to succeed and thrive personally and professionally. In the beginning, our business model was completely unproven. We needed to prove that parents and kids could coexist in a productive and nurturing way under the same roof.
It's an emotional experience when we tour families through our locations because it represents an immense reduction in stress for them. They immediately have a restored sense of encouragement and hope they can work, parent and feel great as individuals all at the same time.
The Haven Collection of Clubs helps parents regain hours of their time by eliminating the back and forth of commuting from home, school, work, gym, school, home etc., and streamlining their daily schedules. With Haven, parents can drop off their kids, jump upstairs to our coworking space to get their workday started, and squeeze in a workout in our fitness center just down the hall. All under one roof.
This allows parents to utilize their time in a way to create more quality moments for their families. We are called The Haven Collection of Clubs, because that is what we are; a haven where families can have lifestyles they are excited about on a daily basis.
4. What do you do to keep yourself motivated each day as a businesswoman?
As a person who needed this business more than anything when my kids were infants, I've never once doubted the business model. That is something which is perpetually motivating. When you have an idea and a business that you have not once, ever, had any doubt would add value to others' lives, it's impossible to consider anything but putting one foot in front of the other, regardless of the situation.
The most formative moments as a founder and CEO happen when you face what feel like impossible situations, and that happens frequently. For us, COVID started seven months after we opened our first location and it was a period of time when we had to make constant decisions and break everything down into tiny micro-steps. Even then, doubt never slipped into my mind, which is why we were able to actually grow during this period of time. After months of closures, we reopened our first location (we didn't charge families during the closures because our goal is to help families not add to their stresses) and opened a second location.
There are unimaginable challenges you are faced with as a business owner. One of the most important things to do is look at your peers, watch people who are in similar impossible situations and just keep going. It's all about belief, persistence, and resilience. When you have a business you can't go a day without thinking about, it there is a fire that's lit. And it's that flame that fuels a never-ending sense of motivation, even on those days when one kid is sick, the other has an appointment, you have a board meeting, and a random work crisis thrown in the mix. It's hard but always surmountable.
5. What are some of your secrets in balancing work and family?
My four-year-old daughter is still in our program, so I talk the talk AND walk the walk when it comes to experiencing the services we offer our families. Being able to live what we are offering has been one of the greatest gifts in my life. Being able to work and then go to the window overlooking the playground to see my daughter running around playing with friends and chasing bugs with binoculars is one of the most fulfilling, positive, enriching experiences of my life. It makes focusing on work so much more accessible because I am not struggling with "mom guilt" constantly like I was prior to having these clubs available.
Being able to have a steady workflow and getting a workout in during the day, while I know my daughter is happy and learning integrates life for me in the way I dreamt of during that 3:00 am feeding all those years ago.
Finding an opportunity to truly weave the most critical areas of your life together in a cohesive manner creates so much more than balance; it integrates work and life into the very core of your being.
To integrate work and family successfully it's immensely important to give yourself space to make mistakes, to not take things so seriously and to be able to pick yourself up after you fall down or have a moment of weakness. At the heart of it all, giving yourself and others grace is the key to leaning into your experience with family, as a professional, and as an individual. It's a commitment to perpetual growth and appreciation for all aspects of the process, in turn allowing everything else to flow and work well together.
How can our readers follow you on social media?
The Haven Collection is on FB and Instagram: @yourhavenlife