When it comes to lunch, I'm all about finding ways to elevate some my favorite go-to staple meals with something delicious. I work from home, so I prefer easy lunches that I can make quickly. I don't have the time to be cooking or doing tons of prep work. I also like to rotate my lunches, whereas I don't have the same exact lunch every single day of the week.
Willow Tree Farms chicken salads are go-to items that are always stocked in my fridge because they're easy to eat and pair with so many different things. If you're not familiar with Willow Tree Farms, they a leading provider of Premium White Meat Chicken Salads, Chicken Pies and Chicken Dips and are family-owned and operated in Massachusetts. If you're a New England person, you know Willow Tree Farms! 🙂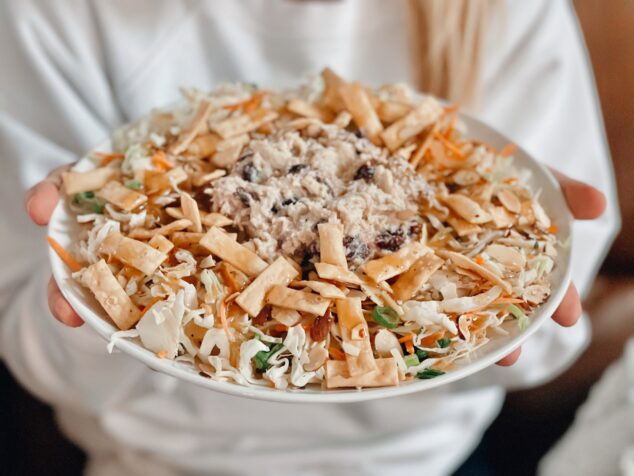 Whereas I love everything that Willow Tree Farms offers, there's something about chicken salads in the spring. It's the perfect lunch item because it's delicious, light, and easy to prep. One thing that I love knowing as a customer is that Willow Tree Deli salads are made fresh every day and they only use the highest quality ingredients.
They offer a variety of flavors to enjoy — Buffalo Chicken Salad, Classic Chicken Salad and Cranberry Walnut Chicken Salad. The great thing is that with these three flavors, there's something for everyone to enjoy and so many ways for you to eat them, too!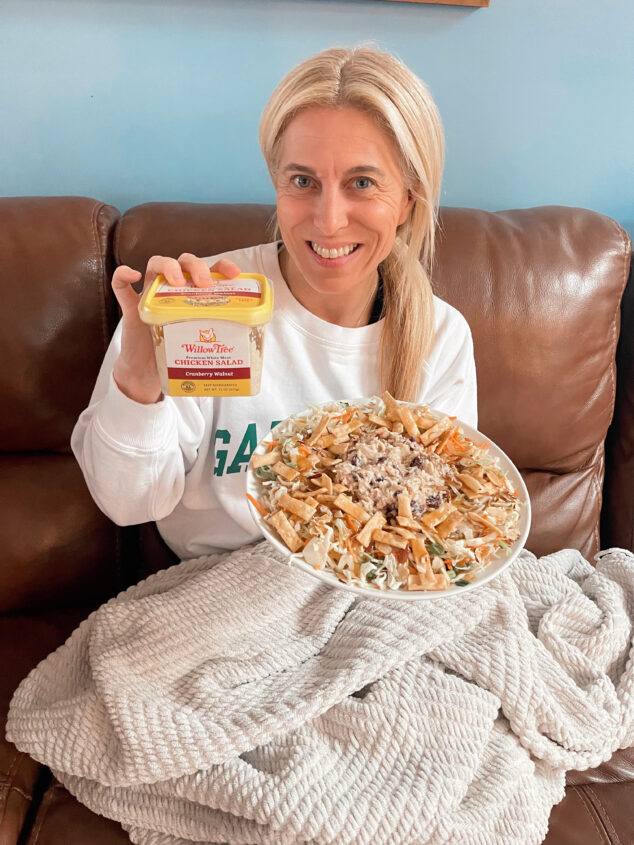 As much as I love making sandwiches and adding some delicious ingredients to my staple chicken salad ingredient, today I'm sharing how to use Willow Tree Chicken Salads on a salad! It's an easy and healthy way to elevate the basic salad that you have for lunch.
My Willow Tree Farms flavor of choice for this recipe is the Cranberry Walnut Premium White Meat Chicken Salad. I love bringing out this one all year long because it's got such a punch of flavors within in that you don't want to miss. This premium white meat chicken salad, graced with cranberries and chopped walnuts, also makes for a refreshing gluten-free lunchtime favorite.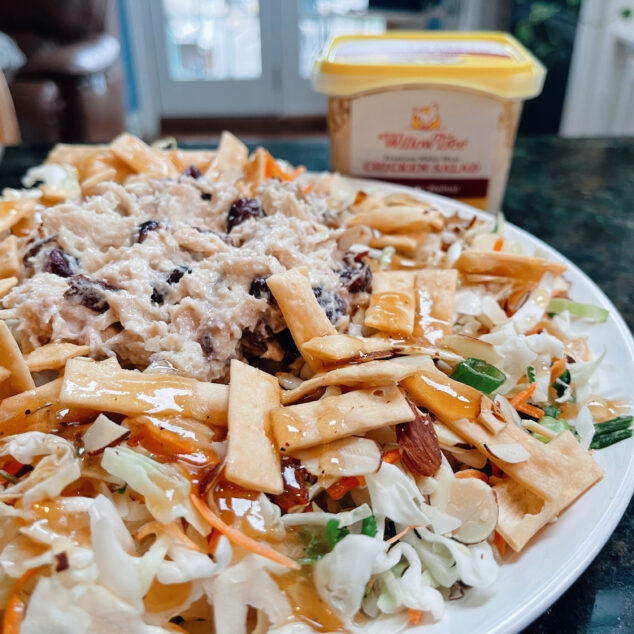 For this salad, I use a delicious salad mix that consists of: Savoy Cabbage, Green Cabbage, Celery, Carrots, Won Ton Strips, Sliced Almonds, Green Onions, and Cilantro. This salad as is can be delicious, but just wait until you had 2 heaping spoonfuls of the Cranberry Walnut Chicken Salad! It is (in a word) INCREDIBLE! You have so many yummy flavors in your mouth, but the chicken salad really is the anchor of it all.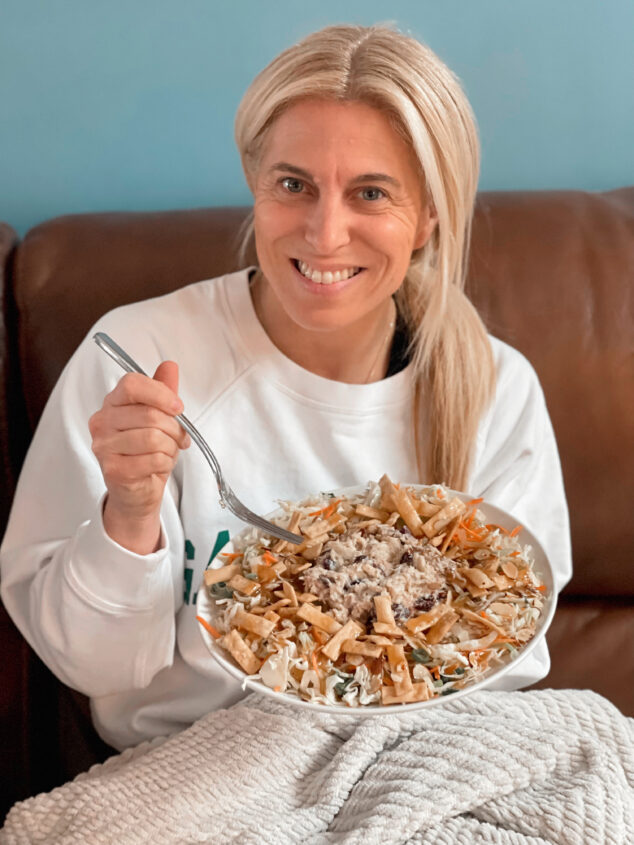 Try this recipe out and let me know what you think! It's an easy way to create a quick, delicious, and healthy lunch while you're at home. If you happen to work out of the house, you can prep the veggies in a container and then bring along the chicken salad to add at work. Feel free to use whatever dressing you prefer!
*This is a sponsored posting with Willow Tree Farms.